Bicycling Australia have recently taken delivery a custom-assembled 3T Exploro test bike from the company's Australian distributor Echelon Sports. In anticipation of the full technical article on this unique offering from the Italian manufacturer, Nat Bromhead compiled this 'first look' after his maiden week with the bike in and around Australia's 'City of Cycling', Adelaide.
Sunday morning bunch rides, everyone loves them. Fresh and friendly faces, early morning sun, zero wind, limited traffic, wide open lanes, a relatively high pace … and oftentimes the added luxury of virtually exclusive use of a cafe afterwards.
Obviously it's not always perfect, but the above describes the conditions of a recent Sunday morning Cancer Council SA / Ride for a reason recovery ride – a bunch of around 30 enthusiasts, on all manner of bikes, who met in central Adelaide for a 70km morning loop under clear and cloudless skies.
A week earlier I'd received a call saying Bicycling Australia's latest test bike – a unique machine I'd been eagerly anticipating for a year – had arrived and was ready to be picked up.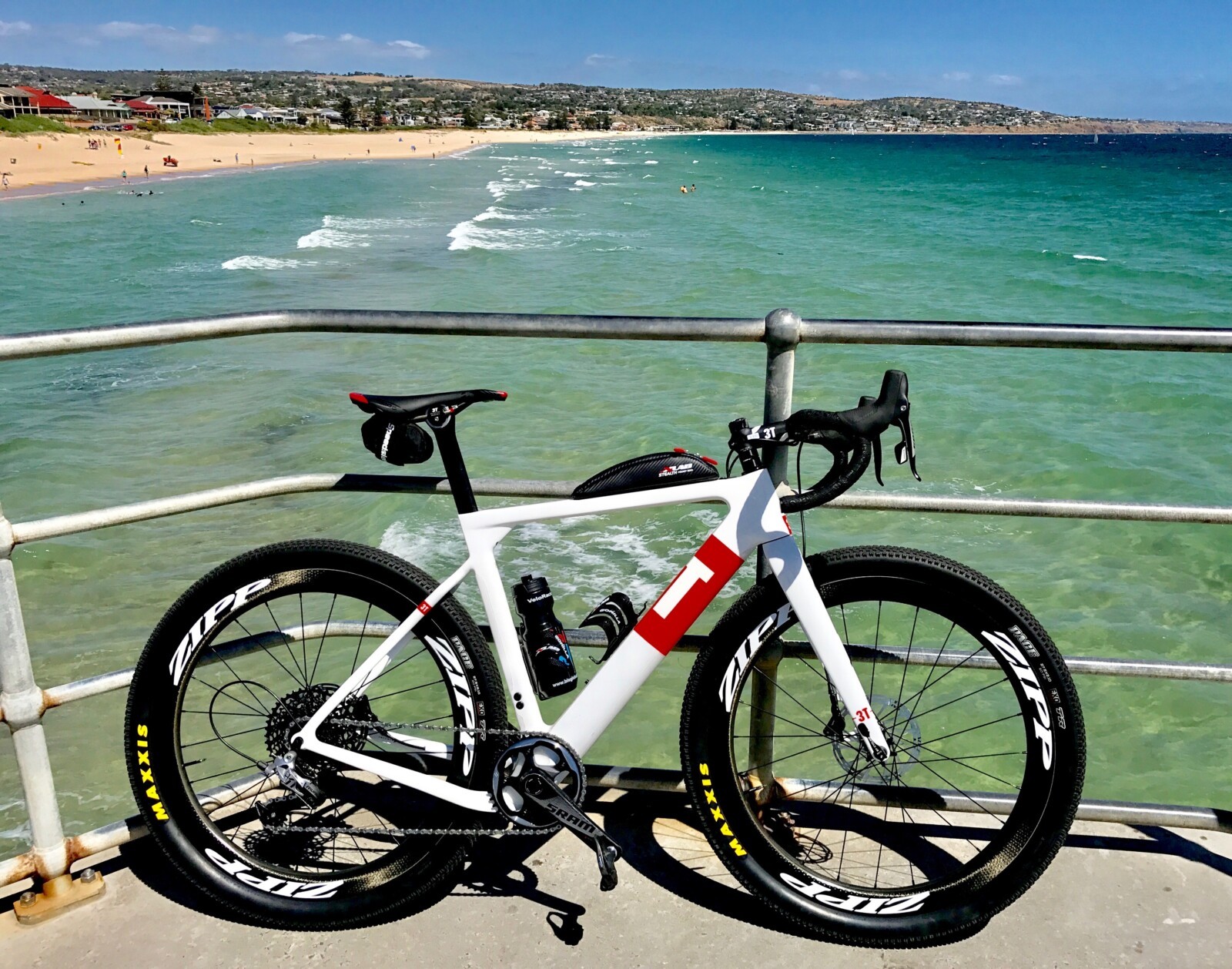 Pride Of Place … In The Kitchen
The bike, an Exploro from Italian manufacturer 3T, was eagerly assembled and given pride of place in the apartment, or kitchen to be exact. I ogled over it all night in anticipation of that very first ride aboard this revolutionary creation from legendary bicycle designer Gerard Vroomen who now, with René Wiertz, owns 3T.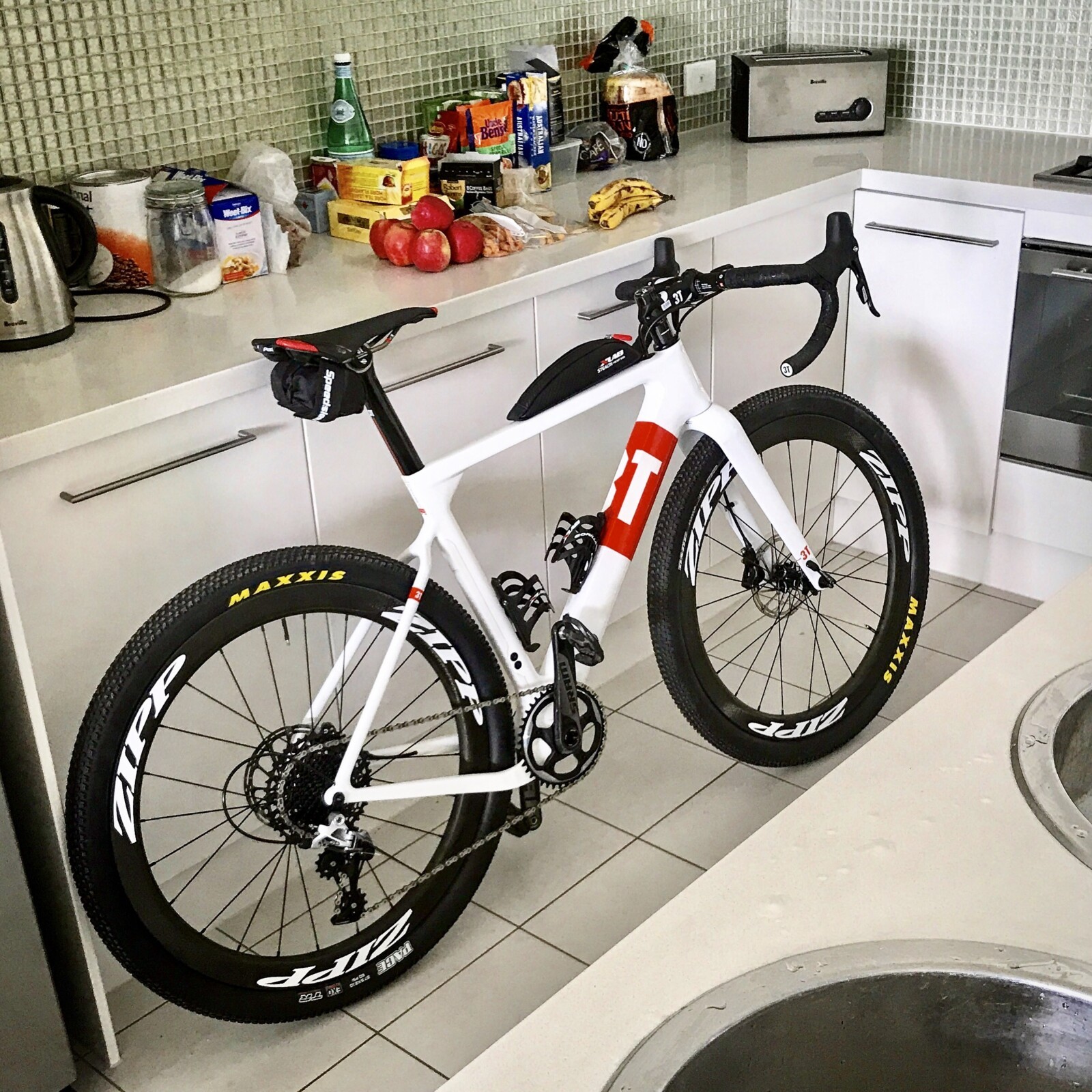 As a brief aside – It fascinates me that 3T, a historic 57-year-young company formed in Italy in 1961, remains at the forefront of bicycle technology. The company's long record of being 'the first' continues to this day. At home I have a vintage bike circa 1975 with 3TTT stamped on various components that were obviously cutting-edge in their day.
To think of that, then glance across at the '5 year ahead of its time' Exploro waiting to be ridden, well it says a heck of a lot about the company.
MTB Tyres On A Bunch Ride?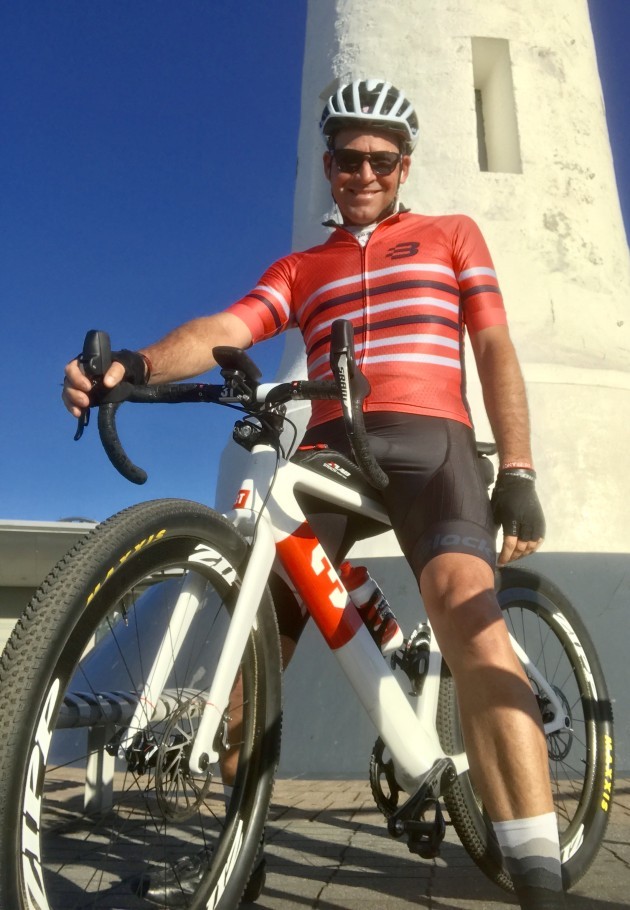 Back to the Sunday morning bunchie and faced with the choice of either taking a dedicated road bike with 28mm tyres, or the stunning new 3T Exploro (complete with 650b Zipp 303's and 2.1 inch mountain bike tyres ….) I took a gamble and rolled out on the fats.
My third outing on the bike, I knew of its surprising capabilities after a previous 90km solo loop up, down and around the Adelaide Hills. Upon returning home I was extremely surprised to see I'd bettered many of my times – flat segments from Port Adelaide to the city, the gentle rise up Magill Road … even topping my sluggish PR's up the Norton Summit climb and over the top to Adelaide's number 1 cycling destination, Mount Lofty.
"On knobby mountain bike tyres!?" I thought as I pondered this with surprise and fascination. "Absolutely incredible."
A Genuine All Rounder?
Riding solo and joining a bunch are two entirely different things. I did wonder whether joining the Ride for a reason crew might be a step too far for this crossover 'GravelPlus' go-anywhere all-rounder.
So, how does this 1x drivetrain, knobby-tyred, aero adventure machine stack up when placed in a peloton of purist roadies? With no troubles at all.
The smaller diameter (650b) Zipp 303's and Maxxis Pace 27.5 x 2.1 tyres do seem to require a little more effort to get them rolling. But, once underway, this setup absolute (and quite literally) hums along. Under acceleration, particularly on a silky smooth hot mix bitumen surface, and sound from the knobby tyres increases in pitch much the same as an inner city electric train accelerating away from a station. Is their a flywheel effect? Is it the aero engineering? The aero frame, 'Sqearo' 50mm downtube or the state-of-art Zipp 303's. I'm no engineer but I suspect a delicate mix of all of the above.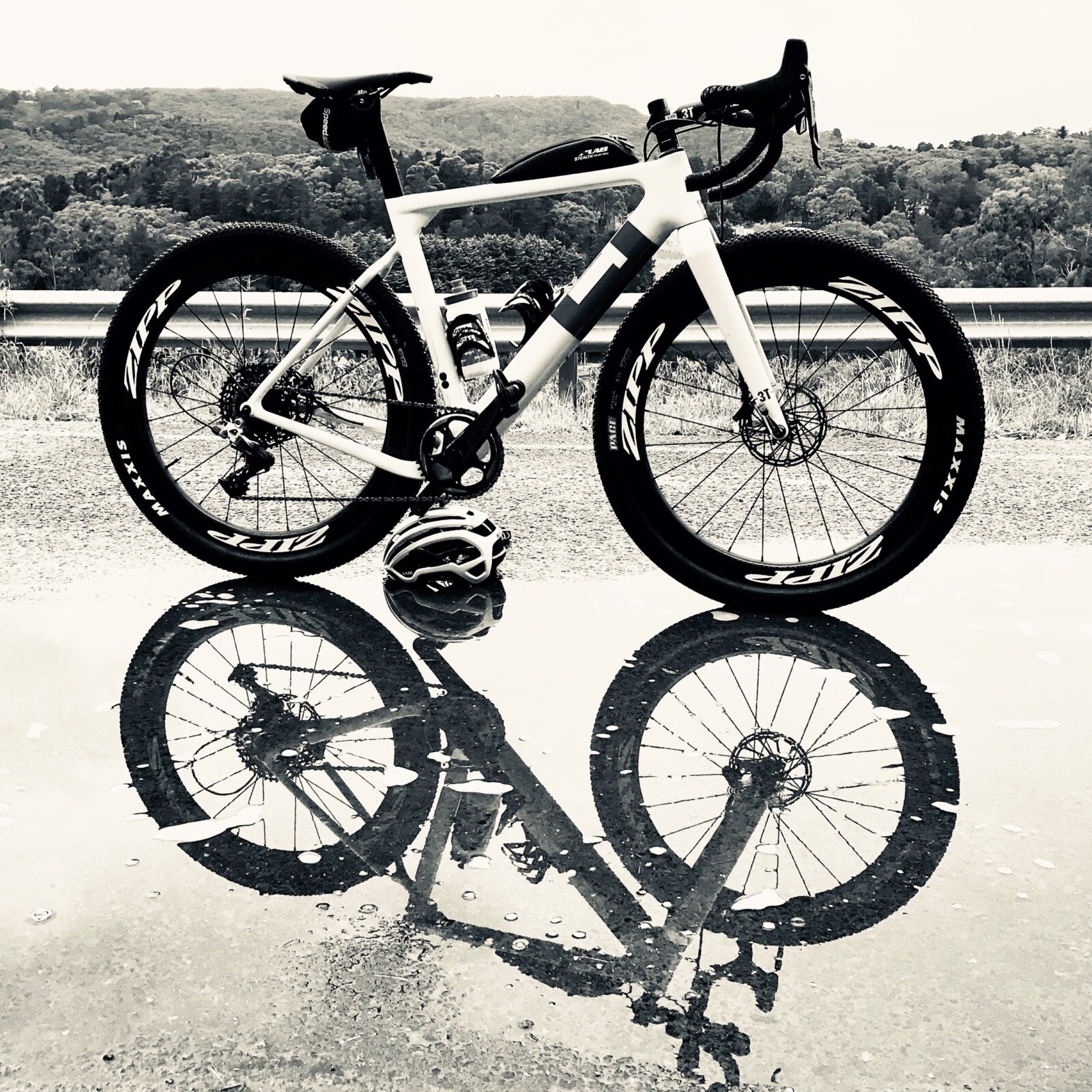 1 To 1 … And Dinner Plate Cassette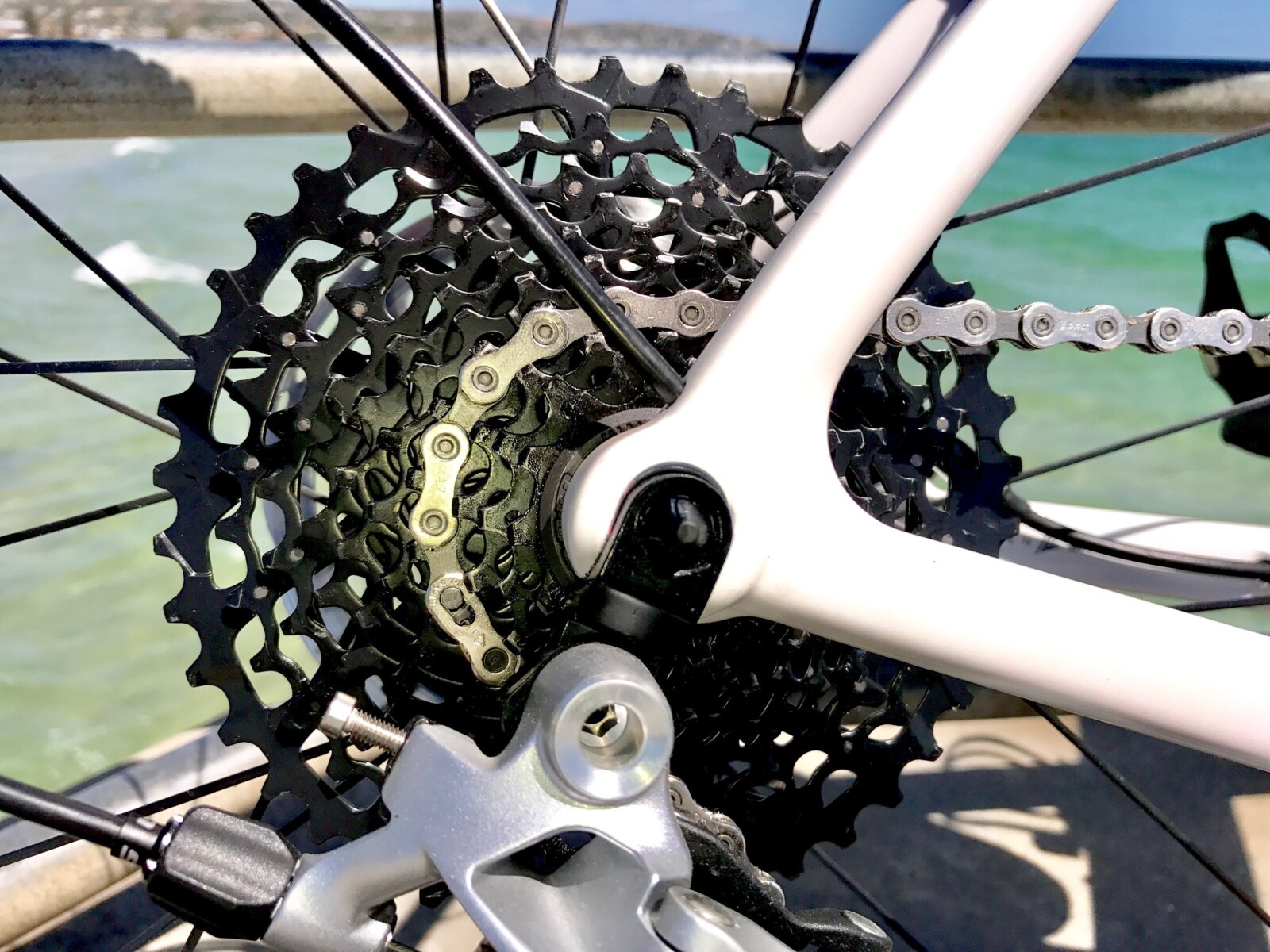 At 32 to 34kph the Exploro cruises along effortlessly. Gearing wise – with a 42t single front chainring coupled to 42-11 cassette, one thing I've noticed is the adaptation to a slightly higher cadence, thus allowing extra cogs to be available as required.
Gear change wise the the SRAM rival is silky smooth. Yes there are some big steps in there … but tap or double tap the lever and it all runs like clockwork.
Onto braking and again the SRAM Rival shines. I did hear slight squeal braking in the wet while dezcwnding Norton Summit, but also enjoyed strong, secure fingertip control on and off the road.
Moving To The Front Of The Pack
Attracting comments, observations and attention as it does on every outing, during that first bunch ride two seperate riders came alongside and told me how easy it was to draft behind the Exploro. "That's funny," I said. "It doesn't seem any harder to propel the thing forward."
Later, as the speed ramped up to 40kph, the Exploro kept pace. Even spending a couple of kilometres on the front – a rarity for me but mandatory requirement after being given the downward circling finger by a former pro – the bike hummed along with relative boss-like ease.
Hills And Gravel Await
After the obligatory coffee shop stop, and with plenty more hours remaining in the day, I pointed the bike toward the Adelaide Hills via the Crafer bikeway. A sprinkling of rain didn't dampen the enthusiasm as I made my way first to the sleepy village of Crafers before exploring the back roads of Piccadilly, Uraidla, Basket Range and 'the other side' of Nortons Summit.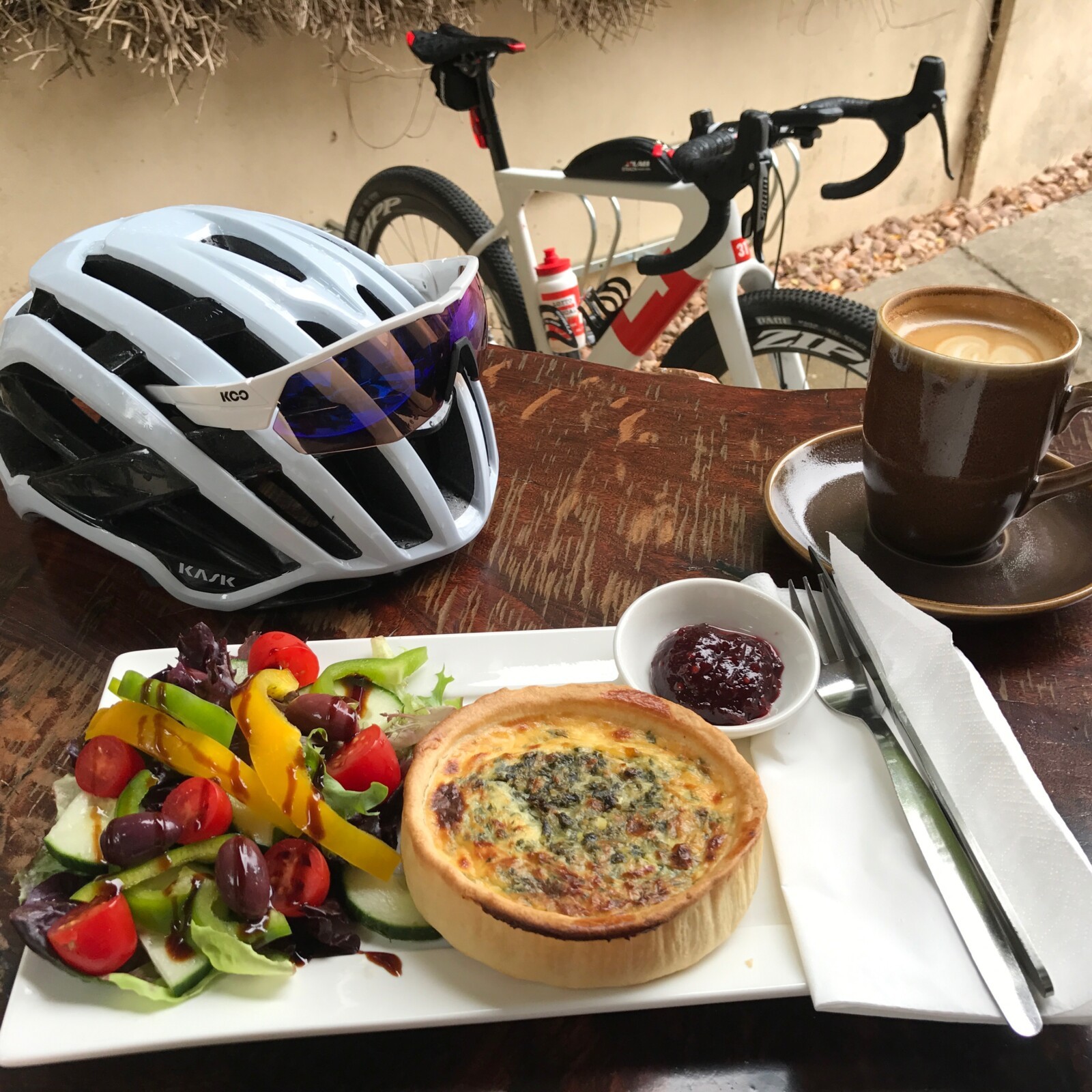 Gravel was the target, and in this part of the world it's a surface that's easily found. Despite the damp and slippery conditions the bike revelled in the drizzle. Together we tackled climbs to 12% with ease and powered down descents. I pushed it hard into corners – only chickening out and almost coming a cropper once. The bike may well have made that pebbly left hander – I got the distinct impression that it was a lot more capable than I was.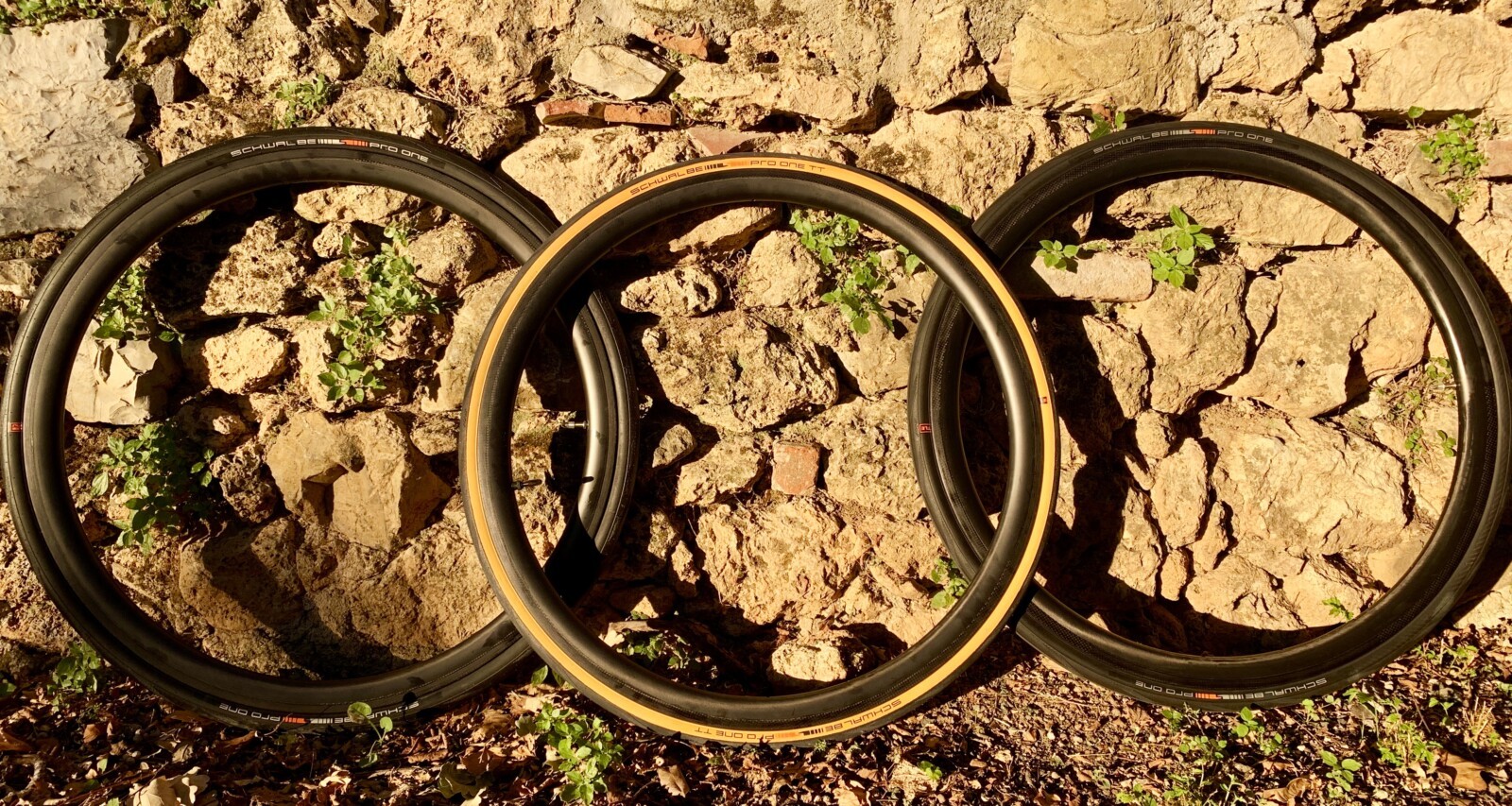 All up it was a thrilling afternoon – a few hours that bought back distant memories of sliding a BMX around a berm with a stickered-up number plate on the V-bars, the latest anodised cranks and fluted seatpost down below, and not a care in the world.
A Seamless Transition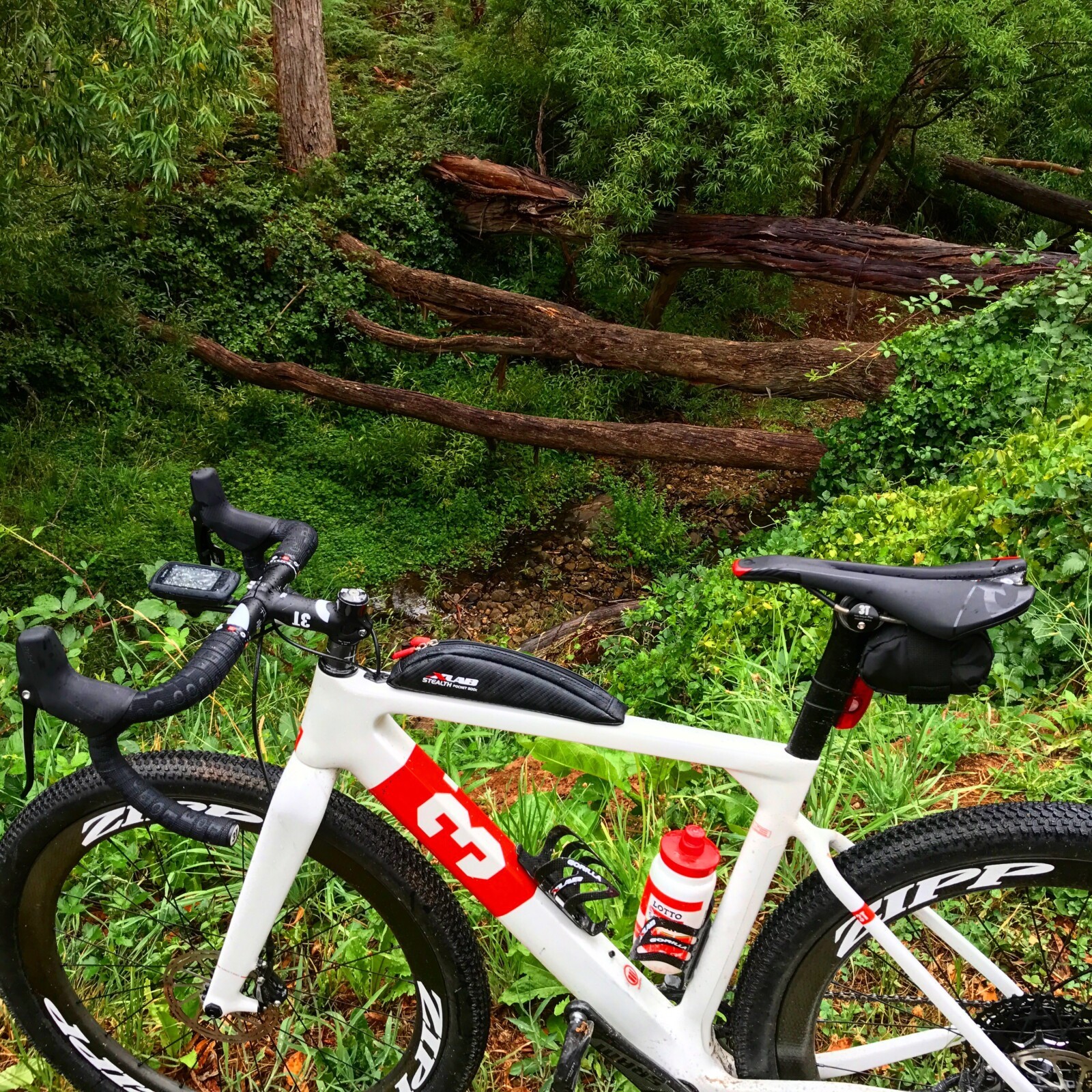 Switching from gravel to the road (and vice versa) is one of the great joys while riding this bike. It seems to seamlessly integrate – the tyres, brakes, seated position, bars, cranks and hoods all complimenting the unique 'Sqaero' frame to create one of the most incredible experiences I've ever had on a bike.
One thing about the Exploro is this – it attracts attention, looks and comments wherever it goes. In a week I've lost count of the number of people who've stopped, stared admired and asked questions about this unique machine. Fellow riders, a police officer, a council worker, a Queens Batton Relay official … it seems anyone & everyone wants to know more about this eye-catching machine. Yes, this bike is truly something special.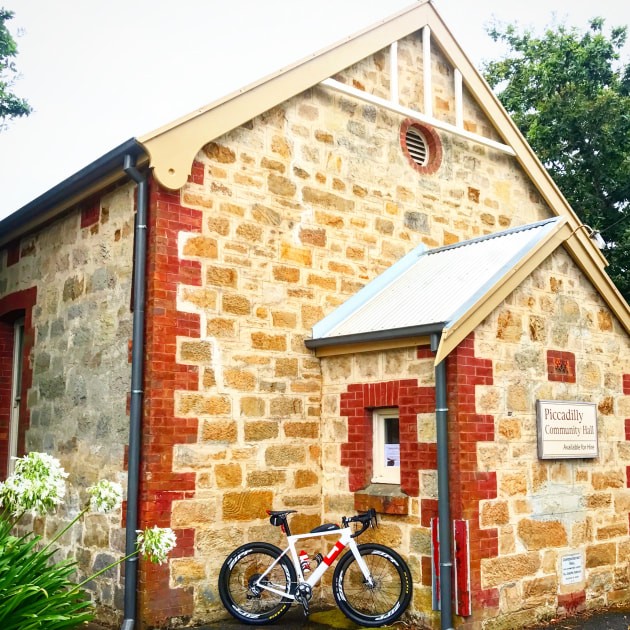 3T Exploro Specifications
FRAME SIZE: M (available in S,M,L,XL)
FORK: 3T Luteus 2 Team 15mm thru axle
BOTTLE CAGES: X-Lab Gorilla Carbon
BB: BB386EVO
CHAINRING: 42T
DERAILUER: SRAM Rival
HEADSET: Integrated tapered IS42/28.6 | IS52/40
HANDLEBAR: 3T Alloy
SEATPOST: 3T Charlie Sqaero (with seat tube 'checkpoint') + 3T Rubber decoupler.
SADDLE: Prologo Scratch 2
REAR AXLE: 142X12mm thru axle
BRAKES: 160mm SRAM Rival Hydraulic Disc
CABLE ROUTING: Internal with interchangeable FlipTop covers.
TOP TUBE BAG MOUNT: X-Lab Stealth Pocket 500c (100mm holes)
SADDLE BAG: SpeedSleeve with spare tube.
WHEELS: Zipp 650b 303's
TYRES: Maxxis Pace 2.75 x 2.1 (Rated 35-60psi)
Price As Tested – TBA