Chris Sutton (with Graeme Brown)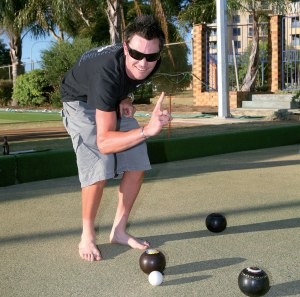 What is your earliest memory?
Watching my old man ride around the track at the Bendigo Madison. I remember I was scared of the fireworks afterwards.
Do you have a motto for life?
Go hard or go home. (Graeme Brown interrupts and says "You can't say that. I said that.)
Ok, Pain is temporary, glory lasts forever.
What did you eat for dinner last night and who cooked it?
CS Chicken Schnitzel and salad from Mum.
GB Cor! Graeme Brown gives a kind of hungry moan with laughter from Matt White.
What would you choose for your last meal?
CS I don't know really. Maybe a good Italian pizza.
If you could be a famous person from history, who would it be and why?
CS Brad Pitt from Fight club. He was so ripped.
GB Oh yeah, how were those abs?
What has been the best movie you've seen recently and why?
CS Kung Fu Panda. (Lots of laughing). No put in Lean on Me. Don't put in Kung Fu Panda, I don't want anyone to read that.
GB No, Kung Fu Panda was good. Leave it in.
What was the last book you read?
CS I'm reading a book by Danny Green at the moment. It's called Closed Fists, Open Heart. Dad used to box a bit.
If you were stuck on a desert island with you and a cd player, which three cds would you take.
CS Hmmm….Some kind of Phen podcast. One of the Triple J Hottest 100 and Hottest hits 2008
What really grinds your gears?
CS Car drivers that have no idea. They abuse you and they don't even know the road rules.
Complete the following sentence, "I really wish I hadn't…
"…missed the break at Cronulla behind Bernie Sulzberger and Peter McDonald. No hang on, don't write that. I know. I wish I hadn't pushed 200kg on the leg press the day before riding in the Kalamunda Hills. That really hurt. I couldn't get out of the saddle."
What's your biggest indulgence over the past 12 months?
CS I bought a 10kg block of Cadbury's chocolate.
GB Hayley thanks you for that too by the way.
CS Has she finished it yet?
GB Not yet, there's still a little bit to go.
Do you own a suit that you paid for?
CS Oh. I don't know. I don't wear a suit much.
Matt White You've got your team suit.
CS Oh yeah. I have a team suit that I didn't pay for from Paul Smith
What is your favourite sport outside cycling?
CS Soccer.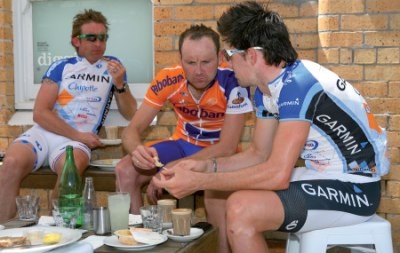 Your favourite training route anywhere in the world?
CS The River loop in Perth. Start in Northbridge, do a lap around the river and finish back at the Belltower.
If you weren't a cyclist, what would be your ideal job?
CS Sports director or a coach.
GB Hey can I change my one for that?
Don't you want to be a travel agent anymore?
CS
and
MW:
A travel agent! You want to be a travel agent? (Much laughter)
GB I don't want to be a travel agent. It's the way Simon asked the question. He said what would you be if you weren't a cyclist and I said I did travel and hospitality at school. But I reckon I could be be a good coach.
CS I reckon Gary Sutton's job. Anyone can stand there and call "Extra".
It's not that hard, I was watching him last night. "Give me extra! Half lap!" It's easy.
GB Hey that's an idea. I'll do that.
So you want Gary Sutton's job?
GB No, don't put that! No, put down NSWIS coach. That's what I'd like to be.
Where do you think you'll live when you retire?
CS Maybe stay in Europe or Spain for a while.
Do you have any pets?
CS Nah, no pets.
What is your favourite animal?
CS I like looking at tigers.
A baby tiger cub would be OK as a pet.