Simon Clarke is one of the leaders of the 'New Brigade' of Aussie riders about to make their name in Europe. After several years riding for the southaustralia.com/AIS team he is about to move up to Senior Pro status riding for the Italian based Amica Chips-Knauf team. To date, Simon's biggest win would probably be the 2008 U23 National Championship in Ballarat. That victory was sweet after placing second to Wesley Sulzberger the previous year. Simon also won the Grand Prix San Venden Enano, was second in the Grand Prix Capodarco and fourth in the U23 Tour of Flanders. A stage win in the 2008 Tour of Japan was a nice bonus. When not overseas, Simon resides in Melbourne at the base of the Dandenong Ranges, but likes to head down to his parents' 'beach shack' on the Victorian south coast. We caught up with Simon down there after he had just taken delivery of his new Subaru WRX.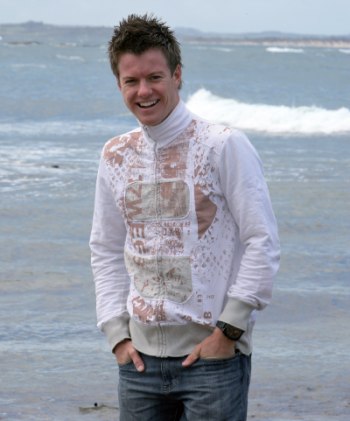 What is your earliest memory?
Gee I don't know. Probably my first day at school because it's a pretty big thing. Everyone hates the first day, but then you make some friends and it's OK.
What's your motto for life?
The only chance we have of reaching the stars is by challenging the vertical limit of our potential.
What would you choose for your last meal?
An Italian pizza and a glass of red wine.
Once you eat pizza in Italy you never go back.
If you could be a famous person from history, who would it be and why?
Gees, these are pretty solid questions. Ummm…I don't really envy famous people although I do have respect for what they do and achieve. I'd like to create my own path in history in the hope of one day achieving success myself.
What has been the best movie you've seen recently and why?
It would be between two. The first was called 'Player 5150'. I liked it because it showed a teacher passing on his knowledge to another person who was able to carry on the legacy and won a shitload of money. The second was 'The Negotiator' with Samuel L Jackson. Any movie with him in it is worth watching.
What was the last book you read?
It was called…The Roar of the Lion by Frank Coates. He's an entrepreneur slash adventurer who goes through Africa.
If you were stuck on a desert island with just you and a CD player, which three CDs would you take with you?
I'm a big Ministry of Sound fan. Probably three of the Chill out Session CDs
What really grinds your gears?
Disrespectful people. In our sport we have a lot of support people whose whole job is helping us and it cracks me when people treat them with a lack of respect.
Complete the following sentence, "I really wish I hadn't…
I really wish I hadn't left my car keys with my brother who then wrote my car off. Though it did give me the opportunity to buy my new WRX.
What's been your biggest indulgence in the past 12 months?
I've been building up my music collection pretty solidly this year. Just taking the time to find different CDs. That would be my biggest indulgence.
Do you own a suit that you paid for?
Yes, it's an Armani.
What's your favourite sport outside cycling?
Surfing. I have a beach house south of Melbourne in a place called Venus Bay. That's my local break but Phillip Island is my favourite.
What is your favourite training route anywhere in the world?
It would definitely be one here at home. Probably the Mt Donna Buang loop in the Dandenongs.
If you weren't a cyclist, what would be your ideal job?
I'd be an entrepreneur.
Where do you think you will live when you retire?
At this stage, definitely in Melbourne.