Helmet manufacturer Giro have redefined their time trial lids with the introduction of the Aerohead MIPS range that Giro have claimed to be their fastest time trial helmet ever.
Rohan Dennis wore the Aerohead Ultimate MIPS when he rode to victory on the 2015 Tour de France ITT Prologue and set the fastest average speed ever recorded at any Tour de France.
The Aerohead Ultimate MIPS and the Aerohead MIPS share the same unconventional profile but differ in construction and function slightly.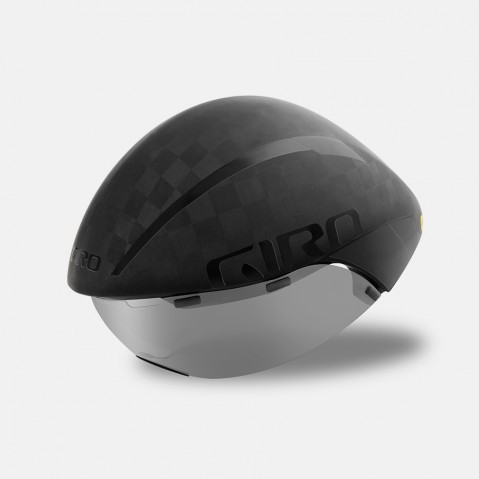 Both helmets feature the Multi-Directional Impact Protection System (MIPS) and a Zeiss Optics wrap-around eyeshield that offers increased field of vision and magnetically attaches to the helmet.
What differenciates the two models is the TeXtreme carbon fiber shell of the Aerohead Ultimate MIPS that creates a stiffer carcass and reduces the frontal area of the helmet whilst the Aerohead MIPS features four vents and internal channelling to promote a cooling effect for time trialists and triathletes and is made of a polycarbonate material.
The two helmets have a Roc-Loc Air Fit retention system and Hydrophilic anti-bacterial brow padding. Both the Aerohead Ultimate MIPS and Aerohead MIPS weigh in at 450 grams.
Giro has simulated a number of real-world scenarios to test the power-saving capabilities in the wind tunnel and at the ADT Home Depot Velodrome. Two head angles of 30 and 60 degrees to mimick a riders head in a forward-facing position and a downward facing position were tested along with five yaw angles of head wind to create an average weighted drag.


Australian's will have to wait until October to get their hands on a Giro Aerohead Ultimate MIPS and Aerohead MIPS with no AUD pricing or release date confirmed just yet. Keep an eye out for more information at the Giro website.
https://www.youtube.com/watch?v=0VlKJvqoo3I