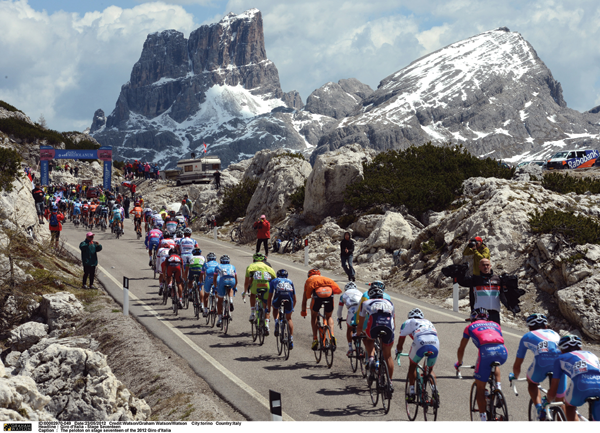 2013 Giro d Italia is shaping up as an interesting race. Hometown hero Nibali is in good form but he'll face determined competition from Team Sky riders as well as the likes of Hesjedal and Contador. David Olle gives us a preview of the 3,405km in May.Early 2002 I received a call from a friend wanting to visit the Giro d'Italia as her son would be taking part, and along with her mother and partner, thought it'd be a good tour to visit. I'd been keeping an eye on her son's progression, and thought this might be one not to miss. So I concurred immediately. We planned a route, booked a van and off into Italyand the Dolomites we aimed.
The Giro commenced inBelgium that year, and before the circus reached Italian soil, Mapei's Stefano Garzelli had tested positive and was ejected from the race. The next best placed Mapei rider, on GC, happened to be my travel colleague's son, a young Cadel Evans. For us, the Giro immediately got better and better.
Cadel hit the lead in the last week, for just one day before faltering, but showed promise of what was to come for him. For the rest of us it consummated a fascination with Italy, and ignited a love affair with Il Giro that I doubt will ever leave me.
The Giro, which some consider a second tier race compared to Le Tour, is definitely not viewed that way at home by your man in the street. More Italians will hear and care if you win their national tour compared to winning some other event promoted by amateur wine makers who can't cook pasta or make a decent coffee. And don't even bother mentioning the Tour of Spain to the Italians. That's two borders away; it may as well be the other side of the world. Being a big fish in a small pond ranks highly in Italy; it is everything. The bigger pond does not exist.
My first introduction to the Giro was in Conegliano, just outside of Venice. From a central bar on the course we watched a flat sprinter's stage arrival. With three loops of four kilometres around the town centre, it was made for Mario Cipollini. The bar and the whole town erupted each time the peloton hurtled past, the riders fighting to align their lead out trains. Cipo won of course. I don't believe I've seen a more exciting stage finish ever.
The Italians often shaped the Giro course to suit their current champion's talents. Pantani's era saw hilltop finishes a plenty. Back in the 70s it was world hour champion Francesco Moser who dominated, and the parcours featured time trials with a cursory visit through the mountains. Cheats? No, because it is the same for everyone. Favouritism? Yes, of course. And why not?
Heading: The 2013 Giro d'Italia
The first week of this year's event aims to feature southern Italy's popular tourist destinations, visiting Naples, the island of Ischia and the Amalfi coast
—and that's just the first three days.
This year's edition kicks off with a world championships-style stage in the idyllically located city of Naples. Paralleling the sea front, the circuit street race around the city features one small climb of 90 metres that may not be enough to break up the sprinting teams' plans in a fresh peloton. With 10 laps making up the 156 kilometre course, it bodes well for excellent 'on course' spectating, not to mention full race coverage for television. With its proximity to the Bay of Naples it's bound to look impressive, even on the small screen. It will be worth staying up for.
Naples is the home of pizza and many other famous traditional dishes, along with a lot of organised crime. Just as well the Giro visits infrequently. A friend of mine who grew up there reminisced about its beauty once, before finishing with the statement he only ever had a knife held to his throat once while living there. Yes, a lovely place to visit, but…
The nearby island of Ischia hosts the next day's team time trial, followed by a return to the mainland for a 'partenza' on the Amalfi coast, commencing 212k of near coastal roads, with two climbs before a descent to the finish. Tuesday sees the riders lining up for the Giro's longest stage of 244km, as they again hug the coast. For the finale, the race enters Calabria and we experience the first hilltop finish, on top of the toe cap of the boot of Italy. There is a little run in of six kilometres to the finish from the final peak, and I'd like to see Cannondale's Sagan feature here, as it gets a little predictable if we always nominate Gilbert for this type of 'arrivo'.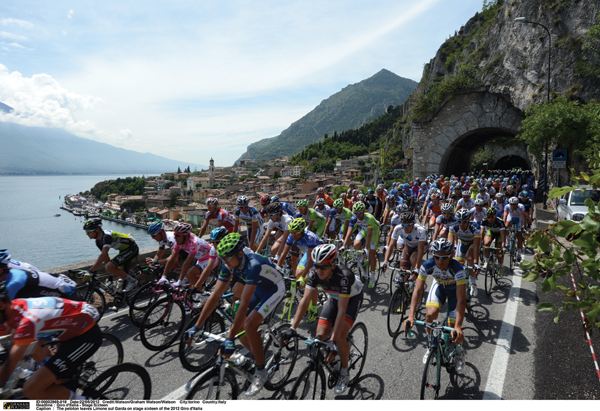 This is also the 2013 Giro's southern most point before it turns northward and takes off for the Adriatic coast. The tour does not visit Sicily this year although cycling has a respectable history there. Back in 1994 Agrigento on the southern coast hosted the road world championships, and more recently a Giro stage finish in 2008. In 2010 it was the live volcano, Mt Etna's turn.
Travelling up the Adriatic coast we have a procession of stages, featuring some climbing on Stage 7 before the crucial Stage 8 which ends the week. It's a 55km individual time trial that will, at that distance, more than likely ruin the overall aspirations of the pure climbers. Stage 9's final climb in Fiesole, just outside Florence, although quite small in comparison to the rest of the day's 'medium' climbs is significant. It features in this year's world championship circuit where the men will make the ascent 10 times. The Giro may just be offering someone a world championship advantage here. This is no crystal ball, but whoever does well on this stage may be worth a punt in September.
The time trial course used in the 2011 Tour de France, where Cadel Evans overhauled Andy Schleck to secure his overall win, featured in that year's pre-tour Dauphine Libere in June. Cadel had done his reconnaissance and prepared well. Andy Schleck did not ride that year's Dauphine. In a sport where preparation and familiarisation is everything, there is a lesson here.
The second week starts with a rest day, much loved by all, but this one comes with a sting in the tail. The circus has a large transport from Tuscany to the Dolomites, north of Venice, and by the end of the week they'll be on the other side of northern Italy, in France. It's also bookended with hilltop finishes, along with some in between. Hard to see what's in it for the sprinters from here on in.
Stage 10 in Friuli sees two climbs that are almost brutal. The first features over five kilometres, averaging more than ten per cent. And that is just the antipasto. The main course at the finish of Altopiano del Montasio has two kilometres over 12 per cent. While the overall contenders may emerge here, expect there to be some serious casualties down the lower order as the 'caboose' will struggle.
Next there are a couple of days when the sprinters may just get some joy, but it will be slim pickings as none of the stages could be considered classic sprint profiles; there are just too many small hills to make it easy. Their teams will have to work hard chasing down the breakaways if they are to maximise their chances.
With Saturday's stage 14, the Giro organisers obviously wanted to keep the riders' minds on the job in Italy, and squeezed in one more hilltop finish locally before taking the Giro into France. It's a dirt road finish too. Stage 15 sends the race 'cheese side' for the final 100km of the 150km 'tappa' up on top of the mighty Col du Galibier (2,642m). As the first grand tour of the year is a spring race, let's hope the snow has cleared from this year's late falls, allowing the Giro to honour the riders with their day in the sun (or even fog) on Galibier.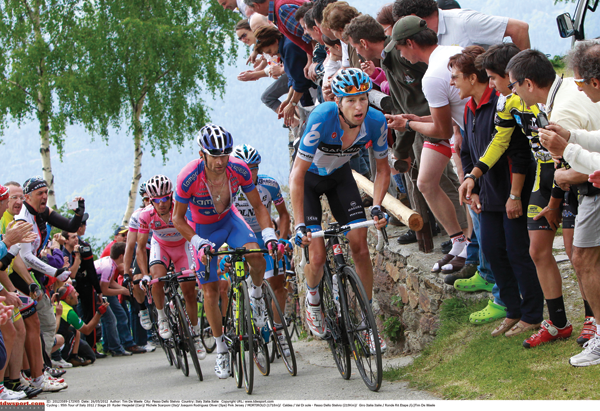 For many years bike racing was held almost completely on dirt roads, and if you talk to an enthusiast who had a cycling career on dirt, they will wax lyrically about it. The common assumption is that bitumen has an increased drag and you were faster over the same distance on dirt. Bear in mind that up until the 50s there were not many cars about, so the roads kept their condition longer. Probably hurt less if you crashed, too.
The start of the third week sends the riders back into Italy and again to the Dolomites. While there is one stage for the sprinters, it's all about the 'rouleurs' (all rounders). Even the final time trial of the race comes around before two hilltop finishes. At the sprint finish on the final day in Brescia, make sure you hang around to cheer all the riders when they cross the line, because they will all deserve it.
Monday's stage 16 sees the peloton backtrack across the border, and while there may be some chatter in the gruppo about how poorly cooked the pasta was yesterday evening, the main talk will be about getting back over Mont Cenis (2,081m). A good stage for a breakaway to be successful as the road flattens out after this, noting well there is a five-kilometre kicker, 22km from the finish. Back on familiar ground, the race makes use of its second rest day at Caravaggio, south of Milan, after another short transport.
Thursday's Stage 18 is a mountain time trial. Uphill, of course. 19.5km long with a vertical gain of around 1,000m giving us an average just on five per cent, peaking at 10 per cent just the once. This type of ascent is not perfect for the climbing specialists, but lends itself towards the riders who can climb and time trial, i.e. the GC contenders; enter Wiggins, Froome, Contador, Evans, Porte, van Garderen et al.
Two more hilltop stage-ends wrap up the final week. Starting from Ponte di Legno the riders are facing the climb of Passo Gavia. No warm-up on the valley floor, no spinning around town, it's BOOM! Straight into it. First Gavia, followed by Stelvio, which at 2,758m is this year's Giro Cima Coppi (highest point) followed by the 'arrivo' on the Val Martello. It's a compact stage at 138km and full of quality climbs and descents, set in the beauty of the Dolomites, this makes it worthy of full TV coverage, and one to watch. The ultimate climbing stage that starts the next day gives no relief either. Saturday's four passes of Costalunga, San Pellegrino, Giau and Tre Croci, leading to the finish atop of Tre Cimi di Lavaredo. These two days together culminate in over 9,500m of ascent, a seriously hard finish to three weeks of racing. If you think this will bother the GC contenders, spare a thought for the sprinters still riding. On every climb they'll be computing mental logarithms to estimate the cut off times that will keep them in the race.
Finally, Stage 21 is a flat procession into the regional capital of Brescia. Here the race culminates with six laps of the city, giving the remaining sprinters, if any, a final chance to celebrate.
And the winner is? It's highly likely the 2013 Giro route planners had the talents of Sicilian born Vincenzo Nibali in mind. Unfortunately there are other GC contenders; returning Giro champions Ryder Hesjedal and Alberto Contador, then there are Wiggins, Froome, Cadel and this year, Richie Porte, who could endure the TTs and hilltop finishes alongside, if not in front of him. For Nibali to win his home grand tour he will need a little luck to go his way like it has with this year's Tirreno Adriatico where he took the lead from Christopher Froome on stage 6 – after three times over a hill with an incline of 27 per cent, in storming rain, no less. This year's Giro is definitely one for a rider with a capacity to suffer, but not break. In his top form 'El Pistolero' is unbeatable, unfortunately Contador has not been at that level since 2010. While he could well be the best rider of the current day, he's also a convicted drug cheat and may not be as keen to push the legal limits of tolerance as he has done in the past. Expect him to flash his pistol, but not in Milan. Team Sky has a good problem, but it's a problem none the less, in choosing who will lead their team in the spaghetti roundabout. Wiggins, Froome and Porte are all capable, but it will need to be a rider who can finish a three week race without a weak moment. Wiggins is the only one with the record so far. And Cadel, my favourite who I have backed to win since he was 14. Every time I write him off he reinvents himself. Underestimate him at your peril.
For a bike rider, being an all rounder is everything, so a belief that there is no such thing as bad weather, just different types of good weather, is an asset. After the 2013 Tirreno Adriatico, I'm sure Vincenzo Nibali subscribes to this tenement.
While Italy is a wonderful and spectacular place to visit, it's always a difficult country to run a three week stage race. Just try and draw a circle on any peninsula, let alone a leg-shaped one, with an island off the toe. This year there are eleven different transports between stages, equating to nearly 2,000km in total, not including two ferry transports. And that's on top of 3,400km in the saddle. Expect there to be a little grumbling from a certain tired bunch of skinny lycra-clads in the final week. But, they can always look on the bright side, at least it's not a Giro d'Australia, which could easily run for 20,000k, and 18 weeks!
David Olle has been involved in cycling since 1990, and has written for various publications featured in ABC and community radio crosses from all the grand tours, standing roadside in Italy, France and Spain. He managed the national mountain bike team for all of Cadel Evans' off-road career, and by coincidence commenced his 'Topbike Tours' business as Cadel changed to the road. As he again stands at the barriers for this year's Giro, he'll notch up 29 grand tours.
Please visit topbike.com.au for tour information.