Gravel and adventure riding is the fastest-growing segment of the bicycle market. More and more events are coming online, more big-name riders are entering high-profile, all-surface events, and races such as the Barry Roubaix and Unbound Gravel races sell out hours after entry opens.
In turn, manufacturers are taking the gravel market a lot more seriously. Far from putting out road or CX bikes with wider tyre clearances, just about all aspects of the frameset, components, wheels and tyres are being optimised for gravel.
Why? Because the gravel market is absolutely booming, competition has never been stronger, and more and more riders want better and better gear.
All major groupset manufacturers now produce gravel-specific groupos, companies specialise in aerodynamically-optimised, super-wide, gravel-specific wheels (with these wider formats flowing into the road market and efficiencies also becoming the norm there). Even apparel, shoe and eyewear brands are riding the wave and producing legitimate gravel-specific gear.
With that in mind – the seriousness about the fun that is gravel – it should come as no surprise that the major manufacturers are putting an enormous amount of energy and effort into the skyrocketing sector.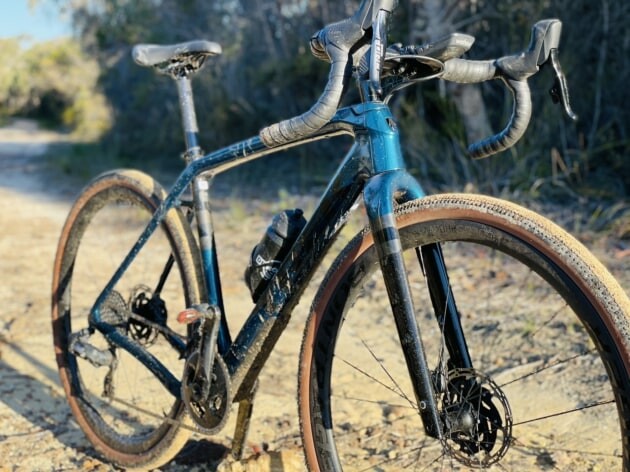 Enter The New Checkpoint
And all of that, in my humble opinion, may be the reason the new Trek Checkpoint shares major design similarities, comfort and performance characteristics with it's road-oriented siblings.
Sharing DNA and design features of the Emonda and Madone, the Checkpoint SL 7 we've been riding is an out-and-out speed machine.
Running Bontrager Aeolus Pro 3V carbon wheels and GR1 Team Issue 40mm tyres through a SRAM Force AXS 12-speed wireless drivetrain, this rig rolls exceptionally well.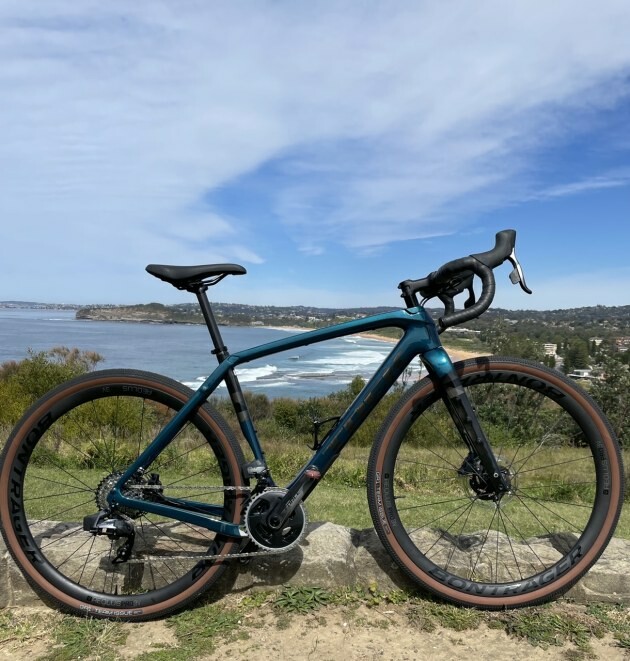 '40mm must be slow on the road!' you might think, but far from gravel only, the Checkpoint is clearly classified gravel / adventure.
Our testing involved a mix of road and trail and the platform performed surprisingly well on the blacktop bitumen.
First thoughts were the versatility factor. The bike shares the same Aeolus Pro3V wheelset as the current Domane (in similar spec level.) Invest in a second wheelset or swap the 40mm tyres to say 30 or 32mm, and you'd have a bike that could hold it's own on a bunch ride.
Obviously the gearing is lower than a road-specific set up, but with the 43/30T up front and 11-36T on the rear, during the test period I found big ring ratios seemed absolutely fine for all but the steeper climbs or looser off-road and uphill surfaces.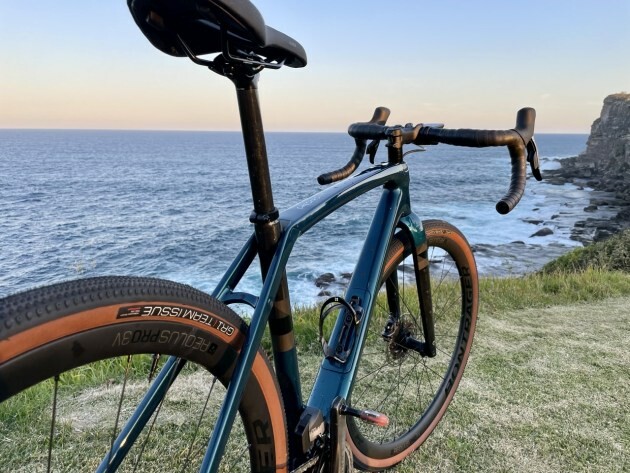 A word on the gearing and drivetrain, and SRAM's Force AXS performed faultlessly on the test rig. Wireless, it added to a clean cockpit with just the two hydraulic brake lines exiting from under the bar tape before neatly entering the head tube to travel down the inside of the fork and through the frame.
AXS batteries fully charged, shifting was fast, slick and responsive – SRAM's intuitive left lever for down changes, right for up and double tap for the front chainring is at home on the gravel.
Ready To Go
The revised frameset is fitted with no less than 20 mounting points for long-distance touring bags.
In addition to the myriad of mounting points, there are three mudguard mounting points. Long distances obviously require more hydration, with this in mind there are three mounting positions for water bottles – the traditional seat tube and down tube, along with a lower point under the downtube which also incorporates a heavy duty plastic frame protector.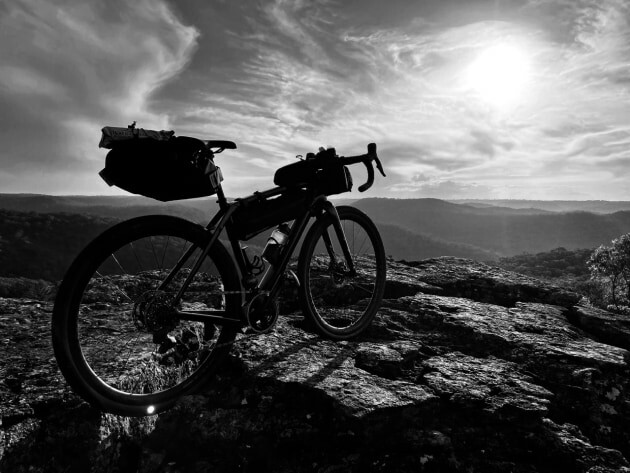 Talking the downtube, Trek have incorporated an internal storage area with access via a lever and removable cover under the bottle cage. Inside this compartment there's a neoprene, roll style bag that's close to 30cm long.
This is designed to contain tyre levers, a Co2 canister, inflator adapter and spare tube. Obviously a lot of riders will choose tubeless setups, making these items redundant and the bag / storage area suitable for all manner of other essentials.
Comfy As A Couch
Fitted with Trek's IsoSpeed decoupling system front and rear, the SL 7 model we tested offered a surprisingly comfortable and forgiving ride. This was particularly noticeable on rougher downhill gravel sectors, country that was bordering on cross country MTB territory.
The rear decoupler allows the seat tube to move independently from the top tube at the seatstay junction. This increases vertical compliance, or bump absorption if you'd prefer. The front decoupler is within the headset and is basically a rubber bush that allows the steerer tube to flex to a limited degree. Housed in a rocker cup, there is no side to side movement so steering and handling are not affected.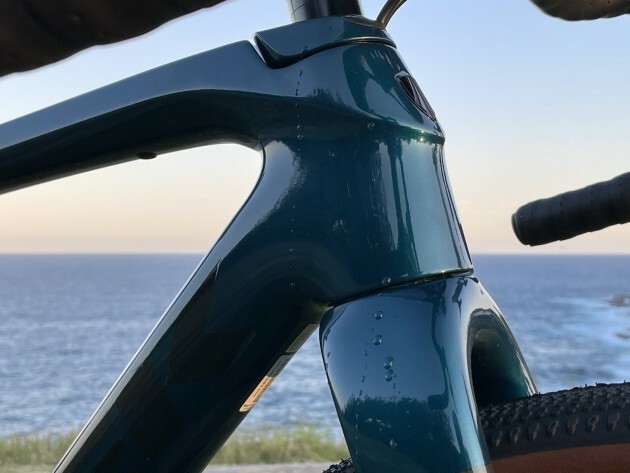 All in all, the IsoSpeed along with the longer wheelbase, slightly upright and more progressive geometry, quality Bontrager saddle and flared, oversized, handlebars, equate to a carpet smooth ride.
There's space for 45mm tyres – in fact it's safe to say you'd fit 47's between the spacious stays and fork legs. The bike can also take 650b wheels for those who want to enjoy the advantages of a similar outside diameter along with even more flotation and tyre comfort.
To The Gravel
Powering along longer gravel roads is where the Checkpoint really shines. The gravel-specific GR1 tyres eat up the rough stuff, inflated to around 40psi they smooth out the bumps and ride incredibly well. The bike remained rock solid, particularly on those rougher surfaces, it felt well-planted on the varying terrain, was forgiving and easily managed.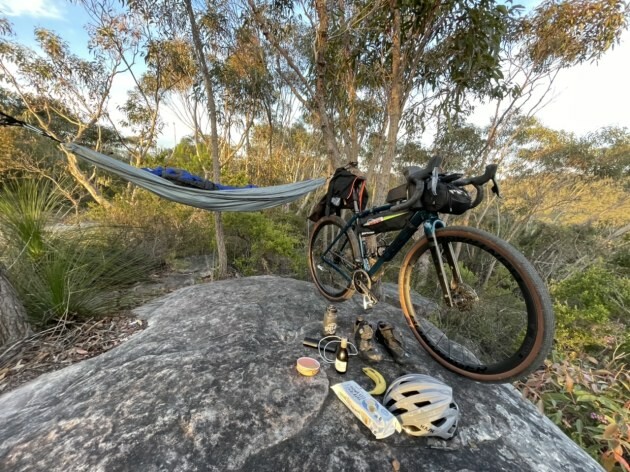 Comfort was one of the key themes that kept coming up … whether riding dirt, grit, finer sand on the local trails or down coarse, rocky descents, the Checkpoint exuded degrees of comfort and handling I'd not ever experienced on a gravel bike.
The Checkpoint legitimately feels like several bikes in one – all road, adventure, gravel and super commuter. The design, finish, attention to detail and subtleties all add up to make a fantastic looking and exceptional performing adventure machine.
More in the November / December edition of Bicycling Australia Magazine.
The Checkpoint Range
Checkpoint ALR 5 $3199.99
Checkpoint SL 5 $4199.99
Checkpoint SL 6 $5299.99
Checkpoint SL 7 eTap $7999.99 (as tested)
Checkpoint SLR 7 Etap $10,899.99
Bontrager Adventure Bag Range
Saddle Bag $179.99
Handlebar Bag $179.99
Boss Frame Bag – All sizes to suit each frame size on Checkpoint $129.99
Top Tube Bag $69.99
Bontrager Thumb Screws $10.99