His derailleur failed half way through the ride but nothing was going to stop hand cyclist Ricky Small from finishing his first major cycling event, the 2017 Bowral Classic.
Speaking with Ricky after his completion of the 45km course, his enthusiasm and love for his new-found sport was absolutely infectious. As we chatted his proud support crew were watching on – close family and friends in Bowral to watch him cross the finish line.
Paralysed After Mining Accident
Ricky was involved in a shocking mining accident in Lightning Ridge 11 years ago and is paralysed from the chest down and can't raise his left arm above shoulder level.
"My spine was broken from T8 to T12, he said. "Both my femur bones were sticking out and both my ankles were broken off, they had to sew them back on." He went on to explain how the shocking underground accident occurred, a ladder coming away from a shaft wall that led to him falling 75 feet.
In Love With His New Sport
Jump forward more than a decade and we're speaking with a beaming Ricky near the finish line of a Grand Fondo cycling event – a sport he took to just 3-months earlier.
"I've always wanted to get into this but never got around to it until recently," he explained. "It's the first time I've ever done a ride like this, I've only had a little bit of training. I started hand cycling about three months ago and absolutely love it."
"But I didn't love it when my gears busted going up Bendooley Hill," he continued. "That was really tough, I had to do it single speed – I didn't think I was going to make it."
Clearly addicted to the sport, Ricky's now facing that constant dilemma that affects most of us involved in the sport – he wants another bike.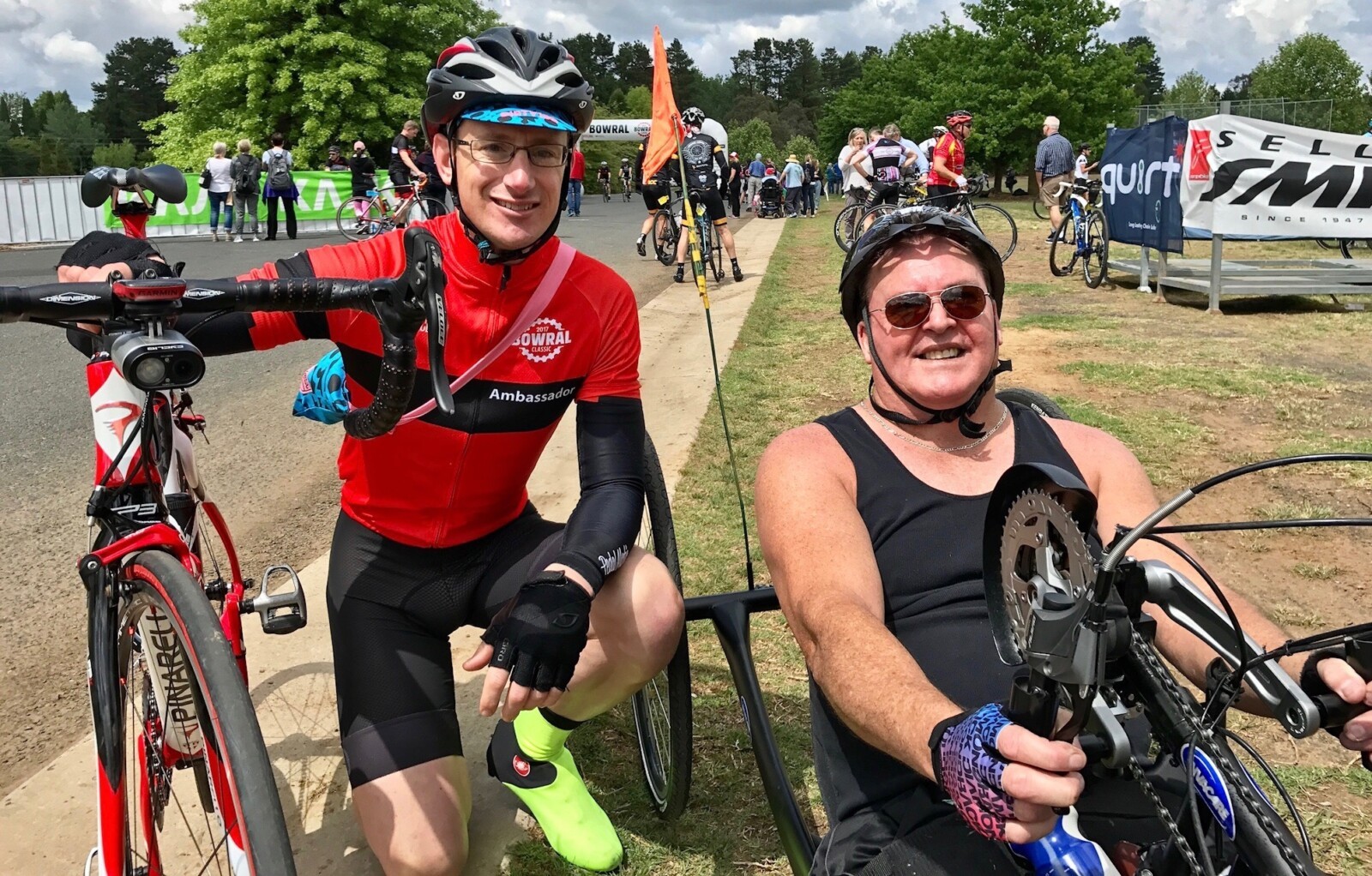 "I've got to get a better cycle though, this monster's very heavy duty," he said with a laugh.
"I want one of those lower profile hand cycles, one with the lighter racing wheels. I'll definitely be back here next year … but on a better hand cycle," he insisted.
In the lead up to the Bowral Classic Ricky took part in a 20km hand cycle criterium event at Sydney Olympic Park as part of NSW Bike Week.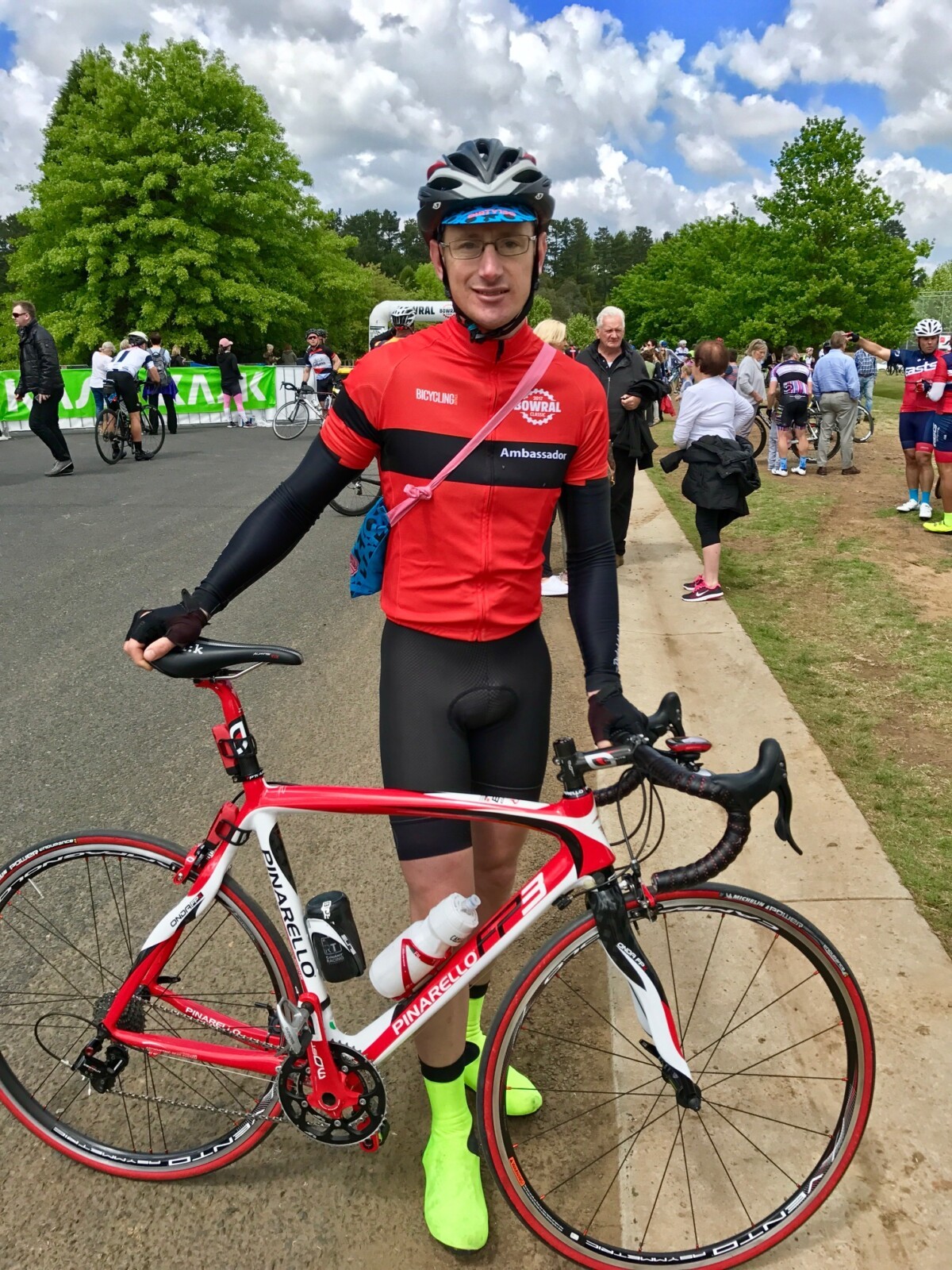 "That was last Sunday and was the first group ride I've ever done," he said. "But it was easy compared to this."
As he looked across at the semi circle of proud family and friends, Ricky thanked them for their help.
"I couldn't have done it without all these people," he said. "They were all with me from the start, when I had the accident, and have been sticking by me ever since."
Ambassador Rides With Ricky
Bowral Classic ride ambassador Matt Snowden enjoyed the pleasure of cycling alongside Ricky for the second half of his ride. A Southern Highlands local, Snowden's job was to lead out the Social Classic ride and provide support and assistance if required.
"The first guys finished the course pretty quickly," he said. "Then I doubled back to see if there was anyone in need of assistance."
"When Ricky's gears were playing up those last hills were pretty hard," he continued.
"He was very determined to do it all by himself – lots of stop start on the hills, but he put in an amazing effort – it was great to ride across the line alongside him."
Next year's Bowral Classic will be held on Sunday October 21 – visit www.bowralclassic.com.au for details. Earlybird registrations are also now open for our next Gran Fondo event, the Clare Classic in South Australia on April 8. Visit www.clareclassic.com.au to secure your place.