A passion for innovation, quality and flamboyant advertising have been trademarks of the Italian North wave shoe brand, now well into its third decade of existence and still continuing to expand its ranges and release interesting products including some funky clothing.
Started by the highly enthusiastic Gianni Piva, North wave began as a trekking boot and ski-boot liner manufacturer, a logical launching pad for its foray into the cycling shoe market. It used know-how gained in those sectors and brought some fresh ideas to the table, notably the interchangeable carbon sole for different pedal systems on the Evolution and rather nifty closure system on the Genetix shoe where a frame surrounding the shoe secured itself around the foot when it was tightened. North wave has also ensured its name has got out there by associating itself with top riders of the day, especially larger-than-life sprinters. It sponsored Mario Cipollini and had him wearing the Evolution and Genetix while also featuring him in some rather hilarious advertisements, and now the Belgian pin-up boy and former World Champion Tom Boonen is on the North wave books, wearing a pair of the company's Aerator Racing shoes in his countless wins over the past couple of years. And while the Aerator is North wave's flagship model that incorporates all the company's experience and technology in one very glam looking shoe, there are other models further down the range that have some interesting features and look cool but which won't force you to contact the bank for a loan.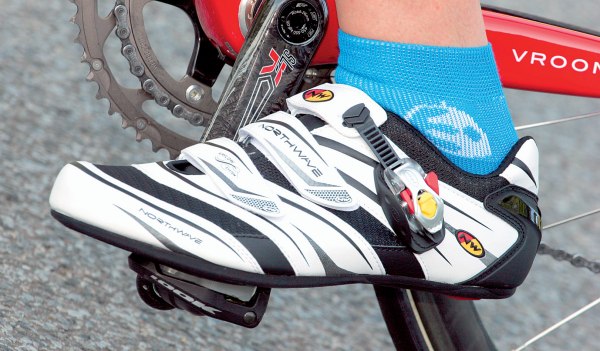 Taking it Step By Step
I tested the new Vertigo S.B.S shoe, the abbreviation standing for 'Step-By-Step' closure system, which also appears on the Aerator Racing. The S.B.S system allows you to pass one tooth through the ratchet at a time and hence makes minute adjustments easy by pressing the yellow release button. This is combined with two Velcro straps and North wave's 'Y' shaped heel cup to help you achieve a snug, secure fit. The Vertigo comes in two upper colour combinations, white/black and titanium/black—I rode the former, which looks smart, stylish and has the bonus effect of matching almost any clothing/bike colour schemes. The layered upper features polyurethane construction with a hard wearing ventilation system incorporated into the entire structure, from the toe box down the sides, to help keep your feet cool.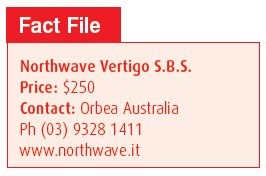 The sole is made from Zytel DuPont thermoplastic material with carbon reinforcement. A similar material is found on the underneath of a Selle Italia SLR saddle and is designed to give the shoe a stiff power platform without going to a more expensive full carbon option. The sole has a three hole pattern for anything from LOOK to Speed play pedal systems and there is the provision to make lateral cleat adjustments. As with many other shoes on the market, the sole also has notches on it to help you align the cleats correctly on both shoes. To aid walking the sole incorporates a durable, grippy angled block on the heel area to stabilise your heel. It doesn't prevent you from walking like a deranged duck as with all cycling shoes but the grip is good when the surface is a little sketchy.
Generous Sizing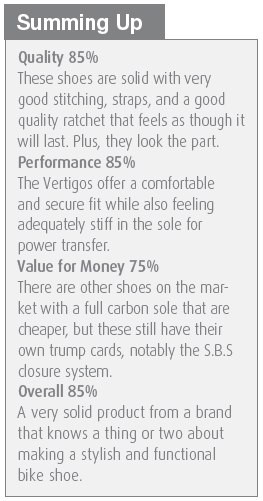 The Vertigo comes in sizes ranging from 38 to 48 and half sizes are available from 39.5 to 45.5. I normally use a 47 but interestingly the 46 fitted me very well—my foot was nicely planted within the heel cup and with a very ample toe box (a North wave trait it seems), my toes had plenty of room to move. The upper also offered decent lateral support and I could finish a ride of 80km or more and come home without sore feet. The ventilation qualities also allowed the shoes to breathe well, obviously an important feature in summer conditions. I really like how I could make teeth-by-teeth adjustments with the S.B.S system, plus it was good see the teeth had a decent depth; some strap teeth are way too shallow and are prone to quick wear. The tongue stays nicely in place too thanks to a stitched loop where the middle Velcro strap passes through.
The sole provided a more than adequate power platform for me with a welcome degree of give compared with a full carbon sole. The rock solid stiffness of full carbon is always great, but it is not for everyone either, especially if you're not racing all the time. The same thinking applies to the weight. At 690g for the pair these are not super slight sleds but are still light enough that you can ride long distances, blast up a climb, and have a race without feeling any significant weight penalty. I really enjoyed using these shoes and look forward to more good times on them. At $250 they're not cheap especially as there are other brands that offer full carbon soles for less than that, but with the Vertigos you're getting a very stylish, comfortable, well performing shoe that is going to feel super on a weekend ride with mates and equally so in the occasional race.