There's no doubt about it, Australian-made cycling clothing has made significant strides in design and quality particularly over the past couple of years. But there will always be a demand for the high end European and North American offerings. Many of these companies have been making clothing for a long time and admittedly use some magnificent European fabrics while producing garments that also function well with plenty of style.
Etxe Ondo (pronounced Etchay-Ondo) has been making cycling clothing since 1977 in the Basque Country of Spain, a land of cycling enthusiasts, many a great bike rider, and craftspeople passionate about their bikes and their bike accessories. Last winter I tried items from Etxe Ondo's winter range and I was impressed by the high textile quality, which translated to their performance on the road. This year I was given the opportunity to try a selection of the firm's warm weather gear, the Dogar jersey and bib knicks, as well as a pair of Oinatz gloves.
Quality Gear
As soon as you open the plastic bags containing the garments you know that this is top notch gear—it even smells good. The Dogar jersey is made predominantly from a soft material called 'Meryl' Micro fibre, which is a number of different fibres designed to weigh next to nothing while protecting you from the sun and keeping you dry and comfortable. The material feels excellent against the skin—it's so soft but also very light and it does a fine job of absorbing sweat after long rides. I got a few grease marks on the white material after having to change a tyre and I was concerned they would stain but a wash on a normal cycle lifted the marks and the jersey looked as good as new.
It washes well and is generally hard wearing which is another indication of its quality. The Dogar has a half zip and 'Etxe Ondo' has been embroidered into the lining. When the zip is done up the words can be read as though the zip isn't even there…a nice touch. There is one large pocket at the back with two entry points separated at the top by stitching and on the outside of the pocket is another small zipped pocket. The dark blue and white sections with light blue piping give the jersey a classic, timeless design and as with many European brands Etxe Ondo cuts its pieces quite small, so it is advisable to go for a size larger than you would in an Australian or American brand. The matching Dogar knicks incorporate a strip of that Meryl Micro fibre material in the rear section just above the stitching for the chamois combined with 'Power Lycra', which incorporates muscle compression technology, similar to what is found on the N-Zo knicks also reviewed in this issue and which supposedly helps your endurance and recovery after intense training. The bib also uses the soft and breathable micro fibre material and the straps have been cut wide so they stay in place no matter what your position is on the bike.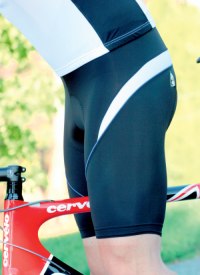 Handmade Chamois
The chamois is handmade and features pigskin covering with four internal layers; one for your skin, two below that 'move' and one that contacts the saddle. It all sounds rather complex but the important thing is that it's comfortable and doesn't get messy with sweat. Apparently there are many professionals who have this chamois put in their own knicks. The shorts have a high cut that sits well above the knee, and they have a good quality leg gripper that keeps them securely in place without pinching and leaving skin indents. Overall, they're a very comfortable, high quality pair of knicks. The Oinatz gloves unsurprisingly continue the fussy attention to detail theme. Again finished in deep blue, they feature a multi panelled top with Lycra and a sweat band. They're also strapless, so once you have them on, they're like a second skin and loops have been stitched to the underside of the fingers to help you get them off.
The complex palm areas have some serious padding interspersed with a honeycomb-style ventilation material. They are fantastic but they also cost about the same as a cheap pair of knicks. But then that's not really the point here. Etxe Ondo is special clothing for a fussy buyer who won't flinch at the price. It's going to look and feel great, perform in hot weather, and wear extremely well after repeated, hard use.