With high temperatures here for a little while yet, many of you will be looking to pick up new jerseys and knicks to keep you cool, dry, and of course, stylish in the local Peloton. But does ticking all of these boxes mean you have to spend mega bucks or does a cheaper option exist?
New Zealand Company N-Zo offers a limited range of road clothing, known as the Tarmac range that could well fit the bill. Traditionally known as a producer of long lasting, hard wearing mountain bike clothing, N-Zo has in recent times dipped its toes into the waters of the road peloton producing the 'Eddy' jersey and 'Deano' bib knicks, earlier versions of which we tested in early 2005.
Eddy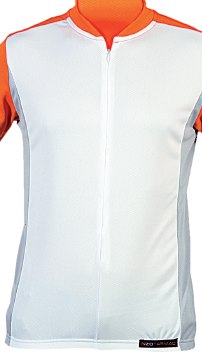 Made from a lightweight breathable material, the Eddy short sleeve jersey incorporates UPF 40 protection, an essential component for any rider blazing their path in the harsh summer sun. There are three nicely sized rear pockets to fit your mobile, wallet, gas canister, iPod, snack bars, multi-tool and sun block…things used to be so much simpler!
A three quarter length hidden zip runs down the front, which thankfully went up and down very smoothly unlike some other hidden zips I've tried in my time. In terms of fit, I found the Eddy to be cut too generously for a medium sized garment, fitting quite loosely around the trunk. I had a feeling as though it was more a 'club' fit than a 'racer' fit. This was further accentuated when I was positioned down in the drops; the excess material gathered, drooping down in front of my chest. For anyone after a more snug fit, I would probably recommend trying a size smaller than normal.
There are reflective panels on both sleeves and a further reflective label stitched to the middle of the three rear pockets. While very simple, such additions can make the difference between vehicles seeing you or not during hours of low light.
The Eddy comes in three different colour options; white/silver/ rust, silver/black/rust and silver/ black/orange. All look equally attractive and should prove a popular addition to a rider's wardrobe not wanting to look like a spare part from the Euro Peloton.
Deano

To finish off the new summer image, N-Zo produces the simple yet stylish Deano bib-knicks. Made from a Nylon/Elastine combination material, the bib-knicks are produced to a very high standard for the price. The first thing I noticed about this latest incarnation of the Deano is that the leg length has appeared to have been increased over its predecessor. The shorts now sit at a nice height from your knee. These are held in place by an excellent leg grip combination of elastic and silicone meaning no matter how sweaty you are the shorts do not ride up your thigh. Up top the knicks have generous shoulder straps which are extremely comfortable and are accompanied with a high back, while there are also reflective panels on both the front and back to increase visibility. Protecting you inside is a four-piece elastic chamois held in place with flat-lock stitching. This style of stitching has the added advantage of being soft and nonchaffing next to the skin, always a bonus after several hours in the saddle. The benefit of the new style of four-piece chamois is that the four pieces can stretch and flex with your body as you ride, creating as near as perfect fit without bunching and folding. As they are elastic, they also provide a permanent antibacterial protection. According to the label attached to the short, the Deano is designed to provide 'optimal muscles compression to enhance performance'. Like other compression garments on the market which are so popular these days, the idea with this is to support muscles during exercise and to aid recovery immediately after intense periods of training or racing. I suspect this may have contributed to the knicks feeling a little 'heavy' and not offering as much ventilation and airflow as I would typically prefer. I would have been happy to trade some of those muscle supporting attributes for a lighter feel, especially when riding in the hot and humid conditions of Queensland. As ever, that's my personal view. You might think differently and place compression high on your list, in which case this would be an outstanding trait of a product that already boasts very good support and stylish, understated looks.