UPDATED: Federal politician, keen cyclist, and Goulburn local Angus Taylor MP has paid a heartfelt tribute to Con Toparis, the well-known owner of Greengrocer Cycling who was tragically killed while riding in his hometown on Saturday.
Angus Taylor MP, the Federal Member for Hume and Shadow Treasurer, paid tribute to his long-time constituent, riding buddy, local bike shop owner, and much-loved Goulburn family man.
"Last Saturday we lost Con Toparis, owner of the Greengrocer café and bike shop in Goulburn," Mr Taylor said. "Whilst riding his bike on Crookwell Road on the edge of Goulburn, he was killed in a tragic accident.
"Con was one of a kind – driven and determined with a prodigious work ethic. When he committed himself to something it was always 100%.
"He was a remarkable sporting talent, despite struggling with persistent back problems. I keep discovering new achievements. A talented road cyclist, mountain biker and runner, he played for Canberra in the soccer league in the 80s and in National series for motocross (as a junior) and car racing (at the senior level). He even competed at the national level for ballroom dancing!
"There was a real energy to Con and it's not surprising that he was School Captain of both Wollondilly Public and Goulburn High, famously giving his Captain's speech at Goulburn High after riding his motorbike down the aisle and onto the stage.
"Con had a great mind, demonstrating his academic ability in his school years. He was able to simultaneously engage in the day-to-day realities of running his business – every last detail of the bike stock he purchased – as well the much higher-level issues facing our region and our country.
"He built up his business in Goulburn through periods of terrible adversity, most recently the pandemic and the fire in 2016. Like so many other small business people, he was a real innovator – introducing an artificial intelligence robot to the Greengrocer well ahead of others, which in itself was a great novelty to customers.
"There were times when the grinding reality of running a small business got to him. Running a small family business is relentless and at times unforgiving. A small business person manages accounting, sales and marketing, management, human resources, procurement and IT all at once. I know he had very tough days.
"But when it came to the communities he was part of he cared deeply. He wanted the very best for Goulburn and despite occasionally flirting with other places (including a short stint at University in Sydney) in the end he always stuck with what he knew and loved.
"He also wanted the very best for the Goulburn cycling community. He contributed enormously over a long period of time – encouraging new people to get involved, supporting local racing and regular rides including the wonderful Christmas ride each year.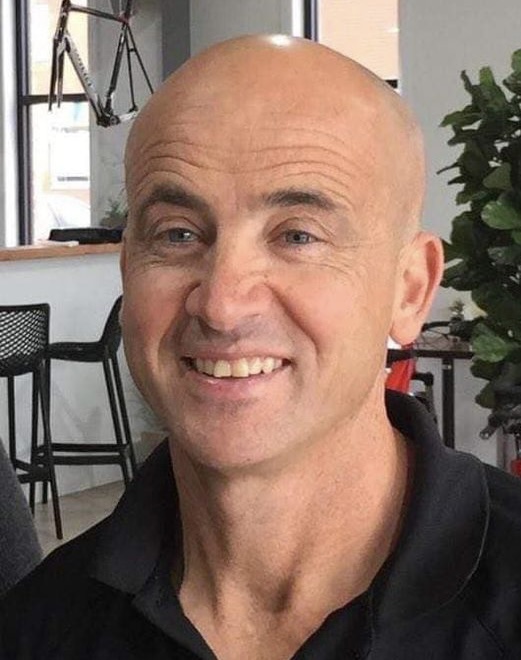 "But most of all he loved his family. His two boys, Eli and Costa, together share some of their dad's very best characteristics. Eli has excelled academically at school and is now studying politics, philosophy and economics at ANU whilst also playing an important role in the running of the business. Costa is excelling at motor racing at a global level – joining a prestigious F4 team in England as a gateway to F1 driving. Both have had enormous support and encouragement from their very, very proud parents. Both will continue to remind us of Con every time we see them.
"Con's wife Lana has always been an important part of the business, as has his father Elley. The Greengrocer is a truly family business, in every sense."
Angus Taylor concluded by saying he knows Goulburn will miss Con. "I can't imagine how much his family will miss him. And I will miss him enormously," he said. "There will be a hole in my heart every time I jump on my Greengrocer bike."
"Rest In Peace Con," he said.
Earlier: The cycling world is mourning the loss of yet another rider with the heartbreaking news of a fatal collision near Goulburn on Saturday.
Con Toparis, well-known and much-loved founder of the popular Greengrocer Cycling bike shop and cafe, passed away after a collision on Cromwell Rd, Goulburn on Saturday morning.
Passionate about the Greengrocer Cycling business he loved, Con was serving coffee to regulars at his cafe earlier in the morning prior to heading out for a ride.
Late on Saturday Goulburn Police said a 57-year-old local man had died following a crash between a motorbike and cyclist.
A BMW motorbike and the cycle, ridden by the 57-year-old, collided some 50 metres south of the Marys Mount Road on the Crookwell Road at 11.10am Saturday.
'Those first on scene rendered first aid to the man. Emergency services arrived soon after, however the male had already passed away.
Both the motorbike rider and the cyclist were headed south, towards Goulburn at the time.'
Police are urging anyone who may have witnessed, or has any available footage of the incident to contact Goulburn Police or Crime Stoppers on 1800 333 000.
More to come.