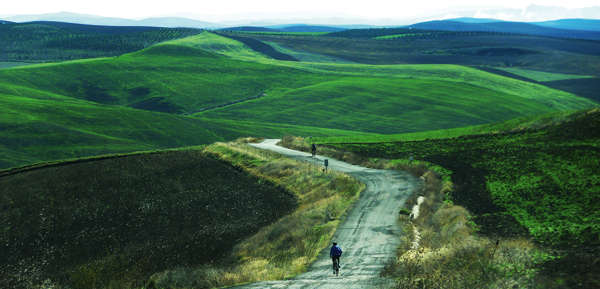 So, you fancy a European cycling vacation. You've heard that Tuscany and the Dolomites in Italy are stunning, the French Alps challenging, the Rheine and Mosel Rivers in Germany gorgeous, the Loire and Burgundy Regions in France beautiful. Well, in all of these impressions you would be right. But what about Spain? Roger Cull journeys to set the record straight about cycling in Europe's fifth largest, but one of its lesser visited and probably lesser understood cycling destinations.
"Hot, flat and unemployed", a comment by one of my Sunday cycle buddies was typical of the responses offered at the suggestion that Spain might make a good cycle holiday destination. Even the more worldly and well-travelled were slightly bemused by the idea. Sure, Spain has a Grand Tour and the Pyrenees does straddle the Spanish/French border, but what else?
Well, I was attracted to the idea of riding Barcelona to Lisbon. Having cycled from Como, Italy, through the French High Alps to Nice (Bicycling Australia Nov/Dec 2010) and Nice to Barcelona via the Pyrenees (Bicycling Australia Mar/Apr 2013) in recent years, the leg to Lisbon was a logical extension. The Pyrenees, the Basque Country, the Picos de Europa mountains, the scenic north and northwest Atlantic coasts of Cantabria, Asturias and Galicia and the north coast of Portugal all should make for a great cycling adventure.
So it was that Glenn, Frank, Greg and I set off in early May for the 2700km ride, which we estimated would take around 24 days, including 3-4 days off the bikes.
Now let me promise you, hot and flat it was not. Tens of thousands of vertical metres, wind and rain, snow (in the air and on the ground) were core to the journey. We rode past deep limestone gorges, along 600m high coastal cliffs, through quaint fishing villages, beside golden sandy beaches, over 2000m passes and through Santiago de Compostela, the third holiest place in Catholic Christendom. We had many of the roads and almost all of the hotels to ourselves. We were self-supporting with ace navigator and part-time rider Greg piloting the van carrying the bags, and occasionally, when weather conditions deteriorated to life threatening, all four bodies and bikes as well.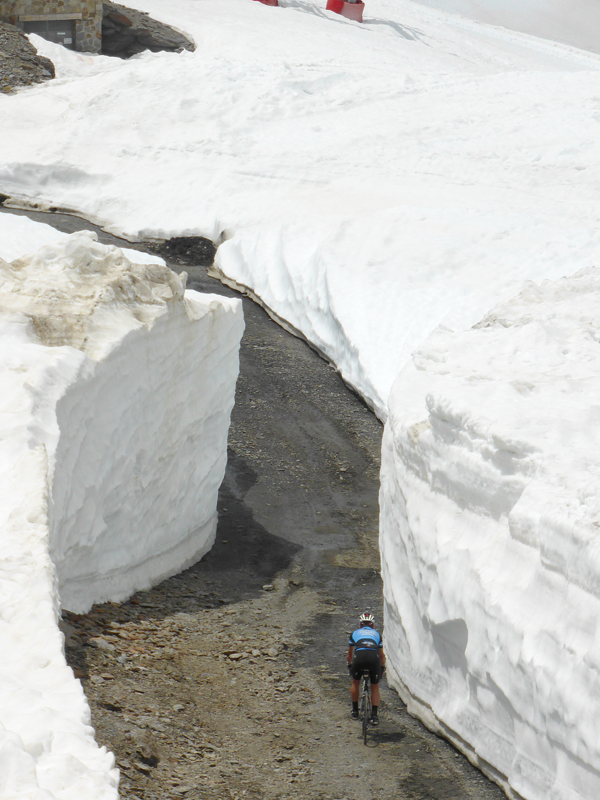 The ride lived up to its promise of challenge. Navigation was a recurring issue, particularly in and around urban areas. We had planned our route to skirt or avoid both urban areas and busy roads as much as possible, but it was not always easy to get it right whilst maintaining a good pace. Co-ordination of riders and GPS equipped driver was critical to ensure we all ended up in the same town, let alone hotel, at the end of the day.
The weather was also a big player. The Basque Country is Spain's coolest and wettest Region, and the coast to the west and Pyrenees to the east also attract plenty of foul cycling weather blowing in off the Atlantic. There were a number of days when the rain we were riding through turned to snow before we topped out on the Col. Being soaking wet and freezing cold is one circumstance when the 20km descent is completely wasted!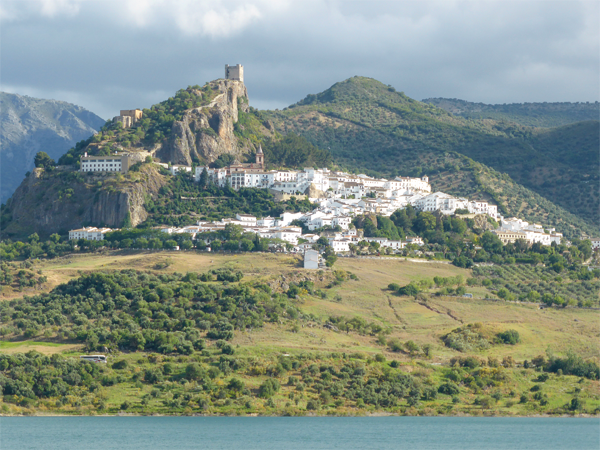 So as much as Barcelona to Lisbon was a superb cycling adventure, it was in fact my next destination, Andalucía that was such a welcome surprise and must surely be the gleaming jewel of Spanish cycling destinations.
Andalucía is Spain's southern-most and largest Region. It contains well known cities like Seville, Cordoba and Grenada and popular beachside destinations such as Malaga on the Costa del Sol. True, it can get pretty warm in mid-summer, but it is cold in winter. So if you pick the mid-season right, the weather can be perfect. Really perfect. We are talking near endless cloudless twenty something degree days backing up uninterrupted for up to weeks at a time.
One thing is for sure. Andalucía is not flat. Great swathes of Andalucía are criss-crossed by ranges of hills (sierras). The highest of these, the Sierra Nevada, close to Grenada city, reaches 3,369m and is home to the Pico de Veleta, the highest paved road in Europe (more on that later).
A signature of Andalucía is the 'white village', a cluster of extremely closely spaced two storey terrace homes, all painted gleaming white, with terra cotta roof tiles, usually clustered around a church (and/or castle). They can be perched on a hilltop, crammed into a narrow valley (making use of natural caves and rock overhangs) or out in the middle of rolling agricultural terrain. Most have plentiful evidence of many hundreds of years of history, of cultures and empires waxing and waning. Moorish, Arabic, Roman and Christian and their many combinations and subgroups have left their marks. The villages are all spectacular additions to the landscape. All turn a simple photograph into a postcard.
The white villages are scattered across rolling hills of olive groves, cork trees and vineyards. There are spectacular limestone crags and canyons, shimmering blue lakes, bars with shady terraces that offer fabulous coffee and restaurants that serve the most delicious food, made with local produce, at ridiculously cheap prices.
So what better way to move through this fairy tale landscape than by bicycle?
Six years ago Maggi Jones and Geoff Norris, she a Canadian and he a pom, moved to Alhama de Granada, a small town near the centre of Granada Provence which is in turn near the centre of Andalucía Region. Alhama is about 60km SW of Grenada city, home to the stunning Alhambra Palace. (I trust the geography is now completely sorted!) The pair launched Cycling Country, a road-bike focused cycle tour company (www.cyclingcountry.com) offering a wide range of fully supported and self-guided tours exploring the treasures of Andalucía*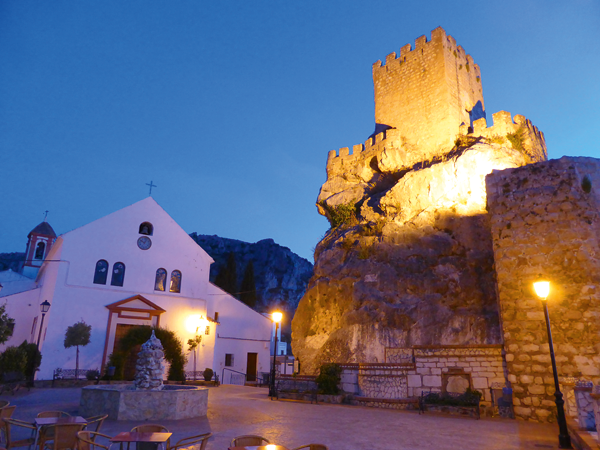 *they now also operate supported rides in other parts of Spain, Portugal and beyond and are also the only officially authorised Tour Company following the Vuelta a Espana.
We chose a self-guided tour. Apart from the obvious cost saving, the Cycling Country (CC) concept of a self-guided tour is a winner; ride with a partner or group of friends, at your own pace, between hotels that have been pre-booked, following a route that has been carefully crafted to take in the best of the countryside and local towns but avoids the busy roads (which from our experience in northern Spain are not always obvious from road maps). Materials supplied are comprehensive; maps, corner by corner, turn by turn written directions, even the route loaded into your GPS (or onto a CC GPS), plus maps and brochures on towns/sights/attractions en route. And the best bit is that your bags magically move between hotels.
We chose the CC tour "Lakes, Mountains and Sea", which starts in Alhama, does a loop to the north, passing back through Alhama en route to the Mediterranean coast at Almunacar. A stunning ride of around 600km over six days. We punctuated our tour with a couple of days in Grenada (city) to visit the Alhambra and to ride the Pico de Veleta*.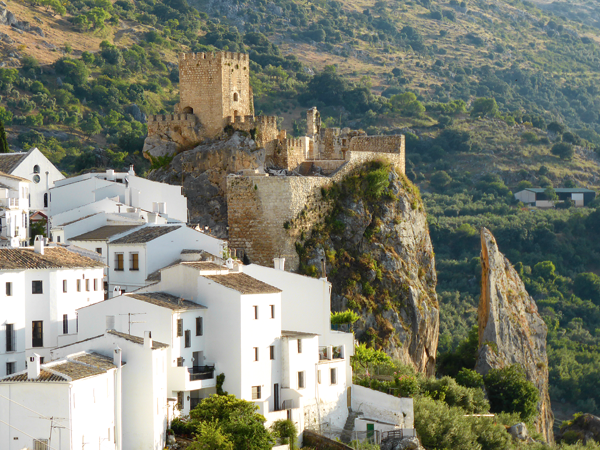 *Veleta starts just 8km from the centre of Grenada, at an elevation of about 650m, climbing to the ski field car park at about 2500m. Snow conditions allowing, you can continue on a road (which is only barely paved) to 3300m, an almost uninterrupted climb of 2650m. Unfortunately our path was blocked by snow at 3000m, but I can still count the climb as a PB. The French would have you believe that their Col de la Bonette is the highest paved road in Europe. It is true that the road surface on Bonette is a whole lot better than on Veleta, but at 2802m, Bonette can only claim to be the highest paved through road in Europe (Veleta is an up and back).
There's no need to recount our ride day by day or hill by hill. Suffice it to say that it was a feast of the aforementioned white villages and stunning landscapes, liberally peppered with challenging climbs and thrilling descents, the best of which, and one of the best you could ever ride, is on the last day. The route climbs gradually from Alhama, passing through pleasant but fairly benign agricultural land then into a "Parque Natural", topping out at a 1400m Puerto (pass/col). Suddenly the geography morphs into a bizarre, spectacularly rugged, otherworldly landscape. I found it almost distracting from the main game…the uninterrupted (apart from a hundred photo stops) 40km descent to the coast. An unforgettable finish to a cracker of a tour.
A week on a CC self-guided tour in Andalucía would be the perfect way to stretch the legs and the lungs when you've had about enough of European cathedrals and museums. Or string two or three together and really settle into the lifestyle. And if you don't feel like taking your own bike then use one of CC's collection of good quality 27 speed Orbeas and Treks. Bring your own shoes, peddles and saddle and it might almost feel like your own bike.
It's worth noting that whilst CC cycling days are generally not long in distance (not many exceed 100km), they are not to be underestimated. Andalucía is hilly, so if you're not going up then you are probably going down. You should consider yourself to be pretty bike fit before tackling one of these tours. The self-guided tours especially are not suitable for young kids. No sag wagon means no safety net and they might just baulk at the third or fourth 200m climb for the day.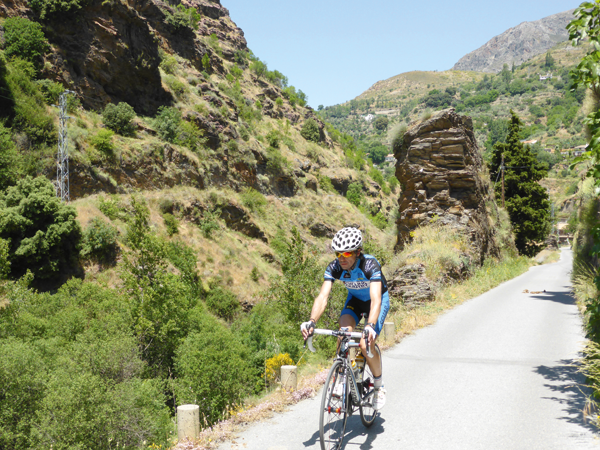 At risk of labouring the point, one of the features of touring Spain is that international tourists don't seem to venture beyond the gates of the big popular cities. Barcelona, Madrid, Seville, Granada are awash with tourists. Cycling between and through Andalucían white villages you will see very few, if any. You are even less likely to see any on bikes. I won't suggest that you would be the first ever Aussie to cycle through these areas but you will certainly be one of a very small number. We could gauge by the reactions of locals that we were not just more ho hum tourists. It's a special feeling. A little like skiing in Japan ten years ago. Just not on the Aussie radar. Now Aussies are shoulder to shoulder in Japanese resorts. I doubt whether Andalucía will ever experience that phenomenon but you might want to put some Spanish cycling on the list for sooner rather than later.
The Spanish mentality
It's true that the Spanish economy is currently well and truly out of shape. At the time of writing general unemployment exceeded 26% and youth unemployment, 60%. The economy struggles under the weight of ponderous public and private debt. Evidence of the problems is not obvious at first sight; the busy roads are busy, smart cars and smart houses abound. But something is not quite right. Queues in supermarkets are short or non-existent, shopping trolleys are half full, men in bars camp for hours over a cana cervesa (small beer) and a tapa (small snack, which is free with a drink in Andalucía) and small-town hotels are near empty.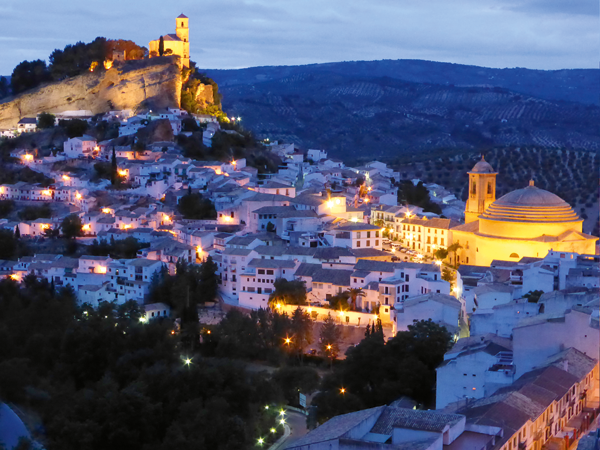 The Spanish got into this mess by overspending. Over spending on public infrastructure is obvious; beautiful new smooth hot mix roads, bridges, parks, fancy cloverleaf highway interchanges, bike tracks, excessive signage etc. etc. Less obvious is the very generous social welfare system. Private over spending is apparent in the endless blocks of apartments and single dwellings which are either unfinished and abandoned or finished and unoccupied. Se vende (for sale) signs are everywhere.
Why the Spanish got into such a state is less clear to my inexpert eye. But it may have something to do with the Spanish penchant for the easy life. A widespread ambition of young Spaniards is a Government job with its attractive pay and conditions. It might also have something to do with the Spanish lifestyle. Stuff happens in Spain between 9-10am and 2pm. At 2pm Spain closes for a long lunch and siesta. All over Spain workers do their commute twice daily, regardless of the waste of time and resources. The family is all-important. Lunch, with a few vino tintos, the most important meal. All followed by a snooze of course. Whilst the country supposedly re-opens for business around 5pm, the efficiency of this system is questionable.
In any event, Spain will be some time working through its problems. In the meantime the situation is a double edged sword for touring cyclists. You probably won't buy a tube or get your bike fixed after 2pm and many villages have a distinctly deserted feel through much of the day. It can be frustrating to arrive at a castle or other attraction only to find it closed. But the crisis also means that most things (except imported goods) are very cheap. Hotel rooms are cheap and plentiful (although if vacancy rates continue so high then closures must follow). Roads are probably not as busy as they might otherwise be and those endless kilometres of smooth rolling, mostly traffic-free back roads are an absolute joy. And your special intimate travel experience is less likely to be shared with mobs of other tourists.