Our Australian compatriots have been out in full force over the weekend and we've seen some impressive results in the Pro-Peloton from some emerging young athletes.
The Tour of Berlin wrapped up on Monday after 444.3km over 4 stages through the countryside of Germany. Our best placed Australian in the overall General Classification was Dylan Sunderland of team Baguet-miba-indulek-derito in 41st position.
The Visegrad 4 Bicycle Race in the Czech Republic was on Sunday with a 1.2HC ranking. It attracted over 130 starters for the 168km race with Attaque Team Gusto hosting five Australian riders. Benjamin Hill came 5th overall in a time of 4:35:51 and Cameron Bayly came in 15th, 9 seconds behind Hill with Guy Kalma, Theordore Yates and Timothy Yates recording DNFs.
Alexander Edmondson of Orica-GreenEDGE came 18th at the 180km Grand Prix Criquielion in Belgium riding himself into a top 30 that was literally dominated by Dutchmen. Alistair Donohoe (Attaque Team Gusto) came 47th overall, Samuel Jenner was 77th, Callum Scotson (Team Illuminate) 127th. Sam Welsford, Oliver Kent-Spark, Calvin Watson and Rohan Wight rounded out the pack in 134th, 140th, 141st and 148th position.
https://www.youtube.com/watch?v=tgl1xAFi2Cg
The Amgen Tour of California is well underway as riders enter the fourth stage on May 18. 491km later and the riders find themselves in Santa Barbara County. Lachlan Morton, who features in the well-known cycling adventure film "Thereabouts" with his brother Angus and BMC talent Taylor Phinney is currently placed in 7th position on the GC ladder. Angus is in 35th and the boys are riding for the Jelly Belly p/b Maxxis team. Rohan Dennis from BMC is right on Lachlan's wheel in 8th overall, he is followed by Jonathan Clarke in 15th, Nathan Haas in 32nd, 131st for Mark Renshaw and Christopher Williams and Joe Lewis in 134th and 136th. There are eight stages in total and the Tour wraps up on May 22 in Sacramento.
A number of Australian riders were on the startlist of the Tour of Azarbaijan however only one remained after five of the six stages were done. William Clarke from Drapac Professional Cycling was in 41st position going into the final stage in Tabriz, Iran. Clarke finished 8th on the final stage bumping him up two places on the GC standings into 39th overall after the tour concluded. Bernard Sulzberger, Miles Scotson, Scott Sunderland and Nathan Earle made appearances during the Tour but all recorded DNS or DNFs on Stage 4.
https://www.youtube.com/watch?v=ZGqLPaSdc9Q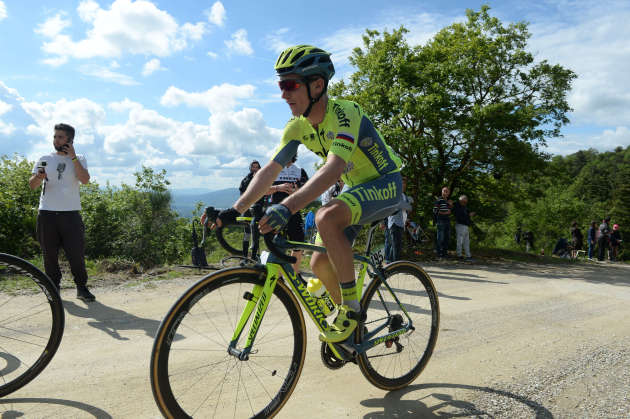 Finally, the Giro d'Italia is almost right on halfway done and there have been some great performances from our Australian riders. Jay McCarthy from TInkoff was in an all day break and is 103rd on the GC and Caleb Ewan from Orica, currently in 157th was mixing it up in the sprint with the likes of Andre Greipel and both these guys are under 24 years old! Our best placed riders are Damien Howson in 54th on the GC ladder, Simon Clarke from Orica in 78th and Adam Hansen from Lotto Soudal hot on his tail in 79th. The Orica team are chasing a GC win for their Columbian climber Esteban Chaves who currently sits in 10th overall. Heinrich Haussler, Rory Sutherland, Leigh Howard, Michael Hepburn and Australian road champ Jack Bobridge are also making their mark on the Italian Tour.