For the environmentalist, the hipster and the rider that wants' something just a little different, HTech Bikes are sure to leave you lusting after their bespoke, sustainable & Australian-made wooden bike. Located in Perth, this young company has spared no cost in research and design, moving light-years ahead of the original wooden framed velocipede or 'dandy horse', build by Karl von Drais in 1817.
While the velocipede weighed in at a hefty 22kg the HTech Aeriform ONEFRAME design has a sole purpose to reduce weight and frame complexity through the use of a hollow monocoque design, solid hardwood dropouts, a PF86 bottom bracket and asymmetrical chainstays.
The result: a frame that weighs in at only 600g more than the average carbon fibre road frame.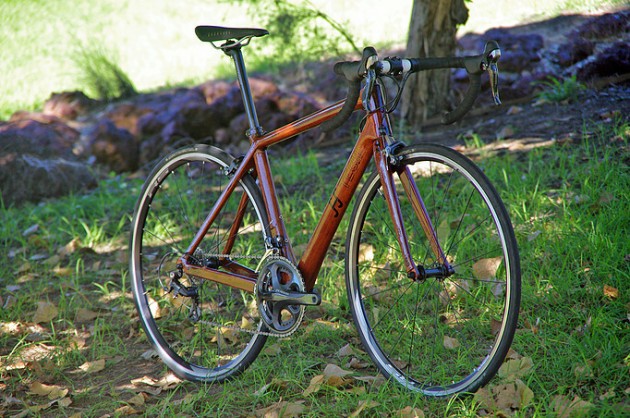 Kudos should be given to HTech for their solid hardwood dropouts design, featuring 2mm sheets of hardwood layered precisely in the direction of force to increase the strength on arguable the weakest point of the bike. Rather than bolting them, HTech have also opted for an all out integration into the Aeriform frame, resulting in another weight saving component.
Designed to have a combination of incredible aerodynamics, high stiffness and low weight, the Aeriform, which translates to 'having the form or nature of air', guarantee's a 90kg weight rating and tailored design to fit the individual's weight and riding preferences. The frame is also complimented with the addition of a wooden fork, adding to its overall appearance.
Every HTech frameset is built with locally sourced West Australian timber, specifically: Jarrah, Blackbutt or Marri, which are all known for their strength and appearance. Individual colouring, grain direction and moisture content are also all well considered before the final selection is made as these can affect the integrity of the frame.
The frame components are glued together using industrial epoxies before being shaped both internally and externally. 12 hours is then devoted to sanding the frame before multiple coats of varnish are applied to ensure a strong and resilient coating appropriate to the Australian climate.
With wood far outweighing carbon and the metals in shock absorption and vibration control, HTech guarantee's that their frames will be incredibly comfortable for long days spent in the saddle and on varying road conditions.
Unlike carbon, wood isn't susceptible to cracks and dents in the frame, although minor scuffs may occur, a quick fix of gap filler should fix the problem. However, under normal conditions, HTech have guaranteed their frames will not need recoating with the only exception being prolongued use off-road.
While the Aeriform ticks boxes in weight and design whether the wooden bike will appear in the racing scene is yet to be seen. Although HTech have designed the frame to UCI regulations it is not yet officially approved and is something HTech are looking to rectify in the future.
Although there is no doubt that HTech has designed the bike for sustainability and has spared no cost in quality, it is difficult to say who the HTech Aeriform will appeal to most. Despite the first ten bikes being sold below cost price, the Aeriform frame comes in at almost $3000, making it a costly commuter bike and 'bespoke item' but a beautifully designed and quality product nonetheless.