I'm just about to complete my 14th day of self-isolation in Ireland. When I began, I thought 14 days was going to be all that was required for me, but given things have escalated it looks like we're all now in this for the long haul.
I'm certainly no virologist nor psychologist but I've managed to make it to this point with my health and happiness, and I don't like seeing panic set in with friends now going into isolation back home. Living the life of a continental level cyclist also involves a load of social isolation and a lack of regular income, great pandemic prep.
I thought I could share a few Do's and Don'ts that might help you through your time in isolation, they've certainly helped me.
| | |
| --- | --- |
| Do | Don't |
| Stay more than 2m away from everyone outside your household. The supermarket will be most difficult for this but if there is mutual respect for each other it is very manageable. | Come within 2m of anyone outside of your household. Not rocket science. Your grandparents were asked to go to war, all you have to do is stay home. |
| Wear gloves when you do go to the supermarket. Sure you'll look like a big dork but you'll look like an even bigger dork getting your housemates/family to bring you every meal for a week or two because you can't get out of bed. | Touch your face until you've got home and washed your hands. Surprisingly the most difficult rule to follow but concentrate for a day or two and it becomes a habit. |
| Check media once or twice a day to stay up to date with the latest news and updates. It may affect what you're legally allowed to do and where you can go. | Spend your whole day refreshing for the latest updates and cases tally. This is a sure way to let this pandemic absorb your entire life, which it certainly doesn't have to. |
| Get out of your bedroom as much as possible. Read in the back yard, yoga on the front lawn, meditate on the balcony, a solo walk/run/ride wherever you are permitted. The sunlight will be great for your morale and vitamin D is important for your physical and mental health. | Do anything high-risk that may put you in hospital. This period will put enough stress on the healthcare system without adding any extra unnecessary casualties. If you must drive, drive carefully. Now is also not the time to chase that downhill Strava KOM… |
| Separate your work-space from your relaxation space. If you have the luxury of space in your home to warrant this. For those now working from home it is important to find a work-space which can be isolated from your relaxation time | Live in your bed. Idleness is a definite way to sabotage both your mental and physical health so the more time you spend ticking off miniature jobs the better you'll be for it |
| Stick to regular meal and wake up times. This will keep your circadian rhythm in check and consequently regulate your other hormone cycles, stopping you falling in a slump. | Sleep in. Its easy to play the "I've got nothing to wake up for anyway" card but waking up at 12 and going to bed at 4 is hardly going to encourage productivity. |
| Check in on your friends and family. Once a day if you can. It's not hard to give a simple "how's it going?" to someone you know is badly affected by the current situation. It may also make you personally feel more useful if you can help others by even just a quick chat and some reassurance. | Live in your own little bubble. Being physically isolated from your friends doesn't mean you shouldn't stay in touch. If you're not coping well with an aspect of the situation let a friend or family member know. They're most likely facing a similar problem and may have a handy piece of advice to help. |
| Celebrate the weekend in your house. You may be out of work but doing something special for the weekend can give you a sense of accomplishment for getting through the week. A special favorite meal Friday night. Games night Saturday night. Bacon and eggs Sunday morning. Something to look forward to. | |
| Something you wouldn't usually have the time for. If you've ever wanted to get something done and said, "I wish I had the time", now you have the time. Read up on that topic you're interested in, learn to cook that meal or play that instrument. | |
| Give a smile and a wave. If you come across someone while out exercising it doesn't hurt to be friendly from a distance. It may be the only social interaction either of you have for the day so best make it a pleasant one. | |
| Give yourself a list of daily activities to complete. They can be seemingly unimportant things like reading a book, going for a walk, doing 100 sit-ups. You'll be surprised the sense of accomplishment felt by getting through your list each day. | |
| Keep a journal/diary. Reflect on what you've done well each day and what you'd like to do better, add ideas for fun activities. If you can make each day better than the last you're on the right track. It could also be fun to look back on in years' time to remember just how crazy this period is. | |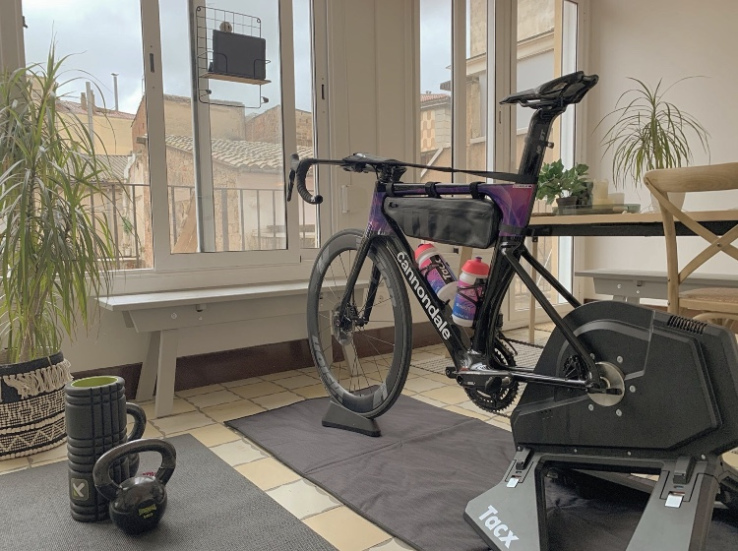 I'm lucky as my team, EvoPro, has made sure I have a roof over my head and food on the table in these tough times.
If we don't collectively follow the restrictions in place from our governments then this could be drawn out to the point where many people around the world struggle to afford these necessities, and many others lose their lives. It may still feel like a doomsday film but the actions of everyone are now having very real consequences.
My final piece of personal advice is to fake it. This kind of pandemic is unprecedented in modern times. If anyone tells you they've got self-isolation dialed they're telling pork pies. But, if you spend enough time convincing everyone else that you know what you're doing there's a good chance you'll even convince yourself.
Cyrus Monk is a 23yo pro cyclist from Victoria and currently based in Ireland. He rides for Irish Continental Team EvoPro Racing and has completed a Bachelor of Science with a Physiology Major at the University of Melbourne. A talented rider and gifted writer, you can follow his blog here cyclistscientist.com