The weather's getting cooler, days becoming shorter and that warm-weather fitness you had, well it seems to be slowly slipping away.
Yes, most of us have been here before – fitter and faster in summer, but week-by-week as the weather cools, that fitness seems to slowly slip away.
It's not all bad news. With indoor cycling options such as Zwift absolutely booming in popularity, and the trainers used to access these brilliant platforms becoming ever-smarter, these cooler months should be the time we increase our fitness rather than let it slide. Enter JetBlack Cycling, a 100% home-grown Australian company who offer a wide-range of home trainers to suit riders of all levels and abilities.
Making The Smart Trainer Smarter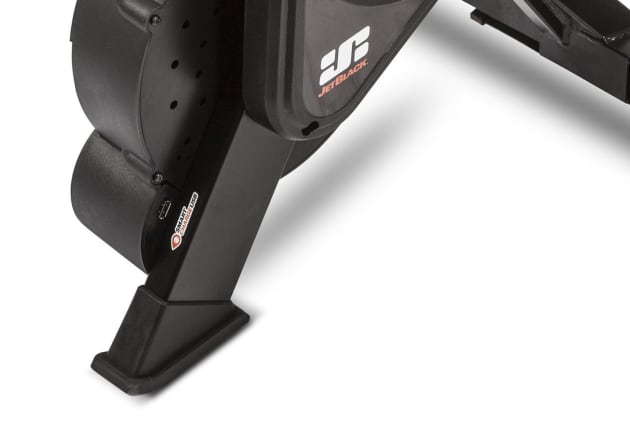 The JetBlack WhisperDrive Smart is the perfect cool-weather training partner. A fully self-generating electronic trainer, the WhisperDrive Smart, supports ANT+ FEC and Bluetooth Smart. The unit seamlessly connects with Zwift, sending speed, cadence and power, and boasts a host of other features.
With an in-built SmartCharge USB, the trainer uses a generator to create its own power – users can actually charge devices while they're training. There's app-controlled progressive resistance of up to 1600watts at the equivalent of a 12% incline and also 'Progressive Power Curve Fall Back Mode'.
Feel like a data-free ride for a change?
This is not a problem with the WhisperDrive Smart – it will detect the absence of a connection and revert to the progressive power curve and feel the same as riding a fluid drive trainer.
Stable & Secure
The Whisper drive features many other key points that help it stand out from the crowd. There's a solid frame with wide contact points that provide maximum stability on those sprints and intervals. The unit is compatible with the majority of axle sizes and compatible with Shimano/ SRAM and Campagnolo cassettes. The unit weights in at 17kg.
Enter The JetBlack Pro Coaching App
From the flagship WhisperDrive Smart down to entry level models, all trainers in the company's range come with the JetBlack Pro Coaching App.
With data, particularly power, one of the key drivers behind the way many of us assess our training, the JetBlack app offers a range of features that can only make you a stronger rider.
App users have the ability to –
Customise their own workout screens.
Keep track of session progress monitoring speed, distance, time, power (perceived or actual), heart rate and calories.
Train towards suggested GEAR and PRE (perceived rate of exertion) intensities.
Measure and monitor cadence with the help of our pulsing cadence indicator.
The app also features a built-in fitness/zone test and zone calculator. Users can ensure their output is in correct training zones. Personal indicators can be added to help give users cumulative feedback on current and past sessions. There's also an inbuilt recovery test to help users reach top form.
Finally, the JetBlack Pro Coaching App allows users to compete and share their results. Data can be directly uploaded to Strava, TrainingPeaks, Twitter and of course Facebook (so you can brag to your mates!).
It's getting cooler outside and still only the month of May. It's definately time to be seriously thinking about indoor training options. You never know … put in the hard yards during the cooler months and you may even go into next summer a stronger rider than ever before.
JetBlack's full range of indoor trainers can be viewed on the company website.