Tomorrow, Saturday, March 17th 2018, 53 riders will set out for the 'official unofficial' Indian Pacific Wheel Race, a ride across Australia after the official event was cancelled earlier this year.
The cancellation came 5 weeks ago, after organisers said more information had come to light about the potential outcomes of a coronial inquest being held following the tragic death of inaugural race competitor Mike Hall.
"As you're probably aware, the matter of Mike Hall's death is before the A.C.T. Coroner's Court with an inquest likely to be held later in the year," said organiser Jesse Carlsson.
Riding On In Memory Of Mike
"It is with an extremely heavy heart that we cancel the 2018 Indian Pacific Wheel Race (IPWR) with immediate effect," he said. "That is, Dragon Face Pty Ltd will not be facilitating the riding of the IPWR in any way."
Within days of the shock news, a group of riders, including many already registered to ride, decided they'd ride on regardless, albeit unofficially.
They'll set of at 6.22am (Perth time) on Saturday morning, the same time ultra-endurance cyclist Mike Hall was killed on March 31 last year.
An unsupported and now unofficial ride across Australia, covering the same route of 5500km, riders will leave Perth's outer suburbs, cross the Nullarbor, ride South Australia's desolate coastal roads, head into the Victorian alpine regions and high country (where it was actually snowing during last year's race), and finally pass Canberra before finishing at the Sydney Opera House.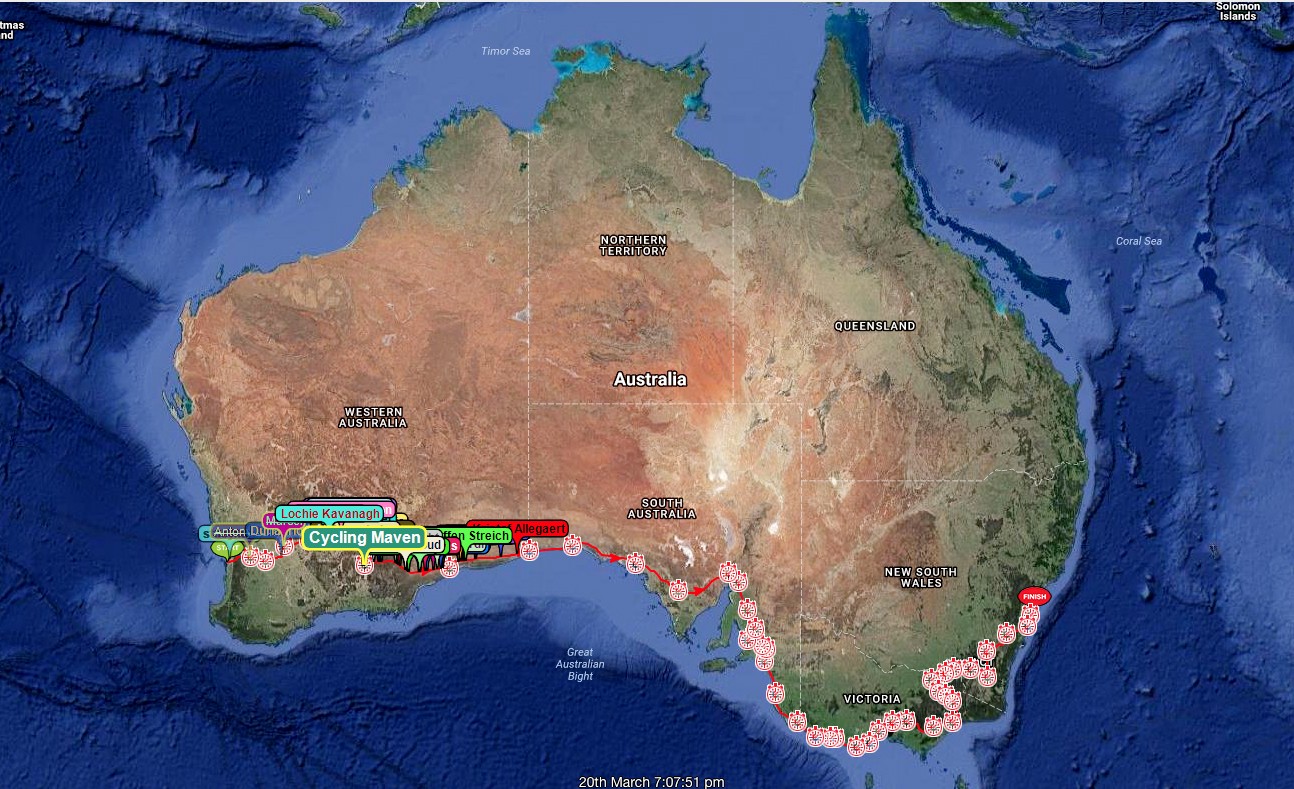 From Cooktown To Perth To Sydney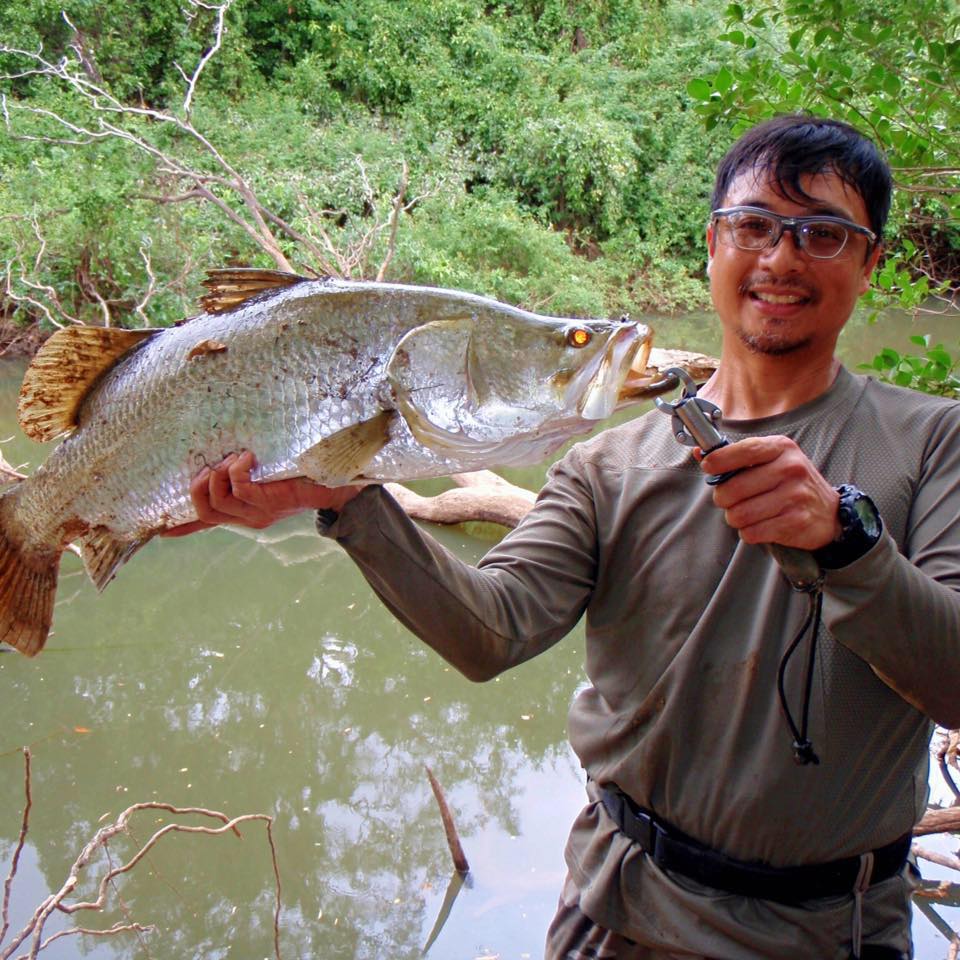 Dale Tan is a 44yo remote area nurse based in Cooktown, Far North Queensland. No stranger to the loneliness of long-distance bike trips, well over a decade ago Dale rode solo from Cairns to the tip of Cape York aboard a mountain bike. This was back when the Peninsular Development Rd had more corrugations than a Colourbond factory, and Dale rembembers just about every single one of them.
Bicycling Australia spoke with Dale shortly after he arrived in Perth where he's busily preparing for the 5500km ride back to the east coast, prior to a 3000km plane trip home.
"I'm doing the IPWR because it is my lifelong dream of crossing the Nullarbor and by doing it so on a push bike makes it more epic," Dale told us.
All Part Of A Grand Plan
"In doing this ride will also get me closer to my bigger dream of circumnavigating the whole of Australia – I have covered most of the e east coast so far from Sydney right up Cape York," he said.
After the IndiPac, Dale said he plans to ride the top end. "I'm looking forward to seeing this part of the country and the remoteness is second nature to me by now," he said.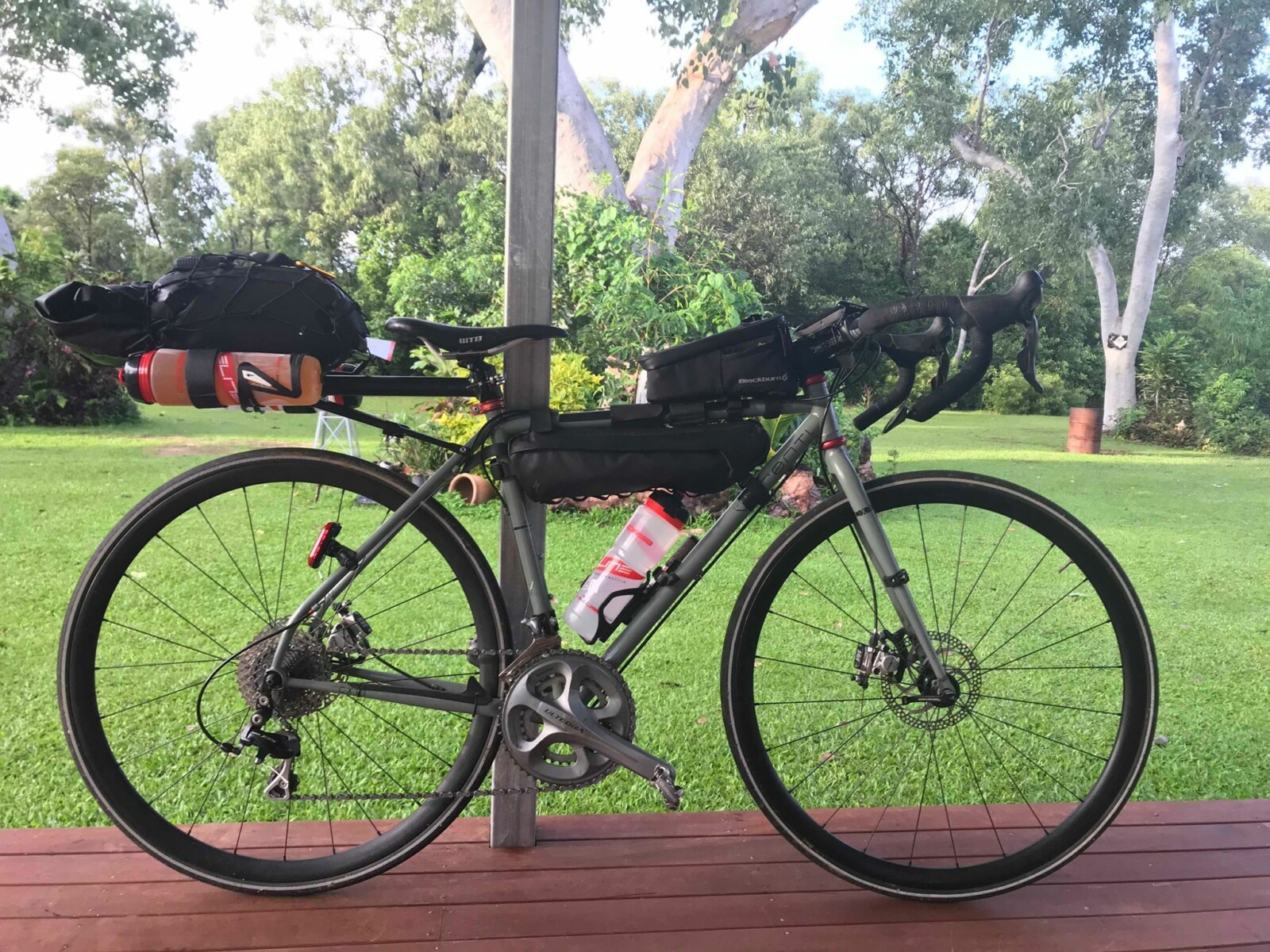 With a fleet of bikes in his shed at home in Cooktown, Dale's chosen steed for the IndyPac is a Wiggle branded steel CX frame from England but born in Taiwan.
"I named her 'Fifty Shades' as the Reynolds 531 steel frame is coloured grey," he said. "It is heavy but it gives me confidence that nothing much will break," he said. "I sourced everything on the bike from Facebook bike markets and eBay. Running gear is a mix of Dura Ace, Ultegra and 105."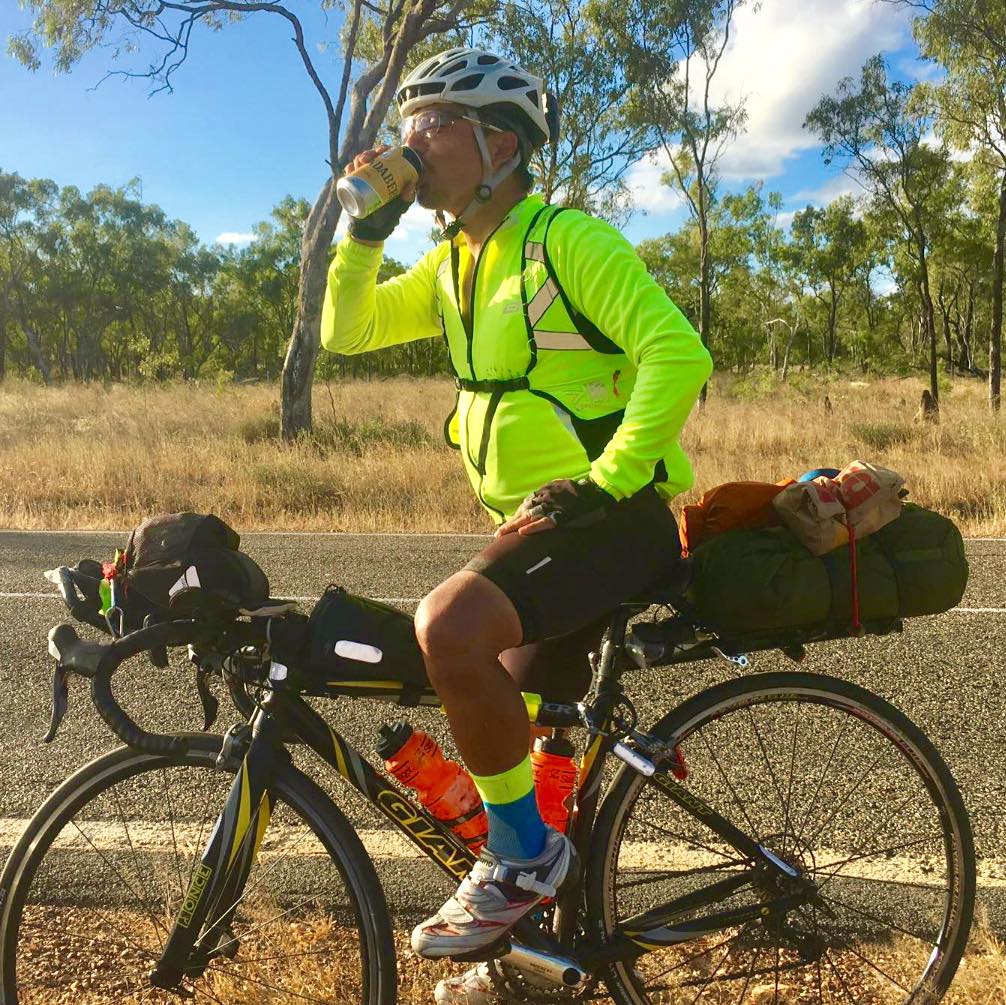 A Versatile Machine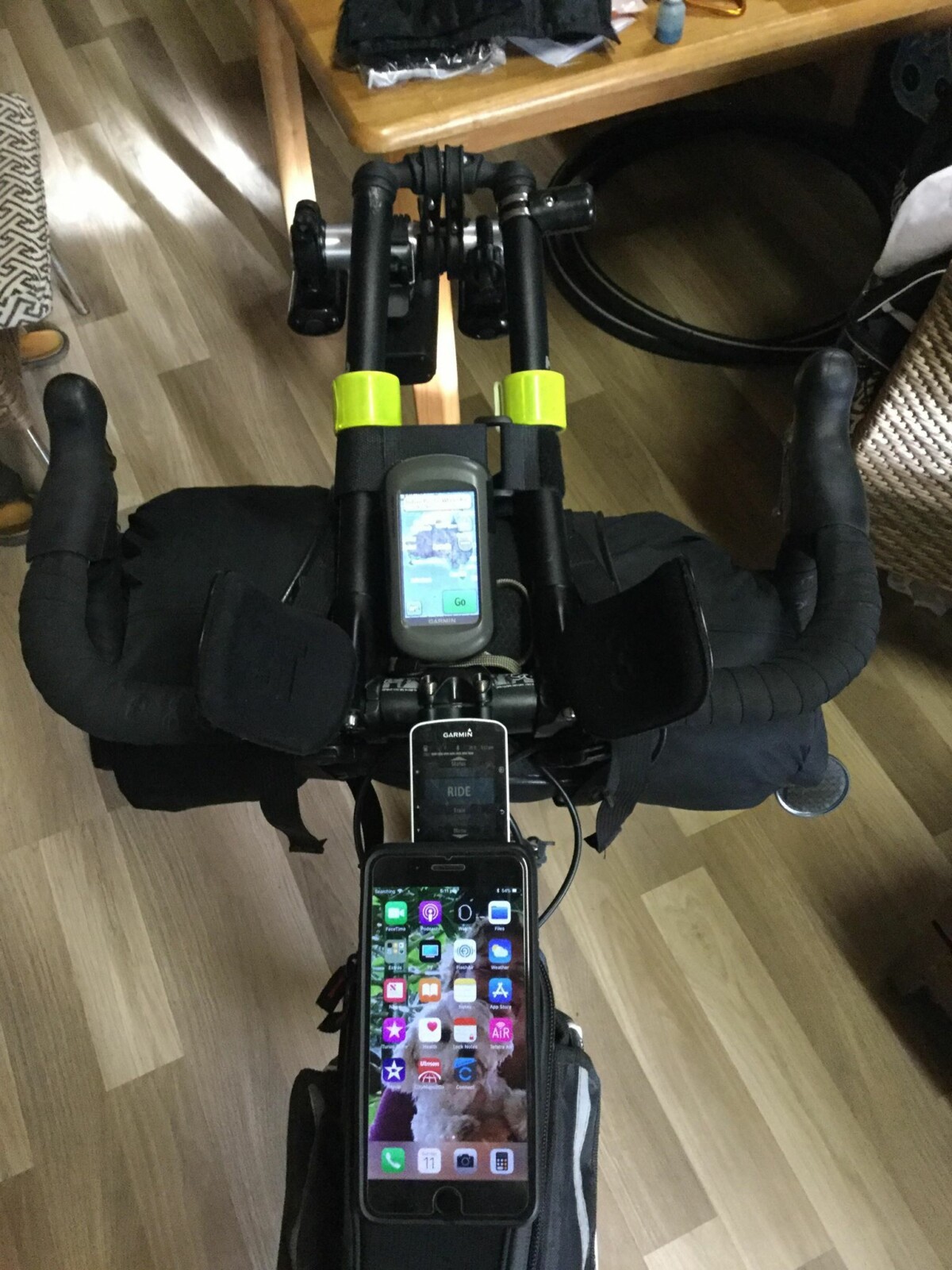 With a 50×34 chainring up the front and 11-36 cassette, and with a 'Road link' derailleur extender, the wheels are 38mm semi-deep alloy by Specialized. Dale has chosen Continental Gatorskin tyres in 28c, and tubed. Brake wise, they are 160mm disc TRP hydraulic discs.
"I'm using a Specialized burra burra seat bag with a rear rack so I can load more weight in it," he said.
"The frame bag is also a Specialized, the top tube bag is a Blackburn and handlebar bag is by Topeak. I am not running a dynamo as it is too expensive for me, so I am running AA battery powered lights as they can be readily purchased from almost all service stations."
Navigation wise Dale has chosen a Garmin Oregon GPS and iPhone. Customised mounts have been improvised for lights and GPS on the 3T triathlon aero bars.
"I'm carrying 4 spare tubes and one tyre," he said. "I have four bidon cages on the bike to be able to carry four litres plus more in back pockets."
Andre Bastista's Kit List
Andre Bastita is another rider to have recently arrived in Perth for the daunting challenge. This Sydney-based cyclist, who's originally from Portugal, has been planning his IndyPac adventure for months. Andre recently shared photos of his bike along with comprehensive list of all items he's taking, and says the entire setup weighs 16.7kg without water.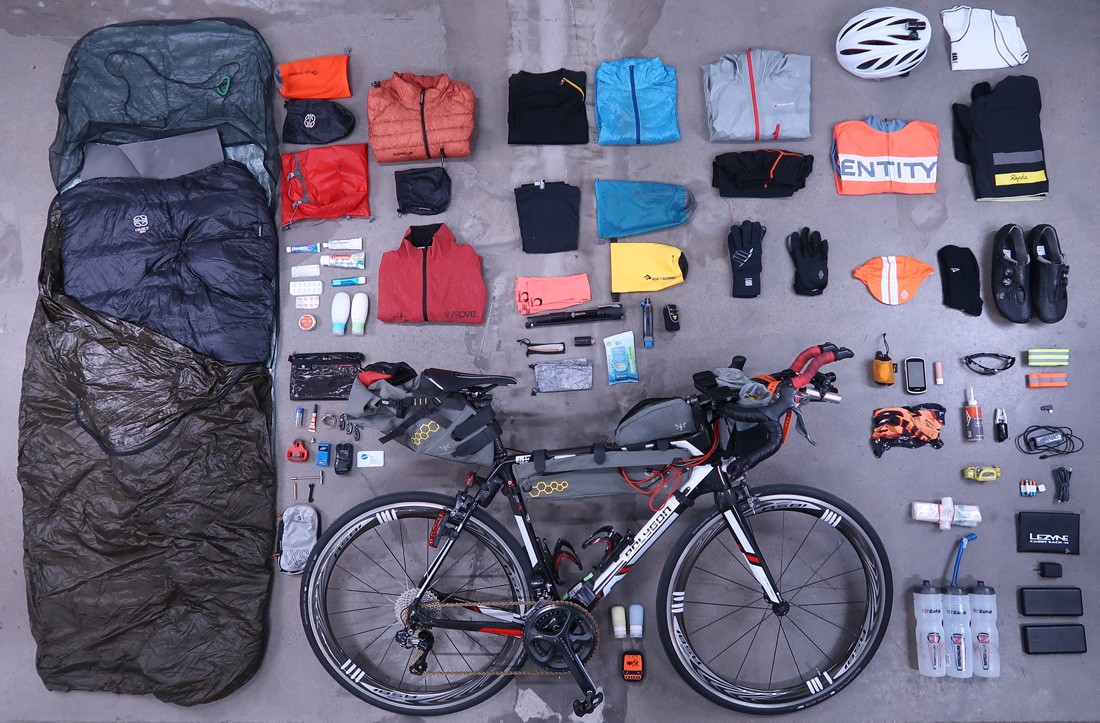 Rider Kit
Entity Cycling Jersey
Entity Cycling cap
Rapha Brevet Bibs
DeFeet socks
Bont Vaypor S shoes
Sportful Thermodynamic Lite Sleeveless Base Layer
Entity RH15 Road Helmet
Entity MG15 gloves
Oakley Jawbreaker Photochromic lenses
Lezyne Femto Drive Duo Helmet light
Bike
Polygon Helios A8X
Shimano Ultegra 6870 (53-36T crankset, 11-34T cassette)
Shimano Dura Ace TT Shifters
Ritchey VentureMax
Ritchey TT bars
Fizik Bartape
Shimano RS81 C50 wheelset
Schwalbe Pro One 28c
Zefal Z-Liner puncture protection tape
Exposure Strada 900
Entity HL45 400 Lumens front light
Entity LS15 Safety lightset
Cateye 5 LED Rear Light
Moon Shield USB Rear Light
PRO Stealth saddle
Entity RP15 Carbon Road Pedals
Zefal Cyclops rearview mirror
Entity BC30 Red Bottle Cages
Aquapac Powerbank watercover
Voile straps 2x
Entity HP45 Telescopic pump
USB cables
2x Zefal Magnum 1 Litre Bottle
2x Tubes
2x Tyre Levers
Garmin 1030
Buff headband
2x Ankler 20.000mha Powerbank
Frame Bags
Apidura Backcountry Saddle Pack (17L)
Montane Minimus 777 Rain Jacket
OMM Kamleika Rain shorts
Sportful Neoprene gloves
Sea To Summit dry bag (2L)
X-Bionic Long Sleeve Base Layer
Cumulus Inverse Down jacket + bag
Sea To Summit dry bag (1L)
Proviz 360CSR Reflective vest
Eagle Creek Pack-It bag
Travel toothbrush
Toothpaste
2x 100ml containers (sunscreen and chamois cream)
Pills
Green Goo First Aid Ointment
Numbing gels
Eagle Creek XS Tool Bag
Fiber-Fix spoke repair
Super Glue
Pipe Clamp
3x Derailleur Hangers
3x Tyre boot
1x Tubes
Parktools Tube Patch kit
Presta to Schrader Adapter
Spare Cleat
2x Spoke Tool
Valve extender
Exped Compression Drybag
Borah Gear Cuben Bivvy bag
Cumulus Quilt 150
Gossamer Thinlite (shortened)
2x Platypus 2 Litres water bag
Sea to Summit foldable backpack
Apidura Backcountry Frame Pack (4.5L)
Lezyne Medium Caddy Sack
Cygnett 2x USB Wall Charger
1.8m USB Cable
6x AAA batteries
4x CR2032 batteries
Shimano Di2 charging device
L-shape USB connector
Cumulus Windy Wendy
Petzl Tikka headtorch
Wet wipes
2x Borah bags (spares)
Deejo foldable knife
Ligther
Topeak Mini 20 Multitool
Pedco Ultralight Tripod
Lurbel Rally Arm Warmers
Assos Knee Warmers
Apidura Backcountry Food Pouch (1.2L)
Zefal Magnum 1 Litre Bottle + Camelbak Hose and Bite Valve
2x Apidura Backcountry Food Pouch Plus (0.8L +)
Entity LB30 Dry Lube
DIY Chaincleaner
Chap Stick
2x Reflective ankle straps
Apidura Backcountry Top Tube Pack (1L)
Sea To Summit Dry Bag (1L)
Canon G7x Mark II
Revelate Spocket Accessory Bag
Spot Tracker Gen 3
2x 37ml containers (sunscreen and chamois cream)
Bicycling Australia will bring you highlights of the 'official unofficial' Indian Pacific Wheel Race – check back to our website for updates.