It's kind of like a 24 hour a day / 7 day a week Tour de France, only better.
That's one description of the Indian Pacific Wheel Race, the gruelling trans-continental event currently underway from Perth to Sydney.
Of course this year, for the second edition the event, the 'race' is unofficial, after the official 2018 IPWR was cancelled by organisers following details coming to light about the forthcoming ACT Coronial Inquest into the tragic death of Mike Hall in 2017.
Determined to proudly defend their passion for the sport of ultra-endurance, cross-continental cycling, a group of 53 hardy souls set off from Fremantle at 6:22am on Saturday morning. They're riders from around Australia and across the world, all with a strong love for the sport, respect for each other and deep appreciation for the pioneering ways of the late Mike Hall.
Some are fast, others slower, some carrying all manner of gear, others going ultralight, but all sharing the deep personal challenge of riding 5500km across Australia completely self-supported by bicycle.
Meet 75yo Endurance Cyclist Paul Ardill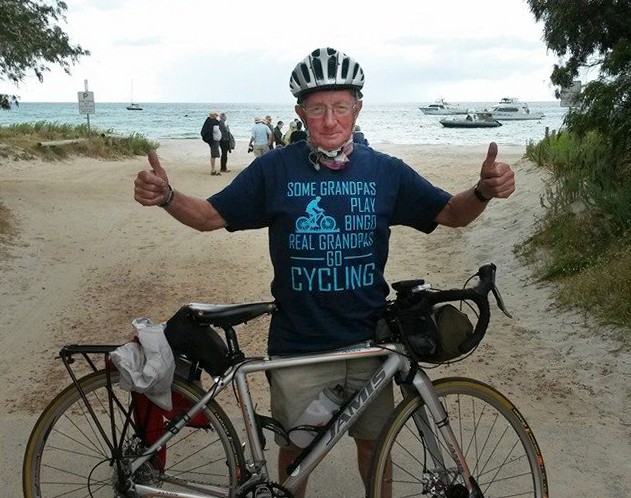 During the 2017 IndyPac we met Australia's elder statesman of ultra-endurance cycling, then 74-year-young Paul Ardill.
Taking up cycling after suffering a stroke at age 65, Paul's doctor suggested he start riding a bike to restore lost balance and boost his general health.
"I was supposed to just ride around the block I guess," he told us from Fremantle while making final preparations for the 2017 event. "But the block's been getting bigger and bigger," he added with a laugh. "I don't know what the doc's thinking now … he must think I'm mad."
Not riding this year's IPWR but still covering big distances in all manner of regions around Australia (you can follow Paul's Back Road Bicycle Adventure page here), Paul is closely following this year's 'race'.
The Latest On The IPWR & Expert Analysis
At noon on Tuesday lead IPWR rider, 24yo Abdullah Zeinab of Melbourne, had reached the Western Australia / South Australia border. Covering a staggering 1501kms in 3 days, he was 140km ahead of second-placed Stephane Ouaja – a Paris-based bike courier.
For expert analysis and inside information from a man who's closely following the event, we caught up with confirmed 'dotwatcher' Paul Ardill and asked his thoughts on the first three days of the IPWR.
Paul – thanks for speaking with us – first up we've seen a young Melbourne rider Abdullah Zeinab make an incredibly fast start of the IndyPac. He's now covered 1500km in three days. Has he gone out too hard, too fast and too early?
"I have spent the afternoon researching Abdullah and believe that he is well prepared. I have also taken time to watch the video he produced, "Journey to the Other Side". I did this to get an idea of the different attitudes the top riders carry into the race. It has been suggested to me that he is riding above himself and that only time will tell.
"He is certainly a focused individual and is physically in the elite bracket. He is working to a definite plan and the only thing that I see as a week link is his win at all cost philosophy. Alexander Kristof (one of the lead competitors of the 2017 event) was more astute and possibly more realistic. He was also ahead of Abdullah's pace at this stage of the race."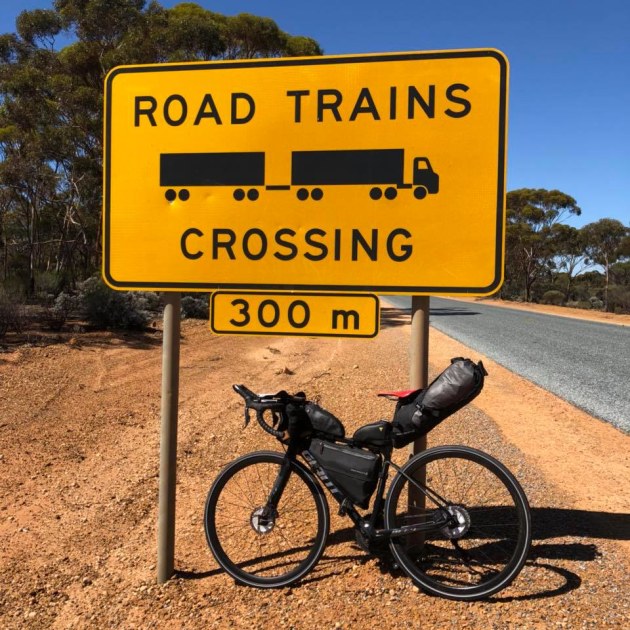 Abdullah appears to have some serious competition in French rider Stephane Ouaja from France. Your thoughts on this battle up the pointy end of the 'event'?
"As for the Frenchman, well I would put my money on him for the win as he seems to be riding well within himself. A week ago I wrote that this was not a race. How wrong was I? This event is providing excitement plus."
Paul, of course it's not about winning or getting the best time across the 5500km, the IPWR is for all riders. Who are some of the riders you are particularly fascinated in watching this year, and why.
"As for the rest of the field. Well there is a lot more quality there than first met the eye. Personally, because of their support of my efforts last year, I am keeping a close eye on three riders in particular. In the mid field Rupert Guinness is doing particularly well and seems to be enjoying the experience.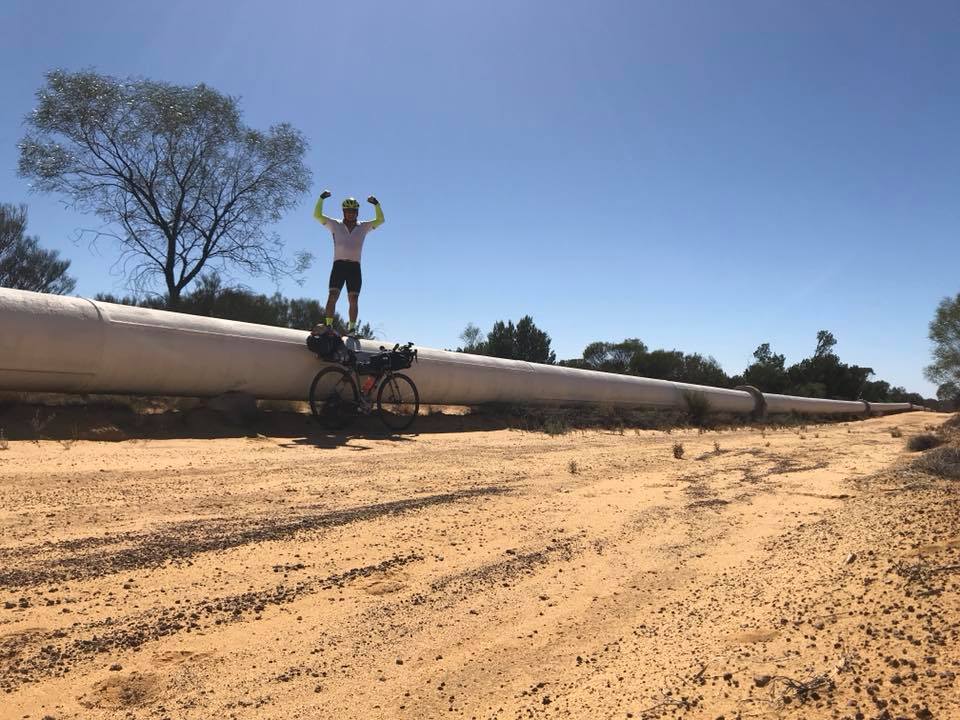 Then there is Dale Tan. Dale hails from Cooktown in Queensland and was not accepted in the original draft. He then got a place in a team and is now riding the full distance on a bike he built up himself. He works on a tight budget and tipyfies the Aussie battler to a tee.
I also am closely following Narelle Darcy. Narelle has been one of my strongest supporters and after a shaky start seems to be finding here race legs. There are others, but my heart goes out to all who have been brave enough to line up in front of the South Mole lighthouse."
Mad Poms & Englishmen
And how about Joseph Kendrick, the Brit crossing the country on a fixed gear bike?
"As for the race of fixation. It is quite amazing just how well Joseph Kendrik is performing. I have actually been riding a single speed quite a lot lately and admire those who ride fixies. Not for me, I like to coast a bit. Also I would not write Pawel off for the fixie win.
The other one is Pawel Pulowki whom I mentioned. There is only 51 kilometres between them and Pawel seems to be doing the stalking bit. Iit's a very interesting race within a race that is not actually a race."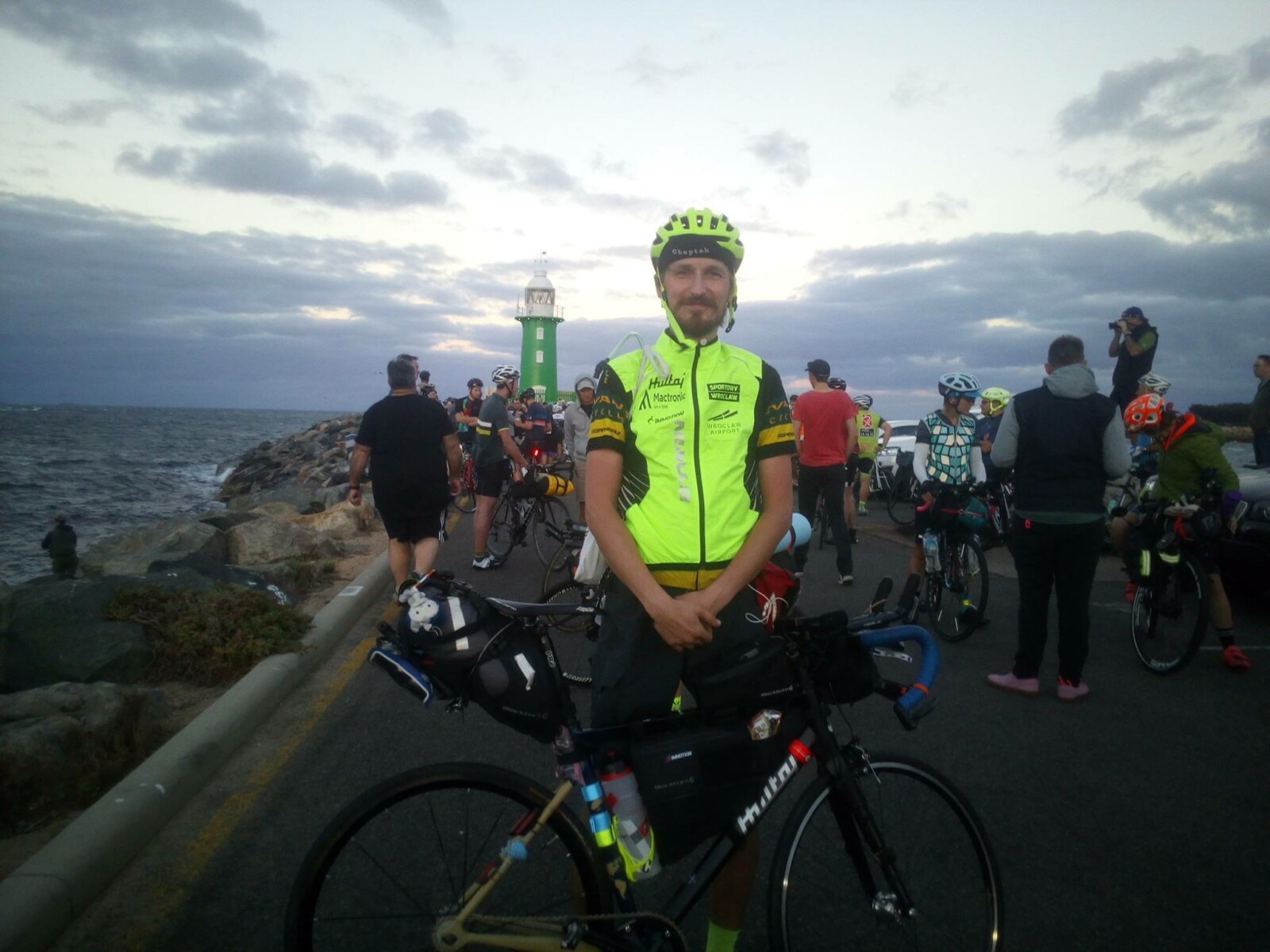 Paul it was particularly moving to see Mike Hall's mother Patricia send her best wishes and strong support fo this year's riders. She has also asked for a rider to leave a message at his memorial on Mother's Day.
"Hopefully Pat Hall's request for her note to be dropped at the ghost bike will be met by one of the riders. This lady has faced the loss of her son with a remarkable amount of understanding and lack of bitterness. She is a truly remarkable lady – it's no wonder Mike was so much Mike."
Finally, there's a lot going on for Dotwatchers – any other comments from you on this event?
"Yes – the public support and interest has been nothing short of sensational. Special mention must go to Damien Van Loon who's coordinating the IPWR Dot Watchers Facebook group. I feel that this has been the glue that has made the 2018 ride what it is and kept Jesse's dream alive."
Have Your Say On The 2018 Indian Pacific Wheel Race – We Would Love To Hear Your Thoughts.