Campagnolo are first of the 'big three' groupset manufacturers to announce road-specific 12 speed cassettes, with Bicycling Australia's Peter Maniaty recently travelling to the global launch of the groupo in the Canary Islands.
The 85yo Italian company revealed the heavily-rumoured groupsets in mechanical incarnations of its Record & Super Record rim and disc brake range.
"The recent introduction of a new transmission has presented the cycling populous with a new performance standard sure to offer the maximum in speed, precision and versatility like never before," said Campagnolo in a statement.
"The introduction of the disc brake project the year prior saw the company bring to market six new groupsets with unrivaled braking performance and customisable ergonomy. By combining these two fantastic innovations, Campagnolo has introduced two new groupsets – Super Record and Record Disc."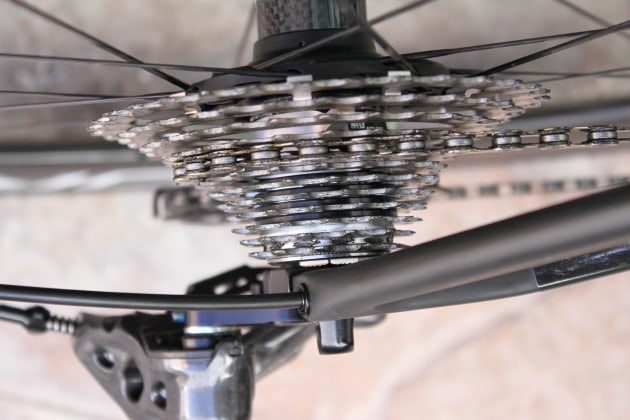 Building on the back of the H11 Ergopower commands, the new Super Record and Record incorporates advancements to ensure they earn their top-level standing. As with H11, the new Ergopowers are 8mm taller than their rim brake counterparts, offering an additional hand position without altering ergonomy.
The company says internal studies showed this new form optimized access to the brake lever for all hand forms and sizes from the drops and made for a safer hand position when engaging the lever. "New forms for the upshifting levers, now larger and easier to hold in addition to being profiled to match perfectly with the contours of the brake lever," they say.
Both brake and upshifting levers are completely customizeable to the rider's needs and preferences by using an Allen key.
New internals, matched with advancements in derailleur technology and new, super-low-friction cables and housing, make for easier upshifting that requires not only less force but also less movement of the rider's hands. The starting point of the upshift now begins more towards the outside and as such eliminates useless free-stroke, a characteristic unique to Campagnolo.
A larger downshift lever is also introduced to ensure easier location of commands during even the most demanding and extreme efforts. The new commands maintain the Campagnolo tried and trusted One-Lever-One-Action layout and match with the industry leading Ultra- Shift internal mechanism.
Campagnolo state the rear derailleur carries out its duty flawlessly over 12 speeds but does so in the same spacing as required for 11, thus rendering it 100% compatible with current wheelsets and frame spacing.
Narrower Chain
To make this possible the high performance and longest lasting chain on the market was reduced in width without altering its reliability or longevity in the slightest. The individual cogs on the cassette and spacing between them were slightly reduced.
"Thanks to additional gears in the transmission, only two cassettes will be necessary," said a company spokesperson. "12 speed allows for all gaps in metric development to be filled and as a result, a scale that increases by only one tooth at a time for the first 8 cogs. The rider can choose his or her preferred high end gearing with a selection of with 11-29 or 11-32."
Campagnolo say the front derailleur also breaks new ground with technologies including an unlinked upper semi rod that eliminates free stroke, specific rod designs and thinner cage form adept at handling cross chaining to offer very versatile and performance oriented front shifting. Dedicated positions for each chainring also ensures safer and more efficient shifting and component longevity.
Compatible Across Campy Range
The all-new cranksets in both Super Record and Record versions maintain the four arm, 8-bolt spider design that rendered one crankset compatible with all chainring combinations. However, the new Movement12 cranksets have been developed in such a way to be compatible across all platforms as well.
One crankset for all applications is now available…whether you choose compact or standard, rim or disc. These are available in 4 lengths (165, 170, 172.5, 175) and carry over technologies such as chainring combination specific shift zones, hard anodisation of chainrings and Ultra-Torque meet with left crank closing system, innovative new aero- dynamic form and more efficient chainring bracing methods to ensure to most advanced cranksets yet from Campagnolo.
Campagnolo say they have created a pair of 12 speed groupsets that need to be ridden to be appreciated.
'Smoother and More Responsive'
"Wider gearing, smoother and more responsive shifting, zero compromise cassette scale, new shifting technologies, improved ergonomics and some of the nicest disc brake performance available means that there is but one choice if the quality of your ride really matters," they say.
Bicycling Australia's Peter Maniaty recently travelled to the Canary Islands for the official Campagnolo 12speed launch – his review will feature in the next print edition of the magazine.