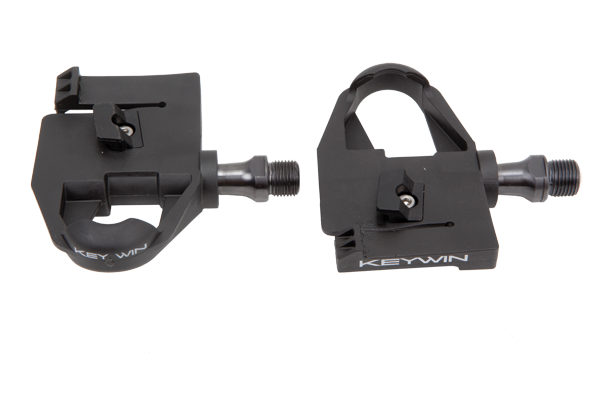 Designing and delivering to market a new product (in this case a road cycling pedal) is a big ask for a small business. Development costs balloon as successive prototype iterations are produced. User feedback, design revision, internal testing, quality control, and then distribution wrangles and marketing costs are a significant challenge. Add to this the 500lb gorilla in the fight for component supremacy—as well as its existing competitors—and you wonder why Keywin pedals continue to chase the dream. That dream started in 1983 by Kiwi John Winkie who pioneered the twist out release mechanism that has been taken on by the rest of the pedal making establishment. Yet after 31 years the dream is still alive and Keywin pedals continue to manufacture, now having expanded the range to a carbon fibre titanium spindle model.
The Carbon Ti pedals weigh a miserly 88g each, cleats just another 22g each and if you include both pedals, cleats, and all the nuts bolts and washers the whole setup weighs only 247g. That's xxg less than Shimano's carbon Ultegra setup.
The Keywins have a large flat pedal face (Keywin claim class leading spec here at 3,045 square mm) which provides very good stability once you are clipped in. However I found the clip in mechanism not as positive as I would like. A couple of times over the course of using the pedals for a month or so I was seemingly clipped in, but not actually, which caused me to 'pull my foot' as I moved away from the intersection. However, once locked in place you can ride normally and exert full pedalling force with confidence and still exit as you choose.
Radial movement adjustability up to a full six degrees allows your foot to pivot (think side to side heel movement) and find its most natural position throughout the pedal stroke, or it can be fixed solidly in place if you desire. The concept behind this feature of the pedals is that a more stable pedal/shoe connection allows more leg power to be used for propulsion instead of trying to stabilise your foot. This choice between fixed or custom movement is easily sorted by fitting either of two end caps to the pedal axle. I chose the six degrees option and I must say the extra float was a strange but comfortable sensation for me—interesting to feel the way your foot actually wants to move during the course of one cranking revolution. Scaling the level of movement back a little seemed a better, more confidence inspiring connection though.
The cleats (which however unsurprisingly provide minimal traction for walking on hard floors) come with extra-long slots to provide greater variation in shoe mounting position. There is also extra choice in the several lengths of spindles that are available, in case you want to increase the Q factor of your setup.
At $325 the Keywin titanium axle pedals are reasonably pricey, though in the same ballpark as significant competitors. But if you're looking to trim weight from your bike, or for highly adjustable pedals they are worth your consideration.