Falco Peregrine. Known to most of us as the Peregrine Falcon. A majestic bird that can fly at insane speeds, apparently the fastest creature on earth. A neon pink predatory bird travelling at 300km per hour would have to rate up there with the deadliest and most amazing things you could encounter in the wild. Let's see how its namesake rides.
It's a pretty cool name for a bike! In nature, we often find that dangerous plants and animals are coloured brightly. But Falco the brand is as much the story here as the bike itself. The young company hasn't hedged their bets: their ideology flies in the face of the contemporary bike industry, and they're vocal about their self-nominated position as catalysts of change. Falco was formed in 2011 by a group of passionate cyclists with a broad range of prior business experiences. Their goal was to produce top class bicycle frames with an emphasis on design and quality, by leveraging the production capacity of China's booming bicycle trade. Their brand would not bear the name of a legendary rider or pretend it was based in Europe, in fact it would scream loudly that it was all about China and make a concerted effort to be as transparent as possible.
Falco staff have worked and studied in Western countries, and ridden around the world. Their website is easy to read, and clearly aimed at a Western audience. Falco addresses all the possible issues or assumptions about their bikes, distancing themselves from the imitation big-name brands of the net and positioning themselves alongside the most visible and successful mainstream consumer brands in terms of quality and technology. If the whole Falco brand and pitch was made up, it would make for a fascinating post mortem of branding and consumer phycology in the digital age. We're confident that we're not witnessing a fraud though! This is an intelligent company that keeps its door open rather than working to stop anyone peering in. It's a refreshing honesty. To follow along with how the first Falco came to be, and have a peer into the China-factory world, just search 'weight weenies falco'. You can follow the evolution of the original Peregrine from concept to production. It's like a reality TV show, playing out each intimate step of life in full view of the public.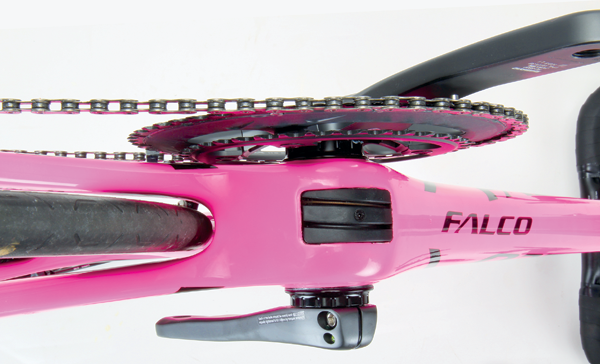 Falco has expanded from the original Peregrine, and now offers a small range of road frames in carbon, titanium and aluminum, as well as one carbon triathlon frame. They're all made in China, and Falco makes a lot of the concept and design process available on the net. Plenty of the big players do this too, but Falco says that they do an amount of R & D equivalent to the big guys, but offer their products at a much lower price. This is possible due to the savings Falco has engineered into their business model. They have refrained from large and costly pro sponsorships, and sell their bikes direct to the consumer rather than via a two or three tiered supply chain which most of their mainstream competitors work within. Falco has a small network of traditional bicycle stores selling their wares but sales are also available direct from Falco.
Tian Ye Roadstar is Falco's Australian sales agent. They have selected to inventory a selection of Falco frames for 2014, including the Peregrine Kamm model. The Kamm is the latest evolution of the Peregrine, and is offered in a high modulus carbon option (which we have) as well as the more affordable non hi-mod model that Tian Ye Roadstar will carry. As the name suggests, it integrates Kamm elements to enhance aerodynamics. The fundamental precept of Kamm is that a shape need not be long and skinny to be aerodynamic, it can in fact be broadly round on its face, and have a truncated rear rather than a long, slender taper. Falco has integrated Kamm shapes into the seat post, seat tube and seat stays on the Peregrine Kamm.
The Peregrine family is the only carbon road platform in the Falco range. The Peregrine Kamm is described by Falco as a well-rounded all-purpose road bike. I'd call it a GC bike, or a 'normal' road bike. It's not a climbing bike or aero bike or sprinting bike or comfort bike. It's a go wherever, do whatever bike. Personally, that's how I like them. The geometry on the Peregrine is vanilla and it could find a home under the thousands of riders that value performance and don't necessarily want the same bike as ten other people on their coffee ride.
If being a small brand wasn't enough difference, Falco can paint your frame in a range of colours (pink!) or various carbon finishes on request. I was surprised to realize that our frame had no provision for electronic shifting. An electronic frame is available on request, but note that the mechanical frame won't go digital if you're eyeing a future upgrade. Despite the western oriented marketing, the size range offered by Falco is limited. Our 57cm Peregrine is the largest size listed. It fitted me perfectly with a 565mm effective top tube, but I'm far from the tallest bloke to turn a pedal in my neighborhood. Falco offer four smaller sizes, but most brands offer at least two sizes larger. Falco's titanium frames are available in custom geometry, so tall riders that are set on a Falco will be riding ti. Life's tough, hey?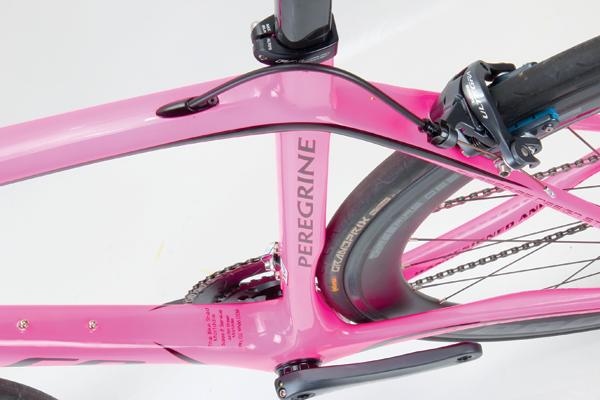 Falco offers the Pergrine as a frame kit, which includes the unique True Kamm shaped seatpost, the fork, headset and seat clamp. Our test bike was equipped with a full Ultegra 6800 group, 3T bar and stem, and Falco's Procella WRT carbon clincher wheels (RRP $1,999). Falco's Procella wheels roll on unbranded hubs and bladed Pillar spokes. The carbon rims are 27mm wide, clearly inspired by the chubby profile of Zipp and other makers. The wheels seemed to ride smoother than many other deep-rimed models, but remained tight and true. Braking performance was average and decreased markedly when wet, as is to be expected of most rims with carbon brake tracks.
The Peregrine frame has an understated profile. The chainstays are quite beefy, but the rest of the frame is far from oversized. At first glance the Peregrine shares many similarities with the Specialized Tarmac, although to be fair to both bikes there'd be no confusion up close. There is plenty of support for the bottom bracket, as both the down tube and seat tube flare out and form squarish profile before joining the bottom bracket. Our frame came with a BB30 bottom bracket (with a Praxis Works bottom bracket installed to accommodate the 24mm Shimano spindle), but regular English thread is an option.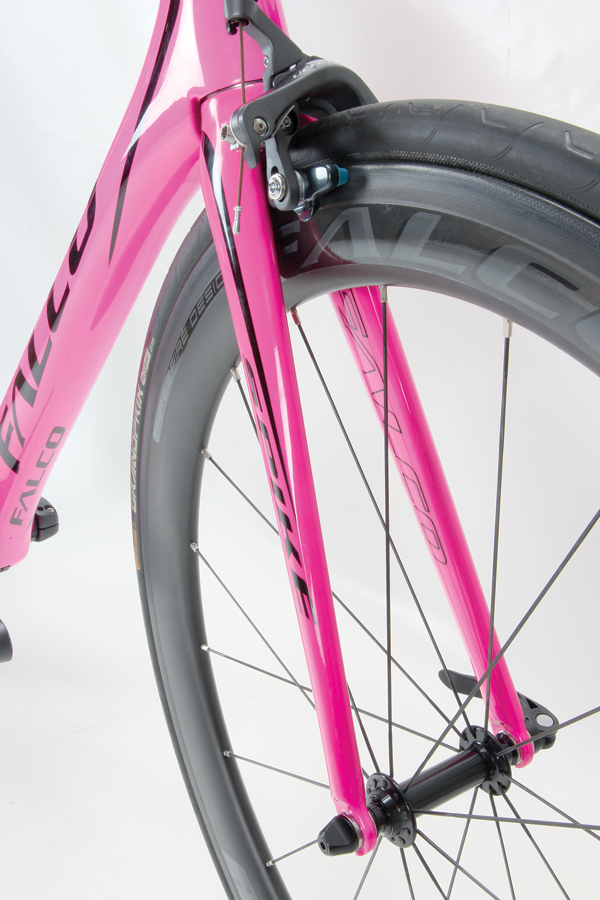 The head tube protrudes further above the top tube than most. Falco calls this the Slam-It head tube (if you don't understand, go to slamthatstem.com immediately). It reduces the need for spacers under the stem, which in turn should improve steering stiffness. It also looks more pro, not that anyone cares…..but I did look pro. The cables enter the front of the headtube and run internally to their destination. Interestingly, the rear derailleur cable runs through the top tube and directly into the drive side seat stay. It exits above the drop out, which results in a relatively straight run of cable to the derailleur. This reduces friction between the cable and outer that you'd find on a heavily curved cable that ran along the chain stay before looping to get to the derailleur. It's simple and obvious, and a nice feature.
You cannot tell how well the frame has been constructed visually, as this doesn't reveal the compaction of the carbon layers or variances in wall thickness or layup. Falco go to pains to point out how much effort they focus on R&D, testing and quality control. A peek inside the head tube does let you see the inner workings of a complex and important junction. The Peregrine has ridges of resin where the bladders rested while curing, but aside from that the internal tube walls are nice and smooth. It's neat work for the most part.
The headset bearing seats were covered with coarse clear coat and some pink overspray, and the paint finish was far from perfect around the front derailleur clamp, bottom bracket cable guide, seat post clamp and upper head tube. Falco talks up their paint finish, but the goods didn't match the expectation I had. The head of the seat post slipped on a couple of occasions, despite torqueing it adequately. Bikes with unique seat post shapes can invite trouble if the head of the seatpost isn't bulletproof, as you have no aftermarket replacement options. I also found one shallow groove of roughly 1cm long on the outside of the fork steerer. It may not be an issue, but it was unusual enough to note as I've not seen a similar imperfection before and the smooth finish of the rest of the steerer highlighted that this wasn't quite right.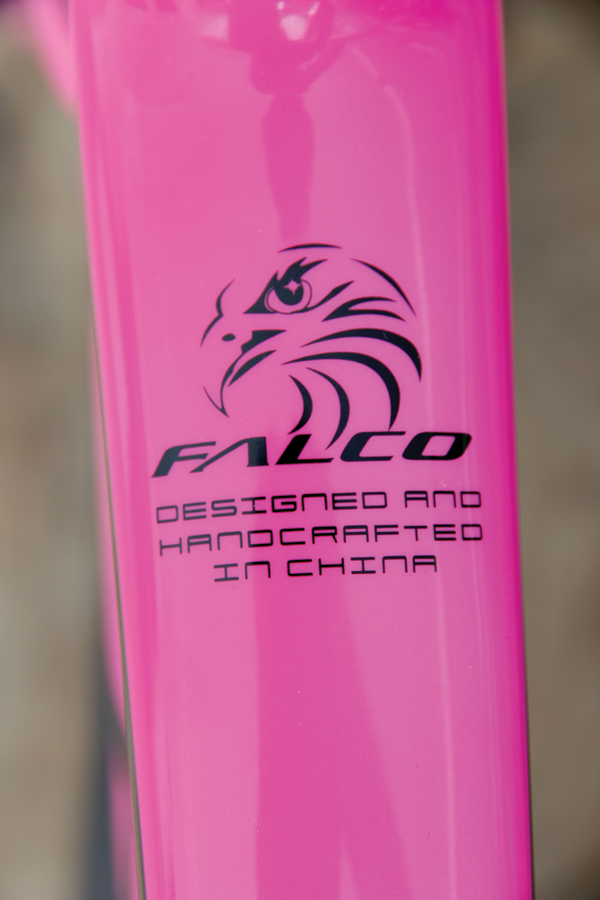 On the road, the Peregrine is a sweet ride. The geometry isn't radical, in fact it's pretty similar to my own ride, and many of the bikes we get to test. It only took one ride to tweak things to my liking, and they stayed there for the duration. Easy. And that really sums up the most endearing aspect of the Peregrine. This is an easy bike to get on and ride. There's no guessing or mystery here, this bike does what it says it will without any fuss or faff. That could be construed as underwhelming, but it's every part the complement. A young bicycle company throws its first born child out into the bear pit, and the kid holds its own. It's respectably light, certainly not harsh, and I couldn't get it to flinch or budge no matter how hard I tried. I always I felt like the Peregrine had my back. Our unit was far from perfect but the ride quality and unique company outlook are there.
Performance
Predictable and versatile. The Peregrine is the modern embodiment of the classic road bike. It may not stand out in any one category, but that's fine. It's a well-credentialed all-rounder despite its newcomer status.
Value
Falco talk up their R&D and quality. It's possible that this frame is as well made as others that cost far more, but it's hard to say based on a limited test and the finish fell short of the talk. The bike rides great, certainly as well or better than others in the price point.
Quality
The Peregrine has some nice design features that show that a lot of consideration was put into the final product. In terms of finish, there is a disappointing amount of improvement that could be made before the Pergrine could be considered alongside the finest in class.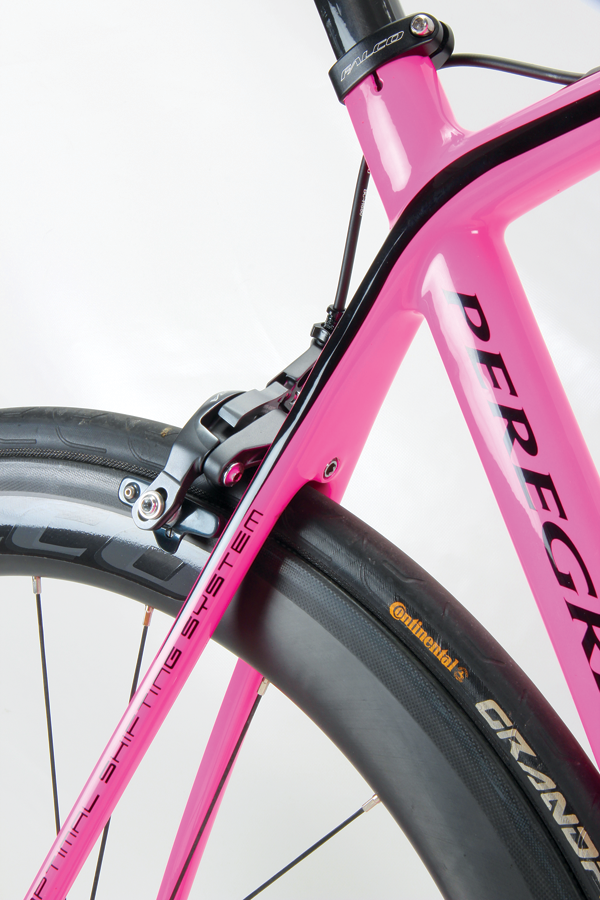 Overall
This is a great bike to ride. I can't say a bad word about it in fact. There is a cool story that goes along with this machine, and for some this will add extra appeal. Quirks such as the proprietary seatpost, sizing, or electronic capability may steer some away, and fair enough. When it comes to the ride, the Peregrine is most definitely in the game.
Specifications
Frame: Hi-modulus carbon
Fork: Falco Spike, carbon steerer
Head Set: Token
Stem: 3T ARX 2 Pro
Handlebars: 3T Ergonova Pro
Saddle: Prologo Kappa
Seat post: Falco True Kamm carbon
Shift Levers: Shimano Ultegra 6800
Brakes: Shimano Ultegra 6800
Front derailleur: Shimano Ultegra 6800
Rear Derailleur: Shimano Ultegra 6800
Cassette: Shimano Ultegra 6800
Chain: Shimano Ultegra 6800
Crank: Shimano Ultegra 6800
Bottom Bracket: Praxis Works
Wheels: Falco Procella WRT clincher
Tyres: Continental Grand Prix
RRP: AUD$5,599
Distributed by Tian Ye Roadstar