Orica-Scott have announced their line up for the final Grand Tour of the year, the Vuelta a Espana, which starts in Nimes, France on Saturday.
The Aussie team go into the three-week race with three leaders, 2016 Tour de France White Jersey winner Adam Yates, 2017 Tour de France White Jersey winner Simon Yates, and Esteban Chaves, who finished third in last year's Vuelta.
Explaining his decision to start with three lead riders, Orica-Scott Sport Director Neil Stephens said the combination was "an exciting challenge" for the team.
"At the end of the day the team is fully behind our leader and all three riders have always fully committed to that," he said.
"We did it at the Vuelta last year with Simon and Esteban and in the final the race is sorted out on the road. Despite finishing with a top 10 himself, Simon was selfless in his support of our podium finish. The aim is a team result in Madrid, who it is, it doesn't matter."
Supporting the leaders for the 3324km Grand Tour will be Jack Haig, Sam Bewley, Magnus Cort, Chris Juul-Jensen, Svein Tuft and Carlos Verona.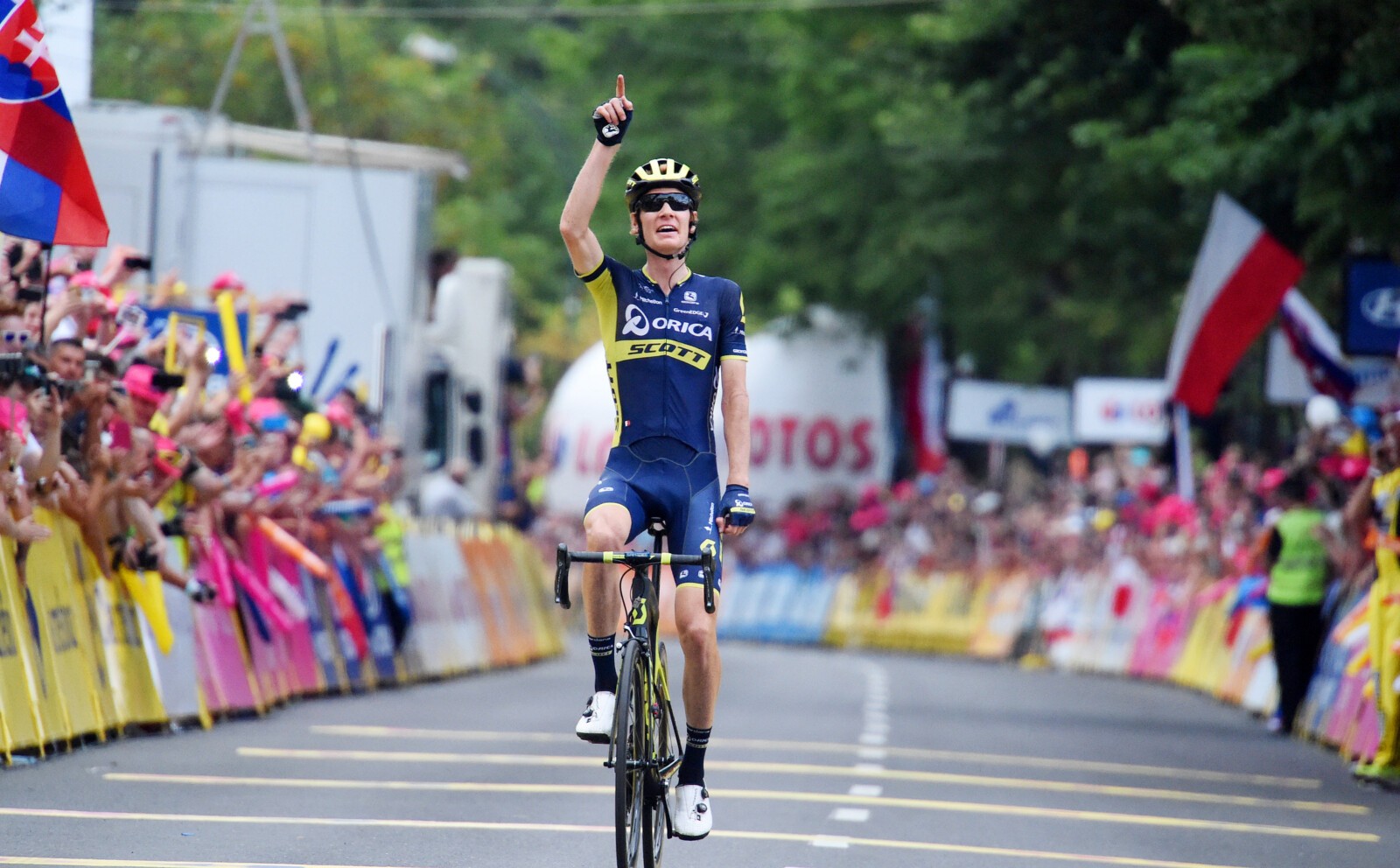 An 'Evenly Balanced Team'
"We believe we have a pretty evenly balanced team," Stephens continued.
"We have a couple of big strong guys in Sam Bewley and Svein Tuft who will pilot our leaders around throughout the Vuelta and their importance will start immediately in supporting a decent team time trial to open and a potentially dangerous and windy stage two,"
"We have our climbers in Jack Haig, who is in great shape coming into the race from Poland, and Carlos Verona who has been getting ready in the hills of Andorra," he concluded.
2017 La Vuelta a Espana Stages
Saturday, 19 August: Stage 1 – Nimes TTT (13.7km)
Sunday, 20 August: Stage 2 – Nimes to Gruissan (203.4km)
Monday, 21 August: Stage 3 – Prades Conflent Canigo to Andorra la Vella (158.5km)
Tuesday, 22 August: Stage 4 – Escaldes-Engordany to Tarragona (198.2km)
Wednesday, 23 August: Stage 5 – Benicassim to Alcossebre (157.7km)
Thursday, 24 August: Stage 6 – Vila-real to Sagunt (204.4km)
Friday, 25 August: Stage 7 – Lliria to Cuenca (207km)
Saturday, 26 August: Stage 8 – Hellin to Xorret de Cati (199.5km)
Sunday, 27 August: Stage 9 – Orihuela to Cumbre del Sol (174km)
Monday, 28 August: Rest Day
Tuesday, 29 August: Stage 10 – Caravaca Ano Jubilar to ElPozo Alimentacion (164.8km)
Wednesday, 30 August: Stage 11 – Lorca to Observatorio Astronomico de Calar Alto (187.5km)
Thursday, 31 August: Stage 12 – Montril to Antequera (160.1km)
Friday, 1 September: Stage 13 – Coin to Tomares (198.4km)
Saturday, 2 September: Stage 14 – Ecija to Sierra de la Pandera (175km)
Sunday, 3 September: Stage 15 – Alcala la Real to Sierra Nevada (129km)
Monday, 4 September: Rest Day
Tuesday, 5 September: Stage 16 – Circuito de Navarra to Logrono (40.2km)
Wednesday, 6 September: Stage 17 – Villadiego to Los Machucos (180.5km)
Thursday, 7 September: Stage 18 – Suances to Santo Toribio de Liebana (169km)
Friday, 8 September: Stage 19 – Caso to Gijon (149.7km)
Saturday, 9 September: Stage 20 – Corvera de Asturias to Alto de l'Angliru (117.5km)
Sunday, 10 September: Stage 21 – Arroyomolinos to Madrid (117.6km)