Get down and dirty as we take you on an exclusive tour of the largest bicycle factory in Taiwan.
Flying all the way to Taiwan for the International Cycle Show also gives you the opportunity to visit one or more bike factories. And if you're going to choose one, you might as well choose the biggest. The Giant factory truly is Giant. Its founder is a gentleman by the name of King Lui. In the beginning, he called himself 'King' and his company 'Giant' because that's what he aspired to. You'd have to say that so far, he's succeeded. Situated in Taichung about one hour south of Taipei by high speed train, the Giant bicycle factory currently pushes out around 5,000 complete bikes each day. That's one and a half million bikes each year. Giant first achieved success as an original equipment manufacturer (OEM) for other brands in the 1980s. However the decision to market their own brand has been a remarkable success. In 2001 Giant's revenues stood at approximately US$450 million. But by 2006 this had risen to US$840 million and continues to grow. With competition from Chinese factories, manufacturers in Taiwan have concentrated on developing quality products as a means of staying financially secure. This tactic has worked very well and Taiwan factories now manufacture many better known European and American brands.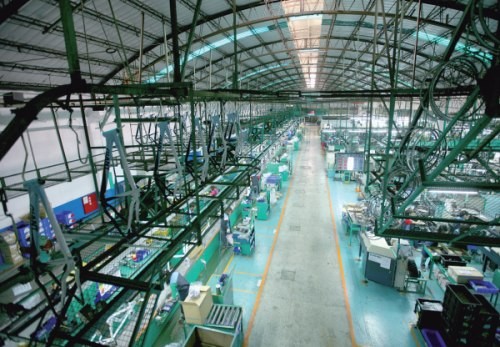 Increased Demand
This demand for Taiwanese bicycles is growing so much that many manufacturers will struggle to meet orders. Giant's largest competitor, Merida has reported that pre orders on their bikes have risen from 210, 000 units in 2006 to 320, 000 units in 2008. Similarly, Giant has experienced a 75% increase in Taiwan sales alone. This is partly due to the antics of King Lui who at age 73 has recently circumnavigated Taiwan by bicycle, a distance of approximately 1,000 km. This tour received a lot of coverage in Taiwan and has changed the perception of the bicycle in the local market place. So as you can imagine, entering the Giant factory is an interesting experience. I was privileged to be allowed into the carbon processing section as well as the aluminium. In many sections of the carbon area, photographs are not allowed, so my apologies in advance for any items that are missing. The Giant complex is made up of three main areas. There's the head office area where all the worldwide distribution, sales and accompanying business is organised. Then there's the Research and Development (R & D) section, which is where new products are designed, analysed and tested. Lastly and by far the largest section is the manufacturing and distribution arm.
C-tech Carbon
Giant are unusual, in that they weave their own carbon. In this section, spools of carbon strands are woven by looms into one large sheet of fibre. Resin is added, an interface is attached and the carbon is ready for cutting into sections called Prepreg sheets. Carbon frame manufacture is a lot like dressmaking. Each frame has its own pattern and the pieces get overlaid in a particular way. Each person who makes the layup has a tray with lots and lots of little pieces. They pick them out according to the pattern being worked on that day and attach them together by hand. Some days it might be just a bottom bracket shell and other days it might be a whole front triangle. At this stage the carbon is still quite pliable, so any metal parts that need to be added such as the bottom bracket shell are pressed in at this point. They are then 'cooked' and if necessary bonded to any aluminium tubes.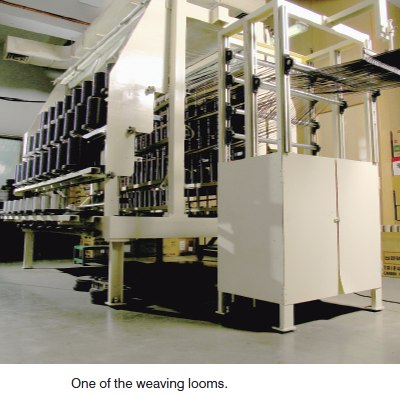 Strict Quality Controls
The quality control at Giant is quite rigid. Every frame is weighed and the batch number added to the computer system. This is an important step because weighing the frame ensures that the correct amount of carbon and resin have been used when it was put together. If a frame comes in underweight it means that there could be a safety issue and it has to be discarded. Once a frame has been inspected and cleared it is then sent for finishing. The excess pieces of carbon are removed and the frame is polished. The chain stays are formed in one piece and so are the seat stays. These are then wrapped onto the front triangle and each frame is then examined by hand. Extra glue is added where necessary before being sent for finishing.
Aluminium
Aluminium frames are made slightly differently, but again, Giant's high standards are still maintained. As you pass through the storage area, large cages of aluminium tubing tower above you. These tubes are used to make frames and forks. The process of shaping the tubes is called extrusion. Simply put, high pressure oil is applied to the inside of the tube.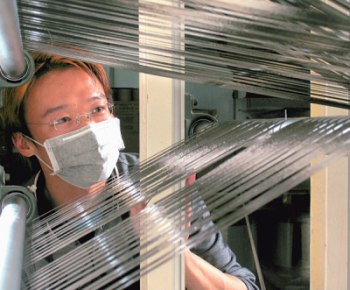 The tube is then pressed against the mold to form a particular shape. This is also called hydro forming. In this way, any tube shape can be made. Once in the desired shape, the tubes are sent for priming and then welded to form a frame. Once again they are finished before being sent for painting and trimming. In my opinion the painters have the best job in the factory because they get to sit down. The frames are brought in on a hook and the chosen colour is sprayed over a water bath. I asked about Giant's environmental policy and was told that all the water is recycled and then filtered before leaving the factory. After the frames have been painted it's time for the decals to go on. Interestingly, this work is all done by women, as is the carbon layup. This is all done by hand, not a machine in sight. Remember, that's up to 5,000 bikes a day. They then go through quality control once more before being allowed to go to distribution.
This part of the process was for me, the most staggering. I mean just think of the logistics involved. You've got a frame. You now have to co-ordinate the correct type of handlebars, stem, grips, brakes, gear levers, cables, seat post, saddle, bottom bracket, headset, cranks, chain rings, chain, cluster, hubs, rims, spokes, tyres, skewers, reflectors, and pedals. It's a situation where one small mistake can hold up the entire process and it's really a credit to Giant just how few mistakes there are. As you can see from the large opening picture, the completed frames are on hooks running the length of the building. Wheels that have been built then and there are opposite. Down on the floor, bars are being taped, gears checked, tyres added and finally the entire ensemble is packed in a box ready for shipping.