Macey Stewart has a dream. Like most talented young athletes, that dream involves winning an Olympic gold medal. But there's more to her dream than most as Karen Forman found out.
23-year-old Tasmanian-born road and track rider Macey Stewart not only wants to stand on the podium in Tokyo with a gold medal around her neck., she also wants to stand on the podium and sing her own National Anthem.
Macey, it seems, is quite the singer and performer and in fact, she has toyed with the idea of working as a performer when she retires from cycling. Singing was actually once a bigger part of her life than cycling.
"I am singing at the St Kilda Super Crit soon," she confides down the line from Adelaide airport, where she is about to board a plane to fly home to Devonport to visit her family on the day of our interview.
"And one day, I would like to go on Dancing with the Stars."
Not to mention "get married to some amazing man I haven't met yet", get a dog, have seven kids and work in the media.
But that is all after she wins gold for Australia in the Madison and the team's pursuit at the 2020 Tokyo Olympic Games and then goes "all out on the road", gets a professional road team contract and wins the Tour of Flanders (and some other Classics).
Her next major challenge was 
suffering a brain bleed in a crash 
while racing in Belgium …
Describing herself as a power rider who likes cobbles, cross winds and time trials—but doesn't like hills—the former junior world road time trial champion and junior world track champion twice over presents as a bright, bubbly, positive young woman with a big personality and quite a sense of humour.
She credits her sunny outlook on life to the tragedy and traumas that she has faced in the past few years—a list that includes her father's death from cancer, being hit by a car while riding, three crashes in racing (one which left her temporarily blind) and even the folding of her team Wiggle-High5 at the end of 2018.
"When Dad passed away in September 2016 a lot of things fell into place in my head I guess," she says. "I realised life is so short and I didn't want to be 60 and have regrets about what I could have done.
"The day after the funeral I got back on the training program. I used the motivation from grief to kickstart me back into it. It hasn't really faded; having the experience of losing someone like that has put things in perspective. I am a totally different person to before. As much as I am behind in the sport, as a person I am much more advanced and will be a better person."
Growing up in Devonport on Tasmania's north coast, Macey says she was always sporty, doing Little Athletics and soccer, but her main passion was performing, singing, dancing and acting. But she started cycling at about eight years old, following her two brothers into it.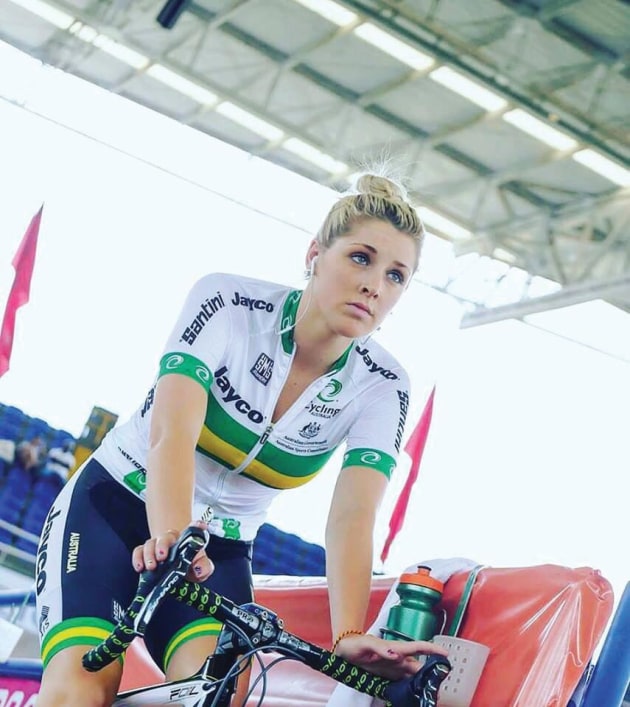 "I was doing both road and track. As an eight-year-old I was in the under 13s for about five years, we didn't have under 11s then. I balanced school dancing, singing, soccer, cycling until I was about 16, then in year 11 or 12 I started going to junior worlds for cycling."
Macey signed with Orica AIS as a first-year pro and lived at the Australian Institute of Sports European training base in Italy. Then she made a decision to put family ahead of her career.
"I was training with the girls coming into Rio but decided to have a break. Dad was diagnosed with terminal cancer and I ended up having a year away. I spent some time with him and tried to work out who Macey the cyclist was.
"I learned lots of things throughout that period. My favourite word in life is 'perspective'. That whole period of my life, having perspective has really changed the way 
I look at life every single day. Being able to zoom out from the world. This is what I tell my friends when they are going through hard times, to zoom out from the world and look at the big picture.
"I've been through some pretty rough times, but something good always happens. I know I will come across another adversity around the corner, but am prepared for that, and know that I will come out the other side and something amazing will follow."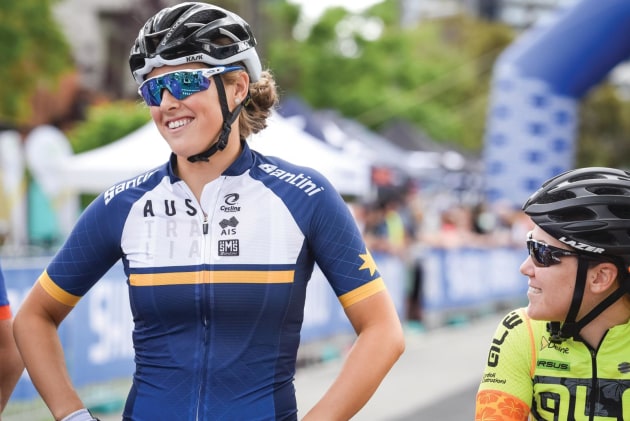 Her history is testament to that.
Her first real adversity came in 2012 when she suffered a fractured skull and a severe brain bleed racing at Stromlo in Canberra. "I was in a neck brace for four months while doing year 11 exams, coming into first junior worlds selection and at that point in your life, that's pretty important for a young person," she says. "I couldn't exercise or get my heart rate up, which was different for someone who was never still."
But, a couple of months after that crash she broke the national record for the individual pursuit and made the junior worlds team for the first time.
Her next major challenge was suffering a brain bleed in a crash while racing in Belgium and was found convulsing on the side of the road. But she recovered to race the first women's Giro Rosa, and was only 18 or 19—"an incredible experience".
In 2014 she was involved in a hit and run while training in her home town, but was well enough to fly to the AIS in Adelaide a week later.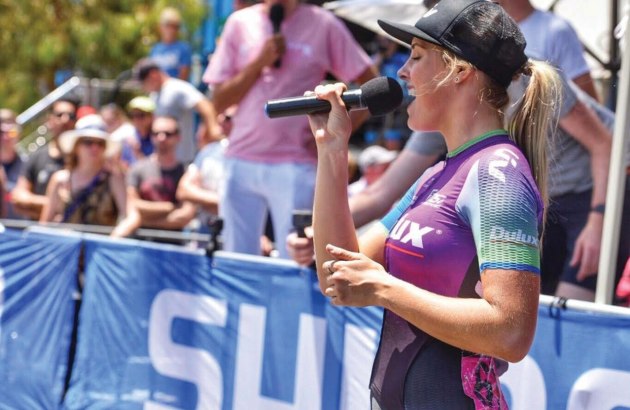 She continued to race in Europe, and spent the past year in Girona in Spain with Wiggle-Hi5.
But, at the start of the 2018 Tour Down Under she crashed again and had to have plastic surgery on her face. "I needed metal plates in my skull. I had to wear glasses as had I double vision times eight. I went from always been super confident to wearing glasses and looking mutated.
But … a miracle happened. "During an ergo session, I took my glasses off, my vision was bad, then I looked over at my heart rate monitor and realised my vision was back.
"Then I had to get back to racing, and had the best year of my life, living in Spain, racing with CA track program and Wiggle on the road."
Two months ago, like Annette Edmondson, knowing her team was coming to an end, she decided to stick to the track coming into the Olympics. "Cycling Australia is keen for us to fully stick to the track," she said.
"I could have signed a road contract if I had wanted, but I think it is what I need to make the Olympics on the track, then after 2020 I will go 100 per cent road going into the Wollongong world championships.
Looking back over her short career Macey credits her parents' unfailing support.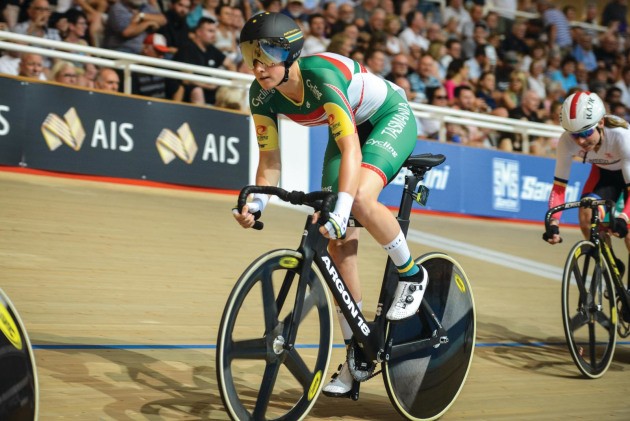 "I live by the motto everything happens for a reason, I felt maybe all these accidents were trying to tell me I should go back to singing or something, but I couldn't give up on the dream just yet.
"I think all this stuff in my life comes down to my mum, my absolutely world and my rock and she has been so supportive, pretty much given me the world, even though she's struggled with money and found it hard our whole lives. She has given me every opportunity to do whatever I want and achieve whatever 
I wanted.
"She's made me believe in myself and I plan on being very successful."
Perhaps she might find herself singing Advance Australia Fair at more than one Olympics! 
Images: Kirsty Baxter Photography