Alison McGregor pulls no punches in this definitive article on the current state of women's cycling apparel – perfect timing with Mother's Day this Sunday!
Ah, my new kit arrived! "Ecstatic Squealing" … 
Time to casually arrange myself atop my bike gazing at the camera as if I'm a house rug asking for a mattenklopper. I'll snap that selfie, slap on a hashtag #newkitday, and post myself dancing about the room in my fresh bibs like it's 1999. Blah!
Flick through Instagram you'd be forgiven thinking we cyclists choose apparel based on looks. The reality? It's a bevy of frustrated women disheartened with the state of womens' cycling apparel. Furthermore, they consider Instagram fakery with disdain as opposed to using it for "kitsperation."
Listening for years to constructive feedback of women, 
I decided to go proactive and relay the news. Sit back, this ride is gonna get wild!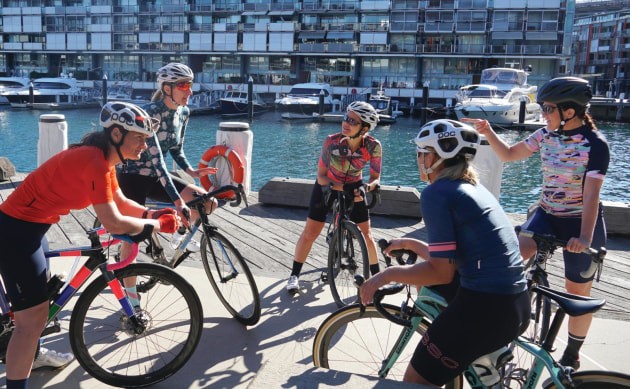 Cycling Industry
It's time to wake up. If you think social influencers possess strong persuasive power over women choosing cycling apparel, I'm afraid you're getting it wrong. More than this…if you consider female road riders too few in number, or their needs too minor, keep reading.
…Exactly a third of 227 female respondents buy kit every 3-6 months, a quarter of total respondents choose to spend between $150 to $250 on a jersey…
Women
It's not news to you that a rift exists between what women want in apparel and what traditional brands produce. But it is new that an Australian female context is published in a major cycling magazine. Enjoy.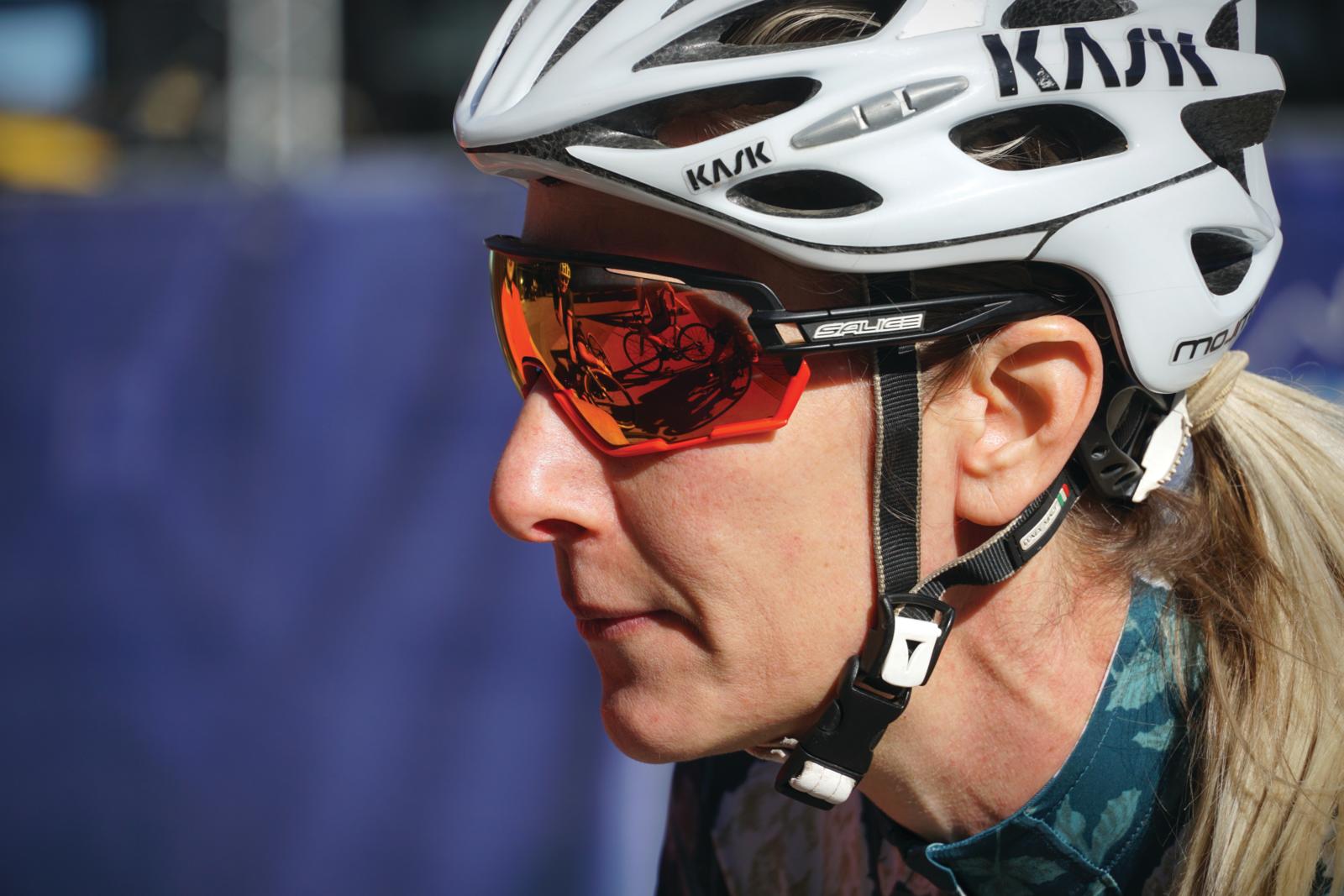 Men
Think this article doesn't apply to you? Then empathise for the partner of this fed-up female survey respondent, "I find it so frustrating that my husband has a lot of options for kit and mine is so limited". Women will do anything to get comfortable, and your apathy will turn to angst as you increasingly lose your 
kit to a disgruntled partner.
To Begin
There's a central problem for Women when it comes to apparel. It seems, women aren't being listened to.
So I sent out a survey. In four days 227 Australian Road Riding Females responded. It's since risen. Collating experience of cycling kit I interviewed brand owners, managers and manufacturers. The results are in.
Needs of road riders can be narrowed down: We want adventure, health, to enjoy company and achieve challenges.
These four general goals are not dependant on gender, they're universal.
Goals depend on motivation, vision and equipment. From major equipment like owning a bike, to medium considerations like choosing a compact crank, to lower spectrum needs like wearing club socks, equipment affects achievement outcome.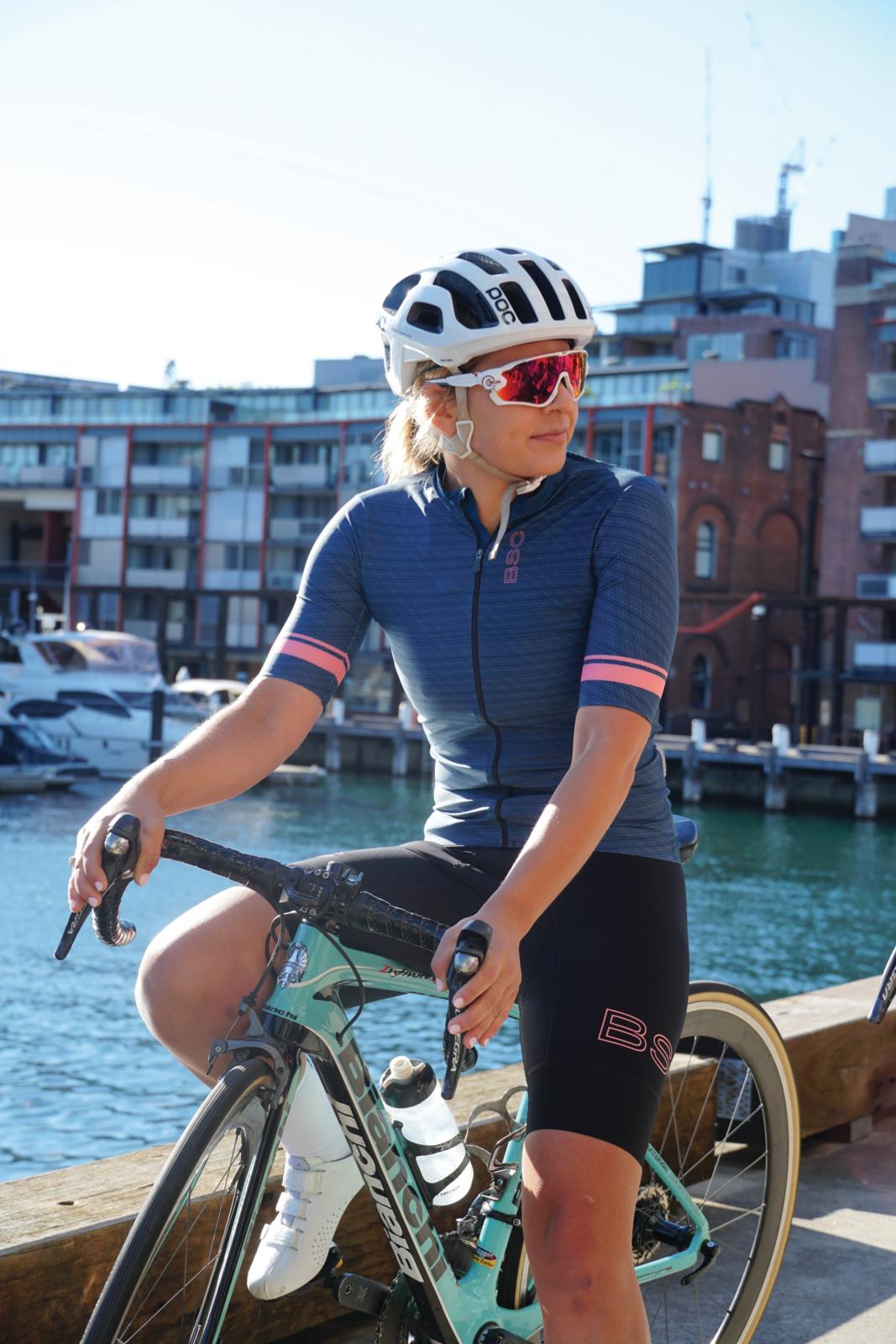 Now, wearing a fitted bib during an endurance ride is a piece of equipment directed by a goal. Right? But what if fitted bibs are unavailable, so you've no choice than to wear shorts?
While you can still obtain the goal, you feel less efficient, less fulfilled. Some see this as a mild inconvenience. But even the master of hitting goals, Tony Robbins, says: "It's likely that whatever challenges you have in your life currently could have been avoided by some better decisions upstream."
Apparel brands are upstream, and they're too often dismissing common gaps in the market. 
And that holds women back.
The numbers
After years spent in bike shops it's evident new kit fuels riding. Exactly a third of 227 female respondents buy kit every 3-6 months, a quarter of total respondents choose to spend between $150 to $250 on a jersey. That is justification to request customer feedback and supply for demand. As one respondent comments, "I don't mind paying a premium if the quality and fit justifies the price."
So with our fundamentally shared goals, many women are asking (some with anger), why we don't have full access to the same standards in quality, thoughtful design and fabric engineering as any other rider (i.e. men).
"Men seem to have more choices!" says one respondent. Another echoes, "There never seems to be the selection that there is in men's kit".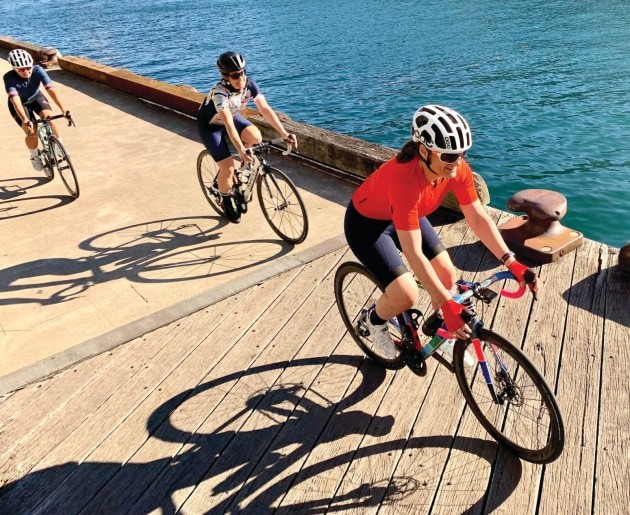 Well, there's no way to pussy foot around it – men do have more options.
Why do so few manufacturers engineer form and function in womens' kit? "Its like brands assume the market is so small it's not worth investing in," says one anonymous riding respondent. Let's quell an untruth. There are masses of female riders taking riding very seriously. And while there are some great new brands using the market to carve their niche, the existing industry is slow to catch on.
The gap in womens' kit exists because change is hard work. Creating womens' bibs is like reinventing the wheel. Secondly, manufacturers need to listen.
Australian Founder and Director of OORR Cycling Apparel, Tim Christian, has done both. His resulting design for womens' kit clearly distinguishes OORR from traditional brands.
Tim and I discussed changes OORR made in their womens' range. Apparently the design was a "response to a lot of female cyclists who were complaining about not being able to buy kit that is the same as the men's kit". Tim learnt and acted on the fact women were "really not happy with the 'shrink it and pink it' mentality of the industry". Importantly Tim states, the women he designed for "wanted women-specific cuts."
Answering the common issues of female road riders allowed OORR to successfully create high performance garments for a gamut of struggling women searching for perfect fit.
But by far the biggest effect for change in womens' apparel is the ever-increasing numbers 
of women populating the cycling industry. 
Women are at the helm of change, paving waves through tradition to support the neglected.
So lets break down problem patterns in womens' apparel.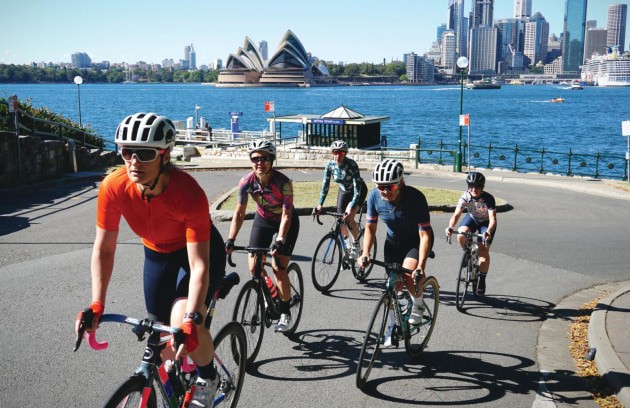 The Pee Problem: Bib Shorts
Women prefer bib shorts. Denying this is exactly that. Denial.
Out of 227 respondents in my survey, only 37 strictly chose shorts over bibs. Most of the 37 were MTB'ers, many were occasional riders, or new riders.
The inability to efficiently go to the toilet was noted a major reason for the 37 short wearers.
"I haven't yet purchased bib and brace 
because they look to (sic) hard to get in and out of when you need to go to the toilet." commented 
a respondent, mirroring a message by so 
many others.
This is a travesty because, damn…bib shorts feel good.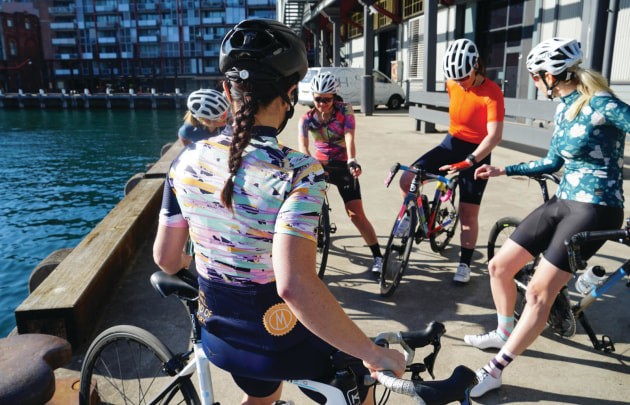 Bib shorts hold you in while adding aero advantage. Added benefit for women, even with no race intentions, is the smoothing of lumps and bumps. Bibs eliminate the band around your waist and prevent the dreaded pant-pull from the saddle.
When brands only offer shorts, or provide substandard bibs in comparison to an extensive male range, many women take offence.
Not only do they feel ignored, its read as belittling.
For women who want to wear bib shorts, what's their common issue?
"I don't wear bib shorts because they make going to the toilet very difficult. Bib shorts are a chore! Especially in winter!!"
"There needs to be more kit … built for function – ie going to the toilet without taking the top half off"
"I would like someone to design bib knicks that can allow a woman to go to the toilet without taking everything off. This is important to me during mtb stage races."
Like men, women need to pee. But unlike men they don't have the appendage to do this discreetly.
While a few brands have thankfully developed a "drop seat" option, many require awkward playing with clips and zips. As one cyclist says, "A little more ingenuity in regards to bibs and how to take them off would be appreciated in more brands then just Velocio."
Eight years ago I bought a dropseat bib. The revelation had me buy 2 more. I since tried models with zips at the hips, clasps at the front, clips at the back. Designers have replicated and developed a variety of options, like Australian Brand Birds on Bikes (incorporating zips).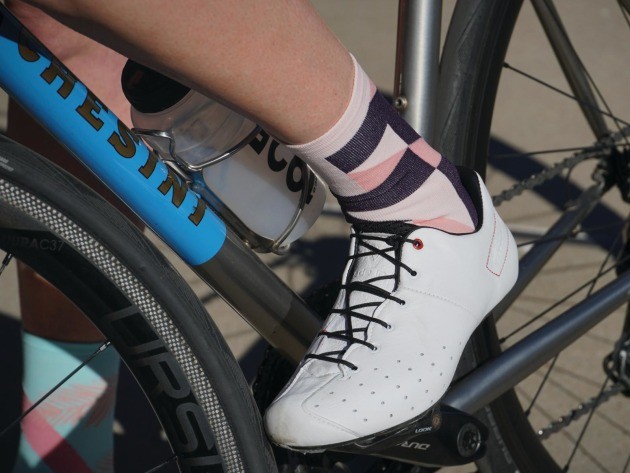 Clips, zips and clasps are fine, unless they impede ride time. One survey respondent refuses to ride with men. She's embarrassed at pit stops where the time to squat is stressful.
I read stories about pee problems over and over. 
I know there exist great options for women, but it's a niche market and finding them is hard.
Rapha clearly hold a limelight in marketing. Their recent discovery of "breakthrough clasp-system" successfully propelled popularity of a new range in pee-friendly bibs.
Meanwhile the forerunner in female bibs has made female pee-time a pleasure for years.
Velocio is noted in this survey as offering most efficient toile-break methods. As the predecessor of pee-friendly bibs, several generations allows Velocio to bring to market a bib replacing zips with a unique compressive fabric. It miraculously pulls down with ease to retain original shape when the job is done. Again the original co-founder of Velocio is a women, (ex pro Kristy Scrymgeour) and staff continue to include ex-pro females. Yet, while different modes of pee-friendly bibs exist, women continue claiming this a problem area. This points to a gap in well designed and functional everyday female bibs.
I can't stress this enough. To manufacturers, women want more bib shorts and, unlike dolls, women need to pee.
Length Matters: Bibs & Jerseys
"Even if we have attractive legs from cycling I don't see the necessity to cycle in almost hot pants." (Anon respondent)
A few petite riders prefer short sleeves and short bibs. However, in Australia, the majority of respondents want male equivalent designs, which means length. Comfort, performance and sun protection are cited reasons.
"Would love women's kit to start making the sleeve length and body length longer for taller girls," says one. "I purchase men's kit as the fit is longer," says another. "I … find the sleeve length on women's summer kit is too short," is another.
I spoke with several companies regarding length. Alison Lovat, Co-Owner of Champion Systems Australia customise any length request. "It is important that when women are ordering from Champion System that they have options depending on their own personal requirements."
I asked Alison if individual machine layup was expensive. The answer is yes, but consumer price remains the same. Alison is a rider herself and, like many women in cycling, aims to improve the industry.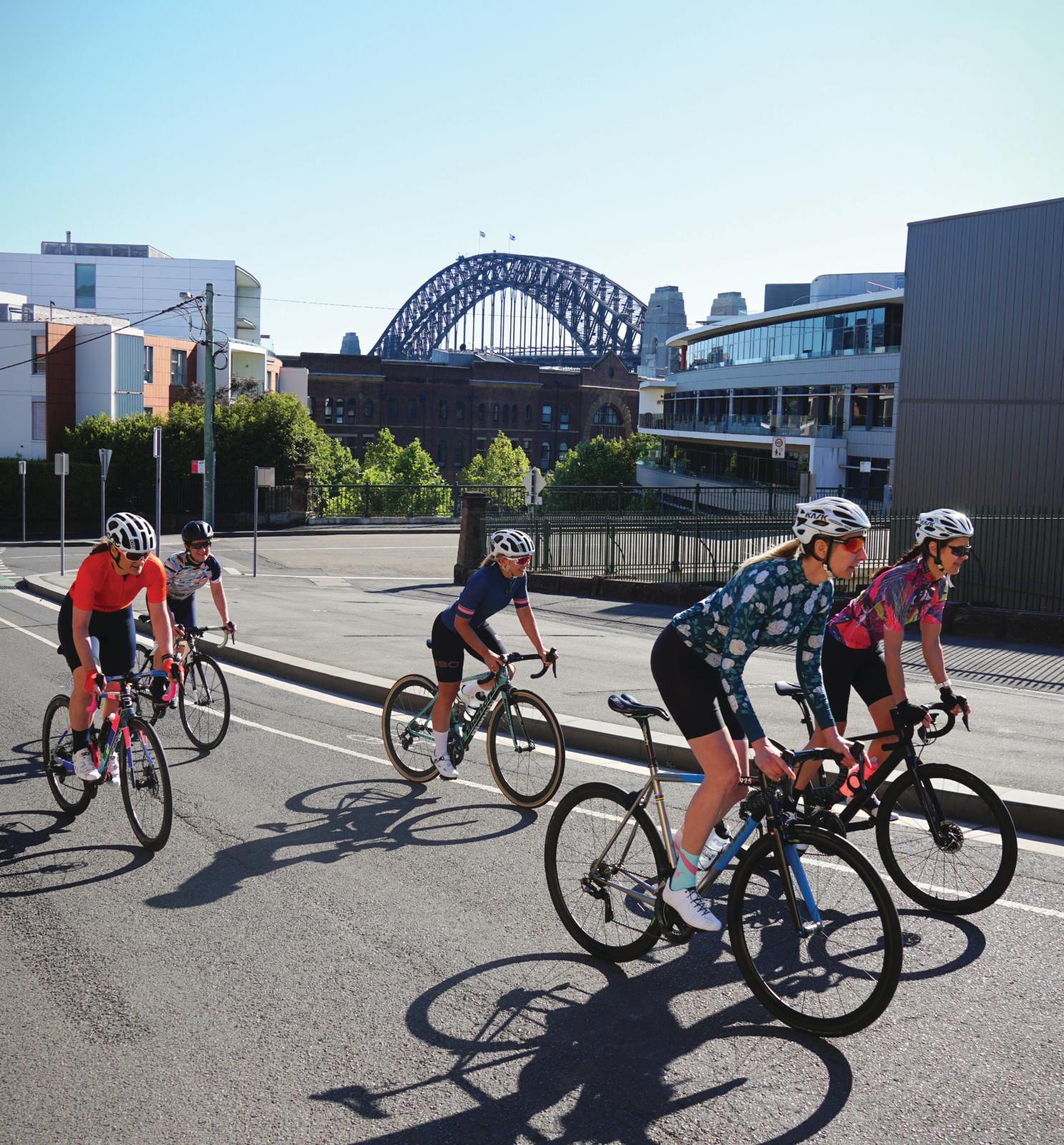 This can be a relief for such respondents claiming, "Too many women's brands make the shorts too short." (Anon responder)
Length alteration isn't limited to manufacturer Champion Systems. Cuore Australia also customise for individuals and teams. Company Brands like Machines for Freedom offer consumers both regular and tall length, a practice followed by the likes of Italian high-performance brand Q36-5 Equipment.
As the survey revealed, Women rate "Fit" (202) over "Quality" (167), "Style/Pattern" (133), "Performance" (97), or "Price" (87). That suggests solution outweighs price. Custom is therefore an option for women with difficulty with fit requirements.
Chamois: The Bib Details
"Comfortable padding over vulva." You heard right. Working in the bike industry broadens the vocabulary and the word vulva will come stare you in the face. 
It proves an important pressure point in cycling.
Like a mantra, respondents repeated the want for "More research on chamois design" and "Better padded shorts." One questioned, "Who wants a seam right through their chamois or under it when you're in the drops or in aero??"
A dozen women reported they wore mens' knicks for length, but wearing mens' bibs brings a set of problems, especially for the vulva. Womens' chamois shape and position is altered from mens'. To wear the latter can lead to discomfort.
The Team at BlackSheep have made kit for Specialized Women's Racing Team, and know differences needed to keep women comfortable. Apart from widening and shortening the chamois to provide support, Operations Assistant Graeme Wooton comments they "added density to the front end of the chamois which helps provide blood circulation, to keep you comfortable in the saddle."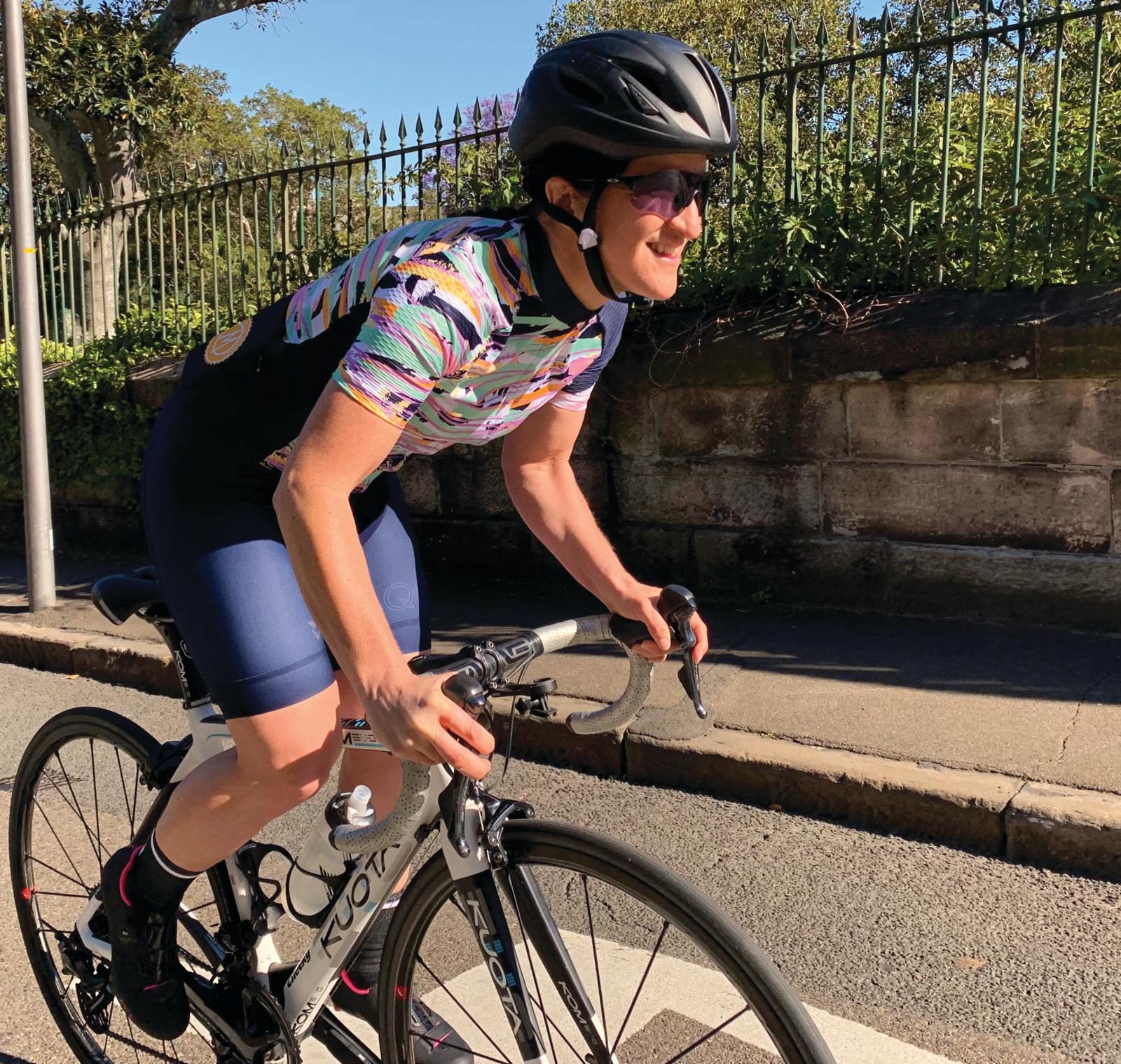 The chamois story has two parts regarding comfort; as pointed out shape is the first, and position is the second.
Firstly, lets get this straight. "Unisex bibs" are not women specific bibs. The differential, as addressed by Lovat, is that "a chamois should be shaped precisely to the contour of the rider's specific gender." But not only is the cut contouring the gender, the position needs examining according to the bike and the 
riders flexibility.
Your bike position changes unique pressures to the saddle. Hence a difference chamois in type and padding-location can be needed per bike.
Unfortunately bike fit is for another article. Suffice to say a race bib differs from an endurance bib, and bike fit can dramatically affect the chamois feel.
The moral of chamois comfort
Manufacturers: Women don't race step 
thru's so please make chamois accordingly
Marketers: please define bib use
Women: Understand your bike set up, 
flexibility and style of riding
…Tim learnt and acted on the fact women were really not happy with the 'SHRINK IT AND PINK IT' mentality of the industry…
Sausage leg: Bibs…again
The amount of comments regarding sausage leg deserves a section!
"The elastic band can cause some sausage legs." (Anon respondent) The vote is that bands squeezing legs like meat casing are not appealing, comfortable or practical.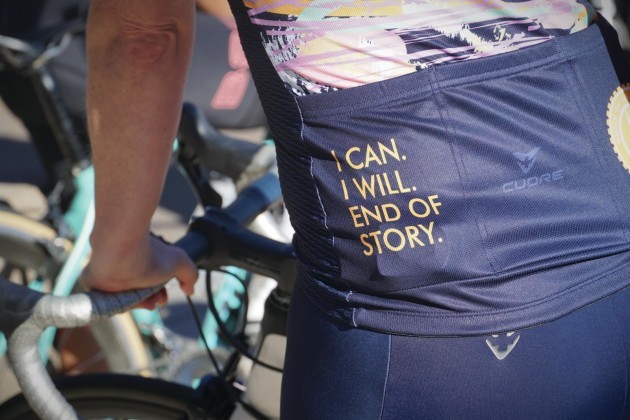 Sausage leg concern respondents regardless of body type. Could it be there's a market gap for inventive thinking?
Dismissing the band altogether and activating circulation to pump more blood through the largest muscles makes sense. After all, those muscles are responsible for getting us up hills. Constricting legs with tight elasticised bands is not a solution.
Q36-5 Equipment have successfully ditched the band. With 70% of their team being female (including international ex pro riders Sabrina Emmasi, Daniela Fusar Poli and Elena Valentini), the Company increasingly pushes Women's performance apparel.
Founder Luigi Bergamo states, the Dottore bib is made from "super high density woven fabric with a gradual compression."
While eradicating the elasticised gripper is one solution, it's a definite bonus when wanting to reduce fatigue in the legs.
Boobs
"Ps boobs get squished too."
The question is out. Are boobs getting in the way of a good time on the bike or are we asking too much to fit all our junk in that trunk?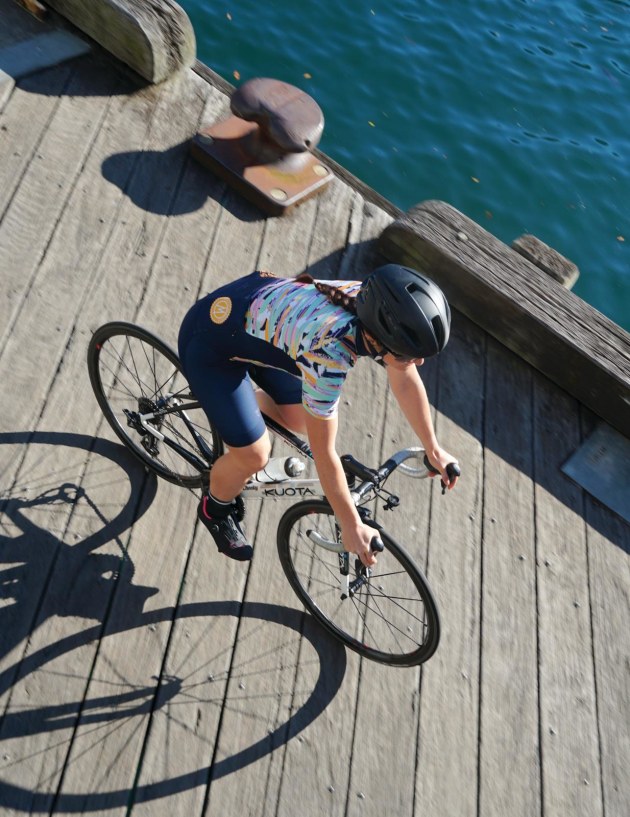 Well, considering not one woman in the survey complained about her shape, but plenty mentioned problems with straps or chest design in bibs, the conclusion is design fault.
Like most design considerations, brands must choose a body type. Hence why bibs may fit, but jerseys don't. The answer here is that, sadly as much as we want our bib brand to match our jersey, in reality one may provide better support than the other.
"It's hard to find jerseys that fit me, especially in the bust area – I always find I have excess fabric here which is annoying." To the other extreme … "women's jerseys sizes never seem to accommodate larger chests."
Or it may be that branded jerseys fit, but matching bibs don't…
"They seem to think most women are flat-chested and the bibs can be uncomfortable," says another respondent. "The braces on the bibs are not designed to fit comfortably around the breast area," adds another.
You need to research the market to find all different kinds of straps. There are brands following traditional mens' design with two braces, another with centre straps, others producing the encased mesh at the front, or the halter neck, or the cross back or full mesh back.
And when it comes to jerseys, its often a case of finding balance between support and a stretch fabric.
Again, its up to marketers to highlight the body type their jersey and bibs suits and why.
Results
Womens' kit is not as accessible as mens'. But there are smaller brands primarily focused on women and hence producing sensational options. Sadly they can be overlooked due to inefficient marketing (incorrect or dismissive labelling, or using platforms failing to reach women).
Things are getting better. Brands are hiring more women. Brands are being created to fill a gap. This is a partial way to progress.
It seems the answer to better womens' apparel is not held in the sole hands of designers. Marketers can better ask questions and disseminate solutions.
From my survey I found that women are educated through marketing. However, social influencers have little impact compared to friends, marketing, reviews, racing teams and shops influence.
It's important that women continue looking outside main brands, talking with local shops, give feedback to brands they love and to the ones they don't.
Lastly, stocking cycling apparel is an expensive investment. So when finding a shop that supplies women with good kit, please, support them and shop local!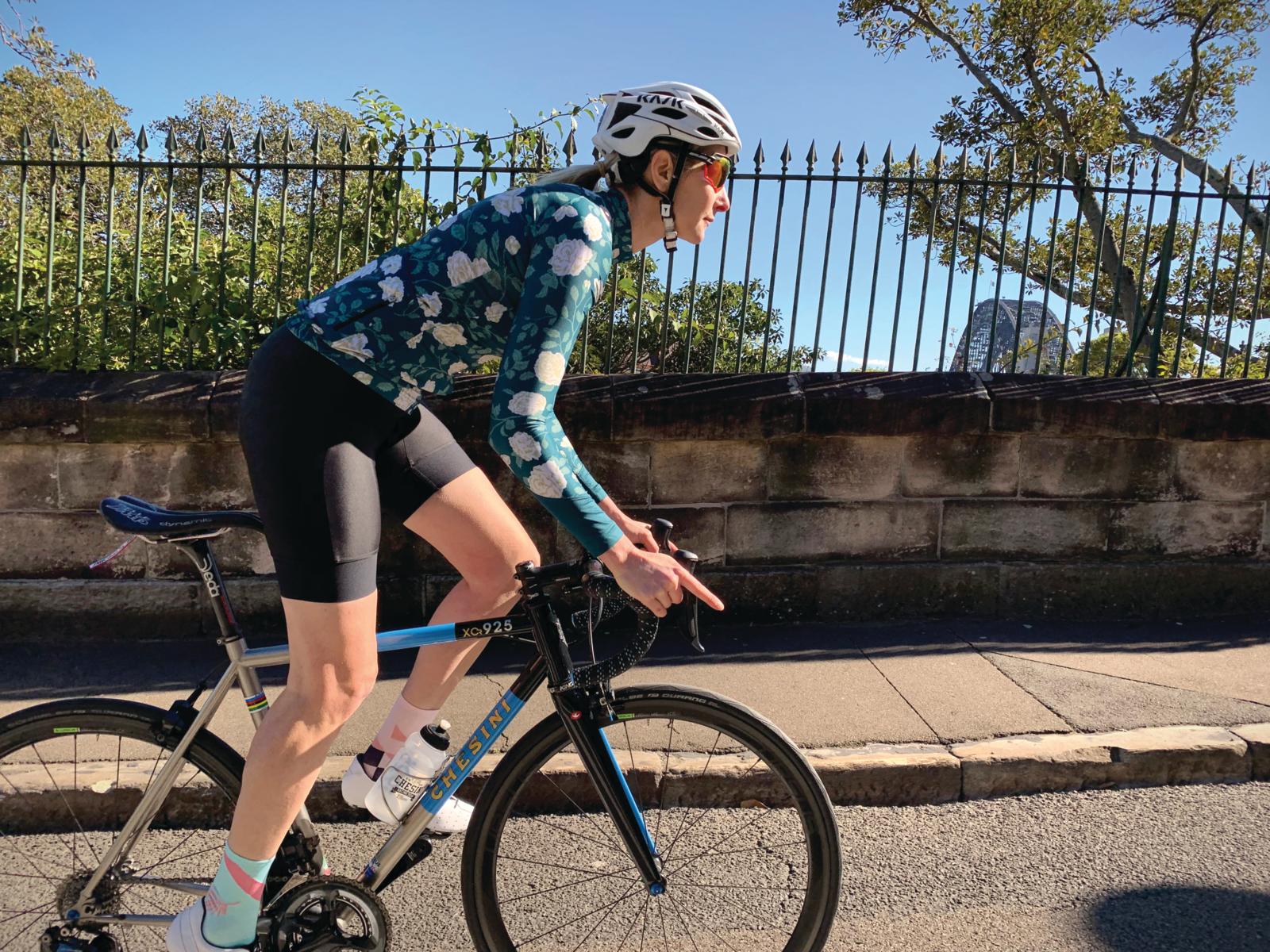 ALISON: MACHINES FOR FREEDOM
Measurements: Height: 174 Bust: 84 Waist: 68 True Hip: 96
MFF's long sleeve jersey can virtually be worn anytime, even in Australian summer. It's great to have sun protection without feeling overheated. The jersey is really flattering paired with the bibs that, as I was told when buying them, feel like spanx when getting them on.
How good are bibshorts that give you a choice in length? They're super supportive and suits those with curves. I imagine MFF Kit boosts a lot of confident riding simply because they feel and look good.
Best Bonus: Length options in the knicks. MFF have serious, thoughtful, practical designs. Lightweight long sleeves for summer that CAN be worn on hot rides.
MAGGIE: Q36.5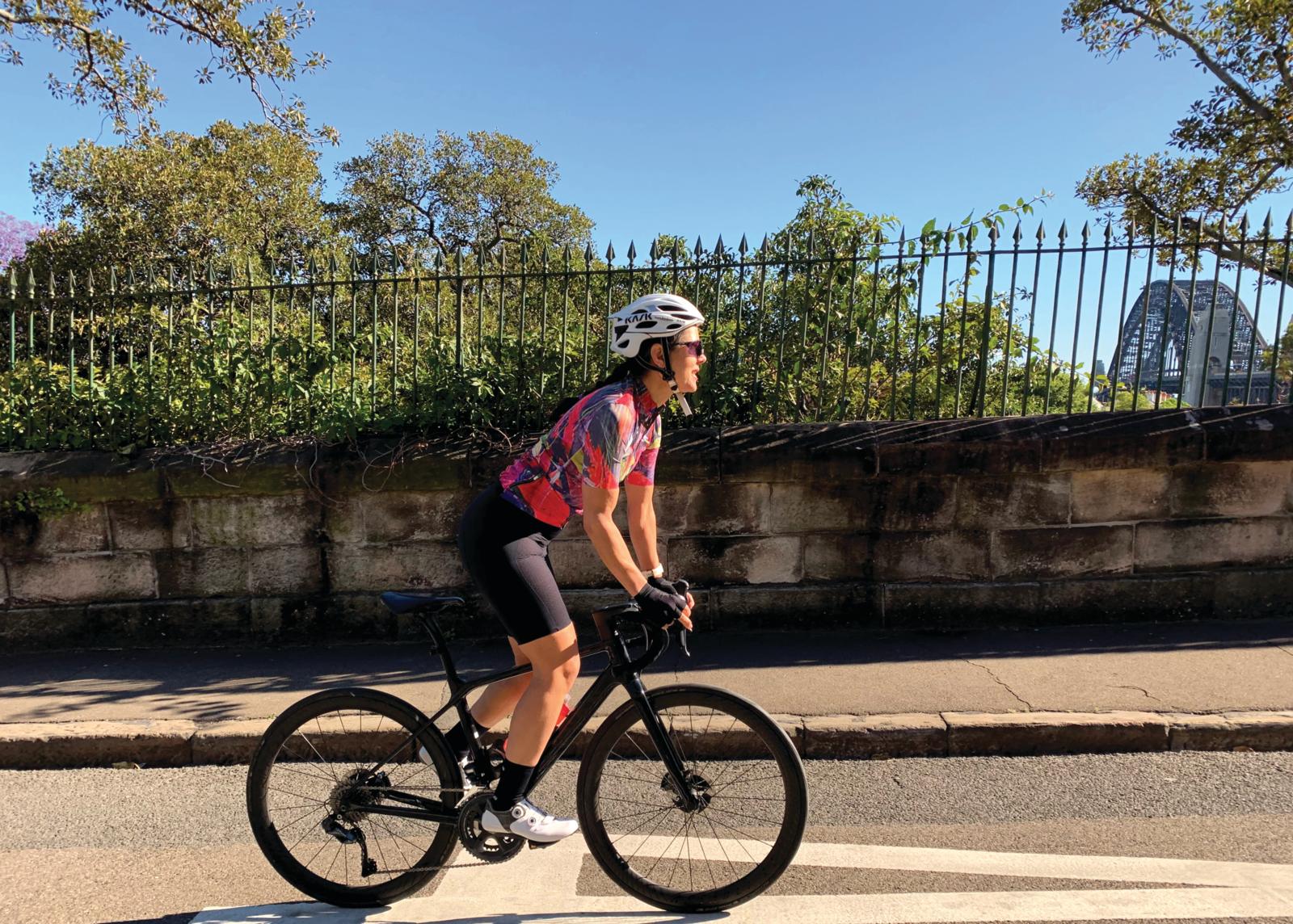 Measurements: Height: 164 Bust: 82 Waist: 72 True Hip: 100
I'm the proud owner of Q36.5 bibs, jerseys, winter jacket, gloves and socks.
My Q36.5 interest was raised by their great colours, quirky details, highly scientific fabrics (silver threads!), and compressive bibs.
I've a short sleeve L1 purple jersey. I prefer this cut, its longer than other brands, which can run short. It conducts heat quickly and has antibacterial property – no smells!
The bibs are compressive. On the bike the "squeeze" feels really good. It's supposed to help with circulation.
Best Bonus: The bib leg don't have bands. It doesn't give me the dreaded sausage legs!
MEG: BLACKSHEEP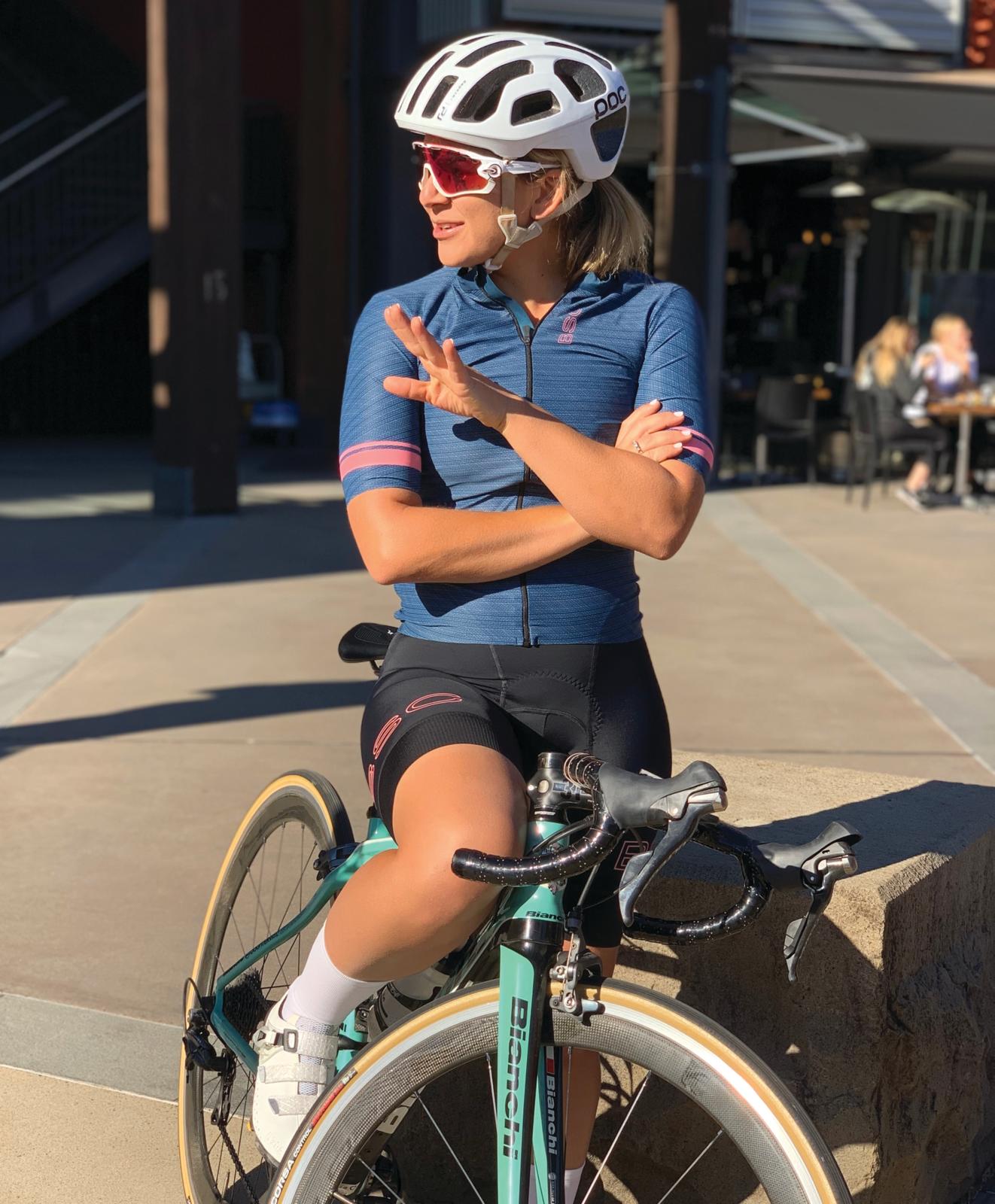 Measurements: Height: 158.5cm Bust: 92 
Waist: 72 True Hip: 99
I really like the fabric of the jersey; smooth and dries quickly with these waffle-like panels under the sleeves. I really appreciate having a longer arm-length for the sleeve.
The bibs have no straps to get tangled and I was delighted to see they've been replaced with a sleeveless suit! No lumps and bumps, the jersey goes over the top and has such a neat appearance.
Best Bonus: The bibs have a wide band, no sausage leg effect and they don't ride up the legs. A longer length is comfortable and flattering.
AMANDA: QUEEN OF THE MOUNTAIN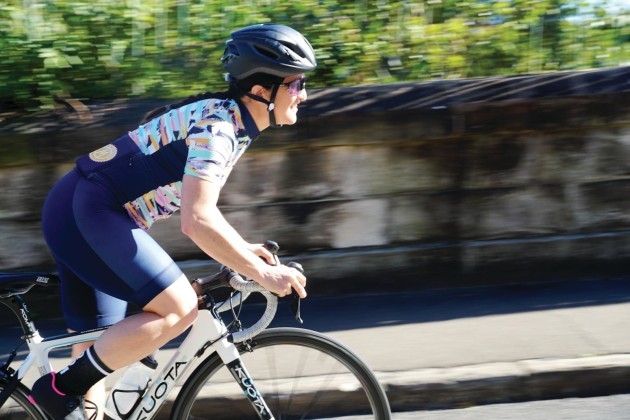 Measurements: Height: 163 Bust: 87.4 Waist: 76.2 True Hip: 99.5
QOM patterns are great! Partnered with Cuore they supply a range of women's specific jersey and bibs.
Cuore themselves can customise almost everything from length (leg, arm, torso) to material (from performance/race materials or comfort/durable fit) to chamois to design to pockets to colours…list goes on!
I find the QOM range really suited to my measurements and riding.
Best Bonus: QOM leg bands on their bibshorts stay flat, and stay put.
NADINE: VELOCIO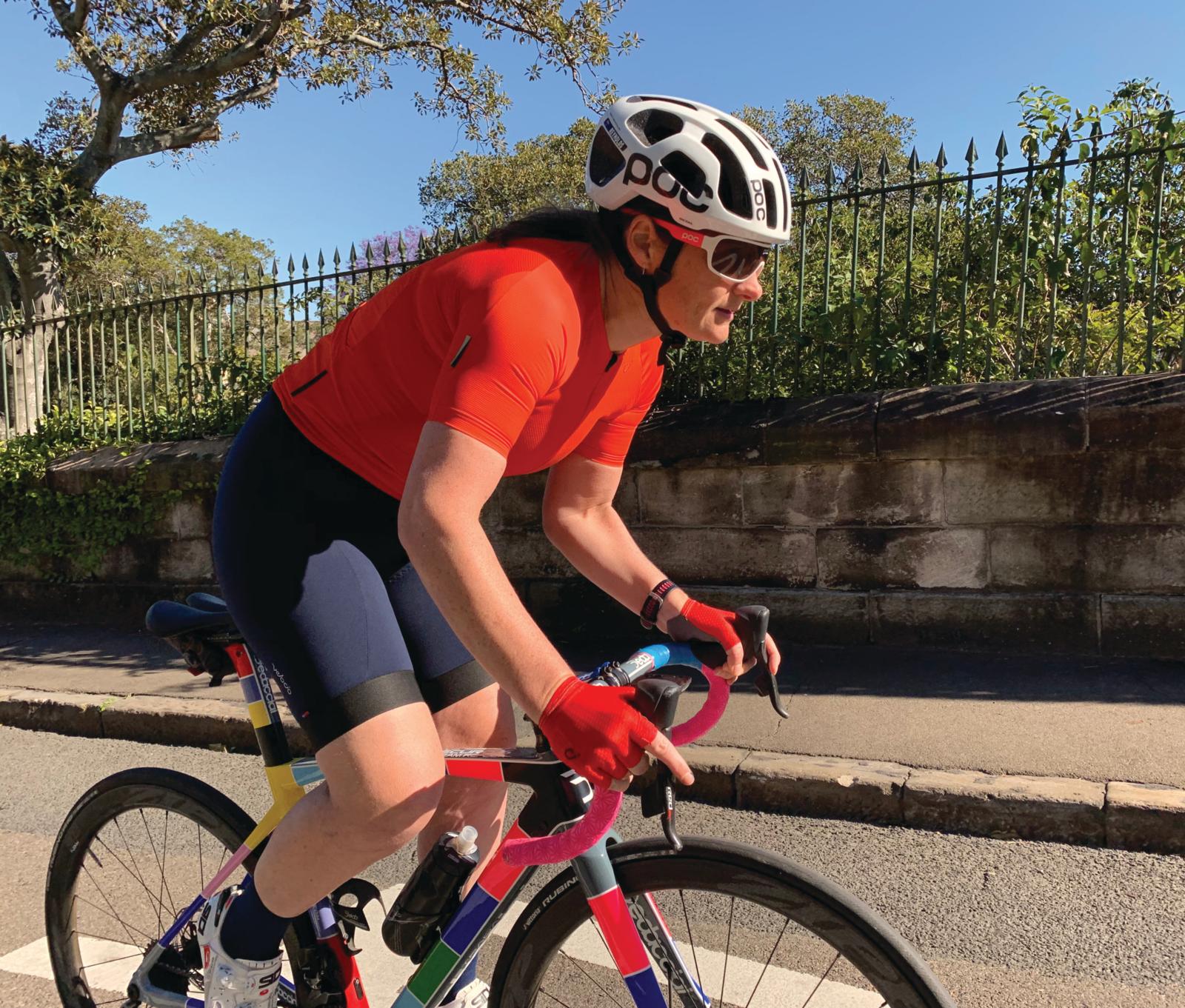 Measurements: Height: 171 Bust: 95 
Waist: 80 True Hip: 100
Because of the compressive stretch fabric of Velocio's bibshorts you can easily take a pee break without taking off your jersey!!
When I wear my Velocio Kit – I feel confident, committed to the ride and super comfortable. The lycra compression fits just right – I can eat more than celery for breakfast, take pee breaks with ease on the long rides.
My kit offers SPF50, wick protection and muscle support.
Best Bonus: Pee breaks with Velocio knicks. Chamois is comfortable for all rides. The jerseys have practical pockets and SPF50 Protection.