The November/ December edition of Australia's leading cycling publication and events platform is out now!
Richie Porte is on the front cover and inside the journal is packed with helpful information for amateurs through to seasoned pros.
The edition is at your local newsagent now – grab a copy and support Aussie cycling today!
What's inside?
A Women's Tour de France
Julie-Anne Hazlett tells us about two major challenges recently undertaken by the InternationElles – an all-female global cycling team.
Michael Matthews
He is one of the most exciting Aussie pros of his generation, a genuine all-rounder who can match it with some of the world's top riders. Peter Maniaty speaks with Michael Matthews.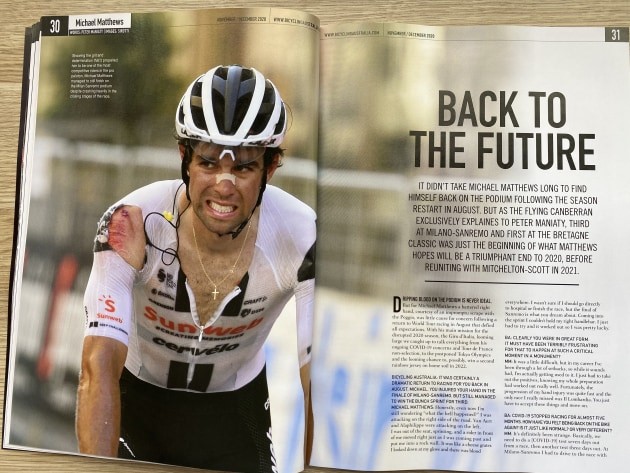 Christmas Gift Guide
It's difficult to believe but the countdown is on – we take a look at some ideal Christmas gifts for cyclists. From eyewear to skincare to cycling accessories, there's something for everyone in this gift guide.
Masterclass
The Great Escape
Not many riders have mastered the art of going solo, but Peter Maniaty speaks with a select few who have the power to go out alone. An inspirational article on mastering solo breaks.
Fore and Aft Balance
In his debut article for Bicycling Australia, bike fitter Neill Stanbury explains the importance of fore and aft balance on the bike. Every rider needs to know this!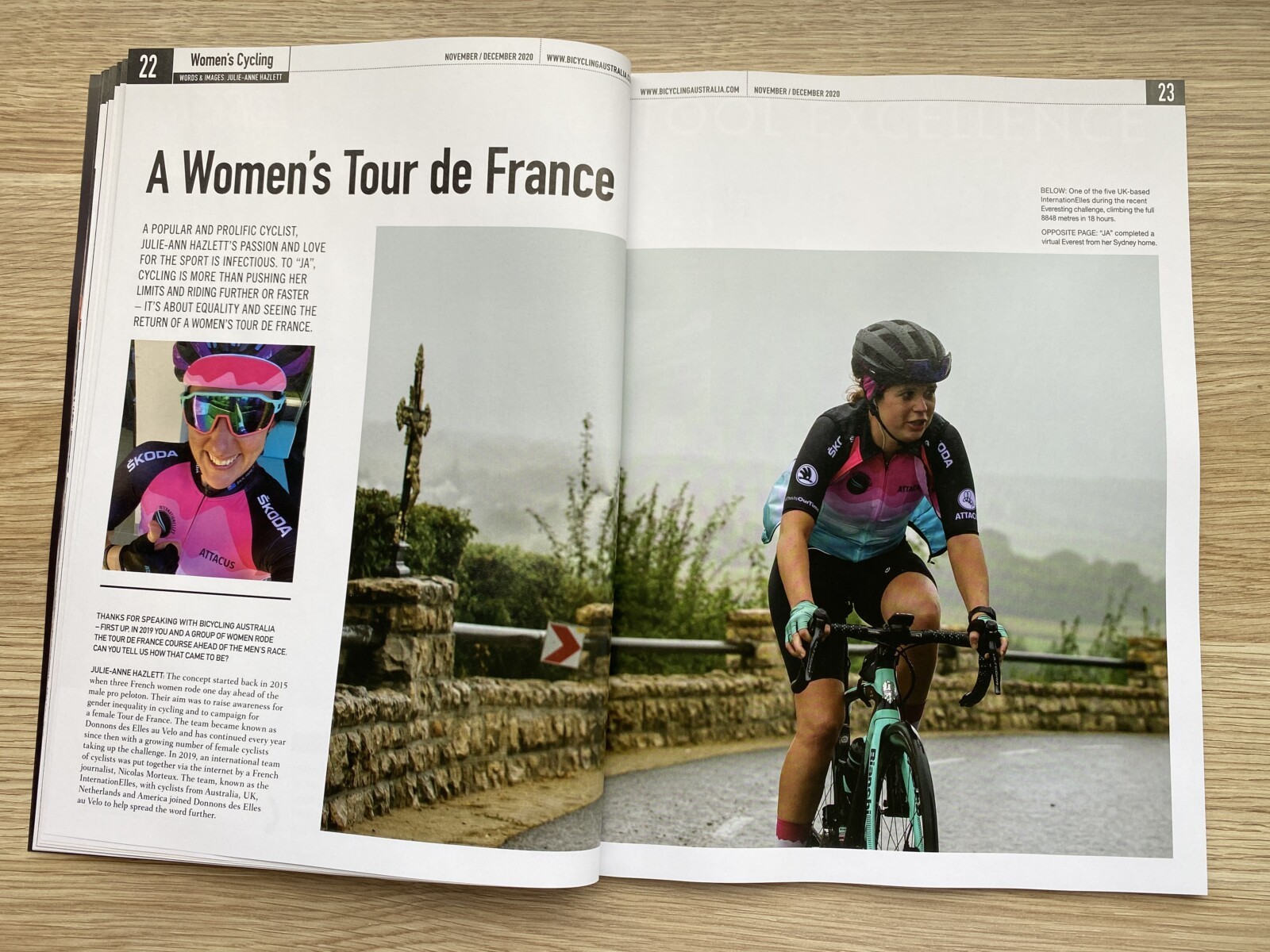 Crank Length
Cranks seem simple enough but there's more to most than meets the eye. One of the important aspects of the humble crank is it's length, as Dr Michael Hanslip explains.
Hold That Wheel
We can't all drop a huge wattbomb and head off solo. Steve Thomas offers tips on holding the wheel in front and becoming a stronger cyclist.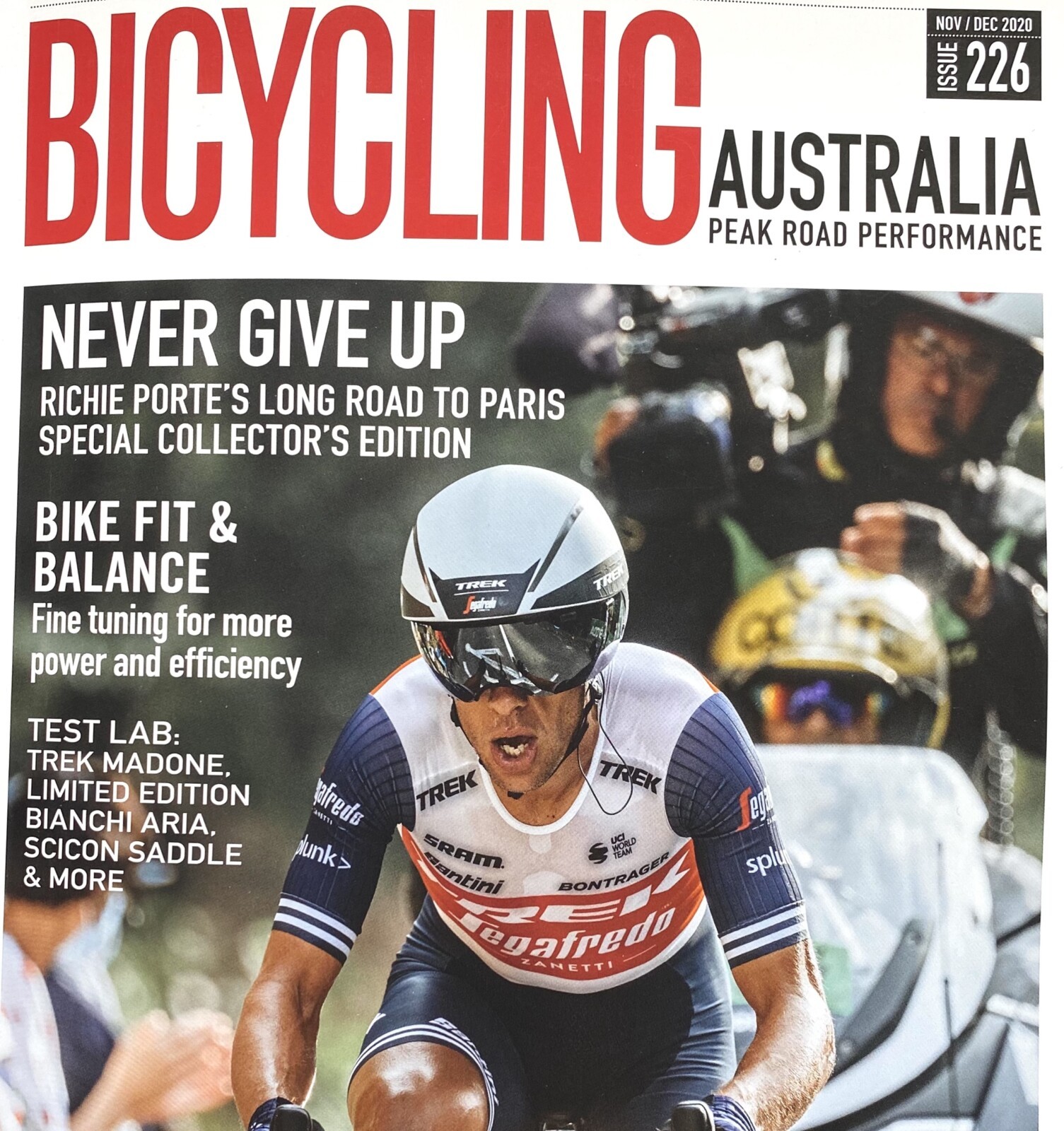 Test Lab + Bike Reviews
Scicon Saddle & Bibshorts
Italian manufacturer Scicon is behind more than bike bags and travel gear – we test its latest saddle and knicks.
High 5 Nutrition & Hydration
We road test gels, powders and tablets from hydration pioneers High 5
Assioma Power Meter
Luke Meers tests out a pedal-based power meter from Assioma.
Trek Madone
Peter Maniaty road tests the latest incarnation of Trek's premium model aero platform:
the uber-impressive Trek Madone SLR 9 with SRAM eTap.
Bianchi ARIA Bianco Limited
We ride a rare offering from Italian manufacturer Bianchi: the limited edition Aria Bianco Italia.