Decorated Olympic rower turned cycling champion, Drew Ginn, attempted to beat the solo 24 hour world cycling record and raise money for the Tour de Cure cancer foundation.
Ginn set a new Australian record of 836.36 kilometers in 24 hours, made up of 2608 laps of the Brunswick Velodrome in Melbourne on November 28. He averaged 34.8km/h for the ride and raised an amount, yet to be confirmed, over $30,000 for the Tour de Cure foundation.
To edge himself close to the 890.045km world record set by Marko Baloh of Slovenia, Ginn would have had to average 37km/h for the ride.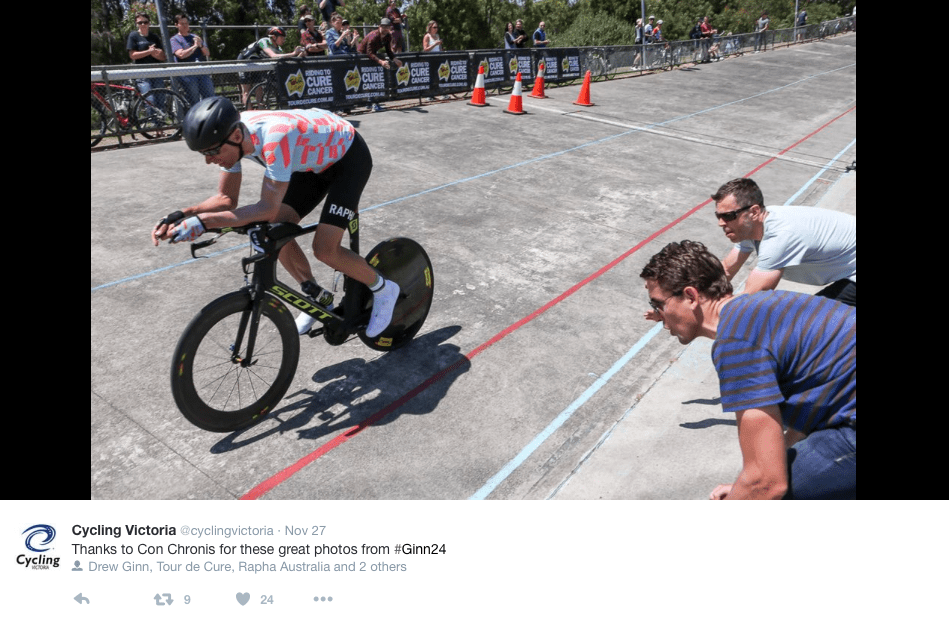 Ginn has won three Olympic gold medals and one silver medal out of four Olympic Games for his efforts in the coxless fours and coxless pairs rowing discipline. Being no stranger to cycling, Ginn turned to cycling after an injury and then went on to win the elite men's category of the 2009 Oceania Time Trial Championships and in 2010 he finished sixth in the Australian Road Race Championships.
He told CyclingCentral his motivation to attempt the 24hr record was his ambition to raise money for a cause he was passionate about.
"For years I've wanted to do something like this, to have a crack at making a difference," Ginn said before he started his 24hr record attempt.
"I've reflected on those close to me that have been affected, and the reality is that 24 hours on a bike is not that hard compared to some of the things I've seen these people deal with. I think what will help over the course of the event [is] that feeling that I'm contributing in a meaningful way."
Cycling Maven Blogged some of the event below.
https://www.youtube.com/watch?v=No8lrWZVhC4&feature=youtu.be