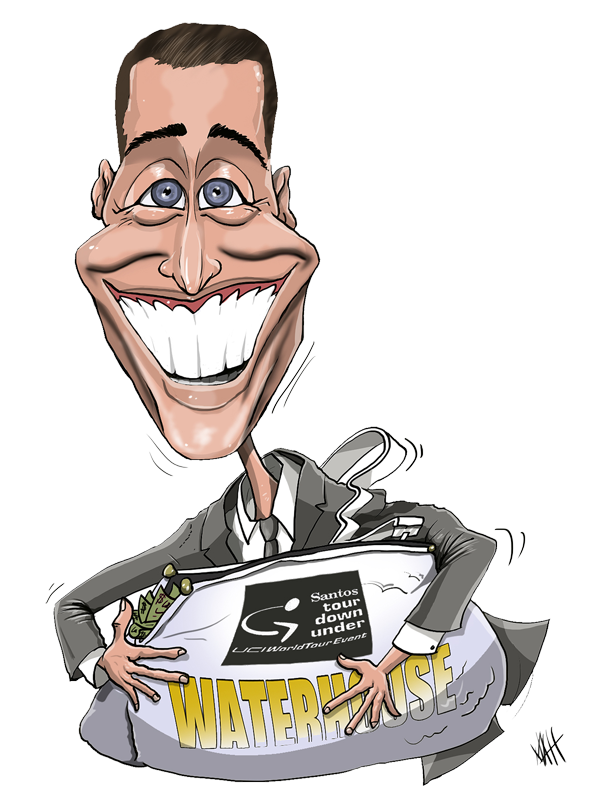 Any punter of the peloton worth his or her weight in bicycle computers loves collecting data and will head off on the most insignificant of rides with at least one big number in mind. In my bunch, the Old Cranks, Miguelito 'El Dingo Loco' de Pared regularly tackles local cols with his eyes glued to the screen of his Garmin Edge 810 as he yanks and yaws his way towards a personal best heart rate. It's a testament to the tenacity of his ticker that he has only rendered himself unconscious on four occasions.
Without a doubt folks, it takes a special kind of individual to prioritise maximum heart rate over distance travelled or average speed, but in Miguelito's defence, it all started with a bet.
The relationship between gambling and la bicicleta is as old as the Pyrenees, though the history books show that it was the Americans who combined punting and pedalling with an unrivalled imagination. Back in the Roaring Twenties, EJ 'Lucky' Lobdell was cluey enough to cash in on the mood of the times by converting his high quality bicycle rims into roulette wheels. Lobdell's Wooden Gambling 'Paddle' had great hubs and a skilled croupier could spin the newfangled contraption with enough power to keep taking bets for another quarter of an hour.
For the modern wagering wheeler looking for odds more favourable than Lucky's 113 to 1 against, the only tote board worth considering is sliced and diced between the auto sausage filler and mixer mincer in the cutting room of Hurley's butcher shop. And it was there that Hurley carved-up the spread of numbers that reignited Miguelito's unhealthy preoccupation with all things cardiovascular.
Some say the entire affair can be traced back to a single Year 9 PE class in the summer of 1985 when de Pared first rejected the Haskell and Fox formula of '220 minus your age' for calculating one's maximum heart rate.
High rollers began speculating about de Pared's actual MHR and engaged in an unprecedented betting binge that Hurley determined could only be resolved by an ad hoc cardiac stress test on our favourite climb, Le Petite Alpe d'Huez. At about three kilometres long, with nearly 250 vertical metres of climbing and four and a half switchbacks, by all measures the climb up Hawkesbury Road is near enough to one fifth the size of its more famous namesake.
The problem for any crank crunching crapshooter serious about having an educated roll of the dice is that wheelers by their very nature are dealers who engage in behaviours conducive to match-fixing, spot betting and other forms of, well, cheating. As a case in point, who could forget Valverde's gift to Sylwester Szmyd at the top of Mont Ventoux in the 2009 Critérium du Dauphiné.
I had just dropped 200 dólares on Valverde for the stage win when agentleman's agreement was struck to deliver the day to Sylwester. With less than a kilometre to go Valverde flicked his elbow one time too many and Szmyd folded like a cheap suit. If you watch the YouTube clip you can hear Sylwester cry "Sufferin' succotash!" as he abruptly lets go of Valverde's wheel and begins zig-zagging across the bitumen like a recreational randonneur.
Alejandro was out of his seat and pulling away when a double-take alerted him to Szmyd's monumental bonk. Recognising that dodgy deals had to be honoured in an inconspicuous fashion, Valverde faked a 'mechanical' and slowed his pace, but Szmyd didn't appear. He then dismounted his bicicleta, lifted it by the seat and turned the pedals in a knowing fashion. A furtive glance back down the road. Still no Szmyd. Casting his machine aside, Valverde began signing autographs and posing for pics. He even enjoyed a short black before Szmyd finally returned.
It might seem counter-intuitive, but the only way get on top of this kind of shenanigans is to get the bookies closer to the bunch and allow live betting.
And thankfully, folks, Tommy Waterhouse is leading the way. He might have signed his last rugby league football for the kiddies at half-time, but Tommy may soon be signing ochre jerseys and team musettes in the Barossa.
Rumour has it that Waterhouse originally approached SBS with a proposal to bump Phil Liggett from its coverage of the Tour de France. SBS rejected the bid but said it would consider axing Matt Keenan so Tommy could provide a comprehensive assessment of the gambling market as part of the early race commentary.
Channel 9 was quick to counter-attack and in a secret deal with Mike Turtur, Waterhouse is now undergoing Commissaire accreditation and will oversee proceedings at next year's Tour Down Under. The referee's vehicle will provide Waterhouse with the perfect platform for assessing the live odds which will be broadcast over race radio and streamed live on ninemsn.com.au.
With no friends in high places, Hurley has remained content to run the betting market in the Blue Mountains. When he opened the books on Miguelito El Dingo Loco de Pared's maximum heart rate the betting quickly spread to encompass everything from the triumph of Haskell and Fox at 178 beats per minute to the prospect of cardiopulmonary arrest on Le Petite Alpe D'Huez. But in the best traditions of cycling skulduggery and subterfuge, de Pared has been seen riding in the company of a few young bucks from the Panthers Cycling Club. Few believe that Miguelito will be the one wearing his heart rate monitor on the day.