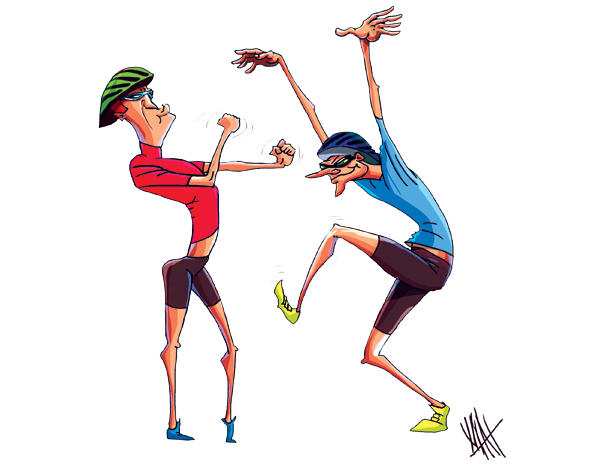 Always open to information on current performance enhancement methods, endo explores a new cross training fad.
Any pedal pushing punter who has spent more than thirty seconds reflecting on their craft knows that there is a constant procession of fads that take the peloton by storm before drifting back through the bunch and fading away to record a DNF. My fetish for Scott Drop-in handlebars is a case in point. While they clearly remain an historical artefact from a golden era that are without peer in terms of achieving the desired function with a simplicity of design, in real terms my Dropins are now to road cycling what the mankini is to men's fashion: a novelty best enjoyed in the privacy of your shed on a rainy Sunday morning.
Of course, folks, such pedalling preoccupations are not limited to the bicicleta itself. Everything to do with the art and science of cycling is up for grabs. There is always some newfangled gizmo appearing in your local bike shop, and trusty rags like Bicycling Australia Magazine regularly introduce crank crunchers to new ways of doing everything from preparing for a tilt at your PB in a time trial to lubing-up the nether regions before an epic ride.
Given our fickle ways, it is yet to be seen if recreational randonneurs will embrace en masse the latest fad: cross-andfit training.
"Cross-and-fit" is a strength and conditioning method that combines mixed martial arts with the functional training needs of your chosen sport. It provides a versatile approach to any discipline. In a standard ribbon exercise in rhythmic gymnastics, for example, you might end a classic horizontal spiral movement by hurling your ribbon into the air, charging and taking down an unsuspecting training partner, manoeuvring them into side control, applying the Kimura move, catching your ribbon and then hyper-rotating your opponent's shoulder until they tap-out.
I was introduced to this innovative approach in dramatic fashion when Chris, an owner of the Springwood Newsagency, lunged at me without notice while I was flicking through the latest edition of Bicycles and Boars in the sport, rec and shooting section of his paper shop. In a clinical execution of "the guillotine", he slipped his arm under my chin, grabbed that wrist with his free hand and pulled the arm upward against my throat until I passed out.
Chris is always looking out for mags to satisfy my insatiable hunger for new (if often disposable) knowledge and, when I regained consciousness, he presented me with a copy of Cross-and-Fit Cycling, complete with a special lift-out, "Eating Plans for the Paleo Peloton".
The dietary lift-out was mostly redundant. In my bunch, the Old Cranks, we had that debate long ago and reached a general consensus: we were well on our way to being saturated in fat and had an unquestionable commitment to meat in all of its culinary permutations. The only voice of dissent came from Miguelito "El Dingo Loco" de Pared who, at that time, was riding a fixie, had a bushranger's beard and preferred to identify more with 'hipsters' than with 'cavemen'. He was clearly in denial.
But the prospect of being cross-and-fit provided a new angle on the challenge of maintaining your motivation and form across the whole year. It also appeared to shed light on what had been the worst year of velo-violence since Bernard "the Badger" Hinault clocked a protesting miner in a fit of anti-union rage during the European Spring of 1984.
Thirty years later, cross-and-fit is literally all the rage amongst the pros. In 2014, the carnage was unfolding everywhere. Who could forget Luke "the Turbonator" Durbridge's run in with the Movistar soigneur after being knocked off his bike in the Pyrenees during last year's Tour de France? "I sort of reacted badly — sorry about that," the Turbonator told SBS afterwards, clearly disappointed with himself and apologising for his failure to take the soigneur to the bitumen for some serious ground-and-pound.
A month later, cycling fans were treated to some old-school striking and grappling when Enrico "the Italian Stallion" Rossi took on Vicente "the Kid" de Mateus towards the end of the 155-kilometre stage from Oliveira do Bairro to Viseu at the Volta a Portugal. The combination of fatigue and cleats made for some sloppy footwork and wildly inaccurate striking, but both cyclists demonstrated that they had at least dabbled in the art of being cross-and-fit.
And then in the following month at the Vuelta a Espana, Gianluca "Godzilla" Brambilla and Ivan "the Terrible" Rovny took the whole show to another level on the road from San Martin del Rey Aurelio to La Farrapona. In a classic exhibition of Muay Thai stand-up, the pair exchanged jabs, straights, elbows and hammer-fists while riding uphill and maintaining their place in a 13 man breakaway. The commissaire eventually expelled both men from the tour, but the race radio was abuzz with talk about the new training technique behind this otherwise unfortunate melee.
Amongst the Old Cranks, two questions emerged as urgent matters over a post-ride cleansing ale. Firstly, which rider from the pro-peloton would you least like to run into in a dark alley? Mark "The Bathurst Brawler" Renshaw knew how to head-butt while sprinting for the line and topped our list. Secondly, what would you have as your "cross-and-fit" fighting name? Miguelito suggested that we each needed to combine the name of our first pet with the name of the first street we lived in, though seemed none too pleased with the prospect of being known in the bunch as Scamp Jersey.