When Sarah Gigante and her mother first started riding their tandem bicycle to school 8-years ago, I doubt either ever believed she'd be taking out the Young Rider Classification at the 2017 edition of Amy's Otway Tour, just months after making her domestic-pro debut at the National Road Series, let alone racing for arguably one of the most successful national teams in Australia: Holden Women's Racing.
Our women's journalist, Gemma Mollenhauer sat down with no-doubt 'face of the future' Sarah to discuss her school/life balance, racing and of course how it feels to be one of the youngest racers in the Australian women's 'professional'* peloton.
After signing to Holden Women's Racing as a development rider earlier this year, it wasn't until August did 16-year-old Sarah Gigante received the call-up for the notoriously hard National Road Series (NRS) event: Tour of King Valley. With half the team away racing in Europe as part of the Australian Development Team, this was young Gigante's time to prove herself as more than just a member of Holden's 'B' team but rather a racer you're going to know by name (if you don't already).
"I just think it's cooler being younger because you get to look up to all the girls and be like 'wow one day I could be there'" Gigante told Bicycling Australia, insisting that age is a benefit not a limiter.
"It's the lack of experience that's the most limiting the first three NRS races I did I tried to be up the front but then 'boom' I was off the back again.
Holden have really helped me with that by giving me a role. I just have to stick to the front. And after doing that a few times you realise it's not that bad. Apart from that and the distance it's not too different from junior races."
Gigante, who's now been racing half her life, has already got a palmares other riders would be happy to achieve throughout their entire careers, not to mention the maturity and drive of someone twice her age. Now in Year 11, Gigante has one core goal: to do her best.
"Sometimes I train in the morning, but normally I just do homework and then I go to school and at lunchtime I do more homework because cycling takes up so much time," said Gigante,
"When I get home I eat…a lot. A few days a week I do a bunch ride in the hills with my friends then on Wednesdays I do an ergo (the only day I feel like I actually train). Then on the weekend I race."
And do you love it?
"Yeah."
"My goal is Nationals next year", said Gigante, "I've always gone to watch so it'll be really exciting to race. I've got 90-something days to become better at hills. Other than that, I'm just going to keep aiming to improve at NRS and do my best."
When asked what her greatest cycling achievement was thus far, Gigante cited 'getting to ride with the Holden girls', despite nabbing a podium at Tour of Gippsland, winning the Young Rider Classification at Amy's, achieving multiple top ten's in the women's NRS, receiving 2nd in the Junior National Championship road race and Oceania Contentianal Championships respectively taking out the Junior State Championships in Victoria and winning National Junior Hill Climb Championships for 2017, among other incredible results.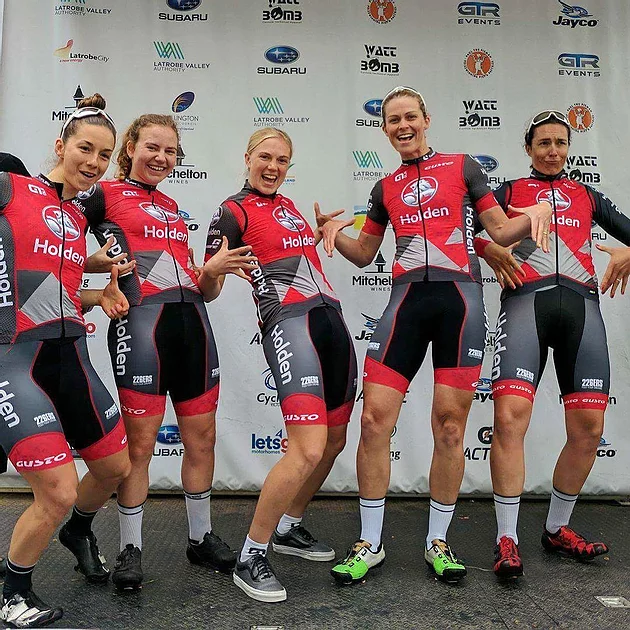 "Getting to race with them (Holden) especially is so cool", said Gigante (who can't wipe the smile off her face). "I can try do my bit, and even if it's not much I can still say I tried my best.
It's really cool, Lisen (Hockings) and Kimbers (Wells) are doctors, so they've showed me that school and cycling does work. And Lousia (Lobigs) is doing her PHD at the same time as being an awesome cyclist."
While cycling is her passion, school is still the priority for young Gigante who inbetween training, school and eating, also seems to find time to run her own women's cycling blog: Podium Girls.
"It was just to broadcast women's cycling more, especially the race side of things", Gigante explains, "My Mum used to do race reports from my races, so we thought 'may as well collect them'. That was the start. Just having a place for all the write-ups. It's pretty fun to look back on it".
While the blog does recall many of Gigante's achievements, it also celebrates womens cycling at a national and international level, and is well worth checking out. Gigante's Mum, Kerry writes: This site is all about respect. Respect for girls, their love of cycling, their commitment and dedication. They are the true podium girls, and I am privileged to share their stories.
Unsurprisingly, Gigante says her Mum is by far her biggest support:
"My Mum helps me in everything. Sometimes it's hard to balance school and cycling but she's always there, really helping me in whatever I want to do. And she's always proud no matter what I come in a race."
With her Mum by her side, and one of Australia's best National teams at the helm, there's no doubt big things are in store for the youngster, who despite achieving so much already still remains humble and down to earth.
And the key to success?
"I always just try to stay positive. Even when I was turning up to my first NRS this year I was just thinking that 'wow you're there, you've made it, you're actually part of it', now I'm asking myself 'how long can I hold on?' and 'if I'm there in the end what's my plan? I'm always just thinking of a way to win, even if I know I wont, just picturing how I might win or how I might do my best."
Whether she's attacking off the front or leading out her Holden Women's Racing teammates for the final sprint, you can count on upcoming star Sarah Gigante to be right there doing her best and probably nabbing anther podium in the process.
You can follow Sarah's journey via the Podium Girls/Holden Women's Racing websites:
https://podiumgirlscycling.wordpress.com/
https://www.holdencycling.com.au/

Rapid-fire questions:
Which do you love more riding or racing?
"Racing! I just love racing. Every time I get on the bike for a race there's just adrenaline everywhere, even if it's the tiniest of races.
Do you listen to music while you train?
On the ergo I listen to music, and I listen to French songs so I can study French at the same time.
Biggest cycling influence?
I don't have one standout one. But maybe the girls on Holden…and Annemiek Van Vluten- especially after coming back from that crash…It's like no matter what setback you have, you should be like 'Annemiek got over nearly dying'!
Best cycling memory?
Hmm, the Holden team camp, even though it was really painful! It was so fun. Getting to meet them all and ride with them all the time is amazing!
Worst cycling memory?
Probably crashing. I crashed at Oceania's on the track last September. I attacked off the front and a girl clipped wheels ahead of me and I somersaulted and separated my shoulder.
What is one thing you know now that you wish you'd know when you first started?
I feel like I don't know much more, but I wish I knew that everyone was just so nice. I was so nervous going to my first race and I wish I'd just known that everyone is so nice and awesome.
*While 'Professional' generally refers to women that make a living from cycling, I used this word to reference the top racers in Australia that complete at National Road Series level. As almost half of the women's professional peloton competing in the World Tour make less than $8000, the word 'professional' is somewhat redundant.
Images by Rosanne Brooker