The days are getting shorter, and the temperature has dropped noticeably. Summer is over. Autumn is winding up the lead out with winter tucked in at third wheel as the finish straight looms large. It's cold and dark and damp. Again. Here's how I deal with it, and stay on the bike over winter.
Darkness
See, and be seen is the mantra to live by in winter. Use your lights and clothing to ensure that you're visible to other road users, and you can see where you're headed too.
Choosing a light
Lights with flashing modes and various light levels let you adjust to the conditions, and conserve battery when needed.
USB charging rules, especially if your ride to/from work. Get a spare cable and leave this at work too.
Choose lights that have tool-free fittings. Fiddling around in the cold and dark is no good, especially when it's 5am and you want to be in bed.
Using your lights
Resist the temptation to run your light on the Death Star setting if you ride in the city. 1000 lumens is for seeing, not being seen. Lights that are too bright make it difficult for drivers to see, like approaching a car with its high-beams on. Pedestrians don't enjoy them either, so dim your light appropriately.
Use at least two rear flashing lights for extra vis and battery contingency. Mount one on the bike and one on yourself (helmet, back jersey pockets etc)
It's hard to go too bright with rear lights.
Make sure they're charged! Set an evening calendar reminder for every second day, or set up a charging station right next to your bike and plug in when you get home.
Be visible
There is no justifiable reason for riding in the dark wearing all black kit. Your life depends upon being visible. Pretty obvious stuff?
Look for bright or reflective garments for core winter items such as vests and jackets. There are plenty of stylish options available.
Get reflective with your accessories, such as shoe covers, gloves and helmets. Look for items that have reflective logos or piping.
Use reflective self-adhesive sheet to customise. Cut strips, shapes and dots for your helmet, bike, shoes etc. You'll always be rolling with extra vis.
Reflective ankle and arm straps are light, easy on/off and cheap.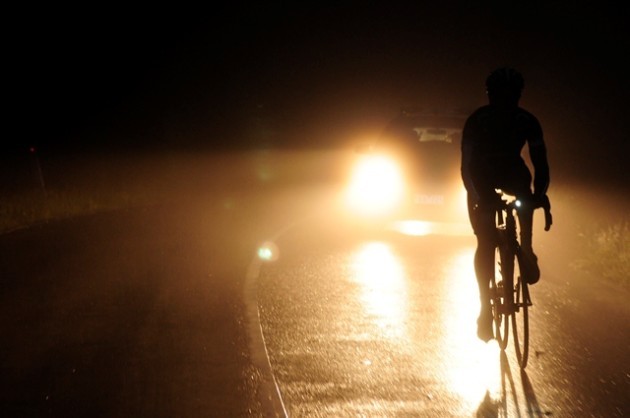 Temperature
If this is your first winter, the number one rule to remember is to dress for 15 minutes into the ride. You'll be cold at first, but you won't be poaching yourself once you've warmed up. Once you have this dialed, you have to learn how to dress functionally by layering and using accessories.
Layering: this is an art which you can easily master, and worthy of a whole article in itself. If you don't consciously plan your layers before you get dressed, then get online and learn about layering immediately. Your winter experience will be transformed, guaranteed.
Be versatile: arm and leg warmers, vests, tops with full length zips, skull caps, photochromic sunglasses, on it goes. Items that allow you to change your set up on the fly or mid-ride with minimal bulk are gold.
SuperRoubaix bib knicks (full leg or ¾ length) up your base level warmth factor significantly, without cooking your torso.
Look for vests and jackets that have pockets on the back, like a jersey. Rabbiting around for your jersey pocket with numb fingers, when it's under an elasticized jacket hem sucks!
A good pair of sunnies (clear for the dark) are essential. Ice cold air is no fun for your eyeballs, and easily avoided.
It's almost impossible to stop your fingers and toes from getting cold, but you can get light merino wool gloves that will fit under a cycling glove to boost warmth. You can also use packing tape across the front of your shoes or foil inside the toe to bolster the effectiveness of any shoe or toe covers.
Don't be shy about moisturizing. The wind chill can dry and split your nostrils, lips, earlobes and knuckles especially, and that's ouchy.
Moisture
Like major cold, any major wet is pretty tough to defeat. Face it, you'll get wet regardless of what you wear if your ride long enough or the rain is hard enough.
There's no shame in riding the trainer if it's too wet for your liking. Unless your boss is a ProTour team manager and you have a full time nanny, you need to stay healthy! Your bike will thank you too.
Get a cycling cap. That little brim really helps to keep the spray and rain out of your eyes.
Accept the wet, but don't accept the cold. Cold and wet is the express route to the end. Wear a base layer that will still be warm when wet (merino wool is perfect) and make sure your outer layer is windproof so you don't end up an ice block.
Avoid a cold and wet behind from road spray by using a small saddle or seat post mounted mudguard
Put all of your gear in zip lock sandwich bags to keep it dry
Always carry two tubes and some patches. The wet road will help all the sharp nasties stick to, and slice into your tyres.
Keep your bike clean and slippery. Dirt loves to stick to dirt! Most bike care brands have a frame polish and they're generally great. If not, use Mr Sheen (old bike shop secret).
Be disciplined: clean and dry your bike when you finish the ride. Wipe down the chain, cogs and rings and the dirty brake tracks and pads as a minimum. Also check your tyres for embedded sharps and cuts.
Motivation
The hardest part! Cold, wet and dark; a trifecta that can easily break the keenest rider. 
Committing to meeting someone else is always helpful, regardless of the season. Training goals are handy too. There are some easy things you can do that will help you beat the snooze button when you're on 
the edge.
Be prepared. Have all of your kit, food, bike and riding gear out and ready the night before if you plan to ride early morning.
Have breakfast ready too: cereal already in the bowl, glass of water filled, coffee already made, etc. You want to get up and go before you change your mind!
Sleep in your kit, at least as much as you can. Socks and base layer are totally legit pajamas. Put the rest of your kit (not helmet and shoes mind you!) in bed with you. You won't have to put on cold clothes in the morning.
Indoor riding
Get your trainer set up, permanently if you can. Make going for an indoor ride a simple experience with the least possible excuses.
Download a stack of interesting podcasts to listen to. Indoor riding needn't be all about doof doof music. Distract your mind by engaging it elsewhere if you're riding tempo and base intensity.
Learn to ride rollers if you haven't. Make it a goal for the winter so you have something to aim for. Rollers are much closer to the real thing.
Bike care
Personally, my bikes get the most maintenance in winter. Not because they get the most nasty weather, but because winter is race season. You'll never fall asleep watching a late night Euro race when standing up, working on a bike. It's the ultimate two for one deal with no interruptions, and turns this nasty task into a fun one.
We'll still hit the snooze button, pike out of a ride or two, and definitely get cold and wet this winter. We hope you do too. Have fun out there and be safe.