The Clare Classic is thrilled to have the support of South Australia's leading cycling fundraising program Ride for a reason. Ride for a reason helps to Fund Cancer Council SA's critical work in cancer research, supports those with cancer and empowers people to reduce their risk via prevention education.
Russell Schrale of Cancer Council SA said the sport of cycling plays an important role in the makeup of the peak charity organisation.
"We're proud of the strong cycling culture in our organisation," he told us during a recent morning ride, soon after we happened to cross paths with another SACC staff member, numerous Cancer Council jerseys and a Board Member at a popular post-ride cafe.
"We've been supporting Ride for a reason for around 10 years now," he continued."It's a really good fit for us- It does raise valuable funds plus also ties in with healthy living. The fact that 30% of cancers are preventable through healthy lifestyle – promoting cycling, lifestyle and good eating is a big part of the organisation's work."
Help Raise Funds And Earn The #RFAR Kit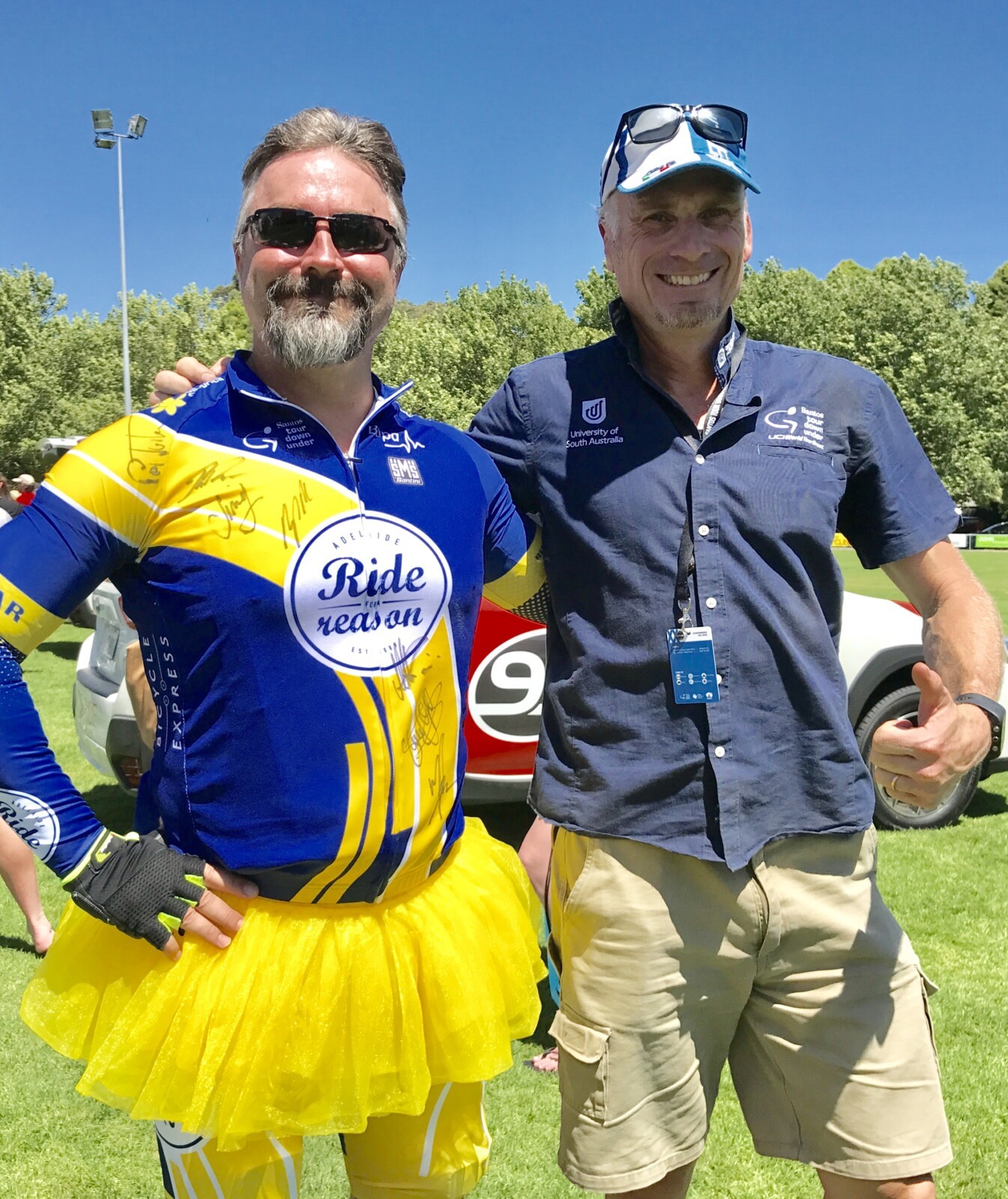 Russell said he was proud to see many people riding around Adelaide in the bright yellow Cancer Council kit. With the Clare Classic based in Adelaide in the months leading up to the event, we see the prominent blue and yellow kit on virtually every ride around this cycling-centric city.
With Ride for a reason participants raising between $300,000 and $400,000 for Cancer Council SA each year, the organisation's major annual fundraiser is the highly-respected Bupa Challenge Tour at the Santos Tour Down Under.
Under the advice of emergency services agencies, January's ride was cancelled due to ongoing heatwave conditions and a 43-degree day – this resulted in an unavoidable drop in fundraising for the charity organisation.
"We are not government funded," said Russell. "To see the type of support we receive is fantastic. Getting involved with the Clare Classic is a way to extend that fundraising and also be involved with an event that people can further challenge themselves and see another great part of the State."
Russell said South Australian's were fortunate to live in a state so well-suited to cycling.
"We have so many great rides available to us," he said. "We are supportive of that and it's fantastic the community out there enjoying what we have, while also helping raise money for Cancer Council SA."
Meet Pat Jonker At The Clare Classic
Ride for a reason members, including high-profile ambassador Pat Jonker – 5-time Tour de France rider and Tour Down Under winner – will be participating in the Clare Classic on April 8.
In addition to this Cancer Council SA volunteers will be on hand to provide sun screen and assistance to all event riders on the day.
You can support Ride for a reason and the life-changing work of Cancer Council SA by nominating them as your chosen charity when registering for the Clare Classic and joining up at https://www.rideforareason.com.au order to earn an exclusive kit – any questions just email us at info@clareclassic.com.au