Somewhat surprisingly, the Power Road TLE is the first tubeless road tyre ever released by the French rubber giant, Michelin. It's a safe bet it won't be their last, reports Peter Maniaty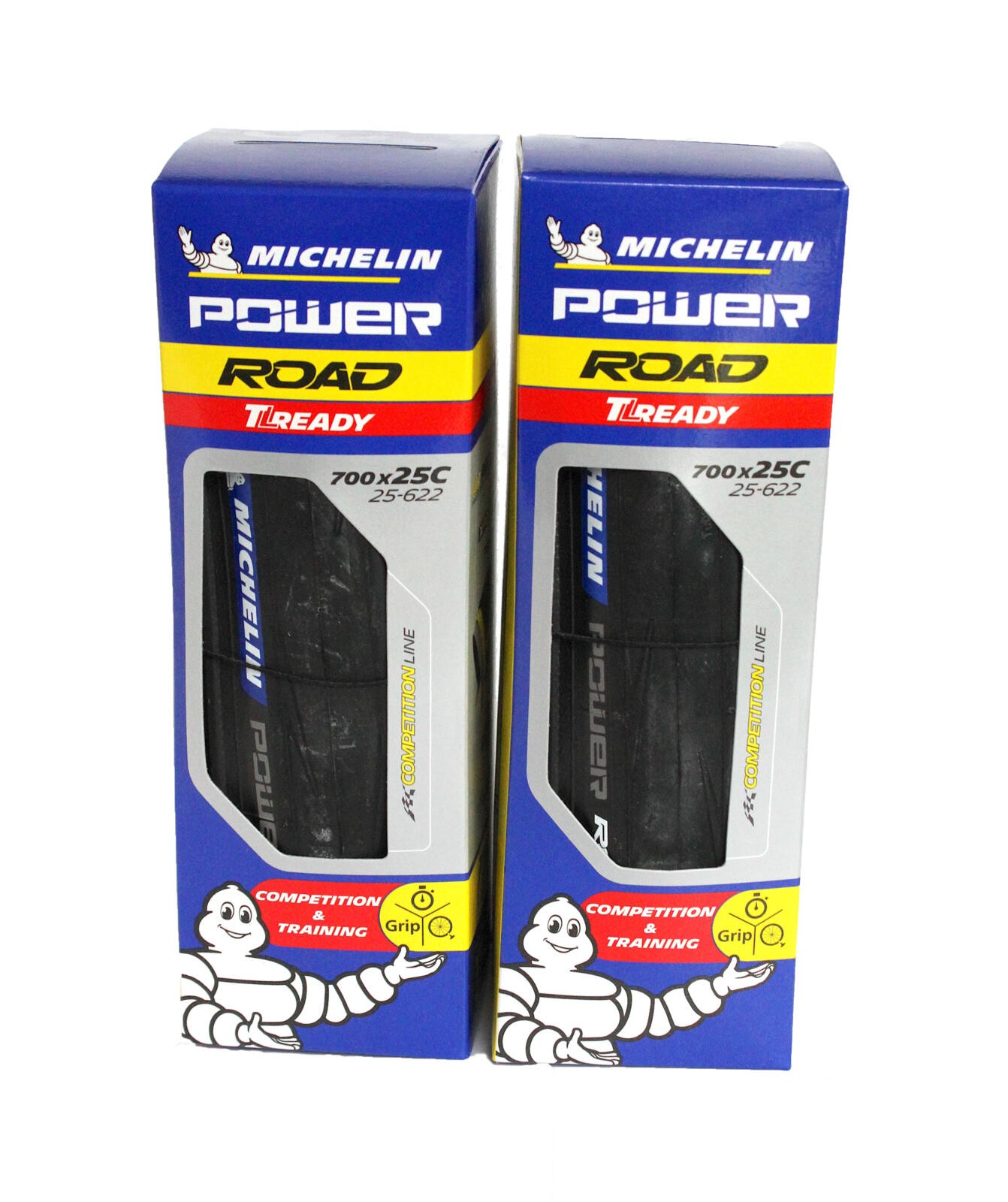 Part of Michelin's 'Competition Line', the Power Road TLE uses the same X-Race compound as its tubed Power Road sibling. The tread thickness is also similar. In fact, tubeless aside, the main difference is the casing, upgraded from 3×120 TPI to 4×120 TPI, which provides improved robustness whilst still remaining supple enough for confident handling.
The other notable difference is the removal of the anti-puncture strip under the tread, replaced instead by what Michelin calls an 'Air Proof' layer from bead to bead that increases both puncture resistance and the tyre's ability to hold and maintain air. Weighing in at 275g each (700×25), the Power Road TLE is a little heavier than Schwalbe Pro One TLE (245g), but a little lighter than Conti GP 5000 TL (305g).
INSTALLATION
The last time I reviewed a pair of tubeless tyres I was expecting a struggle and it never eventuated. This time, I wasn't so lucky. As always, different pairings of rims and rubber are more compatible than others and, on this occasion, my wheels (Bossi RD2 carbon 30mm) proved quite a challenge. Seating and inflating the tyres was fine. Getting them on my rims in the first place was a little more work. Yes, these things are a tight fit.
Thankfully, once I'd coaxed them into position the rest was a doddle. As can happen with tubeless tyres, after the initial inflation they lost pressure pretty quickly, however following my first proper ride the sealant had been evenly distributed and the seal held just as well as, if not even better than, rival tubeless brands.
RIDING
Without doubt, one of the greatest delights of running tubeless is the silky, smooth ride. Michelin Power Road TLE certainly delivers on that front. However, my first impressions were they perhaps felt a little too smooth at times. While there's an undeniably cushy comfort about these tyres, especially at the lower end of the recommended pressure scale (116/73 psi), I found the trade-off was noticeably reduced road feedback compared to other tubeless tyres I've ridden in recent months. As someone who prefers a reasonably sharp feel for the road, this took some getting used to. Damp or dry, the X-Race compound offers confident grip and braking performance.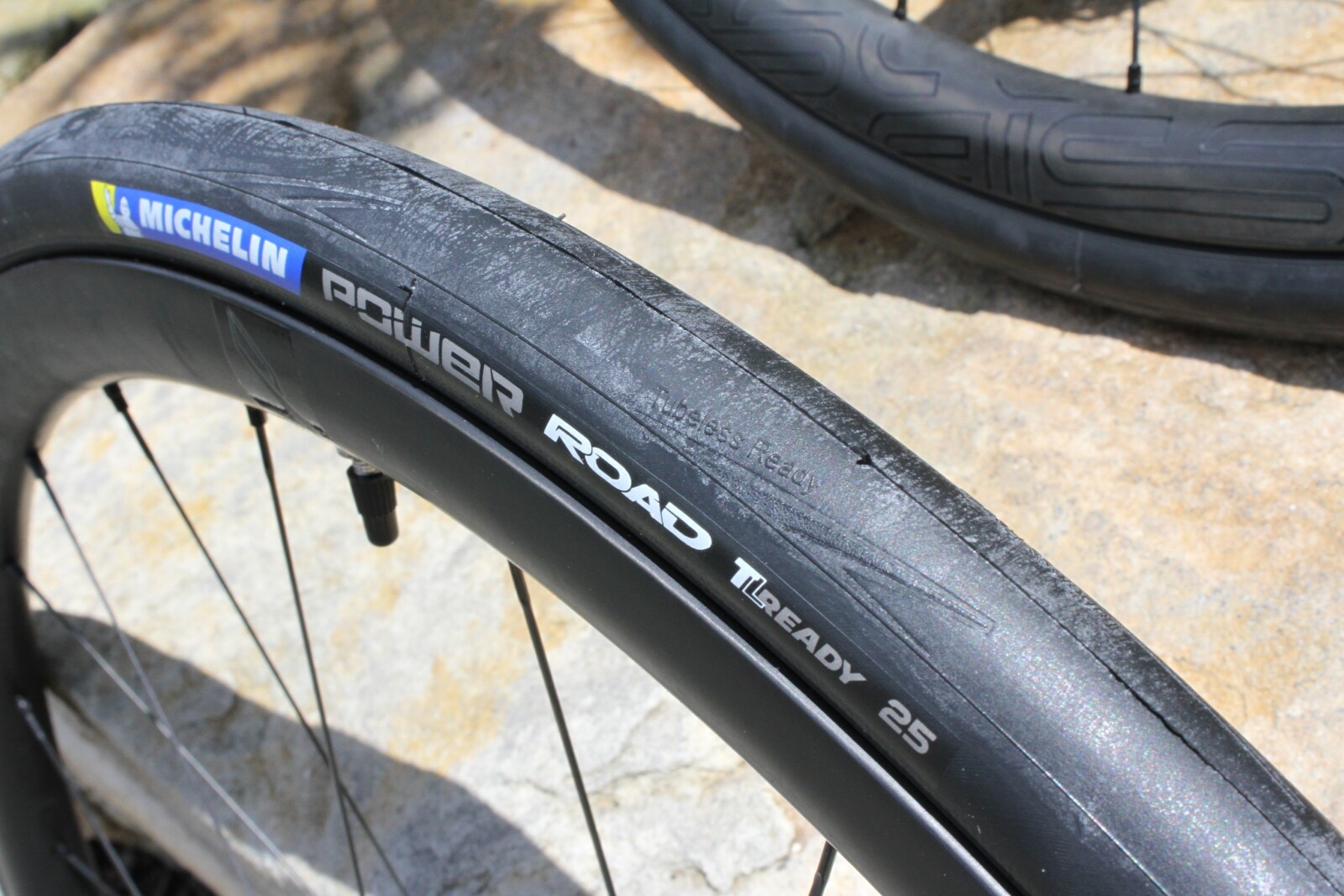 The Power Road TLE is actually a whole lot faster than it feels – something my Garmin confirmed to me on numerous occasions over the review period – pointing to the fact the rolling resistance properties are clearly excellent. Michelin says the Power Road TLE is second only to its top-of-the-range Power Competition Tubular tyre when it comes to rolling resistance and you'll get no argument from me. They may feel a little soft and sluggish at times, but they're anything but. Data doesn't lie.
SUMMARY
Tight fit aside, these are a solid tubeless option for roadies likely to provide thousands of kms of trouble-free riding. Given their robust compound/casing and smooth road feel, they're probably more suited to cruising and fondo-style riding than sharp and punchy racing, but the ride quality is unquestionably comfortable and efficient. Well worth adding to your shortlist, especially if the price is right.
SIZES: 25mm, 28mm, 32mm
WEIGHT: 275g (700×25), 305g (700×28) 350g (700×32)
PRESSURE RANGE (PSI): 116/73
PRICE: Check at your local bike shop or search online.