Perth-based Bicycling Australia MasterClass contributor Sarah Hunter has recently been riding the Wattbike Atom. Here are her findings.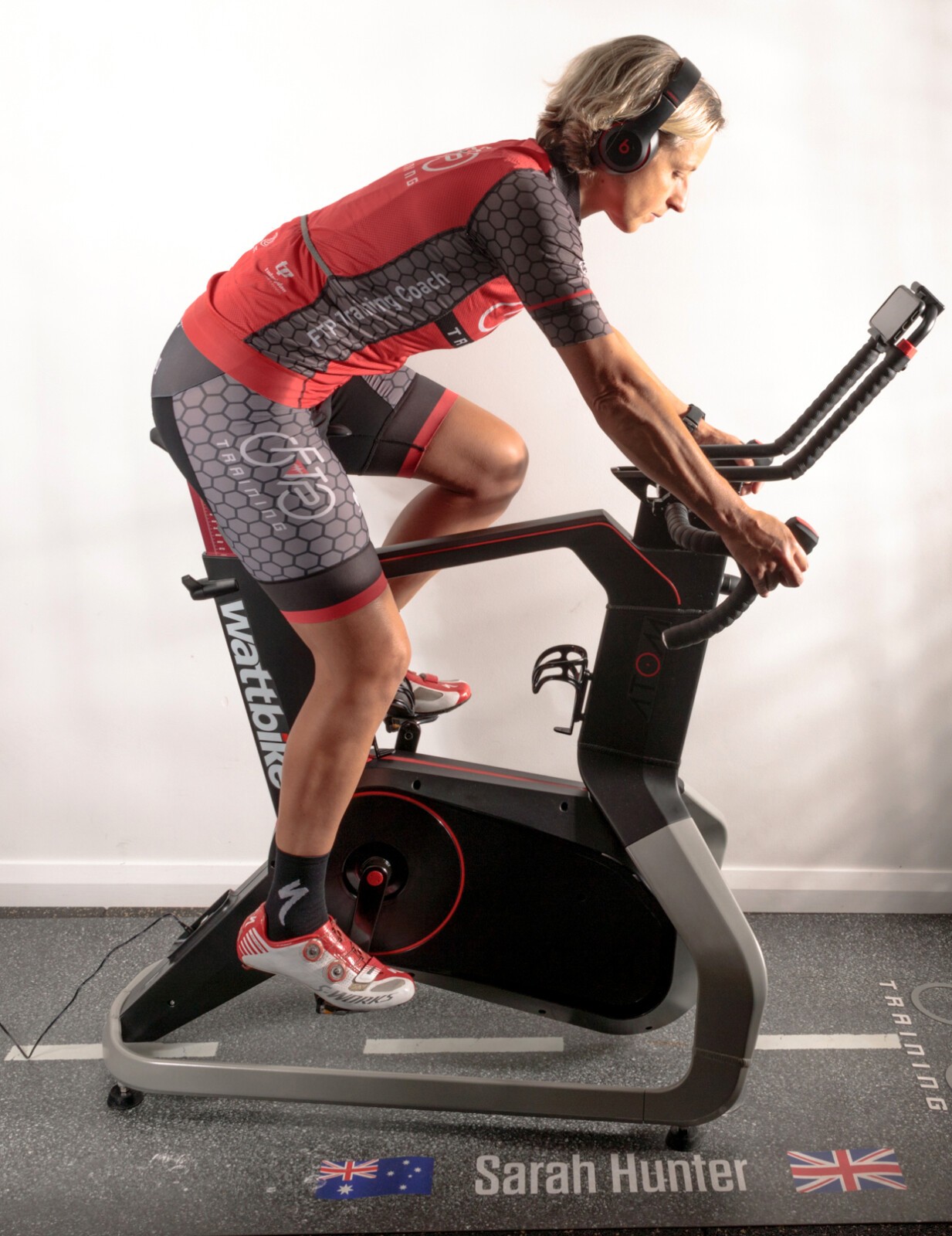 There has been a big drive from many of the smart trainer manufacturers recently to break into the smart bike market. The Wattbike has had the lion's share of the smart bike market, but with many other options out there now, is the Wattbike still the one?
When you order a Wattbike, it gets delivered directly from Wattbike in a monstrous box. This box is so big I could comfortably sit inside it (but I am small!).
The claimed weight on the box is 50kg, but I think it's more like 45kg. Nevertheless, it's a big and unwieldy carton that requires two people to move it – unless you are happy dragging it across the floor.
The footprint of the Atom is significantly smaller than a smart trainer + bike setup – so it will work well for those that are short of space. The weight of the unit means it's not portable, but with the well designed roller wheels on the front of the unit, you can easily wheel it between rooms and move it around at home.
In fact, I'd say its much easier and quicker to move at home than a smart trainer – ever tried to move a smart trainer with the bike attached? I wouldn't.
Unpacking and your stoke will go through the roof… it comes pretty much as a whole bike. No Ikea style building needed here. Just fit the pedals of choice (it does come with a set of flat pedals as well), slide on the aero bars if that is your thing and then you are good to go.
Don't ditch the aerobar too quicky though as at the end of these is the integrated phone / tablet holder. It is easily adjustable to fit a huge range of devices and makes the riding experience even more immersive and the pain cave set up very compact and neat.
…The Wattbike has had the lion's share of the smart bike market, but with many other options out there, is the Wattbike still the one?…
Unlike the older Wattbike versions, it does need to be plugged into the mains. The old Wattbike Trainer and Pro had an integrated generator to charge the battery whilst riding. I don't see this as a negative though, as most smart trainers need to be plugged in. A cleverly designed, non-obtrusive set of wheels are positioned at the front of the trainer. If you do need to move it around its wheely (pun-intended) simple!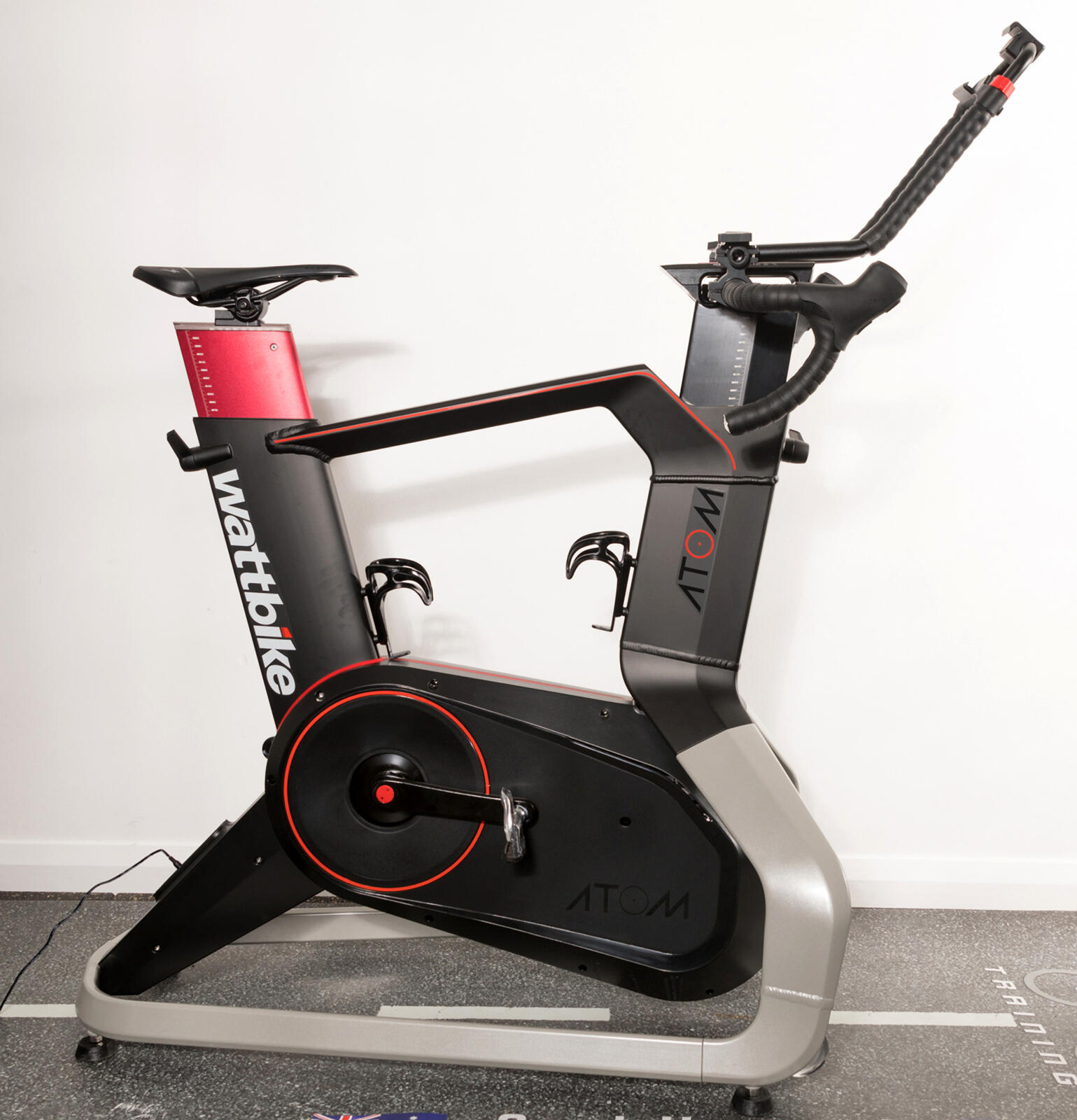 You will need to setup the machine to replicate the fit of your road bike.
Wattbike have a very nifty online guide that you fill out as part of this setup process. You take 6 measurements from your current bike, enter these numbers online, and the form returns you the 4 Wattbike measurements: saddle height, handlebar height, saddle position (forwards/backwards), and reach (handlebar forwards/backward).
Saddle tilt and aerobar position are also adjustable for the individual. These are emailed to you, so you'll never lose them. For the time trialist's amongst us, the bike comes with aerobars and pads. So once you have the measurements of both your road bike and TT rig, switching set ups between roadie or TT will be much quicker than changing your bike on a smart trainer.
First Impressions
Now to first impressions. My platform of choice for indoor training is Zwift and connecting was as easy as switching the Wattbike on, open Zwift and search for Controllable Trainer and Cadence.
The Wattbike was picked up easily for both and I was good to go. Riding in non ERG mode you use the right side shifters to move through all 22 gears the Atom has. Gear selection is shown in the top left corner of the Zwift screen underneath your watts. Note that the gear selection disappears a couple of seconds after you have changed gear.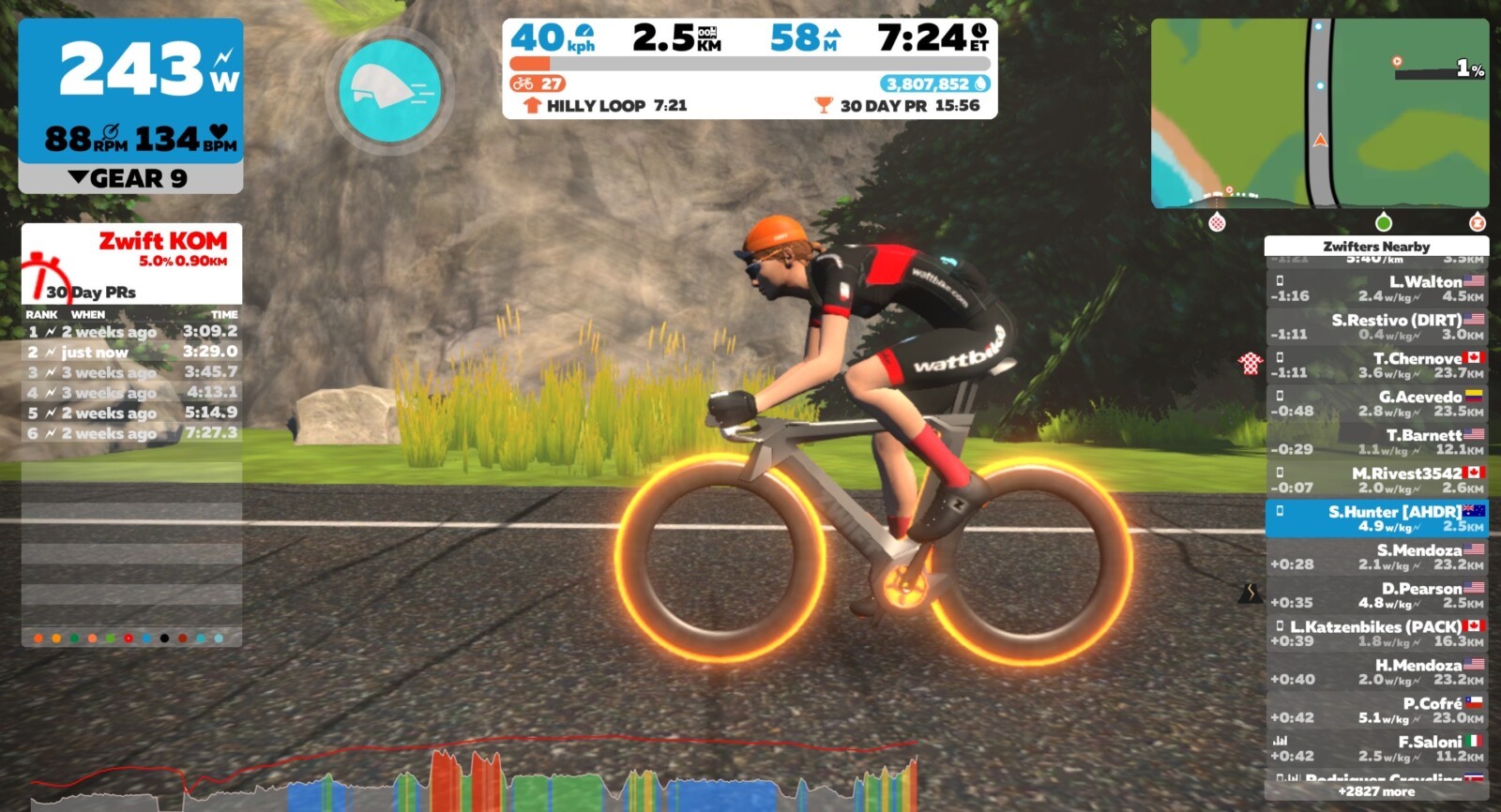 Riding a structured workout in Zwift works just as well as on a smart trainer but with a slightly noticeable lag time between watt adjustments when moving from one interval to the next as compared to my Kickr, however for most intervals this isn't going to be a problem, and if you are wanting to do sprint intervals then you could just run those in the WattbikeHub app.
Riding a course is Zwift feels very close to the real world. The shifters work well, but it takes a bit of getting used to buttons instead of levers.
The red buttons toggle between gear mode and erg mode. This is very useful if you are riding a structured workout and are struggling to hit the prescribed watts, then you can in the blink of an eye (on should that be tap of a finger) switch to gear mode and then use the gear to modulate your power output just as you'd do out on the road.
The Wattbike hub app is used to update firmware, set your profile and has plenty of workout functionality built in, including:
6 Individual tests
30 iconic real world climbs
A selection of structured workouts to choose from, covering endurance, speed and HIIT.
The Wattbike Hub App
Riding and using the Hub app is where the Wattbike really shines in my opinion. The two buttons on the left hood control the scrolling between display screens in the Hub. This is great as we know how hard it can be to get a tablet or phone to work with sweaty hands.
One screen is dedicated to your pedalling effectiveness and the what I have called the peanut, or sausage of power, which shows in real time where you are generating (or losing) force through your pedal stroke, as well as right/left power. The other screen shows the normal array of data you would expect such as cadence, power, heart rate, lap time etc..
All this ride data is then stored in the Wattbike hub for you to analyse after your ride.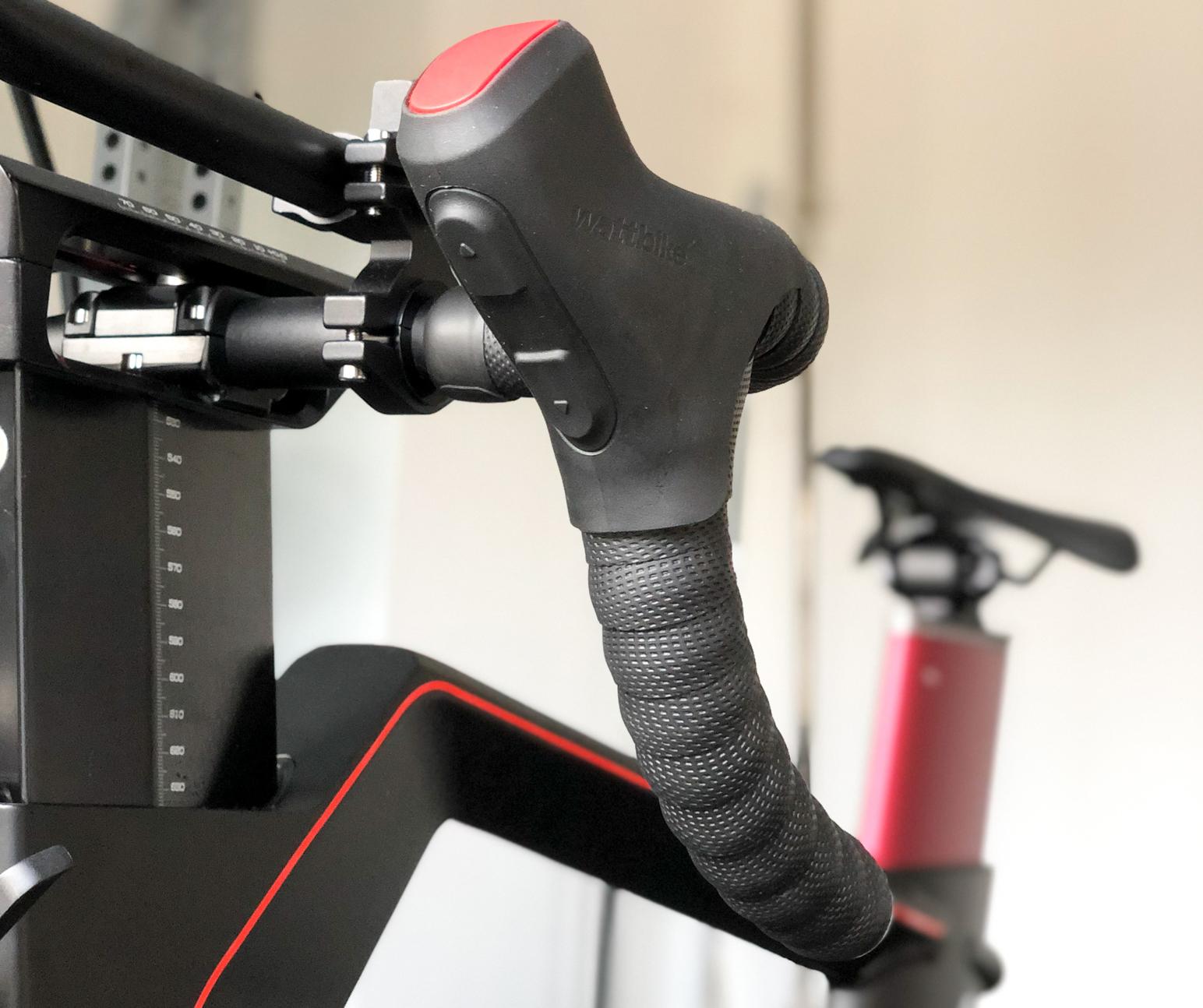 The Atom supports ANT+, ANT+FTC, Bluetooth, which means that out of the box connectivity to the most popular training platforms is a breeze. Set up is remarkably simple, and I love the way it can be easily adjusted, meaning a multi rider household can each easily use the one bike if they want. Accuracy of +/- 2% , a max of 2000 watts and a maximum gradient simulation of 25% will keep the most fervent watt bomber and mountain goats happy.

Quality

A well designed footprint and 44kg will keep you upright in the most aggressive sprints. Due to the wide base it feels incredibly stable while pedaling.

The attention to detail on things like the measurement for all the adjustments has been well thought out – they are on both sides and etched into the metal so they will never rub off. The aerobars are a great addition and will please the time trialers out there, as well as incorporating a tablet/phone holder into the top of the bars – again another neat little design integration.

Double water bottle cages are also a great addition and very useful on hot sweaty indoor sessions.

Performance

I was very impressed with how the bike arrives – pretty much fully assembled and ready to go.

The Wattbike hub app is simple to use and gives a raft of useful data to help you improve your pedaling efficiency and analyse your left / right power balance.

The feel of the bike is pretty close to my road bike, the shifting was quicker than I was expecting (Wattbike have fixed the slow shifting that some of the older reviews mention).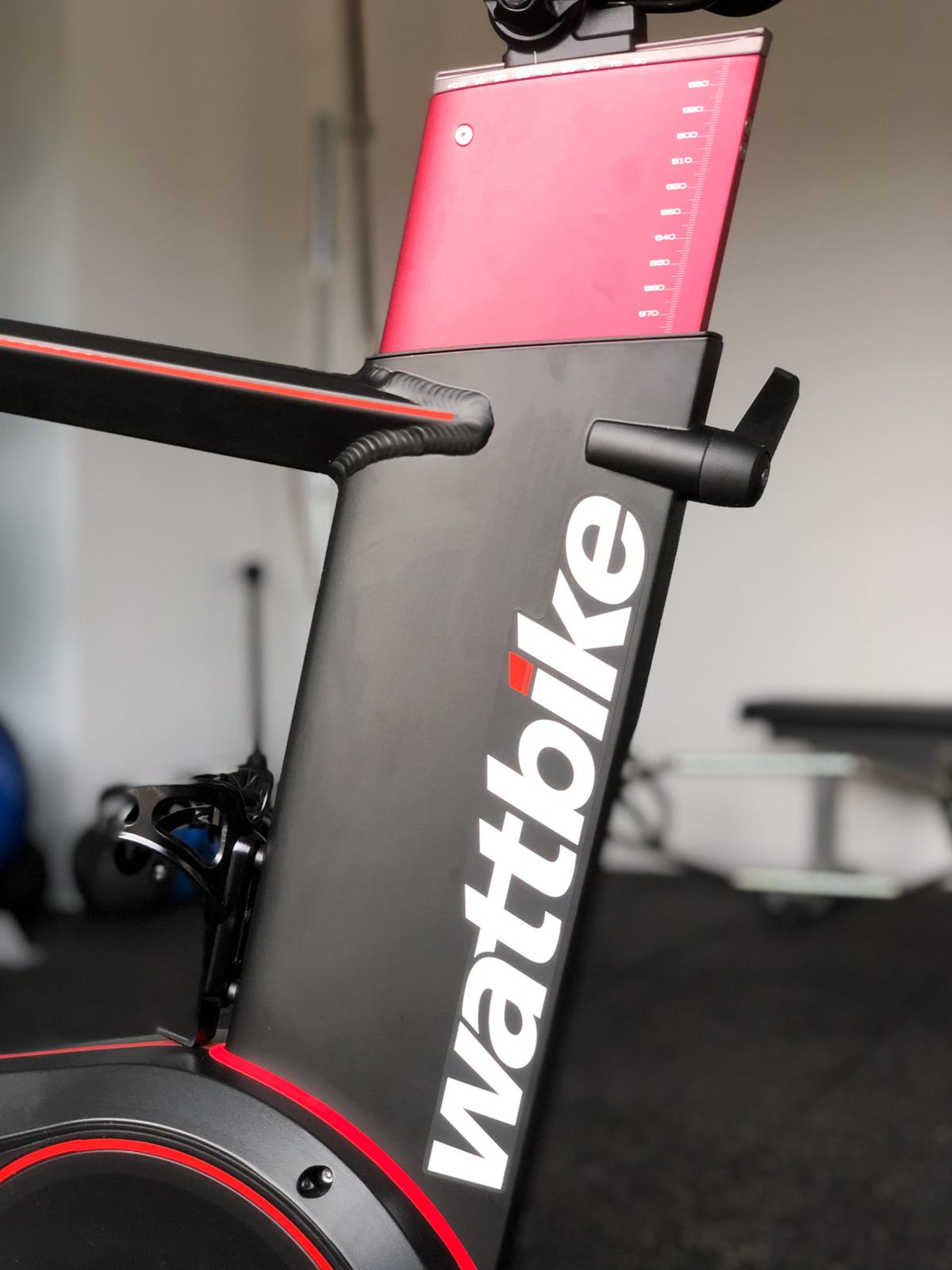 Overall
It's a good looking piece of kit. Kudos to Wattbike for making something that looks really stunning and something you'd want to show off rather than hiding it behind your sweaty towels.The price point has come down considerably and now should make it a serious contender for anyone looking to get a quality pain cave set up.
Wattbike are offering Bicycling Australia readers $100 off a new Atom. Simply use the code BICYCLINGAU at checkout via THE WATTBIKE WEBSITE