Oval chainrings are one of those things which often divide opinion in the cycling world. The claims sound good in theory (and are backed up by multiple research studies): elliptical chainrings help smooth out your pedal stroke by eliminating 'dead spots', improving cadence and muscle recruitment. However, there can be concern about shifting performance and worries about dropped chains.
So, when I got handed a set of 52/36 AbsoluteBlack oval chainrings to test, I figured this would be a good time to really put those preconceptions to the test.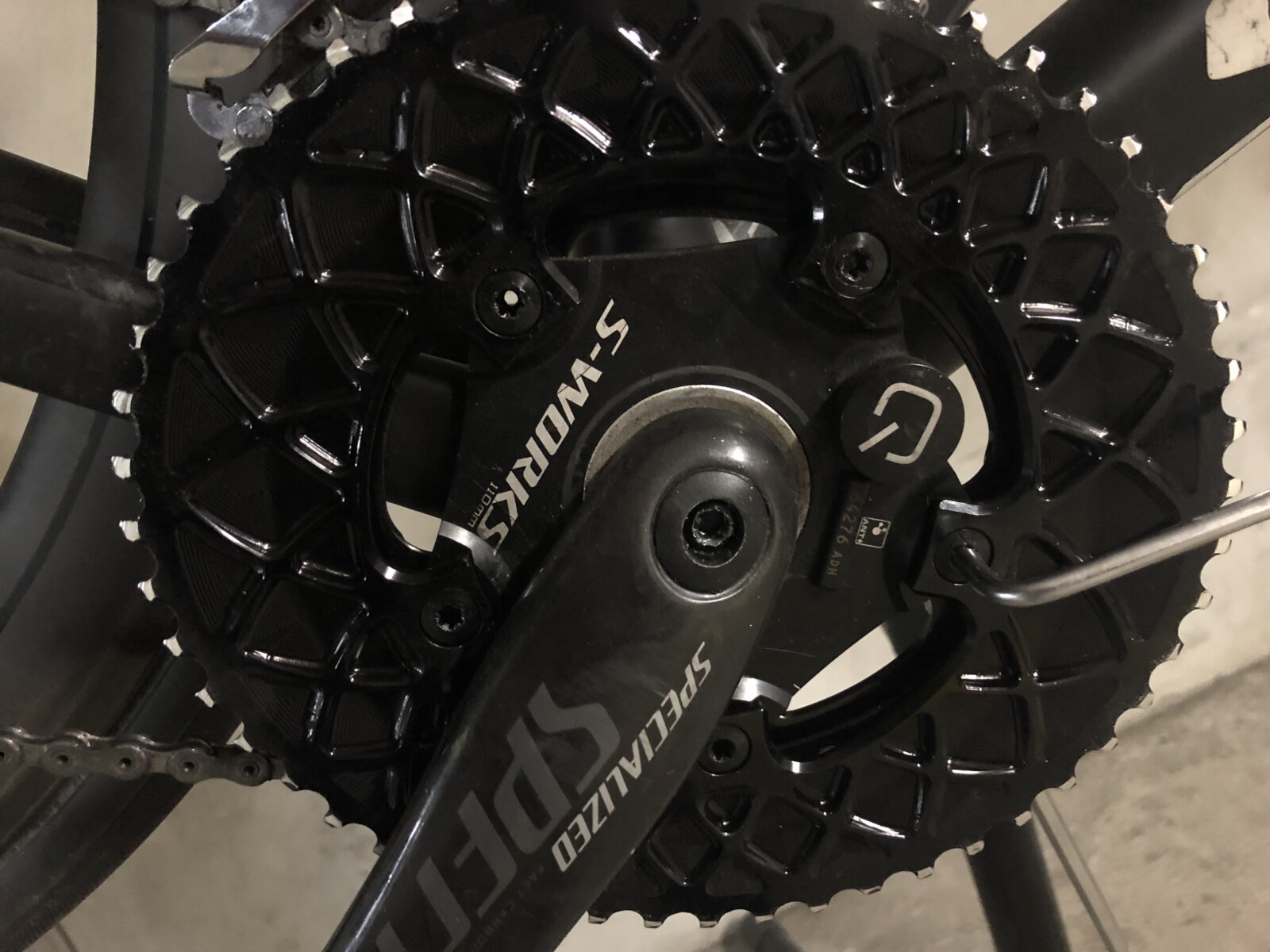 The Chainrings
In terms of construction, the chainrings themselves are a really nice bit of kit. Manufactured in Poland from 7075 aluminium, they're certainly stiff enough to provide good shifting performance, with no noticeable flex under high torque efforts. Absolute Black claims the chainrings are 15% stiffer than main competitor Rotor's Q-rings.
It's probably debatable whether the crosshatch design on the 52t chainring goes much towards reducing weight, but it's certainly distinctive. Roll up to the coffee shop and people notice these chainrings straightaway.
Setup
Setup was relatively straightforward. I didn't even need to remove my current crankset from the bike, simply removing the crank bolts, manoeuvring the chainrings around the crank and spider, then reversing the procedure to install the Absolute Black chainrings. It's critical to line up the recess on the back of the chainring with the crank correctly so the chainring accentuates the power phase of the pedal stroke, not the dead spot.
The front derailleur should be set to line up with the highest-profile teeth: shifting setup is otherwise exactly the same as with a conventional round chainring. You also need to adjust the B-tension screw to ensure the chain isn't too slack in the 36/11.
AbsoluteBlack provide a useful video on their website with some tips on how to achieve optimum shifting performance. Still, it can be a little fiddly, so if you're not confident adjusting gears then just take your bike and chainrings to your local shop.
The Riding Experience
AbsoluteBlack's claims for these chainrings are fairly ambitious: they reckon their oval chainring shape 'helps you climb easier and faster', that it shifts better than any other oval chainring and that it'll help smooth out your pedal stroke.
Judging such claims will always be somewhat subjective, but they appear to stand up. Shifting performance is virtually indistinguishable from round chainrings. While my climbing times on the local northern Sydney loops weren't significantly faster, I did feel like I was more on top of the gear when climbing, as well as better able to maintain a high cadence.
I also undertook a session of alternating single-leg drills on my Wahoo Kickr to assess whether the chainrings made my pedal stroke smoother. It certainly felt like the AbsoluteBlack rings helped me maintain a smooth stroke for a good 10-15 seconds longer than a comparable round chainring.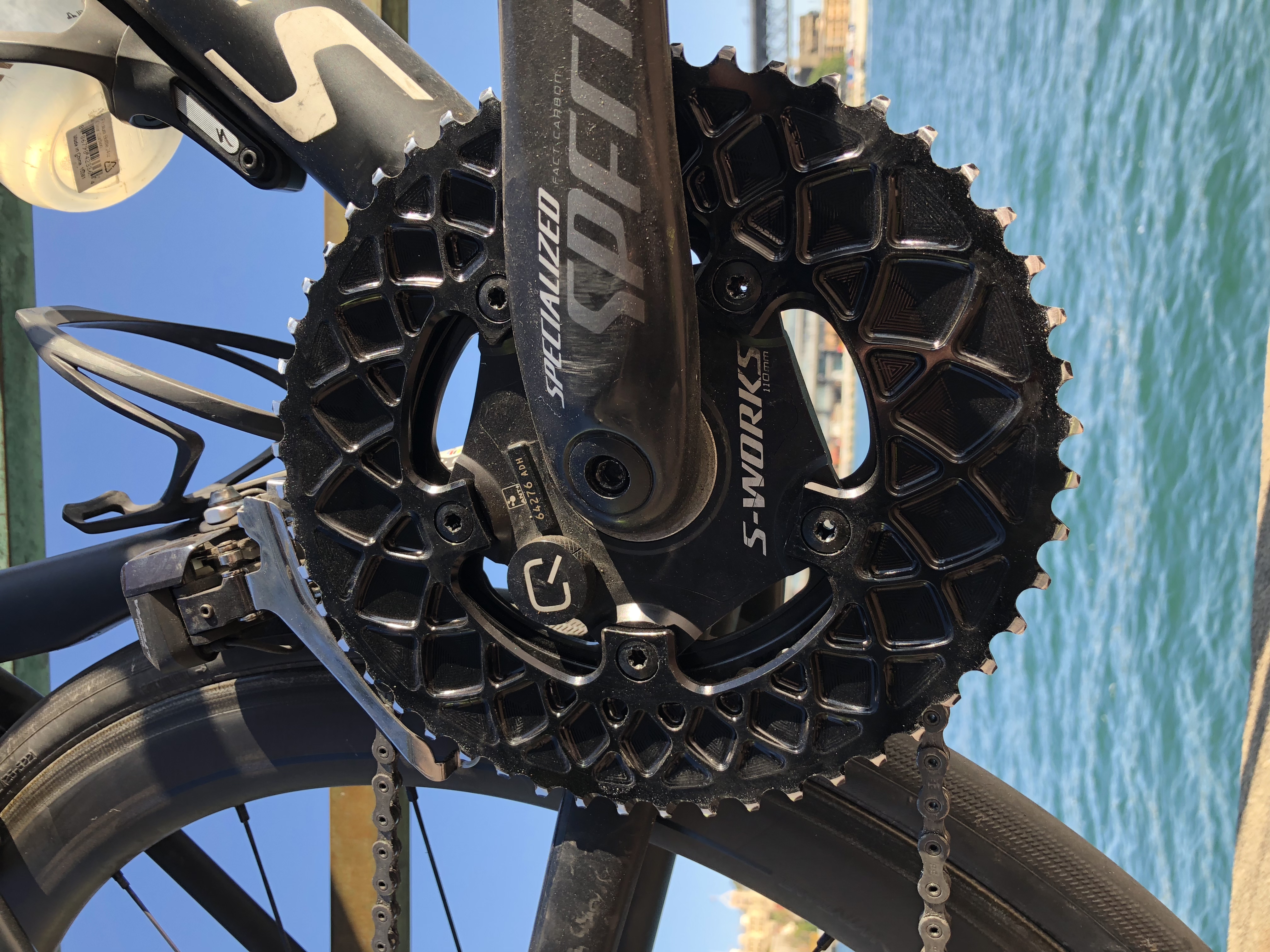 In Summary
Are these AbsoluteBlack oval chainrings worth your money? Absolutely. Irrespective of shape, they're a super-stiff, nicely constructed piece of kit that offers great shifting performance. I'd have no hesitation recommending these as an aftermarket alternative to other popular chainrings.
The oval shape of the chainrings certainly feel like they offer a performance improvement. If you're a rider who doesn't spend hours perfecting your pedal stroke, or you're looking to eke out a few extra watts then the AbsoluteBlack chainrings are certainly worth investigating the next time you change your chainrings.
AbsoluteBlack Premium Oval road chainrings are available in a number of four-arm and five-arm chainring combinations, with 50/34 and 52/36 being the most popular options. Gravel/cyclocross bike and mountain bike chainrings are also available. Visit www.scvimports.com.au for pricing and stockist information.