It is an odd social phenomenon that although we hold a desire to be unique and express ourselves as individuals, we too often are subconsciously drawn to the actions, beliefs, even appearance of those around us.
We yearn to be different, to be ourselves but often our 'self expression' looks ironically similar to that of our peers'. A similar pattern can be observed in modern bike design. Each season as the new designs are released, the brands will proclaim their new model as "lighter, stronger, more aero, more comfortable". This may often be true, but a lot of other brands have inevitably progressed their designs along similar evolutionary paths.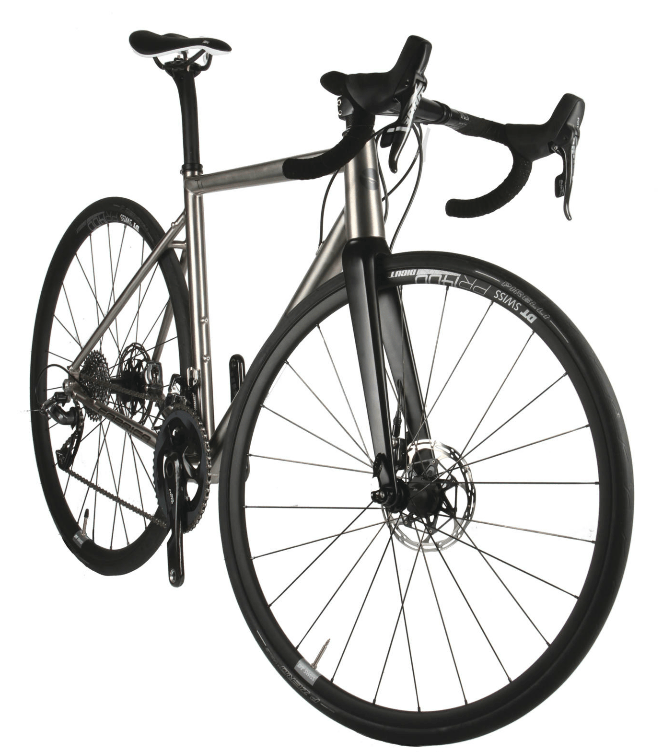 And so we find these new top tier bikes are remarkably similar. There is nothing wrong with this, indeed these bikes are increasingly impressive but it does make the experience of riding a bike like the Bossi Fabrica Ti all the more special. Bossi make no claims of aerodynamics or super lightweight features, but instead have focused on creating a bike that provides a unique and most importantly, a fun ride. To achieve this, the Fabrica Ti balances the old-school class and feel of a welded frame, with modern design features and manufacturing processes.
Style & Comfort
A titanium bike is always going to provide a ride-style and comfort level that is markedly different from carbon frames. In the design of the Fabrica Ti, Australian designer (and founding director) James Bossi has embraced the inherent features of this unique material and leveraged them, aiming to produce a lovely and lively ride. Many builders of titanium bikes, in aiming to create the strongest and lightest frame possible, use very high material grades such as 6-4 Ti. Whilst this may help achieve their aims, what is often compromised, ironically, is the plush and comfortable characteristics that make titanium frames unique. In contrast, James Bossi chose to use a slightly lower grade (3/25) for the majority of the frame.
This strategic choice adds a little weight (frame is about 1.6kg) but helps to deliver a sublime ride, with none of the harshness of carbon. The top tube and down tube are shaped using hydroforming. This process uses fluid under very high pressure to shape the tube around a specific mould. It allows for non-uniform tube profiles (not seen until more recent times in titanium) such as the tapered top tube and produce a very high quality product in terms of finish and uniformity.
Braces across the chainstays and seatstays help to ensure that the rear end is strong and firm. Indeed the whole bike feels surprisingly lively. Other modern features of the Fabrica frame include internal cable routing and carbon forks, seatpost and bars. The bottom bracket is cast from the higher grade 6/4 titanium. The headset is tapered, in fitting with current best practice to improve strength and stability at the front end. There are mounting points for racks/panniers to satisfy those wanting to cover some serious distances.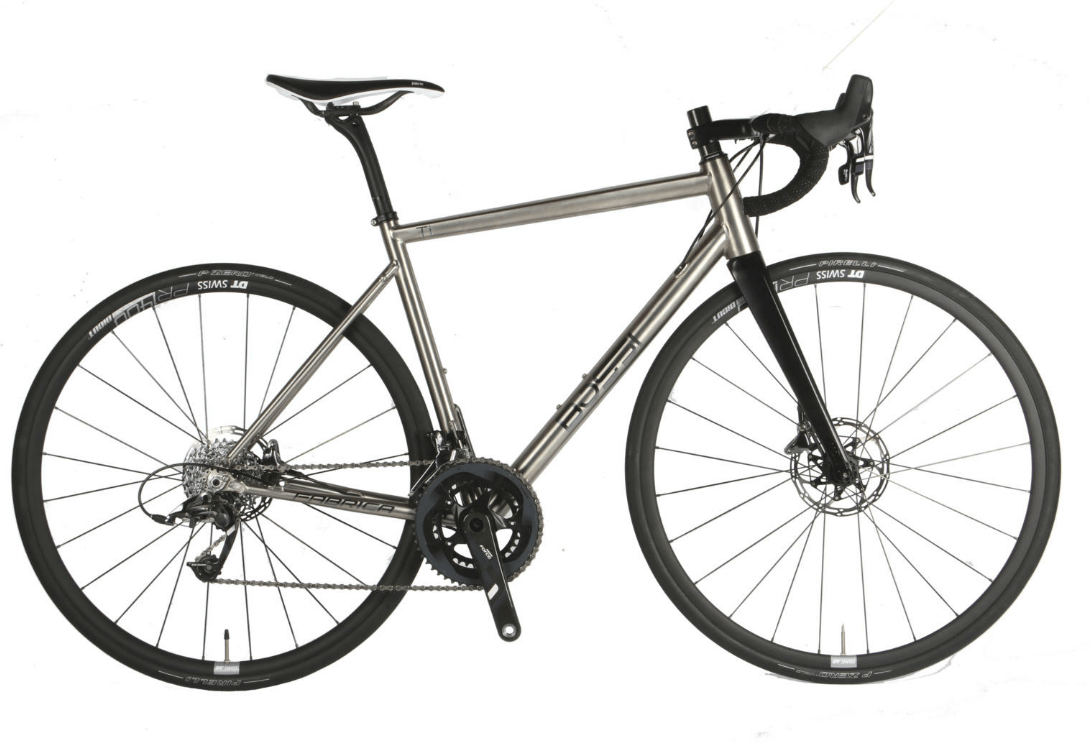 High-Class Finish
The frame is brush finished and includes neat laser-etched graphics. The DT Swiss PR1400 wheelset contributes to this relative 'zippyness'. 
I reviewed the rim brake version of these wheels several issues back. And the disc brake siblings are equally solid in their all-round performance.
We can't stop without looking at the brakes (sorry). The Fabrica uses flat mount disc brakes and the SRAM hydraulic discs were pretty much faultless.12mm thru-axles are used to ensure the efficient handling of the ample stopping power. The only minor issue was occasional squeal under partial braking loads.
Attached to the DT Swiss rims were 25mm Pirelli P-Zero tyres (the frame can fit up to 28mm tyres comfortably). The Pirellis enhanced that supple feel that the titanium provides. They really felt lovely, although 
I would be interested to see their durability tested over a longer period. My only flat came courtesy of a rough exit to a bridge, resulting in a pinch flat (in both tyres!). The soft and supple feel of these tyres must in part be thanks to a little less side wall material and inherently extends to feeling harsh bumps a little too well. 
In the Pirelli's defence, this was the only flat I had during about 1200km of testing.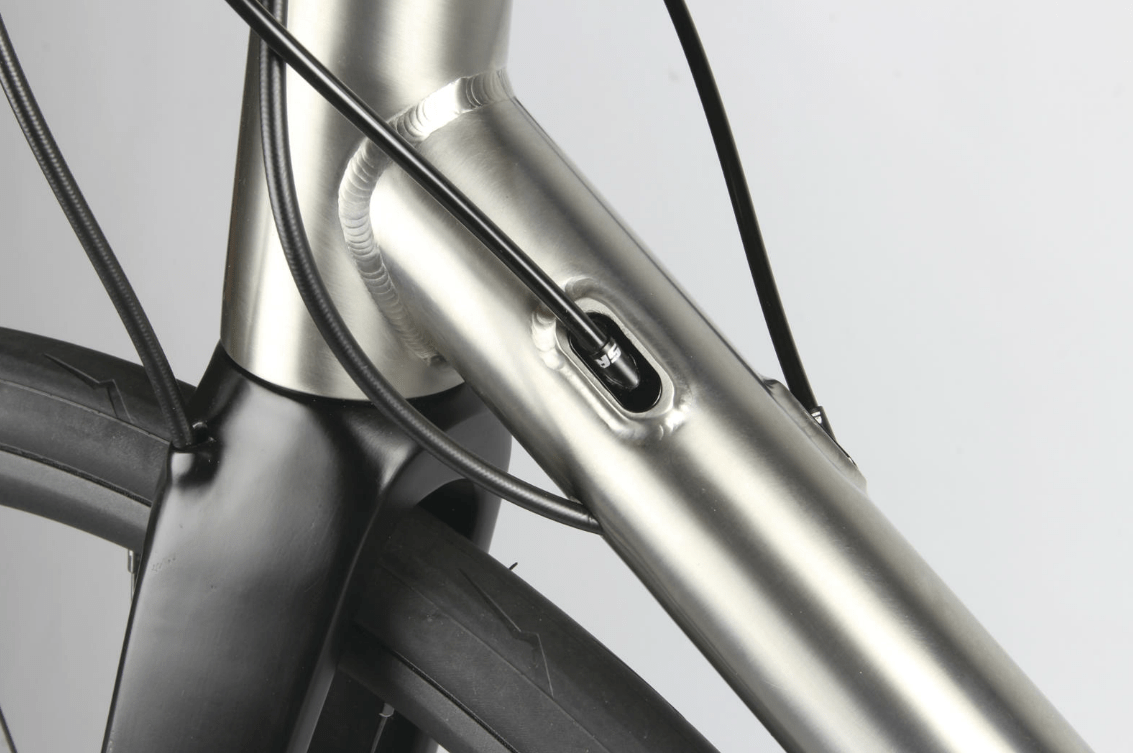 SRAM Equipped
A SRAM Force groupset was fitted to the test model. SRAM groupsets always feel very firm, almost difficult to shift, especially after using Shimano Di2. However, this firmness is actually quite nice, and coupled with quick and faultless changes helps to transmit a level of connectedness to the bike that you only really get when using a good mechanical shifting system. Don't get me wrong, I won't be trading in my electronic groupset anytime soon, but I did thoroughly enjoy riding the Force groupset.
On the road, the Fabrica performed exactly the way 
one would hope, given the features described above. 
At 8kg as tested here, this isn't a climbing weapon, but it felt smooth and efficient going over a range of climbs; the compact chainset and generous rear cassette certainly helped during the steeper stuff.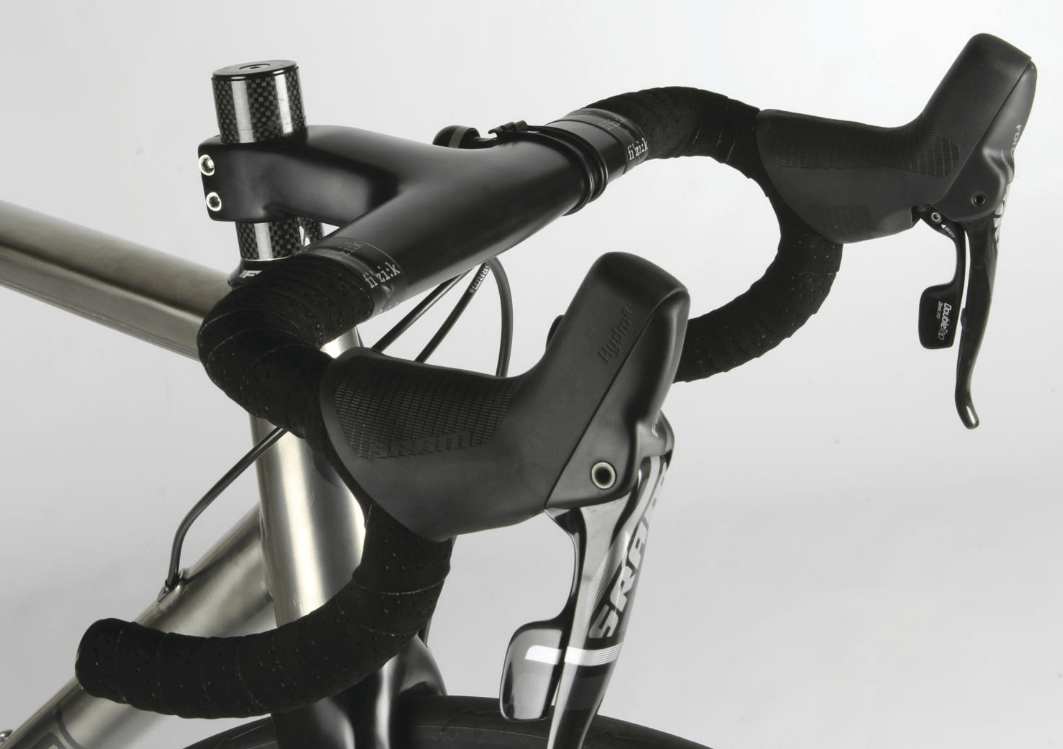 For The Puncheur
When pointed back down the hill, stable handling combined with grippy tyres and confidence-giving disc brakes make you feel in control and able to lean in to corners with assurance. One of my favourite parts of riding the bike was giving little short efforts over short sharp rises or when mucking around in the bunch. The extra give of the titanium was noticeable yet didn't feel inefficient. More like a spring getting loaded up and released. Fun.
Now this bike certainly isn't for those looking for a purebred race machine, but it doesn't feel like it slows you down too much either. Bossi have developed a great design which delivers a fun, fast and hugely enjoyable ride. I don't like to sound too positive about bikes when reviewing because it can come across as disingenuous, but apart from a seatpost clamp bolt that needed some Loctite, I truly loved this bike.
Big Bang For The Buck
A common drawback to obtaining a titanium bike is the price tag, and it is possible to pay around $5,000 for a similar specced frame. This figure is not unusual either. So the fact that the Fabrica Ti (frameset) retails at just over half that amount ($3,480) is quite remarkable. The frame is designed in Australia, built in China (most are) but the thing with titanium is that there is currently no getting around the need for each frame to be essentially handmade.
To add to the value stakes, Bossi offers complete custom builds for about $700 extra. This is truly remarkable. James Bossi, told me that basically nothing is out of the question regarding custom specifications either. Essentially, the extra design work is absorbed into the cost and the extra charge is to cover the changes required to jigs and setup during fabrication. Custom logos can even be etched as part of the process.
The complete bike as built and tested here was not a standard specification, but rather indicative of what an individual could order through Bossi. This complete bike would cost about $5,000, but Bossi offers to work with each customer to build the bike with their desired level of componentry.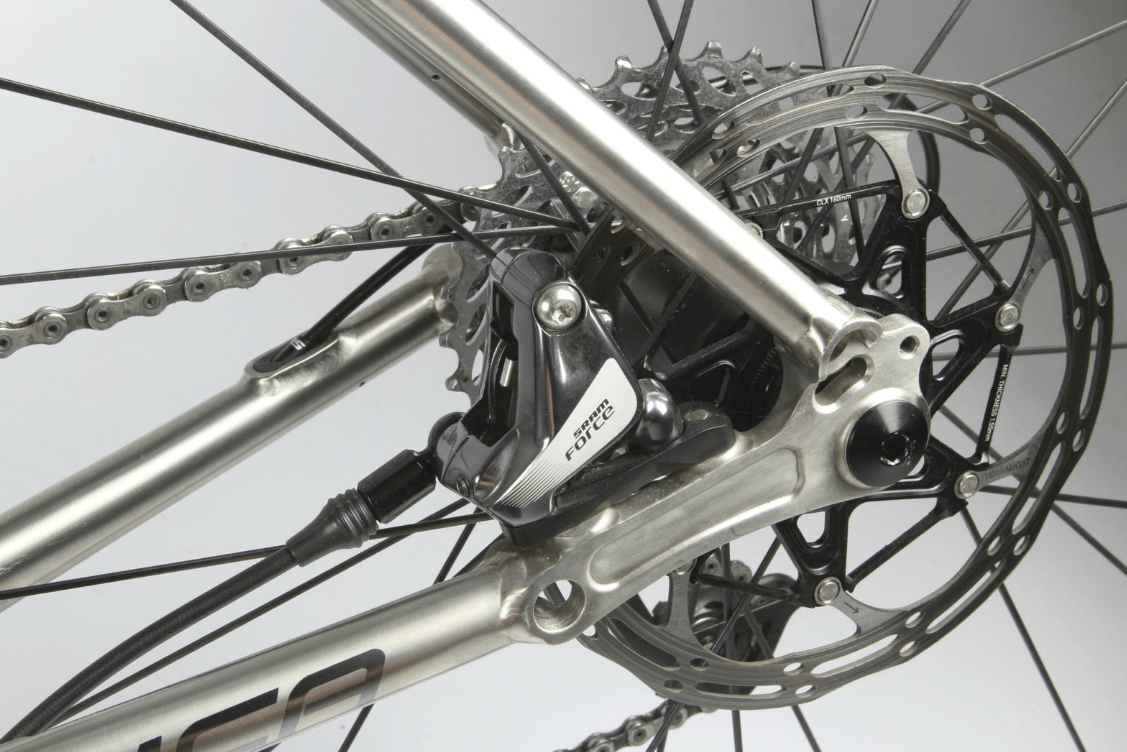 At the end of the day 
there is something hugely appealing about the simplicity of a titanium frame. Perhaps 
it is the clean, no-fuss finish, the neat welds, the supple ride or the knowledge that in a world where it seems we are endlessly replacing and upgrading our possessions, that a titanium frame is an asset which can literally last a lifetime. Bossi has truly embraced this ethos and has produced in the Fabrica Ti, a bike that stands out as unique, something enjoyably different from the myriad carbon bikes in the bunch. 
Summing up
Quality: A handmade, locally designed (potentially customised) frame with lovely attention to detail. The weld quality seems great and the componentry well selected.
Performance: A real pleasure to ride; this bike does all the things that a good titanium frame should. Smooth as silk to ride yet still delivering a sense of efficiency. Not a pure race machine, but neither is it trying to be.
Value: $3,480 for a quality Australian designed Titanium frame, or $4,200 for a complete customised frame: enough said.
Overall: This is a bike that truly keeps riding in the realm of fun and free. It is smartly designed to leverage the best features of titanium and is very competitively priced. The SRAM Force and DT Swiss componentry fitted to this model was well matched to the frame and combined to form a bike that was a pleasure to ride in all conditions.
Specifications
Frame: 3AL-2.5V Ti, butted, hydroformed, oversized tubes
Fork: Bossi T800 Monocoque flat-mount disc fork
Bottom bracket: 6AL-4V 3D cast press-fit
Handlebar: Integrated carbon
Headset: FSA Integrated 1 1/8th – 1 1/2" tapered headset
Crankset: Sram Force 22, 50-34T
Front Derailleur: SRAM Force 22
Rear Derailleur: SRAM Force 22
Shift Levers: SRAM Force 22
Cassette: SRAM11-32T
Brakes: SRAM Force Hydraulic Disc
Wheels: DT Swiss PR1400 Disc
Tyres: Pirelli P-Zero
Saddle: Fabric Scoop
Seatpost: Bossi T800 Carbon 27.2mm,
Price: $3480 (frameset), around $7200 as built
Weight: 1.6kg frame, 8kg as built.
Contact: www.bossibicycles.com