Organisers of the Hammer Series, a three-day, fast-paced race series, have announced the new competition will be streamed live across social media.
And in a development bound to further thrill fans, it's been announced 12-time Tour de France stage winner Robbie McEwen will lead the commentary team.
Live & Free
McEwen said the live stream will be available on the Hammer Series Facebook page, on each of the competing team's pages, and via the GCN channel on YouTube.
"Delivering the broadcast via Facebook Live is a fantastic way of making the Hammer Series accessible to millions more people across the world wherever they may be," he said. "They can watch at home or on mobile devices live or watch a replay any time they like. I think social media platforms like Facebook Live are a big part of the future of sports broadcasting."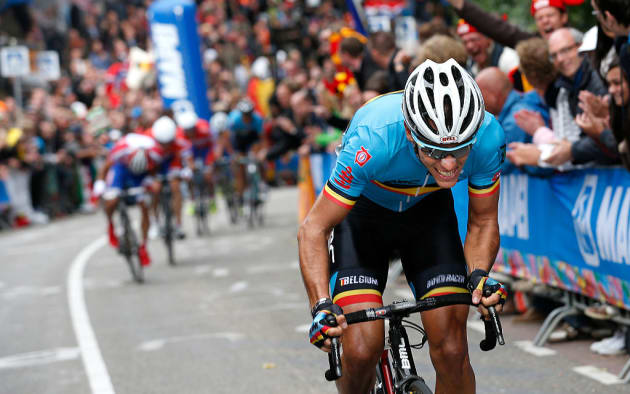 'Next Level' Racing
"This innovative new series takes team racing to the next level," McEwen added.
"Never before have we seen each individual's mid-stage and final stage results contribute to the overall stage result of their team. I'm excited to see the strategies applied by the teams to make the most of the various opportunities during the Hammer Series."
He said the short, action-packed stages will provide exciting, tactical racing with some real surprises.
"The fans on course get to see the peloton battle it out for points every lap – approximately every 10-12 minutes," said McEwen. "With a promise of real-time rider data and ground-breaking graphics, this will create an event to thrill casual and hard-core cycling viewers around the world.
"
Caleb Ewan Says Series Is A "Race For The People'
Orica-Scott's Caleb Ewan will be one of the riders in the series and says it's great that the event will be live and free across the world on Facebook.
"More often than not our fans, friends and family can't make it to races, especially those in Australia," he said.
"It's great they can still follow and support in real time. The Hammer Series continues to become a real race for the people."
With the first event of the new series just a week away, the region of Limberg in the Netherlands will come alive from Friday June 2 to Sunday June 4 as 16 teams do battle over the Hammer Climb, Hammer Sprint and Hammer Chase.