It's three in the morning, and we're in the car again, heading east. Colorado, our home for the last two weeks, is behind us, somewhere in the darkness, and everywhere around our island of light, on an empty freeway, is Kansas. We drive on, downhill.
It's hard to believe it was only a few days ago that we were getting up at this time, unfocused eyes heavy with dreams interrupted. We were at 2,500m at that time, headed to 3,600 later that day. Now, we're going down, back to sea level.
This isn't a story about suffering, endurance, or anything close to epic, at least not on the bike. It's a story about a 19-hour day spent traveling to, from, and within Rocky Mountain National Park. It's also a story of a day spent with my father.
We spend most of the year on the road. We were supposed to be gone from February to December this year in Europe, but a happily scored job in the Northeast brought us home in July. It didn't take much debate to turn our one week job into a five week sojourn back home – half spent in Louisiana with Ashley's family, half in Colorado with mine. It became an unexpected vacation, a chance to not be foreigners for a little while.
If there's ever a place where you shouldn't feel like a foreigner, it's at your own family's house, but I'm gone for most of every year…at some point, I realized that things aren't the way they used to be. My sister is starting her sophomore year of high school, my brother is heading into his senior year – I just took his senior portraits. He drives now. My sister is about to get her license. They both work. It feels like it was only a little while ago when they were little kids. I'm 31 – is it ok to feel old at this point in my life?
And then there are my parents – you just assume they stay the same. They're your parents: they're hewn out of rock, their characters permanent. That is of course, until it occurred to me that it wasn't the case at all. Like my brother and sister, like me, they too have changed, are changing, evolving.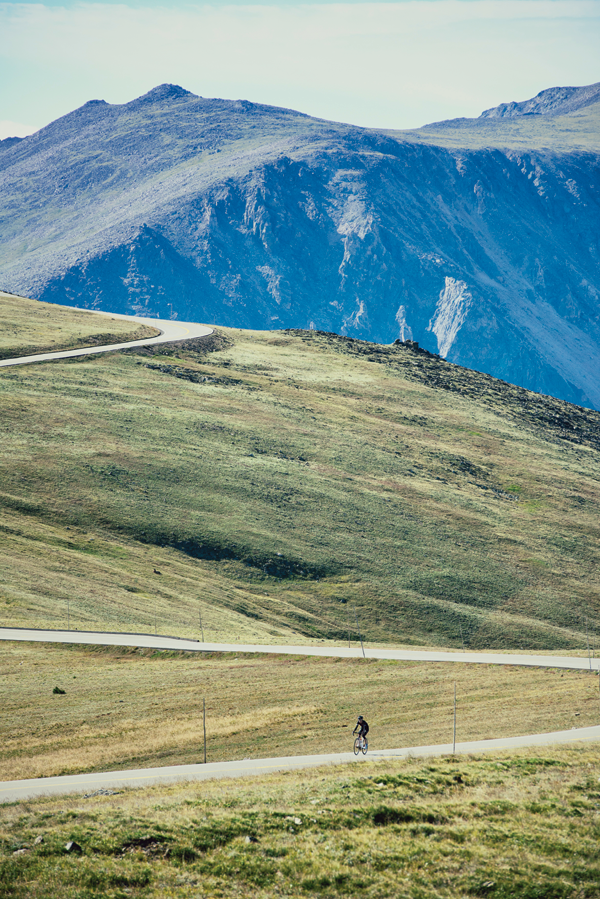 When I was a kid, Vati (fah-tee, dad in German, he was born in Austria) always used to say, you can pick your friends, but you can't pick your family. In the last few weeks, I had the chance to get to know my dad as an adult. I was happy to realize – I didn't get to pick him, but I'm really glad my mom did.
When I was a little kid, I loved Vati, without questions. As a kid though, that's a pretty simple thing – it was that unconditional, unquestioning love we (hopefully) all have for our parents at a young age that is understood and set in your bones. There was also a healthy dose of fear and respect of an Olympian being who ruled over my life. I don't mean that in a bad way, but like the unquestioned love of your parents, there was also the fear of the person, who was also my main disciplinarian, and as a child often on the wrong side of right, I had reason to fear the wrath of pushups, sentences, and laps around the block.
When I returned this summer, I had the chance to find out that I like this guy. I like him a lot, and I'm happy to call him one of my friends, as well as my father.
I have wanted to ride at Rocky Mountain National Park since the first time I visited there in a car, not long after I started riding in 2002. It seemed like a perfect place to ride a bike. It was beautiful, it was high, the mountains were vast, the climbs long. It only took me ten or so years to get around to it, but when we finally committed to doing it, Vati wanted in. "Can I come?" I was a bit surprised, but the answer was still – of course, why not? I normally assume (correctly) that no one in their right mind would want anything to do with a picture taking ride. There is a lot of stopping, shooting, turning around, shooting, turning around again, shooting, just one more time, shooting, ok, I lied, this is the last time. We like to save ourselves from the wrath of unsuspecting friends by making sure they're never there.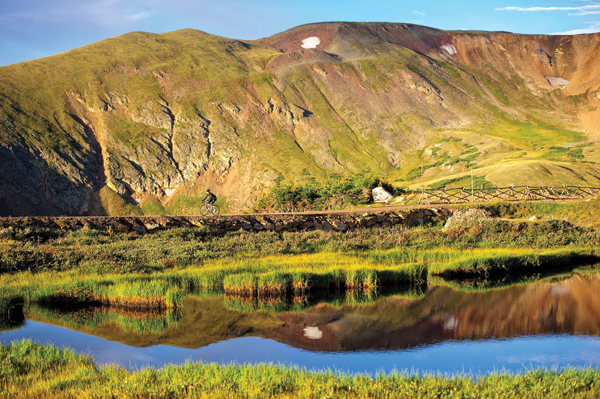 My dad is the kind of guy that jumps at the mention of an adventure though, and he's keen to take pictures. When we decided we wanted to be there around dawn, we worked our way backward to get to the not for the squeamish departure time of 330 in the morning. While we blinked in fright at the wake up time, Vati got on with the preparations. When three-ish rolled around, there he was, ready to go. We stumbled into the truck and settled in for the two hour drive to Rocky Mountain National Park, with Vati at the helm. While we stumbled on the line between awake and asleep as passengers, Vati plowed onward, seemingly impervious to the hour or the human need for sleep. It has always been that way. He can go the longest, sleep the least, wake up the earliest, and do everything from start to finish with twice as much energy as I can muster for an hour.
I never stop admiring that. I still hold out hope that one day I can be like him.
There's a word for what I'm talking about. Brendan Leonard, a great climber and writer and the kind of guy I wish were my friend (look up: semi-rad) hit it out of the park when he called this something, this infectious energy that makes impossible more than likely, his endless source of power that turns "maybe I won't ride today" into a five hour extravaganza: the stoke.
We live on the stoke. We have our own stoke, sure, but it's the stoke of the amazing people we run into with thankful frequency that keeps the fire burning hot. It got me up in the morning after an hour of sleep, it kept me laughing and talking when the lights dimmed in my legs, it kept me hopping with excitement, as we tried to nail that one shot, and then the next one, and then the one after that.
The stoke is real. I realized that I spend my life seeking out people with the stoke. I'm drawn to them – I'm the fluttering moth that sees the light and can't turn back, death be damned. They make my life a better place, and I like to dream that maybe they feel the same.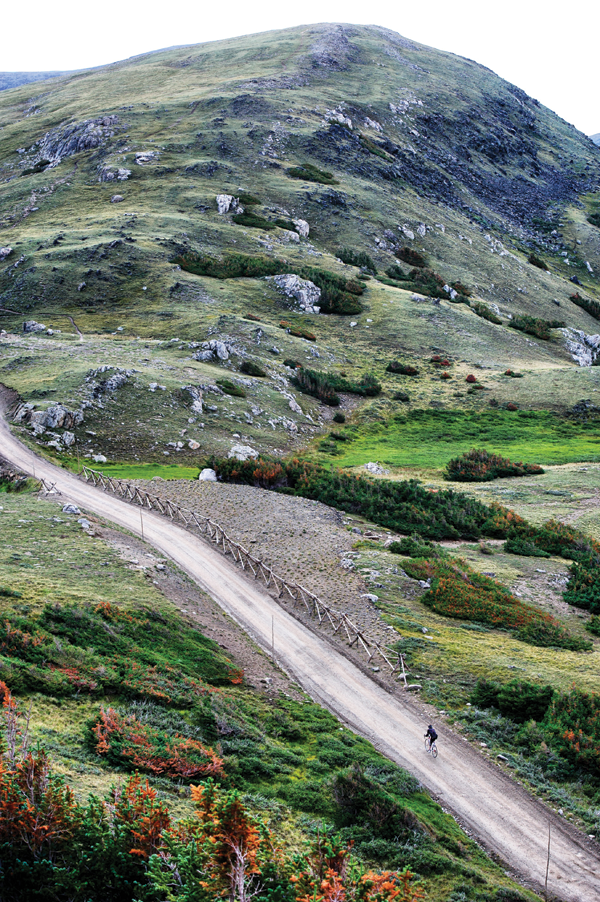 The stoke isn't about being tough, it's not rock hard, it's not rule number whatever, it's not cool, it's not anything but fun. It's pure energy, it's positive, and it's not governed by anything else other than doing cool stuff and not letting anything get in the way of that – exhaustion, weather, life, nothing stops the stoke.
My dad has the stoke falling out of his ears. He has enough stoke to fuel a small army – and he does. Our family always does cool stuff, because the man can't sit still. We never stop, and if we do, he gets cranky and sullen. I'm in my thirties now, and I'm still dreaming that maybe I can be like him one day. When I feel like I just want to lie in bed and stare at the ceiling and do nothing, I always think of Vati (that's dad in German – remember that article on Rocky Mountain National Park?) – he'd get up and do something kick ass.
We arrived to the park around the time the sky was beginning to stretch a bit. The light was faint far off in the east, but slowly, the upper reaches of the mountains high above us were coloring as we drove up the old road.
Rocky Mountain National Park was born with President Woodrow Wilson's signature on January 26, 1915. Old Fall River was the park's first road, but it wasn't long before its steep grades, narrow girth, and sixteen switchbacks saw it go into disuse in lieu of the legendary Trail Ridge Road – the highest continuous paved road in the nation – the artery that takes thousands of cars and people from Estes Park to Grand Lake (or the other way around) each year, as people get their chance to get a taste of five digit altitudes and a glorious display of flora and fauna.
Trail Ridge Road is nice, but it's paved, it doesn't have much in the way of switchbacks, and it's, shall we say, a very main road. I don't know any official statistics, but if my calculations are correct, we saw every car in Colorado on Trail Ridge Road that Monday. Old Fall River is everything Trail Ridge isn't – it's dirt, it has 16 wonderful switchbacks, it's quiet, and it's just plain awesome. Did I say it was quiet? There's a trick to that. Rocky Mountain National Park is one of America's major parks and is visited accordingly, by droves, hordes, masses of tourists. It's a terrible place to visit most of the day, especially considering that we're talking about riding road bikes.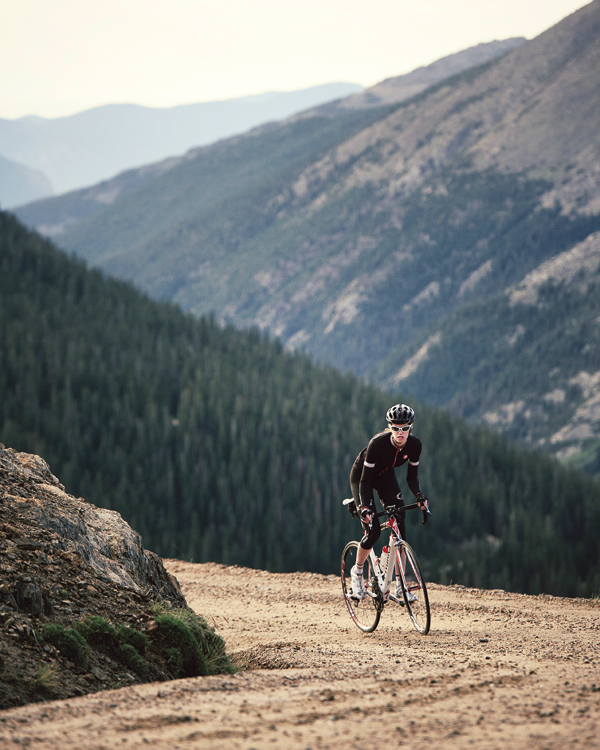 …that is, unless you venture there in the quiet hours. At the fringes of daylight, the park is silent, with only the wind, and the calls of marmots, elk, and birds to keep a happy serenade going. The busy roads of RMNP can be your playground from dawn to about nine in the morning, and then again in the evening from six until the last rays of sunlight drift behind a peak before returning again in the morning.
In those bookending times of day, it's special. The roads that are choked full of tourists mad for elk sightings are bare and empty. The roads that I would never ride are suddenly inviting avenues into the super high altitudes, and there's no better way to get high than on Old Fall River Road.
Work on the road was begun in 1913 and was completed by chain-gang convicts in seven years. The original road quickly fell out of favor when Trail Ridge Road opened in 1932. Old Fall River Road was restored to proper dirt road specs in 1968 and ever since, it has existed as an adventurous side route to the Alpine Visitor Center, which sits just below 3,600m above sea level. Today, Old Fall River gets a fraction of the main road's traffic, but considering its dimensions, it doesn't take many cars to turn it into a hassle. Cars are reluctant to pass cyclists, and when they do pass, they're often only going one mph faster than the rider. In short, it's a hog's mess. See above for proper visiting times.
We started our day at the upper portion of the climb, where the trees ended, and the barren upper reaches of the realm above timberline spread before us. In the distance, we could see dozens of elk, as we readied for the dawn shoot. Vati and I prepared the camera gear, while Ashley kitted up for the early morning chill. Just as the sun crested the eastern peaks, Ashley started riding, and we started clicking.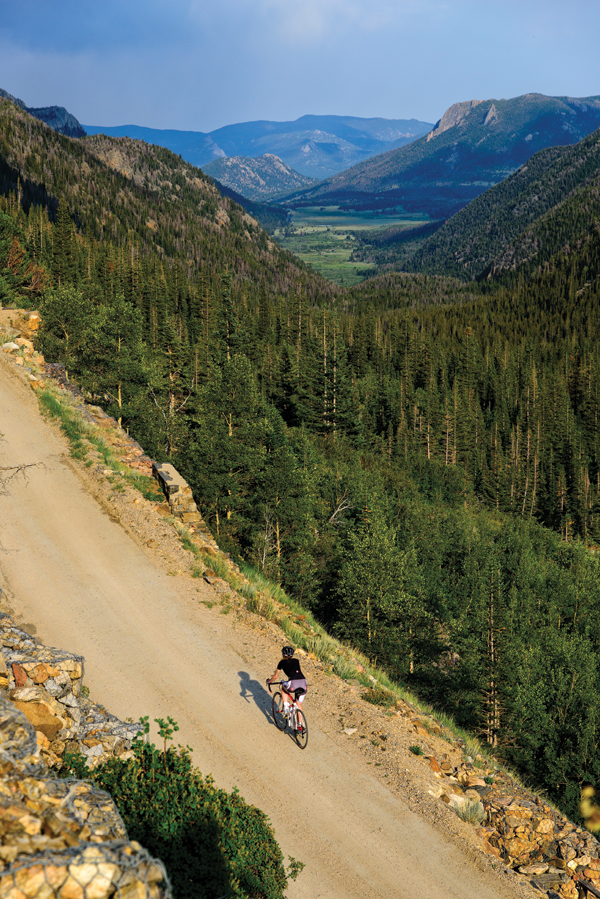 The road was ours.
Vati is not a photographer by trade, but he has taken pictures throughout his life, and it was apparent, that like seemingly everything, he could do this well. It was a fun time – we normally tell people what a shoot is like, but on this morning, we were able to bring someone in to be a part of it. It didn't take Vati long before he was directing Ashley around as to where she should ride – up the left side of the road, middle, out of the saddle, in the saddle, hands on hoods, tops, drops, look up the mountain – not down!
And so we proceeded – working our way down on foot, with Ashley pedaling patiently, trying to find the best shot we could in the morning light. From five to eight in the morning, we plied the upper part of the dirt road looking for shots – focused on the job – tossing ideas back and forth from all three sides, and enjoying the cool morning – Ashley probably a bit less than us, but enjoying it nonetheless. Ever the adaptable, Vati fell right into stride with our normal shoot rhythm, and it was a blast. As the sun grew taller, we wrapped up our morning of shooting and prepared for the fun part of the day – we had a bike ride to take care of. We might base ourselves from a car in the mornings and evenings to allow for the full array of photographic possibilities in good light, but the harsh midday sun is for riding…and a siesta.
One of my favorite things in the world is shooting a beautiful road, and then getting the chance to take a little bit of time away from work to ride that same road. Conversely, one of my least favorite things is shooting a great road and not getting a chance to ride it. On this day, I got everything I wanted. I got to shoot, hang out with my dad and Ashley, and ride a tiny dirt road into a blue sky where oxygen is a commodity.
As far as dirt roads go, Old Fall River is a great one. It's in solid working condition, neither destroyed nor perfect, but more importantly, it's an amazing journey from the valley floor to the high alpine terrain far above. In eleven miles, the road gains 1,000m, and considering the feeling of a less than adequate supply of air in the valley, that feeling just got better and better as we ascended. I don't know if I'll ever get used to the sensation of taking a deep breath with only a slight sensation of my lungs being filled, or the feeling that follows after going too hard – am I going to pass out?
The afternoon was spent lying on my old quilt that my grandmother made for me back in high school. The three of us lay next to a creek at the base of the climb chatting, staring at the rapidly moving afternoon clouds, wondering if the typical thunderstorms would come – they didn't. I felt like I could sit there until night, and Vati might have felt the same for a few minutes, but Vati can't sit still. After 30 minutes, he was up, stretching, ready for the second half of the shooting day – not forcing us to get up by any means, but making it quite clear that he was ready, so, with a smile, we left our resting positions.
When the late afternoon sun dipped far enough to the west where the shadows lengthened sufficiently, we got back to work – we went to the spots we decided were the best for a final try. The kinks of the morning were gone. We knew where we wanted to go, we knew what we wanted, and with our third trip up the road in a day, we had it down. And it showed. The pictures came thick and fast, and the light got prettier and prettier, culminating in the final moments of the day's light, where we all laughed at how ridiculous it all was. Can you believe this light? Can you believe how quiet it is? Look where we are! This is incredible! Superlatives, happy expletives, laughter, it was perfect.
Then it was gone. The sun ducked out of view, and we got in the car, giddy with the day's work, exhausted and happy. Ashley and I promptly resumed dozing, but once again, just like in the morning, just like my whole life, Vati was there, solid, unwavering…taking us home.