Rohan Dennis has claimed his second consecutive UCI world title winning the Individual Time Trial at the 2019 World Championships in Yorkshire.
19yo Belgian Remco Evenepoel was second with Italy's Filippo Ganna third.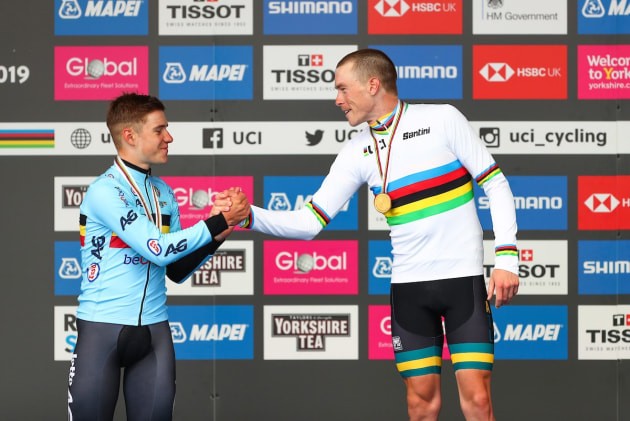 But the day belonged to Dennis, a rider who's had a troubled year after pulling out of the Tour de France – mid-way through the Tour and the day before the Time Trial – due to reported differences with team management and comfort on the team TT bike.
Riding a de-stickered BMC Time Machine in Yorkshire (not his team issue Merida), Dennis put in a massive effort to win the 54km course with an advantage of 1'08'' over Evenepoel and 1'55'' over Ganna. He celebrated by raising his hands in the air and pointing to his head.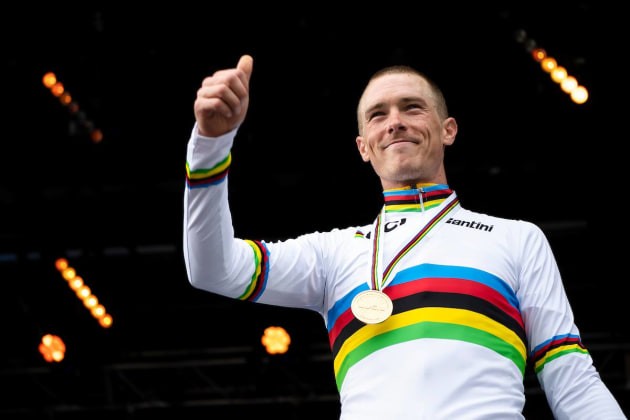 "I didn't go without a lot of preparation," Dennis said after the win. "(I spent) a lot of time at home, a lot of work on my head to get myself mentally prepared for today. It's been a lot tougher than what it looked out there for me. There's a lot of people to thank, and, look, it's just good to repay then on a day that really matters.
"I knew what pace I went out with last year, so I just stuck on that and got into my rhythm. I knew I was 20 seconds up at the first check and I knew I had more to give, that I wasn't going to die on the climbs. I had [Australian national coach] Brad McGee in my ear and my coach in the passenger seat the whole time talking me through it. It was absolutely perfect today."
Celebrating with his wife Melissa and their young child, Dennis said it was special to defend this title and show he hadn't hung up the bike.
"I'm here to race and I'm here to win," he said.
"I've got more to show in this sport yet. It was good to really get out there today and hit it out and smash it."