Peter Maniaty lifts the lid on the latest Madone from Trek, with key features including –
• IsoFlow seat tube replaces IsoSpeed system
• 300 grams lighter than 2022 Madone SLR
• 60 seconds faster/hour at 45km/h
• 19 watts gained in drag reductions
• 6 x SLR models (SL retains Gen 6 geometry for 2023)
• Electronic 12-speed drivetrains only
• Disc brake only
In today's swirling sea of similarity, radical frame geometry changes are guaranteed to draw plenty of attention. This is exactly what happened when the all-new Generation 7 2023 Trek Madone SLR first broke cover at the Critérium du Dauphiné back in early June.
Following several weeks of intense speculation and considerable navel gazing, the cat is now officially out of the bag with Trek staging its global launch for the 2023 Madone SLR from its HQ in Waterloo, Wisconsin, just in time for this year's Tour de France and Tour de France Femmes.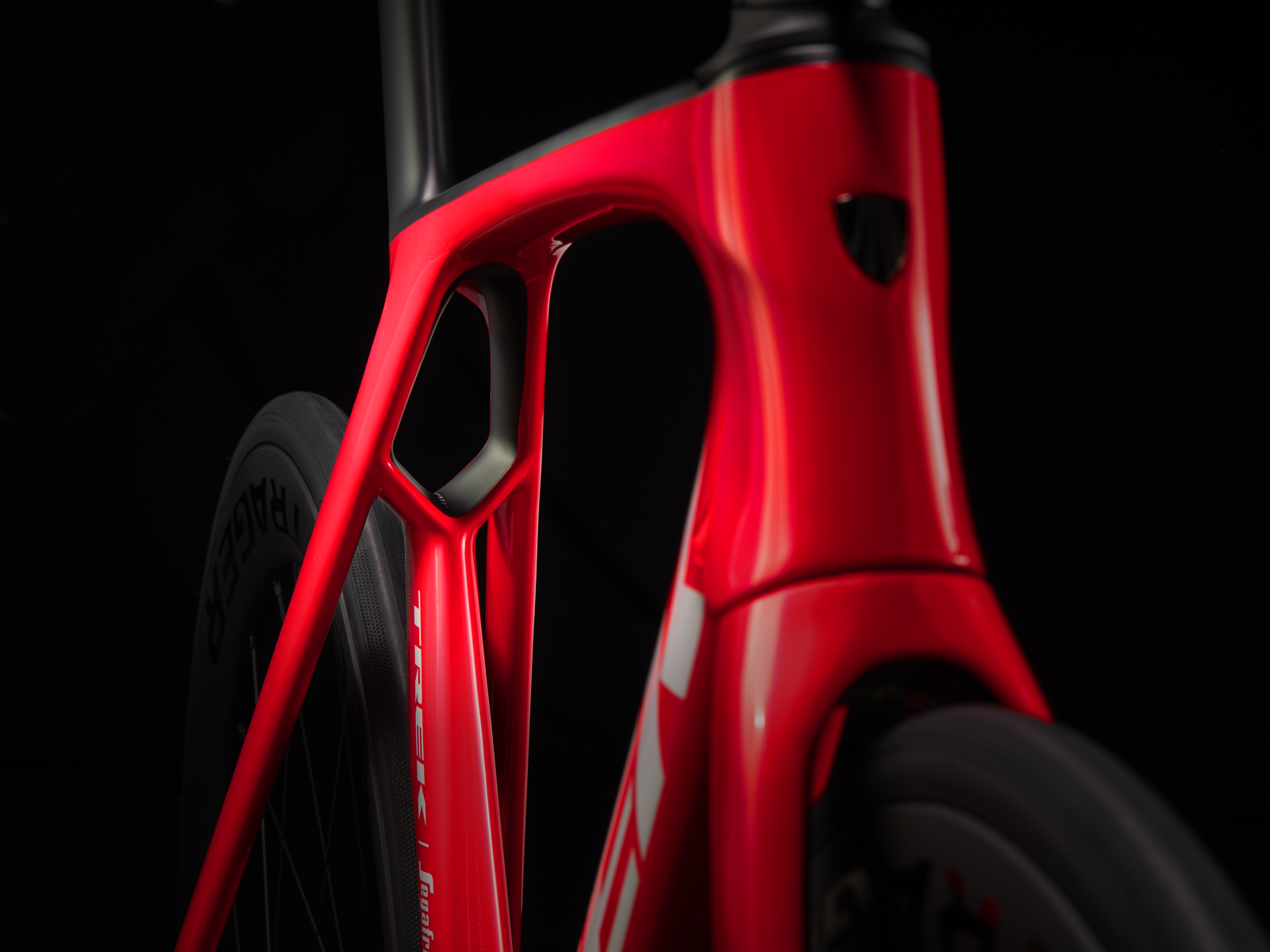 Whereas recent upgrades to the iconic Madone platform have been relatively subtle, the 2023 SLR is the exact opposite. In an era where homogenised aero geometry has reigned supreme for the best part of a decade, Trek has gone and moved the goalposts. By some margin.
With its radically reimagined rear section headlined by the all-new IsoFlow system (simpler, lighter and a little stifferthan the IsoSpeed system it replaces) it boasts a split seat-tube and cantilevered saddle delivering asilhouette like nothing else in the pro peloton.
Significantly, the 2023 Madone SLR is also around 300 grams lighter than its immediate predecessor(the SLR 9 weighs in at just 7.1kg, with the SLR 9 eTap 7.4kg). Trek says 50% of these weight savings come from changes to the frame, with the other 50% from the new integrated cockpit.
Drag has also been reduced by an impressive 19 watts through wind-tunnel optimised kamm tail virtual foil tubing (including a new raised bottom bracket 'shelf' that assists airflow around the bottles and down tube). There's more aggressive H1.5 rider positioning with a narrower cockpit system that features shallower reach and outwardly-flared bars that place your hands a full 3cm wider down in the drops than up on the hoods.
The Madone has long stood at the vanguard of road cycling technology and the 2023 iteration is brimming with engineering wizardry. Trek fully admits the UCI guidelines have been pushed to their absolute limits. In time, a detailed on-road review will offer the chance to explore these design intricacies in depth. But one thing is very clear.
This is a road bike unashamedly built for speed. Trek-Segafredo rider and former World Champion, Mads Pedersen, affectionately referred to it as "spaceship" at the launch and Trek's testing data backs him up, suggesting the 2023 Madone SLR is 60 seconds faster per hour riding at 45km/h and still over 50 seconds faster per hour when ridden at a more modest 25 km/h.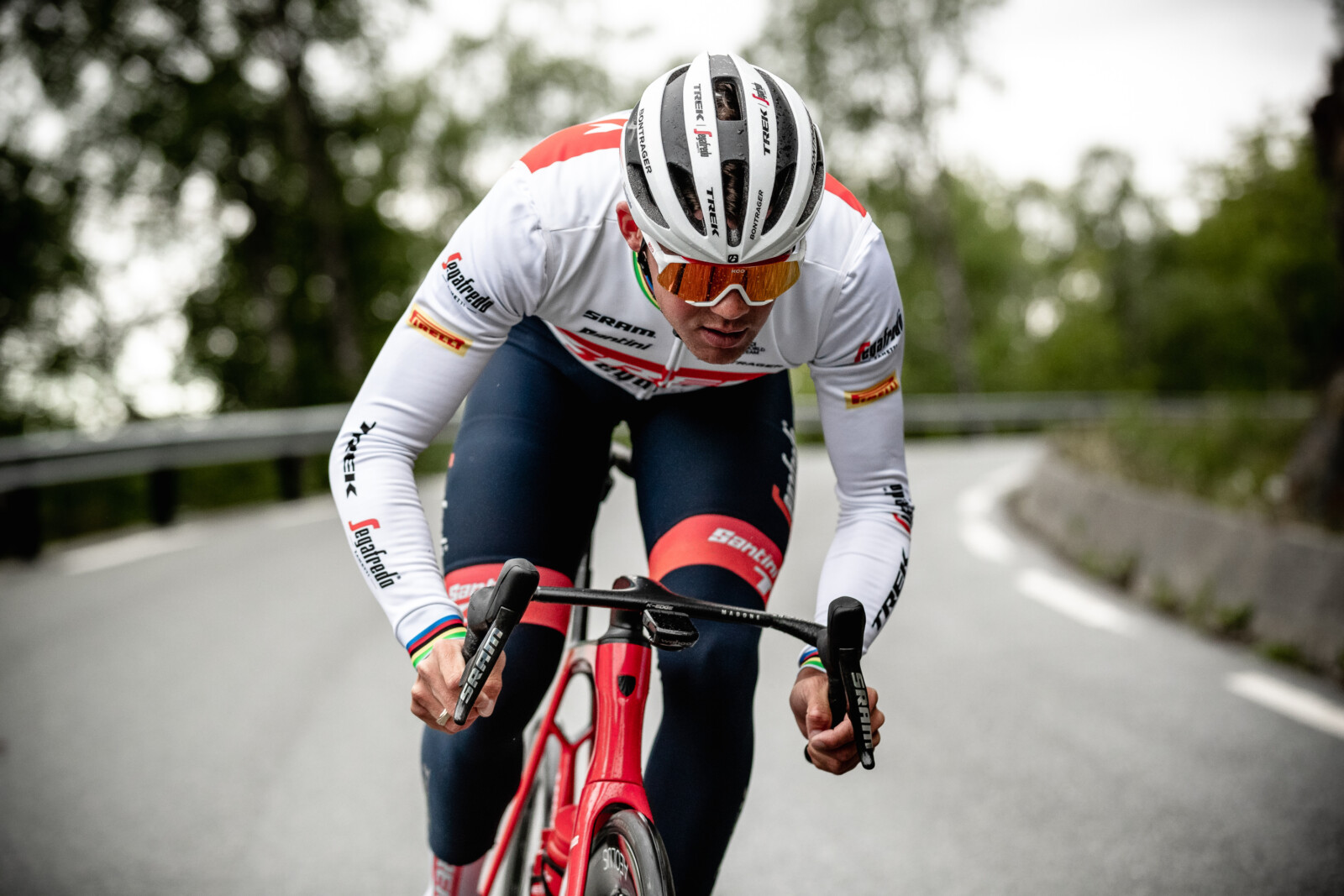 (As if to prove the point, in a superb show of timing Pedersen secured the new Madone SLR's first-ever professional victory on the exact same day as the global media launch, taking out Stage 1 of the Baloise Belgium Tour back on June 15. Given the enormous amounts of resources invested in the seventh generation Madone SLR, Trek will be hoping it's the first of many.)
Yes, it's only early days and few Australians have even seen the new Madone SLR in real life, let alone ridden it. Yet on the surface its arrival looms as a very big deal, not just for Trek, but for aero frame design in general. It will be fascinating to see if, in years to come, we look back at this momentas a genuine design paradigm changer, or merely a wild throw at the stumps. I suspect it will be the former, but there have been false dawns before.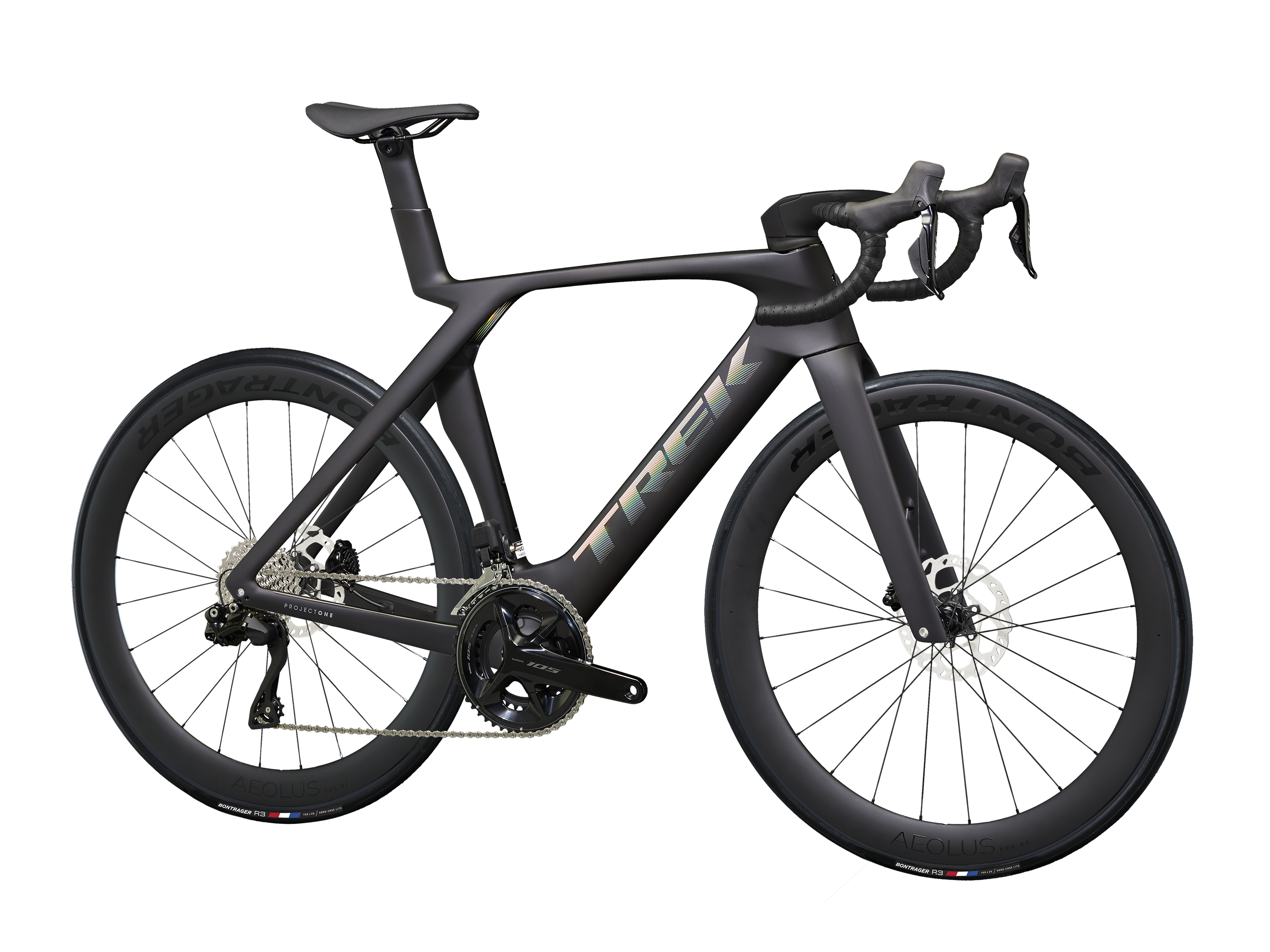 The 2023 Madone SLR will be available in six models with all featuring 12-speed electronic drivetrains (3 x SRAM eTap, 3 x Shimano Di2) and flat mount disc brakes. Global supply chains notwithstanding, Australians should have the chance to ride it for themselves before the end of the year, with shipping expected to begin within the next two months. For now, here's what Trek themselves have to say about their new pride and joy…
MADS PEDERSEN, Trek-Segafredo: "The process for a new aero bike started just a few months after we got the previous Madone (Gen 6). We asked Trek to make it lighter. We also wanted a bike that would react faster. Now we're riding a spaceship. This bike is superb. It's really aggressive in the corners. It's easy to handle. It's so fast when you start a sprint, it's there straight away, you don't have the feeling that you have to get it up to speed. It's the perfect bike for a rider like me."
JORDAN ROESSINGH, Director – Road Bikes, Trek: "The new Madone SLR is 300 grams lighter than the previous version, which is a huge weight saving across the whole bike. The bike itself improves aerodynamics by almost ten watts. When you add the rider position improvements, you're looking at another ten watts, it's almost 20 watts faster."
ALEX BEDINGHAUS, Senior Design Engineer, Trek: "We did a lot of aerodynamic testing and computer modelling to figure out what areas of the frame we could save the most drag and weight. The seat tube section is really important because there's a lot of turbulent airflow and chaos going down there. We tried a lot of crazy things and explored other designs that had junctions at different points of the frame. We finally came up with the unique design of IsoFlow, where we have this hole through the seat tube that we can use to accelerate the air around the head tube and into this low-pressure zone behind the rider, making the rider and bike more aerodynamic and faster. It also has a cantilevered seat tube that really optimises weight, aerodynamics and compliance. It's a unique solution that gets us to a lighter weight system (versus the previous Madone) that beats our aerodynamic goals by quite a bit."
JOHN DAVIS, Aerodynamicist, Trek: "Aerodynamically, there's a lot going on in the seat tube junction of a bike. And if you nail it, you can really reduce the drag. IsoFlow is a way to direct some of the high energy flow into a low energy region of the bike. As you pedal you create these counterrotating vortices and behind you there's a really low energy region which creates a lot of drag. By having that hole (at the rear of the new SLR frame) right in front of this low energy area, you can introduce a jet of fast-moving air that reduces the drag for the whole system."
2023 Trek Madone SLR Specifications
• 6 models (all electronic 12-speed drivetrains): SLR 9 eTap, SLR 9, SLR 7 eTap, SLR 7, SLR 6 eTap & SLR 6
• Frame: 800 Series OCLV Carbon, KVF (Kammtail Virtual Foil) tube shaping, IsoFlow seat tube, invisible routing, 3S aero chain keeper, T47 threaded BB, flat mount disc, 142x12mm thru axle
• Fork: Madone KVF full carbon, tapered carbon steerer, internal routing, flat mount disc, carbon dropouts, 100x12mm thru axle
• Cockpit: Madone integrated handlebar/stem, OCLV Carbon
• Bar compatibility: 2 bearing top cap options – Madone SLR specific or standard 31.8mm
• Seatpost: Madone aero carbon internal seatmast cap (2 lengths, 2 offsets)
• Saddle: Bontrager Aeolus RSL carbon rails (SLR 9 & SLR 9 eTap), Bontrager Aeolus Elite (other models)
• Wheelset: Bontrager Aeolus RSL 51mm (SLR 9 & SLR 9 eTap), Bontrager Aeolus Pro 51 (other models)
• Geometry: H1.5
• Weight: 7.1 kg (SLR 9, 54cm)
• Maximum recommended tyre size: 28mm
• Colours: Red Smoke, White, Viper Red, Azure Blue, Deep Carbon Smoke
• RRP: From $11,399 (SLR 6) to $17,999 (SLR 9 eTap)