He was instrumental in helping create Australia's first WorldTour team and, amid a global pandemic, appeared to have secured its future — until his was cut short. Where did it go wrong, and what next for Mitchelton-Scott, wonders Anthony Tan?
When you think of the origins of Mitchelton-Scott, athletes aside, you probably think of two names: caravan king and chief financier Gerry Ryan, and Matthew White, the team's head sports director.
But there is one more name. Or, until a press release lobbed into my inbox on July 1 this year, was.
"Darach McQuaid and Brent Copeland will join Mitchelton-Scott from today, July 1, as part of a structural change at the Australian WorldTour team ahead of the 2020 season re-start," began the statement.
"McQuaid will step into a newly-created chairman position as a direct liaison with team owner Gerry Ryan. Copeland will join as the new general manager after six years as general manager and more recently director of operations at Bahrain-McLaren.
"Shayne Bannan, who initially set up GreenEdge Cycling alongside Ryan and has served as general manager since its inception in 2012, has been pivotal to the success and unique culture of GreenEdge Cycling and will be moving onto new challenges."
Perhaps you need a refresher on the significance of Shayne Bannan.
Before GreenEdge he was Cycling Australia's high performance manager and the Australian Institute of Sport's (AIS) head cycling coach for the decade prior. Six months before joining, during the final week of the 2010 Tour de France, he took a call from Ryan from the AIS base in northern Italy. He was summoned to meet the Godfather of Australian Cycling on the final day in Paris.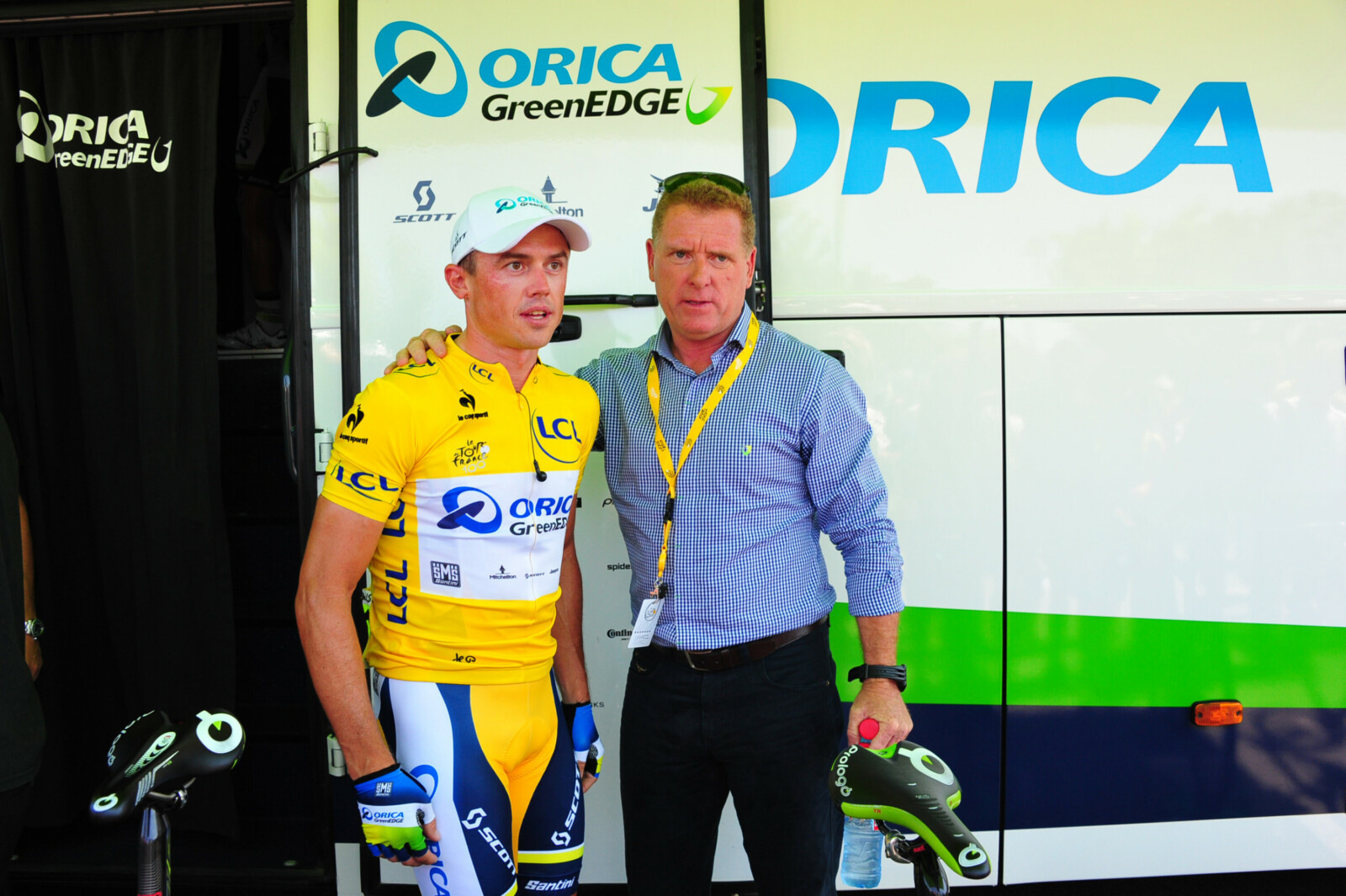 At first, Ryan didn't tell him what it was about. "Half an hour later he rang me back, saying: 'I should tell you now so you can prepare — put together a package to start a WorldTour team'," Bannan recalled in an interview with him back in 2011.
Can you imagine the adrenalin coursing through Shayne's veins?
"So, over the next few days, that's what I did," Bannan said, before catching a plane to France.
"We sat down at a coffee shop in Paris. We went over the budget; we went over the objectives – how we were going to manage the first year of achieving the [WorldTour] licence. We really took a process [-oriented] approach to it, and yeah, that's when the seed was sown."
Prior to the start of the 2011 Tour Down Under, when virtually all cycling eyeballs were on Australia (and yes, Lance was hangin' around in Adelaide), the team made its first official unveiling. The man to address the media throng? Shayne Bannan.
"We're developing a structure and a team that will put us in the top 10 [ProTeams]," he said at the time, implying it was GreenEdge's desire that they receive automatic qualification into the 2012 WorldTour. Bannan added that regardless of whether or not they enlisted commercial partners in its maiden year, the team (read: Gerry Ryan) had the financial wherewithal on par with the top 10 teams in the world. "So, looking at current budgets, that would range from 10 million to 16 million Euro."
In fact, commercial partner or not, Ryan had agreed to bankroll the team for at least three seasons. "It's not necessary that we need to chase a commercial sponsor. If we can't come to a commercial agreement by June [2012], then that will go off the table and we'll just focus on the committed funding that we have," Bannan explained to said throng, "and [we will] start looking at sponsors for the 2013 season."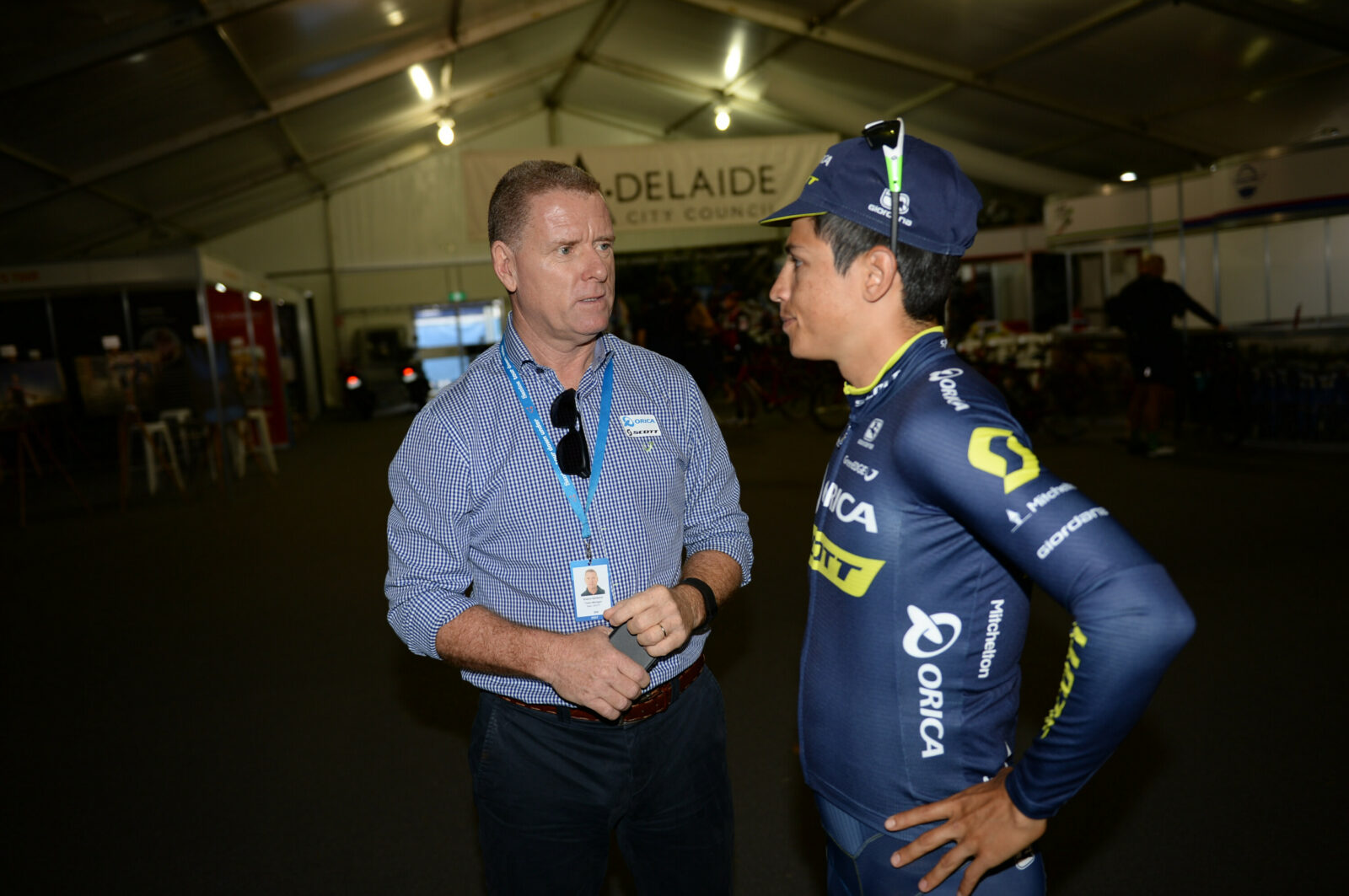 As it so happened, in May and just prior to the Giro d'Italia, the team announced that Orica, an Australian-based multinational and one of the world's largest providers of commercial explosives and blasting systems to the mining, quarrying, oil and gas and construction markets, was coming aboard as naming-rights sponsor. It is widely accepted Bannan was responsible in securing the memorandum of understanding with Orica for the next three seasons — a sponsorship that would continue all the way to 2017.
From 2018 onwards, however, Ryan was forced to dig back into his own pockets. The team became rebranded Mitchelton-Scott: the former after the Mitchelton Wines estate that he has owned since 2011, the latter the team's bike sponsor, who increased their financial commitment. According to the Australian Financial Review's Rich List that year, Ryan's net worth was assessed at A$487 million, making him Australia's 176th richest person.
Deep-pocketed to mere mortals, somewhat interestingly, he nevertheless did not make the cut to appear on AFR's 2019 Rich List. One could roughly surmise that, impassioned about the sport he may be, he did not intend to bankroll — or perhaps own — the team forever. And it was up to Bannan to fix that.
On June 12 this year, amidst the COVID-19 global pandemic and Mitchelton-Scott riders and staff reportedly taking paycuts of up to 70 per cent, it appeared Bannan had pulled out the proverbial rabbit from hat: a takeover agreement had been reached with the Spanish not-for-profit Manuela Fundación, the team announced. "GreenEdge Cycling will be called 'Team Manuela Fundación' for the remainder of the 2020 season and fully incorporate a new look when racing resumes," read the press release that went by the headline, "Manuela Fundación signs with GreenEdge Cycling for prosperous future". Said Francisco Huertas, owner and foundation president: "It's been an intense period of hard work between Manuela Fundación sports director Emilio Rodríguez and Mitchelton-Scott general manager Shayne Bannan. It's an incredible opportunity and an honour to be able to reach this agreement."
Then, just one week later, the deal was off.
"After careful consideration, GreenEdge Cycling has today advised Mr. Francisco Huertas, owner of Manuela Fundación, that it will not proceed with the Head of Terms established on June 5, 2020," began the statement, dated June 18.
"We felt a strong initial connection with Mr Francisco Huertas, the Manuela Fundación and their noble aims," Ryan was quoted as saying, but adding that, "after the initial announcement, we have concluded that the relationship will not proceed. We wish Mr. Francisco Huertas and the Manuela Fundación all of the best for the future."
The statement also said: "Moving forward, the GreenEdge Cycling men's and women's teams will return to racing next month under the existing Mitchelton-Scott banner, with a fully supported financial and technical structure provided by Ryan."
There was no mention of Bannan – until the aforementioned July 1 statement, that is.
"A crack had certainly appeared over the last couple of weeks between Gerry Ryan and Shayne Bannan," journalist Daniel Friebe of The Cycling Podcast, in their July 2 episode, said.
"Shayne Bannan had negotiated an agreement with the Manuela Fundación and was pretty happy with what they were proposing as far as the future of the team was concerned. Gerry Ryan either got cold feet or wasn't very involved in that whole process of negotiation, but of course he had the team's licence. Now Bannan is out of the picture."
Out indeed. Out to pursue "new challenges" — generally a euphemism for "has no idea, wasn't expecting to be shown the door". I wonder at what stage Ryan knew of the since rescinded deal, because it sounds like until June 12, he wasn't even aware there was a deal.
Anthony Tan

"…Before GreenEdge he was Cycling Australia's high performance manager and the Australian Institute of Sport's (AIS) head cycling coach for the decade prior…"
Adding a further twist to the story is that of the team's new chairman, Darach McQuaid; the so-named "direct liaison" to Ryan. The surname should ring a bell: Pat McQuaid is the former UCI president (2005-13) and is the eldest of 10 siblings, of which Darach, at the other end of the family spectrum, is the youngest. The second eldest behind Pat is Gary McQuaid, a riders' agent who manages one of the team's star riders in Adam Yates. And Pat's son Andrew is the manager of Adam's twin brother and 2018 Vuelta a España champion, Simon Yates, another figurehead at Mitchelton-Scott.
Once a coterie of opportunists, primarily targeting stages and one-day races, for the last four seasons the team has evolved into a bona fide Grand Tour-focused outfit. Along with Colombian Esteban Chaves, the Yateses are central to this strategy, and ultimately, the team's success and ability to attract sponsors. The twins are out of contract at the end of the season; Chaves has a place till next year.
Team owner Ryan assured "a return to full wages for all riders and staff once WorldTour racing commences" on August 1 — but will it be enough to keep their British lynchpins?
For a variety of reasons, the next two-and-a-bit months of racing will be intriguing, on and off the bike. Never a dull moment at Mitchelton-Scott, it seems.