It has been one of the more drawn out mea culpas in memory, the voluntarily recall of the Tarmac SL7 from Specialized.
Why? Because "harsh impacts may put extraordinary stress on headset components and may initiate a crack in the fork's steerer tube."
Months ago well-known YouTuber Durian Rider was putting out videos about potential Tarmac SL7 stem issues. On Saturday he posted an image of the recall notice on social media.
On Monday morning the leaked 'official' news was broadcast around the world, the main news sites stating Specialized was planning the announcement.
On Wednesday morning Specialized dealers shared the news – including images of the recall notice – across social media.
At 9:40am on Wednesday, the Safety Notice was finally posted to their website.
'We are issuing a voluntary recall to replace expander plugs and upgrade compression rings on Tarmac SL7 bikes and framesets. We have not received any injury reports. Specialized and retailers will contact riders that are affected by this recall via email.'
The statement from Specialized
'We will be announcing a voluntary recall of Tarmac SL7 bicycles because harsh impacts may put extraordinary stress on headset components and may initiate a crack in the fork's steerer tube.
We will improve the overall system with the addition of a new extended expander plug and an upgrade of the compression ring for riders that do not have one already.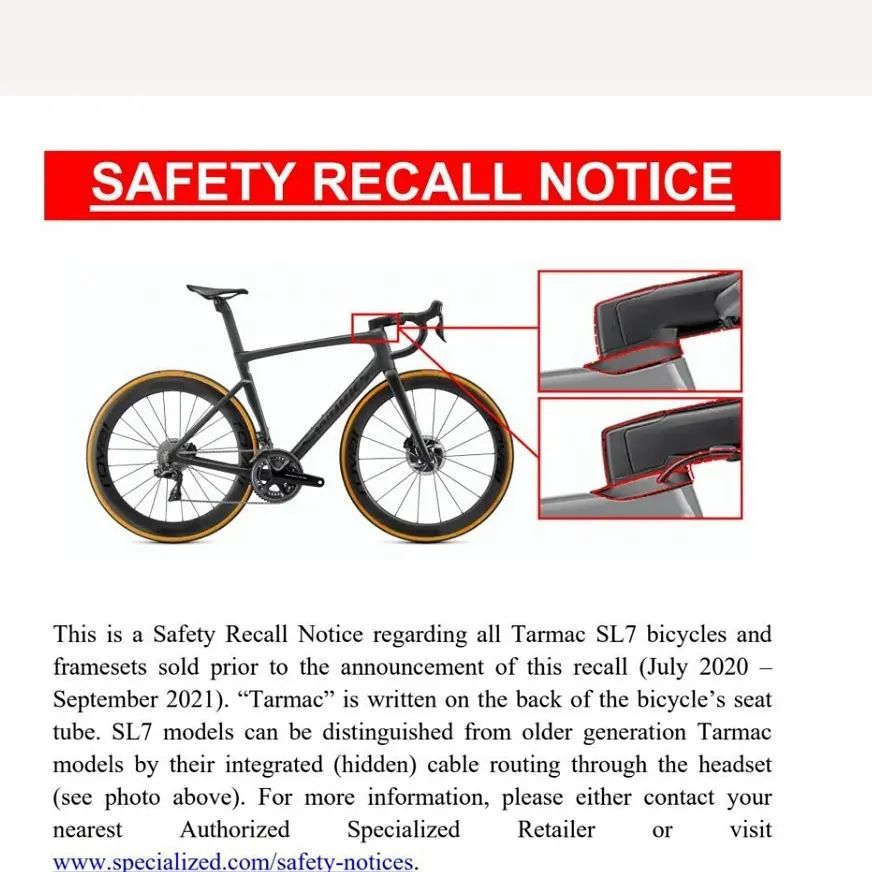 We will be asking riders to stop riding their Tarmac SL7 and head to their local retailer and have these new parts installed. Retailers worldwide have the parts in stock and installation will be a simple process.
As with any severe impact or accident, riders should always have their bike inspected at their local retailer, but they can also rest assured that the Tarmac SL7 meets or exceeds all industry safety standards.
Only Tarmac SL7 models already on the road will need this improvement. Tarmac SL6 and previous models do not require any action, and all Tarmac SL7 currently in store and in the future will have these new components.
FAQ
Q: Did the government require this, is it a recall?
A: It's a voluntary recall and we are working with the CPSC (ACCC in Australia) and appropriate agencies to ensure it is executed correctly.
Q: Have there been any injuries?
A: We have no injury reports from riders.
Q: How many bikes are affected?
A: As a global company, we don't have any specific numbers we can quote, but we're hoping all riders currently on a Tarmac SL7 will take advantage of this.
Q: How can we tell if we have a bike with the new parts?
A: If there is any doubt, riders should go to their retailer and have the bike inspected.
Riders can verify their bike has been updated if the expander plug is anodized red. If it is black, it needs to be updated and the rider should contact their local retailer. This can be checked by simply removing the headset top cap.'
The last major road-related product recall from Specialized was in 2019 when issues were found with the steerer tube collar on select Roubaix, Ruby, Diverge, and Sirrus models. Owners were advised to return affected bikes to their dealer or retailer to have a new steerer tube collar installed at no cost.