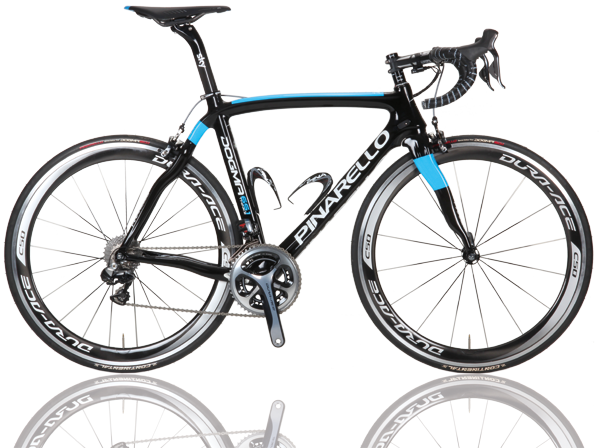 After riding as domestiqué for 2012 TdF winner, Bradley Wiggins, the skeletal Kenyan-born Chris Froome has assumed the mantel of leader of Team Sky with authority in 2013. An overwhelming number of titles have fallen to the lanky 28 year old this year, including the Tours de France, Oman, Romandie, as well as the Criteriums du Dauphine and International. We had the chance for a close up look at the bike he has ridden to victory.
There's no doubt, the Pinarello Dogma 65.1 Think 2 is a striking bicycle with a name to match. The rippling Onda forks and wavy stays of the Dogma are iconic features of Pinarello which has now won more Tours de France than any other brand.
The carbon frame is made from high quality Torayca 65HM 1K carbon fibre with Nano technology exclusive to Pinarello.
Froome uses an alloy 126mm Pro Stem and narrow 400mm bars to keep his arm position narrow optimising his aerodynamic profile.
Dura-Ace C24 wheels are usually Froome's choice in in the mountains and Shimano's alloy / carbon hybrid C50s seen here, for flatter stages.
The most obvious difference between Froome's bike from the stock Dogma shown here, is the use of Osymetric brand chainrings which are bolted to Dura-Ace SRM power meter cranks. Froome opts for 172.5 mm crank arms on his bike.
(USE inset pic of oval rings)
Dura-Ace 9000 11 speed electronic groupset is a worthy choice for the curvaceous Dogma, though cable actuated gearing is an easy option given the ports to suit the old school cables are already installed.
The standard 65.1 Think 2 uses a Fizik Arione cx with carbon rails (205g). Froome favours the braided carbon railed Fizik Antares weighing just 135g.
Pinarello have recently agreed to continue as the bike supplier to Team Sky for another three years through until 2016.
Buy one of these beauties and you'll even roll on exclusive Pinarello branded rubber.
Weight: 7.18kg
RRP: $14,995
De Grandi Cycle and Sport