Life used to be simple. We had road bikes, CX, track and touring bikes, oh and mountain bikes too—easy!
Fast forward a decade or two and bikes have come a long way. They're now lighter, faster, stiffer, more aero too. But aside from the technical advancements, bikes have also been splintered into all manner of niches and sub-categories. Road bikes are no longer just road bikes; there's race, aero road, climbing, endurance, UCI time trial, triathlon, gravel, monster-cross and more! Of course much of this is marketing driven, as brands grapple to differentiate their product. It also leads consumers to believe that you need to buy more bikes; I mean how could you possibly ride an endurance bike on a criterium—sacré bleu!
While it's true that certain bikes have become extremely specialised tools (the time trial bike for example), most can be used across a range of disciplines with little compromise. In the case of gravel and adventure bikes, they hold the potential to be more versatile than anything else—well that's my theory anyway. To put this to the test, we snaffled the Norco Search (reviewed in May/June 2016) and began our Jekyll and Hyde experiment.
Norco calls the Search an 'adventure bike'. The carbon variant features a lightweight 1kg disc brake compatible frame. It has a tallish head tube like an endurance road bike, a moderately slack 72-degree head angle and Norco claims there's clearance for 40c tyres.
In stock form the Search comes with 35mm wide tyres and a good setup for all-round riding; while it's not going to set the road alight, it is quick enough to hang with the Sunday morning bunch and it will also take you down any 2WD dirt road with ease. But how fast could it be on the tarmac with a simple wheel and tyre change? On the flip-side, how far can the Search go off-road if you made a few select modifications? Here we set to find out and fully test the versatility of the modern gravel bike…
On the Blacktop
The geometry is relaxed and the tyres are similar width to what you'd find on a cyclocross bike, but it really doesn't take much to pick up the pace with the Search. Our main focal point was the wheels; as with any bike the wheelset plays a major part in determining your rolling speed, acceleration and the ride feel.
To make for an easy swap to a road-going setup, we decided to assemble a whole new wheelset. While their 1,625g weight is similar to the stock DT Swiss wheels, the 60mm deep profile of the 3T Discus wheelset is a key feature once you're up to speed or fighting to hold a wheel in the bunch.
In the rubber department we opted for 26mm wide Panaracer's, which mated nicely with the 25mm (18mm internal) wide 3T rims. Aside from being more aero, the narrower tyres also lopped off a decent chunk of rotating mass. The stock tyres weighed 430g a piece with a 150g inner tube while the 26c road tyres came in at 227g each with a 90g tube; a total weight saving of over half a kilo where it matters the most—right out near the rim.
Aside from all the measurable stuff, the wheel swap also made the Search look like a serious road warrior. Look closely and you'll notice the cavernous frame clearance (especially around the fork) but it really doesn't affect the performance in any tangible way. Overall the aero equipped Search looks like a fast endurance road bike and the 1kg carbon frame certainly doesn't weigh it down.
The other modification was swapping the wide range 11-32 cassette for a more road friendly 11-25 option. We wanted a cassette to keep with the aero wheels to make the conversion between road and off-road setups faster and the closer spacing between gear ratios makes for a more efficient drivetrain, especially when riding flat or rolling terrain. If we wanted to get extra serious, the compact 34/50 chainrings could be swapped for a 36/52 or 39/53 combo. This would be an option to gain higher top-end gearing but we were happy for the easier ratios in the local hills.
Search for Speed
With its lightweight rubber and compact cassette, our road optimised Search was 600g lighter than stock (7.7kg all up compared to 8.3kg) and most of this was lost from the wheels. This had a serious impact on the feel of the bike. Sure the geometry may be relaxed but the high performance wheels make the bike faster to steer and accelerate—it just feels more nimble on the road.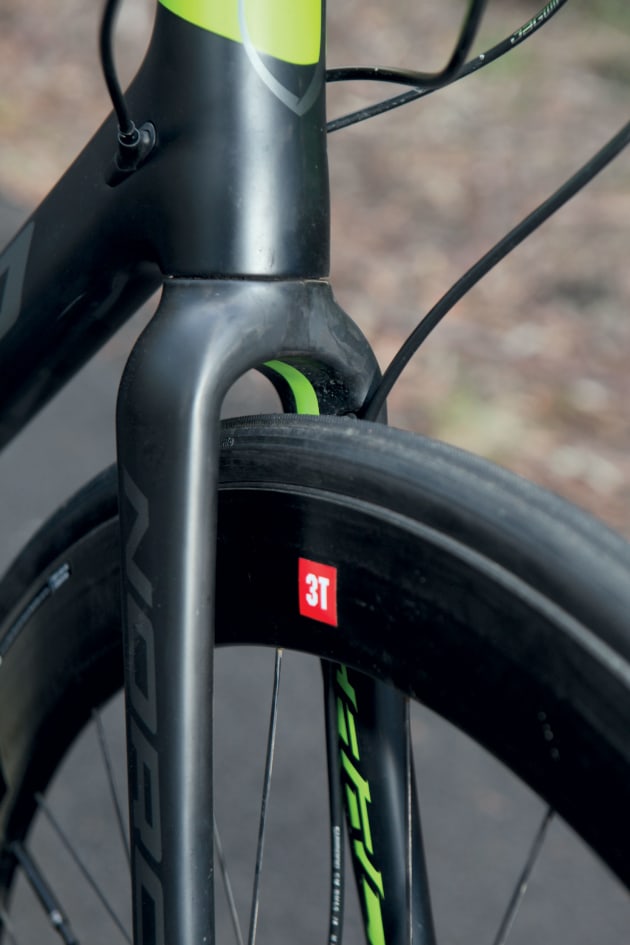 That's not to say that it was magically transformed into a pro peloton racer. The head angle is a degree slacker than a pure race bike, the 425mm chainstays are around 15-20mm longer than a competition oriented machine and the head tube is around 15mm taller in most cases. These differences mean it'll never handle exactly like a true road race bike but does that make it slower?
There's certainly no lack of bottom bracket stiffness on the Search, so the watts you put in are served undiluted at the back wheel. If anything the added stability from the longer wheelbase helps with making it easier to control at speed; this combined with the smooth stopping disc brakes means the Search is a blast when it comes to descending. It mightn't feature optimised aerodynamics and purists may find the handlebars too high (even with the stem slammed) but for me the bike was more than quick and efficient enough for bunch rides and sporty grand fondo events. In this guise you're really not giving up much when compared to the current flock of endurance geometry road bikes.
Gravel & Beyond
In stock form the Search is a happy camper on basic gravel roads but this got us thinking; what if we wanted to take it further off the beaten track? What if our adventures lead us down steeper trails or even some MTB singletrack—how much dirt can the Search handle? Obviously it wouldn't be going far off the black-top with our skinny tyres, so we put on our thinking caps and got to work.
As with the on-road optimisation, the first point of call is the wheels. We returned to the stock DT Swiss wheels and fitted the widest tyres recommended by Norco. On went a set of 700x40c Maxxis Rambler tyres and as the DT Swiss R23 rims are tubeless compatible, we ditched the inner tubes all together. At 365g each, these tyres were actually lighter than the original 35c treads and replacing the 150g tubes with 60ml of sealant didn't hurt either. Of course the move to tubeless isn't really about weight loss. When riding in rocky terrain, pinch flats are the main type of puncture and removing the tubes greatly reduces the risk. With less chance of pinch flatting, you can also lower the tyre pressure which helps with both traction and comfort.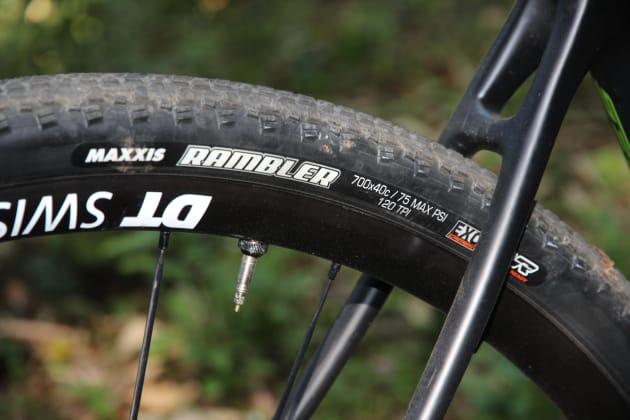 When mounted to the 18mm (internal) rims, the Maxxis tyres measured 38mm wide at the casing and 39mm across if you include the side knobs. In mountain bike terms this is like a 1.5-inch wide tyre; clearly narrower than your typical XC tread but it's not too far behind. These days most MTB tyres are 50-55mm wide but 40-50mm tyres were the norm back in the '90s.
The Search still had 5-6mm or so clearance with the fat rubber in place, which is better than most modern gravel bikes (35mm is usually the upper limit). Look around and you will find a handful of adventure/gravel bikes that accept even wider tyres—some even take 27.5 MTB treads for the dirt and 700c for on-road (the Open UP for example).
Eliminating the tubes and swapping to fatter tyres allowed us to lower the tyre pressures substantially. The Search now rolled along nicely at 25-35psi, which is dipping down into MTB territory. At this pressure the tyres didn't feel overly soft and they still rolled well enough on the road—it made dead and pothole pocked roads feel almost smooth! Hit the dirt and you noticed the biggest improvements; it certainly took the edge off bumpy trails and there was a noticeable increase in traction too.
Cockpit Mods
Not wanting to do things by halves, we decided to push things further. With our research on gravel bikes, we'd noticed a few dedicated dirt road machines running oddly shaped handlebars; ones that flared outwards at the drops. Apparently this breed of handlebar is designed with off-road use in mind, so we had to give them a try. Soma Fabrications has a range of off-road drop bars and they're available in Australia, so we fitted their Junebug bar to the Search.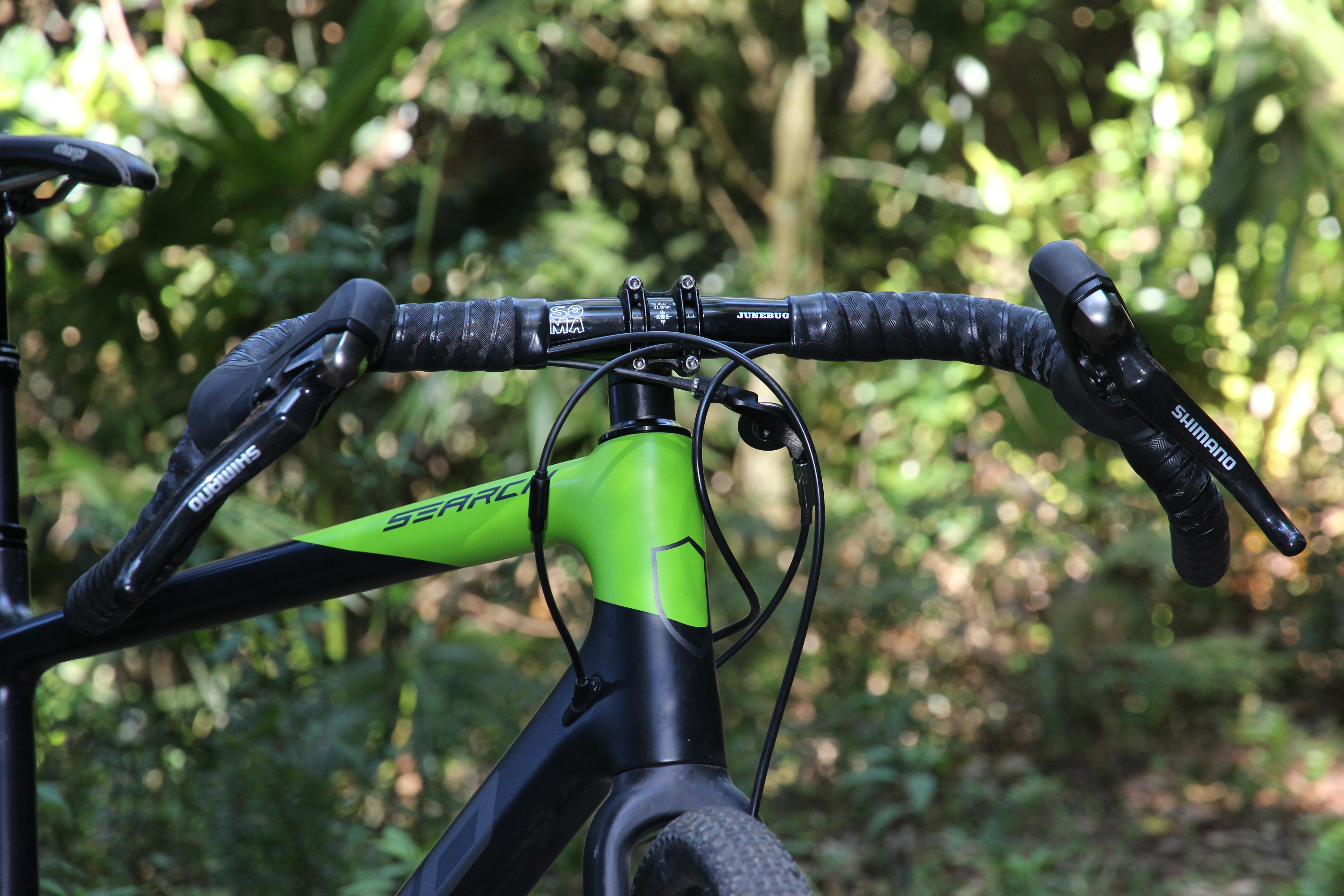 With a typical road handlebar, the drops offer easy access to the brakes and the most secure grip. The problem here is that the drops also place you in the longest, lowest and most stretched out position—it's not ideal for manoeuvring the bike on bumpy terrain. A good set of disc brakes may provide sufficient stopping power from the hoods, but it's easier for your hands to bounce off—I learnt this the hard way!
The idea with flared bars is to make the drops your primary off-road position in situations where you need added control. To achieve this they typically have a very shallow drop (so you're not as hunched over) and flaring them outwards stops your arms clashing with the top section of the bar. Flaring them out also makes them wider; a typical road bar is 42cm wide (measured centre to centre) but the Junebug was 57cm at the ends and around 53cm where your hands rest on the drops.
This added width provides extra leverage which helps with control over challenging terrain. Mountain bikers are moving to wider and wider handlebars for the same reason (720-800mm wide bars are now common in MTB circles). The wider Junebug bar makes a noticeable difference when it comes to out of the saddle pedal cranking and turning the bike aggressively. While the angled lever position looks strange, the hoods still offer a useful resting position and you can still brake and shift from this spot.
While the drops aren't as low, the wider hand placement does pull your body forward on the bike. To counter this I fitted a shorter stem and also swapped the spare headset spacers to go underneath, raising the handlebar position by 20mm. Both of these modifications helped with off-road control but came at a cost once you returned to the blacktop. The wide bars alone were okay but the short stem made the cockpit feel cramped compared to the original setup. Thankfully stem swaps are comparatively easy, so you could always tweak the cockpit to suit; go long and low if you're predominantly on-road or fit a stubby stem for the dirt and trails.
Drivetrain – Going 1X
Another area where we chose to borrow an idea from the MTB world; we converted from a compact road double to a single front chainring. Even with a wide-range cassette, the total gear range is reduced but there are other reasons for this modification.
Multi-ring cranksets typically have shaped chainring teeth that are designed to improve shifting—they actually assist the chain in derailing. In contrast, one-by specific single chainrings employ unique tooth profiles that improves chain retention, so the chain is less likely to bounce off over bumpy ground. We used a Wolf Tooth chainring that features alternating wide and narrow teeth to keep the chain where it belongs.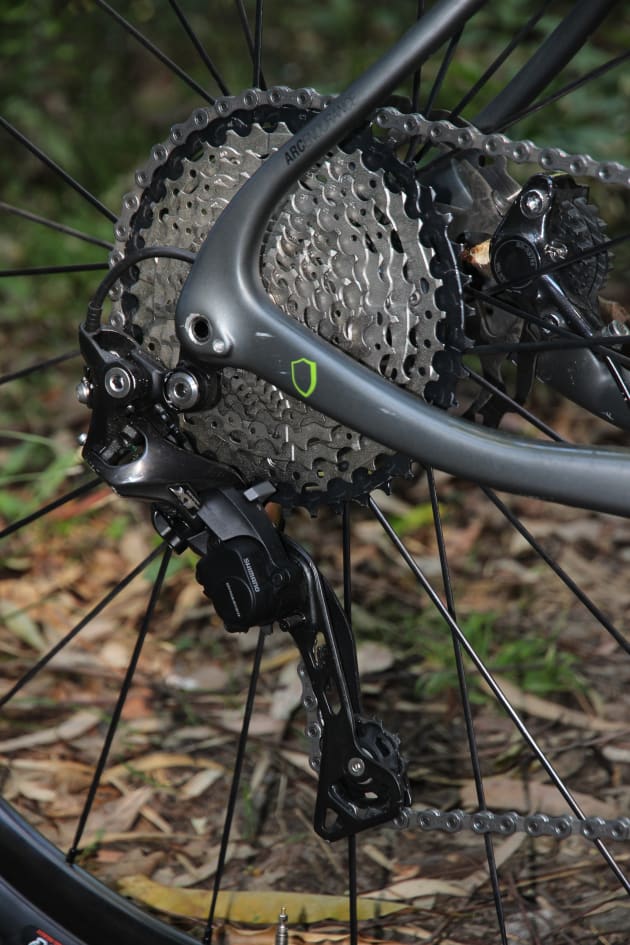 With only one chainring, you really need a wide range cassette on the back to deliver a decent spread of gears. While there's no shortage of options that can be borrowed from MTB circles, the tricky bit is getting them to work with your existing road derailleur and/or shifters. The Search comes with a GS model Ultegra derailleur, which handles up to a 32 tooth cog on the rear. Using a larger cassette requires modification.
Again Wolf Tooth comes to the rescue, offering a number of products that will help you to pull a 1X bitsa drivetrain together. To run an 11-36 or 11-40 cassette, the 'Road Link' can be added to your existing long cage road derailleur. This mounts to the hanger and repositions the derailleur to clear the bigger cassette.
We took a different route however and fitted a Shimano XT mountain bike derailleur. Good MTB derailleurs feature a clutch mechanism that reduces the chain's tendency to slap around. This in turn helps to keep the chain on over rough ground. As an added bonus, the MTB derailleur has an even broader gear capacity; with a single front chainring you can run up to a 46 cog on the rear cassette—that's huge! We opted for an 11-42 cassette which provides a good gear range without introducing too many sizable jumps between ratios.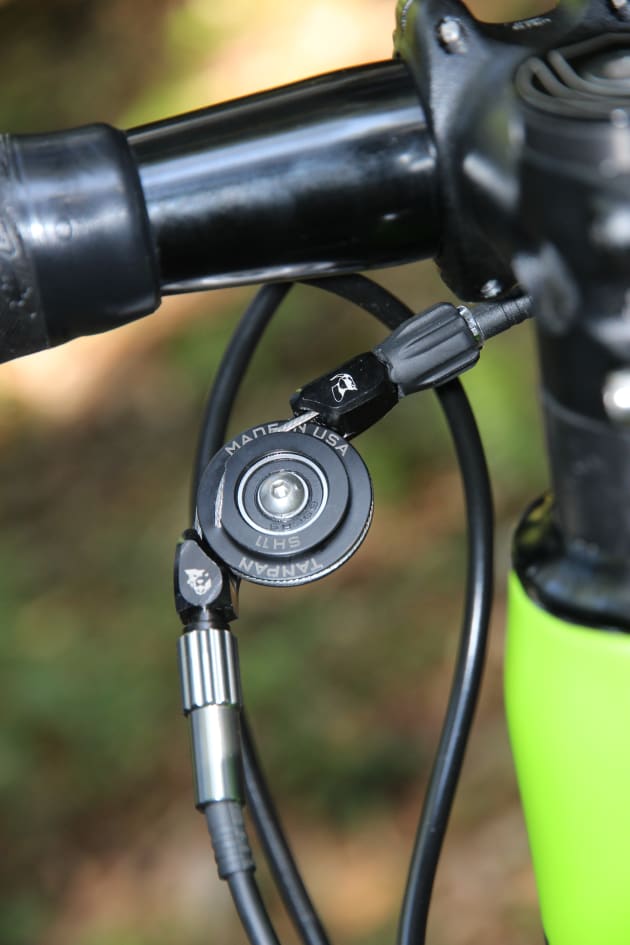 The hurdle with fitting a MTB derailleur comes with getting it to work with the STI road gear levers. While both are 11-speed setups, the MTB derailleur employs a different cable pull ratio. To solve this, we fitted a Wolf Tooth Tanpan. This $60 machined alloy roller sits in the cable and converts the pull ratio. The Tanpan is generally placed near the derailleur but we ran ours up near the handlebars due to a lack of space—it still worked as intended and delivered accurate shifting with the mismatched components. With all of this in place, the wide range single chainring setup was much quieter than the original road drivetrain—no chain drops and no rattling against the front derailleur.
Compared with the stock compact double drivetrain (34/50 and 11-32), the wide range 1X setup loses the equivalent of two gears in its total range (see the Drivetrain Comparison table below). It really isn't much when you consider the relative simplicity of the new setup. With any 1X system, the key is choosing the appropriate chainring size; drop down a few teeth if you're more concerned about having low climbing gears; opt for a bigger chainring to gain top-end gears. We chose a 42 tooth chainring. When combined with the 11-42 cassette this gave us a slightly lower first gear and the equivalent of a 50×13 at the upper end of the range—it was plenty given the off-road intent of our modified Search.
Gaining such a wide gear range from a single chainring comes with one obvious pitfall; the steps between each gear are bigger. As a result you're more likely to find yourself in the situation where one gear is too high and the next option is too low. While this was certainly the case on flatter road rides, it didn't prove to be an issue in hilly terrain or on winding trails where your speed was rarely constant.
Despite what you may think, the move to one chainring actually made our Search heavier. The front derailleur removes 87g and the single chainring is 65g lighter (86g versus 151g) but the 480g wide range cassette adds 200g when compared to the 11-32 version and the MTB derailleur is slightly heavier too. All-up it added 100g to the build.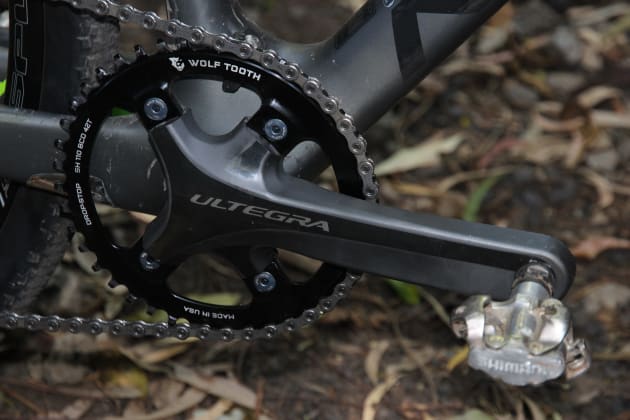 Drop Zone
The move to a 1X drivetrain left us with one niggling anomaly; the gear mechanism in the left hand STI lever was sitting there with nothing to do. Not a big deal but it kinda bugged me.
On any regular road bike it could be swapped for a standard non-STI brake lever, but with the Search running Shimano hydraulic discs, this wasn't an option. SRAM offers a non-geared left-side hydraulic lever but they run DOT brake fluid which wouldn't work with the Shimano system (Shimano uses mineral oil). TRP makes hydraulic road levers that claim to work with Shimano's M525 and M515 callipers but we thought of an alternative and more interesting use for the idle left-side gear mechanism—why not hook it up to a dropper post!
Height adjustable seat posts are all the rage in mountain biking at the moment. They allow you to vary the seat post height while riding and drop the saddle right out of the way when required.
Most people think droppers are for downhill use but with experience you learn that they can help your riding in many ways. Lowering the seat gives you more freedom to move around on the bike. You can drop your centre of gravity which helps with cornering and you're better able to absorb bumps when there isn't a saddle stuck up high between your legs. Both of these attributes help a lot if you're trying to pilot a fully rigid drop bar equipped road bike over rough terrain.
On the Search we used the front derailleur cable routing and ran a full length of outer housing down inside the down tube (the frame already features internal cable routing). From there we directed the cable into the seat tube and straight up to the actuator at the base of the dropper. This operation was easy thanks to the big removable window under the down tube and the large void around the oversized bottom bracket—other bikes may present a greater challenge.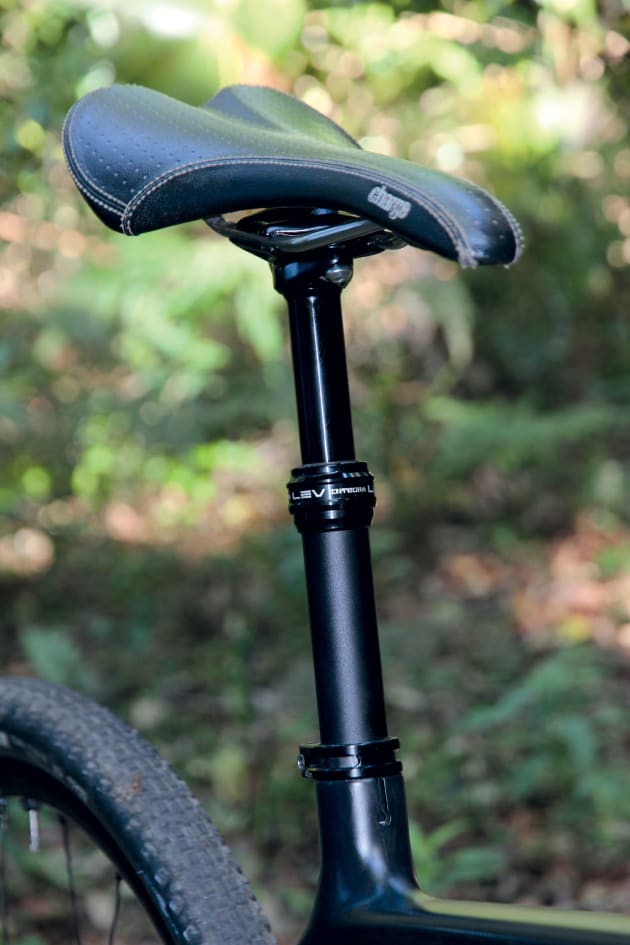 We selected a KS Lev Integra post. KS holds a great reputation for their MTB droppers and they offer 'stealth style' (that means internally actuated) posts in 27.2mm for bikes like the Search. Where most MTB droppers have between 100 and 150mm of height adjustment, our CX/XC/road going version offered 65mm of drop—a perfect match for this application.
Using it with the Shimano STI lever involved the following steps; push the main lever (as if you were going to the big ring) and sit on the saddle; while seated click the smaller gear lever and the post stays put in the new location. With practice it became an easy process and your hands stay on the bars—you can even brake while dropping the saddle. Many mountain bikers now rate dropper posts as being more important to off-road performance than suspension. Not what you'd think but once you learn to fully utilise the dropper and move your body around, it really can make a big difference in an off road setting. Drop it for corners and you'll be safer and more stable. Drop for any descent or obstacle and you'll be better able to use the 'travel' in your arms and legs—use this well and it's more effective than any complex suspension component. Weight-wise it added 230g over the stock carbon post. This along with wide tyres and other off-road modifications took the total package weight up to 8.3kg (without pedals).
Riding our Frankenstein
Individually, each modification has its place but the total cumulative effect made the Search quite capable in an off-road setting. Smooth dirt roads and twisting singletracks could be tackled with relative ease—in this setting it proved a close match for a hardtail MTB. It could even tackle rougher 'true MTB' trails too but a word of caution here…
The higher/shorter stem, wide bars, dropper post and grippy tyres run at 30psi all allowed us to ride with a decent level of control on some pretty rugged terrain. If you're a competent bike handler you'll be able to ride at near-MTB speed. The catch comes if you collect a rock at speed; 40mm wide tyres may be wide in a road or gravel setting but they don't offer much rim protection when things get properly rough. Our exuberance in riding the Search on the local MTB trails soon lead to damaged tyre casing and rim dents.
With the right modifications the bike definitely has the capacity to be ridden on MTB trails but there comes a time where it all gets a bit silly and you really would be better off on a MTB! Despite these limitations, the range of versatility is broad and impressive. In a road setting there's very little compromise. Sure, carbon aero wheels are nice but even a simple swap to 25-28c road going rubber will have you keeping up with the Joneses; just slam that stem and away you go!
For most dirt road expeditions, I'd recommend a tubeless setup with 38-40c tyres and fit some thickly padded bar tape while you're at it. If off-road is really your thing, feel free to consider some of the other modifications. Wider bars are great for control and the simplicity of a 1X drivetrain is appealing too, but the dropper post definitely delivered the biggest improvements in bike control off-road.
However you look at it, there's no refuting the flexibility of these new gravel road machines.
Here's some footage of the Search in action…
https://www.youtube.com/watch?v=b6KiFHrPx-g
https://www.youtube.com/watch?v=pGdHGXZ3KcQ