He has the world at his Feet and a nation of Cycling fans watching his wheel. Before Beginning his first World tour campaign With orica-greenedge, Caleb Ewan spoke with Kieran Pender.
Caleb Ewan looks remarkably calm. Sitting at a quaint garden table on the outskirts of Launceston, the affable 20-year-old is composed and articulate while chatting before a summer criterium. He might have the weight of the cycling establishment's expectations on his shoulders, but Ewan appears impervious to the pressure as he poses for photos with the deadpan expression of a seasoned model. If this is Australian cycling's next superstar, then the sporting gods have chosen well.
Ewan is accustomed to the spotlight, after spending the last three years as the media-anointed "next big thing". A 2012 Bay Cycling Classic stage win over the likes of Allan Davis and Baden Cooke thrust the sprinter on to centre stage, before Ewan proved he was no one hit wonder by clinching the series a year later. Comparisons were soon drawn with Mark Cavendish and Robbie McEwen, while the Herald Sun labelled him "the most promising young talent in the land". Ewan, though, has not been fazed by the hype.
"Obviously there is a little more pressure on me than a normal U23, but I thrive on it," he explains to Bicycling Australia. "Most of the pressure comes from within anyway, so even if there was no media coverage I would still have the same expectations. I don't find it a distraction or let it affect my performances."
Since first establishing himself on the roads of Melbourne, Ewan has found success in both Australia and Europe with Jayco-AIS World Tour Academy. The Bay Classic has always been a favourite though, with Ewan again collecting the series in 2015 along with three of the four stages.
"A lot of young guys have taken the same steps as me, but it is probably not publicised as much," he continues. "I was noticed at the Bay Crits – at the end of the day that's not a massive race and most of the professionals are not going hard compared to during the season – but it still looks like a big thing when a 17-year-old beats all the Australian pros."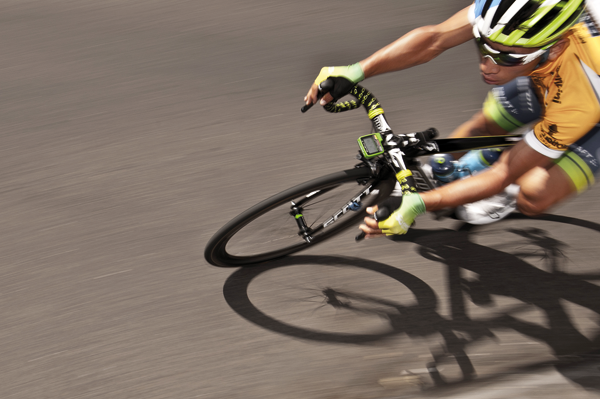 It has been a whirlwind year and a half for Ewan since signing a pre-contract with Orica-GreenEDGE in late 2013. Despite injury disruptions, the youngster finished last season strongly in Europe before making his first pro-team tour appearance in China.
"2014 was not too bad," he reflects after giving the question some consideration.
"It was more of a transition season compared to the year before, where I was purely going for results to get a contract. I crashed early on and missed a fair bit of racing, so that put me off for the first half of the season."
Ewan was part of the Australian team that competed at the Commonwealth Games in Glasgow – an experience he looks back on fondly – but was unable to find success on the Scottish streets. One of only two team members to finish the road race in wet conditions, Ewan and his compatriots controlled the race but failed to collect a medal.
"We went to a training camp in July and I came out of that feeling pretty good for the Commonwealth Games," he says. "Obviously that did not really go to plan, but I still felt like I was going well. I had my first race with GreenEDGE at the Ride London Classic, before finishing off the year with a second at Worlds, a stage at l'Avenir and a second in the first stage of the Tour of Beijing."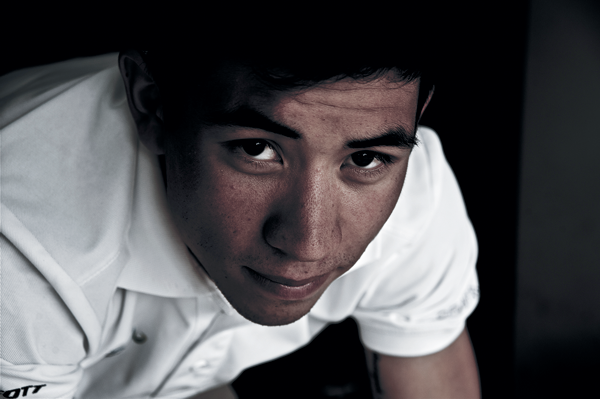 The Tour de l'Avenir has long been considered a testing ground for young riders – it translates as Tour of the Future – and has been won in recent years by the likes of Nairo Quintana and Esteban Chaves. Having nabbed consecutive line victories in 2013, Ewan did not disappoint in the latest edition with a strong win on stage two.
His silver medal at the U23 World Championships in Ponferrada was equally impressive, albeit somewhat disappointing for the compact sprinter. In circumstances reminiscent of the Commonwealth Games road race only seven weeks earlier, Ewan and company directed proceedings from the beginning yet faltered late in the day as Norwegian Sven Erik Bystrom broke away.
"The same thing happened to me in 2012 when I was a junior," Ewan bemoans. "A guy got away on the last climb and I won the bunch kick. Going into the race I knew that if a really strong rider built a lead at the end it was going to be impossible to bring him back."
Ewan deliberatively structured his contract with GreenEDGE so as to be eligible for the U23 race at the World Championships and ease his transition into the professional arena.
"Going pro at 19 would have been a pretty massive step," he admits. "I think if you go that little bit too early and started getting hammered all the time you are actually taking a step backwards. It felt like a long time to wait, but I'm grateful that I took an extra year. Racing the Tour Down Under made me realise that it is a big next step."
Ewan faced the first of what will be many hurdles in making that transition at the Tour of Beijing late last year. Despite failing to collect a stage victory, his performance in China indicated that the talented young rider is more than capable of progressing to the big time.
"It was pretty disappointing not to get a win in Beijing," admits Ewan, who finished second on the first stage and ninth on the last. "It was difficult because for that second half of the season I had to peak for Glasgow and hold that right through to Beijing. The team did not have massive expectations on me, it was coming from within, but I know where I am at and can improve from here."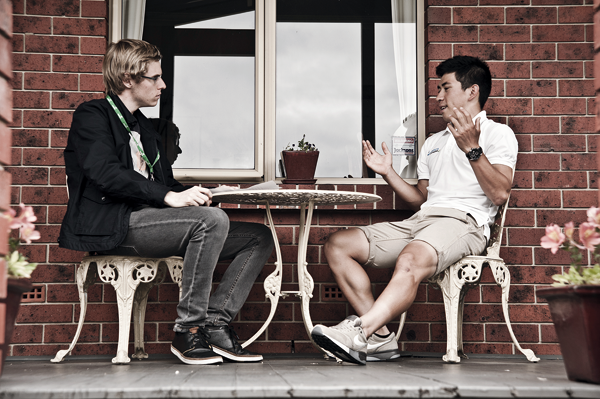 After testing the waters at GreenEDGE in the latter half of 2014, Ewan is now ready to begin his neo-pro season at the Australian team. When asked about choosing the Gerry Ryan-backed team ahead of other suitors, Ewan is unequivocal.
"Of all the teams that I was looking at, GreenEDGE were looking out for my best interests," says Ewan. "They saw that I needed to keep winning – I feel that's important, once you start losing it is hard to get it back – and they were the team that would give me the most opportunities. In Beijing they were already leading me out in my first World Tour race: I don't think many other teams would do that. Most of the European outfits make you do your time, your first two years as a neo riding on the front, but GreenEDGE want me there to win."
While Ewan refuses to spill the beans on the team's next music video – following on from amusing renditions of 'Call Me Maybe' and 'You Shook Me All Night Long' – he praises GreenEDGE's laidback style.
"It is a really great team because they can switch off from the racing, relax and have a joke," Ewan explains. "During tours you see a lot of teams at dinner tables being all serious, but I think it is good to get your mind off racing and chill out: that helps you perform."
What, then, for the coming season? "The main aim is to get as many wins as possible," Ewan replies. "My program is structured around not doing really big races. It is a bit of a transition year." And what would constitute success? "It's hard to tell at the moment, because I do not know how well I'm going to step up. It would be nice to get five or six wins, but that might be too difficult, it is hard to know."
Ewan's boss at GreenEDGE, head sports director Matt White, is more forthright about the target set for his new charge: "We are aiming for five UCI wins in his first year and he has a program where this is very achievable.
"The goal for us is to continue to nurture Caleb's growth as a young and developing athlete," White continues. "He is a winner so his first full year in the World Tour will be a mix of physically adapting to the rigours of this level of racing and familiarising and gaining trust with his new team."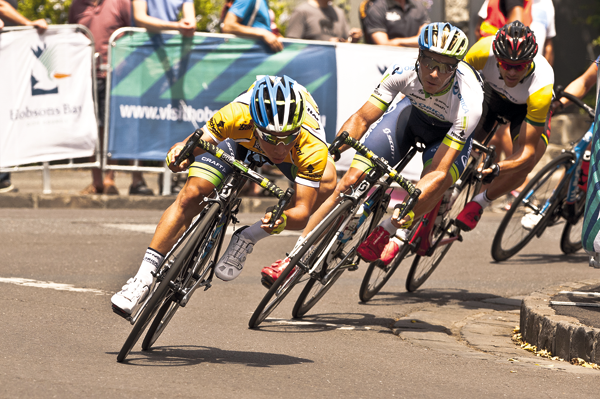 One thing that Ewan will not be doing in his neo-pro season is attempting to move away from pure sprinting and focus on a more well-rounded style. Queried as to whether he aspired to become a general classifications rider, Ewan did not hesitate in responding.
"The higher I get in cycling the more I realise that the climbers are extremely good, the sprinters are extremely good etc," he says. "Through juniors and U23 you can do everything, but as you step up everyone gets very specific at what they are good at, and I think I'll stay with sprinting."
One avid Ewan fan, though, is not so sure. Former Olympic cyclist John Trevorrow has watched closely as the youngster notched up triumph after triumph, and suggests that big things are to come.
"Caleb has shown that he is more than just a super-fast finisher," says the Bay Cycling Classic race director. "His performances at world junior and U23 championships on tough circuits have demonstrated that he is a very capable climber and although he will not win the Tour de France, his ability on the smaller bergs indicate that he could well develop into a great classics rider. The biggest one-day races in the world may well be within reach."
Whether he sticks with his sprinting specialisation or not, Ewan appears destined to become a hot ticket item at races across the world. Former Tour Down Under winner Patrick Jonker once described him as "someone Australian cycling has never seen – a phenomenon" – and Ewan has spent the last few years preparing to be just that.
"Until I was 15 or 16 I never really thought about this as a career, but then the more I raced the more I wanted to become a pro," he comments. "I left school half way through year 11 to race in Europe, and that's helped me get to where I am now. I think that is partially why it has all happened so fast – it's quite hard leaving home at 16 and living over there by yourself – but now I feel comfortable in Europe away from my family."
Ewan once rode a unicycle to school. This year, he will be riding a top-of-theline bike with a professional team in some of the biggest events on the cycling calendar, and recently finished second in the Road National Championships.
He may be calm and collected, unaffected by the pressure on his shoulders, but occasionally the reality of this incredible situation comes into stark relief. Ewan may be ready to explode on the world stage, but every so often the sprinter still muses in a typically understated manner: "It's pretty cool to be 20 and a professional cyclist!"