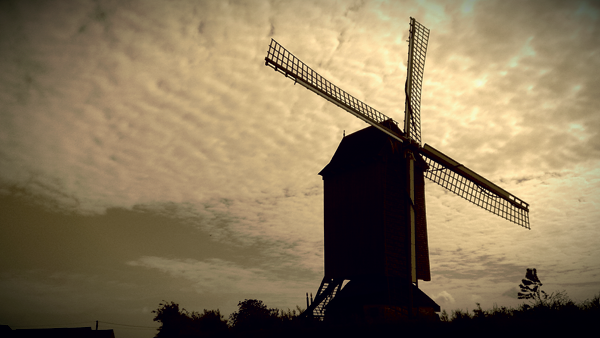 The five spring classics held each April are enormous sporting events; Gladiatorial battles lasting close to Six hours; 250 plus kilometres, countless Thousands of cobbles or thousands Of vertical metres of climbing or a Mixture of both. Roger cull set out in april 2014 to get to Know the spring classics. To ride their Routes, explore their histories and To figure out what brings the world's Best cyclists to this little corner of Europe to contest five of the biggest Bike races on the planet.
OK, hands up those who think that Stuart O'Grady's triumph in the 2007 Paris-Roubaix is one of the top ten Aussie sporting achievements of all time. Now, hands up those that think that the one-day bicycle races held in Belgium, Netherlands and Northern France each April and generally known as the "Spring Classics" are some of the most brutal sporting events of any kind. Great. If you raised a hand to either of these questions, then this story is compulsory reading. If you didn't raise a hand then read on anyway. Your education needs a top up.
The spring races regarded by the UCI as Classics comprise two cobbled Classics, (Tour of Flanders and Paris-Roubaix) and three Ardennes Classics (La Fleche Wallone, Amstel Gold Race and Liege- Bastogne-Liege). The two cobbled Classics are not entirely raced on cobbles; Paris- Roubaix has 50-55km of cobbles in its 250- 260km length whilst the Tour of Flanders has no more than a dozen or so kilometres of cobbles. The Ardennes is a range of low hills running across Belgium and Luxembourg with small areas overlapping The Netherlands, France and Germany. These hills bring some savagely steep, although mercifully short(ish) climbs to the three Ardennes classics.
Three of these races (Tour of Flanders, Liege-Bastogne-Liege and Paris- Roubaix) are regarded as "Monuments" of Cycling, being the oldest and most prestigious annual cycle races (behind the World Championship). The only other "Monuments" are the Italian Spring Classic Milan-San Remo and the Italian autumn classic Giro di Lombardia.
The Spring Classics are tough races to win. They are ideal platforms for the Pros to demonstrate their form for the coming season. Prior to 2014 there were only three Aussie victories over the 407 editions across the five races. Trail blazer Phil Anderson won the 1983 Amstel Gold Race, hard man Stuart O'Grady won the 2007 Paris-Roubaix and 2011 Tour De France winner Cadel Evans won the 2010 edition of La Fleche Wallone. In 2014 emerging Aussie legend Simon Gerrans addressed the shortage with his stunning win of the 100th edition of Liege-Bastogne-Liege.
In some respects these are quirky races. Sending highly paid professional bike racers over long sections of narrow winding cobbled farm roads which can be lethally slick with cow poo and farm mud is probably not a concept that would gain traction as the prologue to the Pro racing season in 2014 were it not for the long and rich traditions that attach to each of these races. Some may even go so far as to label this part of the world as the spiritual home of road bike racing. Certainly, Belgian names such as Eddy Merckx, Tom Boonen and Philippe Gilbert rather over represent Belgium in European cycling honour rolls.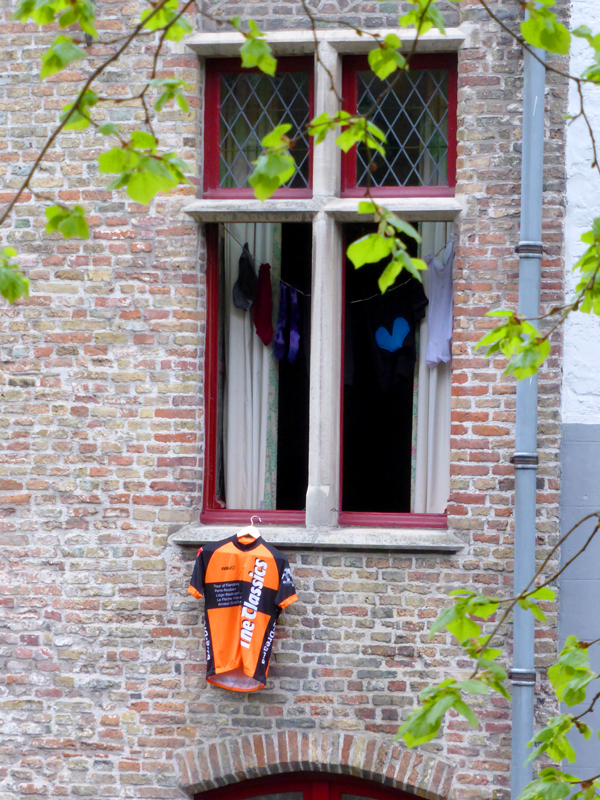 In any event, these five races had enough pulling power to lure a bunch of 15 weekend warriors from across the world to cycle their routes within a few days of the scheduled Pro race days in April 2014.
The five races are located close enough together to make it possible to link the five courses with bike 'commutes' that are very manageable, effectively allowing the five races to be ridden back to back.
After gathering in Brussels, our tour started with a warm up 280km over two days, taking in the attractive Belgian towns of Gent and Bruges, delivering us to Oudenaarde, the heart of the Tour of Flanders. Amazingly, our 280km knitted together a series of bike tracks that almost completely avoided roads. Be warned, a pre-planned route dialled into your GPS is about the only way to navigate the tangle of tracks and trails. If you have ambitions for independent travel here a good starting point is www.fietsnet.be. or www.bike-dreams.com who can look after your navigation, bags, food, hotels, and mechanical support.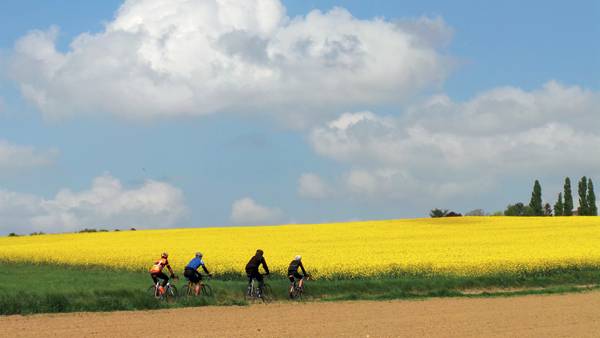 TOUR OF FLANDERS
Flanders is a geopolitical zone comprising the northern half (approximately) of Belgium. The official language is Flemish, a language very close to Dutch which is spoken in adjacent Holland. The biggest annual sporting event in Flanders is the Ronde van Vlaanderen or Tour of Flanders. The 2014 edition featured 248 riders, racing 260km from Bruges to Oudenaarde. More than half the race is on roads and paths within about 20km of Oudenaarde as the riders complete loops and repeats of loops that take them over a variety of road surfaces from regular silky asphalt to ridiculously narrow, rough and occasionally impossibly steep cobbled sections. The most viscous (and famous) of these, the Koppenberg , may only be 500m long but it has an average gradient of 9.4% and a maximum of 22%. The climb is over very rough cobbles and the track narrows to about the width of three riders. Other short steep famous cobbled climbs include Oude Kwaremont and Paterberg. Flatter cobbled sections are up to 2.6km in length.
Regular punters like ourselves have the opportunity to ride a sportif on the race route the day prior to the race. So we joined 16,000 of our closest personal new found ride buddies for the final 134km of the course. Wow! What an education! Having spent many years riding mountain bikes I could not see how the cobbles could be an issue. Wrong! No amount of balloon –tyred action can prepare you for the nightmare of the cobbles. Don't think pavers from Amber. These stones have been individually crafted to be as irregular in shape as possible. They were then laid by 19th Century kindy kids.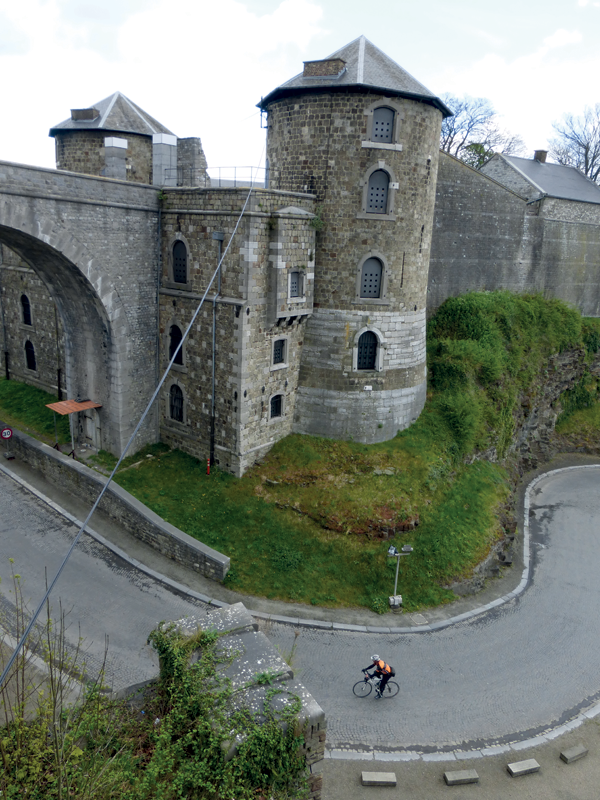 If the bicycle was sent from heaven by God, then Satan threw in the cobbles. I promise you that they are no fun even when flat and dry. Ramp up the angle and throw in a sprinkle of rain and the feats of the Pro riders become super human. It's not just that they are bumpy enough to detach your retinas but the cobbles suck your forward momentum. It's an Aussie 'dead road' on steroids. The Tour of Flanders only has a dozen kilometres of cobbles. Twelve kilometres of cattle grid would be easier. At least the bumps would have a regular and rhythmic pattern.
As befitting the biggest sporting event in Belgium the crowds on race day were massive. Hill climbs, especially where cobbled, were crowd favourites. Most crowds were a spectacular sea of Flanders flags, the black on gold Flemish lion.
History records Fabian Cancellara's second consecutive win (and third in total) winning in a four-way cat and mouse sprint over the last 300 metres. Even though the other three in the sprint were all Belgians, Cancellara (Swiss) still got a hero's welcome in the town square following the race.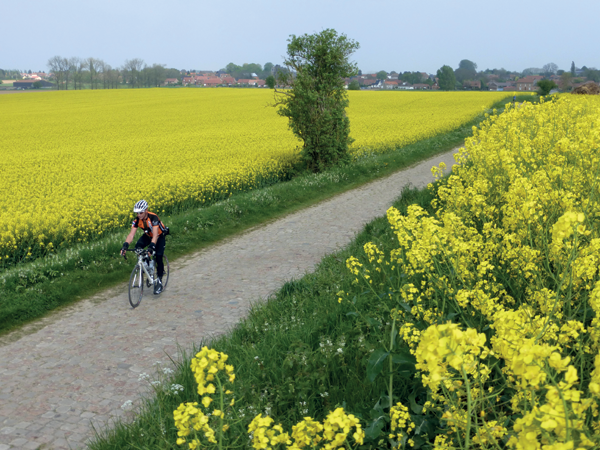 After the excitement of the Tour of Flanders we had a pleasant 130km 'commute', again by bike trails, back lanes and farm roads, to our next Classic, La Fleche Wallone. Wallonia is the predominantly French speaking southern half of Belgium. The 200km race starts in Charleroi and finishes in Huy, so we headed for Charleroi.
En route we paused at Geraardsbergen, a pleasant town on the banks of the River Dender and at the foot of a low hill. Whilst it only climbs 90 vertical metres, the road up the hill is steep, narrow and cobbled and is ominously known as the Muur (Wall) of Geraardsbergen. This hill has featured many times near the end of the Tour of Flanders. A kilometre of cobbles at an average of 9.3% would hardly be welcome 248km into the bike race. It was on this hill that the infamous You Tube piece alleges that in the 2010 Tour of Flanders Fabian Cancellara hit the Go button on the electric motor allegedly concealed in his bike frame and effortlessly rode away from Belgian powerhouse Tom Boonen to easily win the race.
LA FLECHE WALLONE
After an overnight in Charleroi we biked on to Huy. Following the exact race route is difficult here as the roads are busy and best avoided, but we had a very pleasant 100km spin and got a good taste of the pretty countryside. A highlight of this stage was a dash up to the Citadel (castle or fortress) overlooking the town of Namur. Parts of the Citadel are over 1000 years old and it is classified as Wallonia's major heritage site. The climb to the Citadel has often been included in La Fleche Wallone.
The stage ended atop another legendary climb, the Muur (wall) de Huy. This 128m hill, behind the town of Huy has a maximum gradient of 26% and is generally climbed three times during La Fleche Wallone.
Our next stage followed exactly the back half of the 2013 race. Just on 100km with 1630m of climbing including three ascents of the Wall of Huy. It was a fabulous ride on quiet roads with constant climbs and descents through beautiful rural countryside. Unfortunately we did not quite manage the 40 plus kph average of the professionals but there were plenty of satisfied smiles at Stage end as we topped the Wall of Huy for the third and last time.
The professional's race result is often decided on the final climb of the Wall of Huy; 2014 was no exception with Spaniard Alejandro Valverde of Movistar attacking decisively 200m from the line. Our next stage was an easy 80km commute to Maastricht, just inside the
Dutch border. After 900km in eight days it was opportune to rest for a day prior to the next Classic, the Amstel Gold Race.
AMSTEL GOLD RACE
Maastricht is a beautiful town, laden with history (1677 National Heritage sites) and teeming with bicycles. It is the main town of the Province of Limberg, the venue for the Amstel Gold Race. Interestingly, baskets, mud guards and clunky steel frames are preferred to 11 speed cassettes and carbon frames, but Holland is a very flat country, incredibly well serviced by bike lanes so bicycling around/across town is a no-brainer.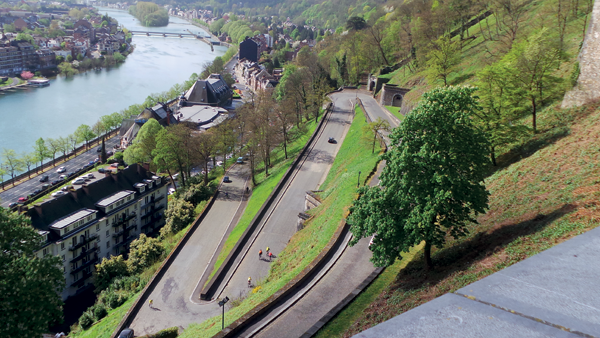 The Amstel Gold Race (named after the beer company sponsor) is the most important cycle race in The Netherlands and is relatively new having been first raced in 1966. It is one of the Ardennes Classics so the hills are a major feature; 32 with a total of 3600m climbing in the 260km 2012 edition. The hills are not long (500-4300m) but wickedly steep with ramps of up to 20%. The climbs are packed tightly into the back end of the race and the last hour features a climb every 7-8 minutes. The race concludes with a 1200m climb up Cauberg, just outside the charismatic town of Valkenburg. So this race is one for the hill climbers. No real surprise then that Belgian hero and fourtime Classic winner Philippe Gilbert took out the 2014 edition. (Gilbert has a huge fan base; he has a massive semi-permanent party tent at the base of the famous La Redoute climb on the Liege-Bastogne- Liege course).
By the way, if you're wondering where The Netherlands got some hills, well, the Ardennes extends just a handful of kilometres across the Belgian border into Holland. The highest point in the Netherlands is just 321m above sea level and this point is a feature of the AG Race.
The 260km course comprises three loops which intersect and overlay constantly with sections repeated up to several times, making a map of the route a rather compact "spaghetti bowl". It is a challenging course with hundreds of corners, changes in gradient, road surface and road width. There are traffic calming installations and more than a few sections of rough pavement to negotiate. All these distractions serve to break your rhythm.
The route of the race is now fixed and all three loops are permanently signposted, so the course is a mecca for riders from all over Holland, Belgium and beyond. The reason you don't see lycra, carbon and 11 speed cassettes in the flat lands is that they're all riding the Amstel Gold course.
We rode the entire course over two days, with a very civilised overnight in a beautiful old atmospheric pub in Valkenburg. Our next Classic was Liege-Bastogne- Liege (L-B-L) so we saddled up for a cruisy 65km bike commute back across the Belgian border to the major industrial City of Liege.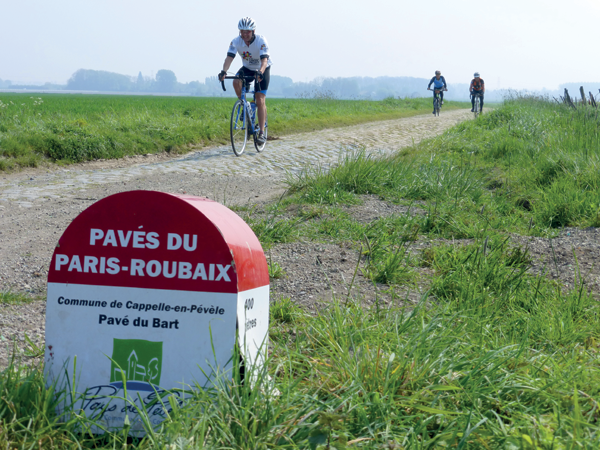 Our ride to Liege paused at the Henri- Chapelle American Memorial where the graves of almost 8,000 US servicemen are set out in neat rows and columns. Most of the servicemen buried here were killed in the last year of WW1. Gazing out over the sea of elegant white marble crosses was a sobering reminder of how lucky we were to be travelling through this beautiful landscape under such vastly different circumstances.
LIEGE-BASTOGNE-LIEGE
L-B-L, first raced in 1892 is often referred to as La Doyenne (the oldest) of The Monuments. As with so many European bike races it was created to help sell a newspaper.
As with all the Classics, the statistics for L-B-L are formidable; 270km with 3800m of climbing. Certainly no bike ride in the park. No Australian had won the race in the 99 editions prior to 2014.
The race follows a straightforward 100km (1500m climbing) route from Liege to Bastogne and a winding 170km (2300m climbing) return to Liege. Although not quite an even split, our two-day ride had an overnight in Bastogne, making the second day of L-B-L the queen stage of our tour.
The roll out to Liege was nothing particularly special. Relatively busy B roads, then quieter roads and improving views over the farms and forests of the Ardenne later in the ride. The route did pass a beautifully carved stone memorial to Stan Ockers, a Belgian cyclist who won two Spring Classics, was twice runner up and twice best sprinter (green jersey) in the Tour de France. He was world champion in 1955 but sadly died just 12 months later in a track cycling accident. He was 36 years old.
The ride from Bastogne back to Liege was a cracker. Beautiful countryside and generally quiet roads peppered with some infamous lung busting climbs such as Stockeu, Haute-Levee, La Redoute (2.1km at 8.4%) and the final climb of the 2014 edition where Gerrans set up his win, Saint-Nicolas. Naturally there were plenty of lightning fast descents to match. The quality of the ride was matched by the weather; a frosty one degree to start, warming under clear sunny skies to eighteen degrees by mid-afternoon. A perfect day for enjoying the cycling and the beautiful landscapes.
After four Classics back to back it was time we headed off to Paris for some R&R before tackling our final and possibly most famously gruelling course, Paris-Roubaix. We jumped into vans to cover the 350km quickly to maximise tourist time in Paris.
PARIS-ROUBAIX
Paris-Roubaix is the second oldest of the Spring Classics, first raced in 1896, just four years after the first L-B-L. It has been raced annually with time out only for the two world wars.
The race was conceived and organised by two textile manufacturers from Roubaix. The two gents also owned the velodrome (where the race finishes). The race was all about promoting race meets at the velodrome, which were a big deal at the time.
Frankly, there is nothing special about the countryside between Paris and the Belgian border. Flat, mostly uninteresting downmarket rural. You would need a good reason to go there. There is a certain richness however. A rich history of epic cycling battles fought over cobbled roads.
For much of the history of Paris-Roubaix the cobbles (pave) were an unremarkable part of the driving/riding experience in Northern France. Beyond Paris' City limits most roads were either unpaved or paved with cobblestones. So with plenty of cobbled routes to choose from the race started in Paris and ended in the velodrome in Roubaix until 1967. In that year the start was moved to Compiegne (about 60km north of Paris) partly because post-war reconstruction and development saw so many roads paved.
In fact, so quickly were roads being paved that cobbled routes started being harder to find. This was not helped by local Mayors who were not keen to have their domain seen as "backward" for having unpaved roads, so would either refuse to have anything to do with the race, or would quickly pave their roads in advance of the race.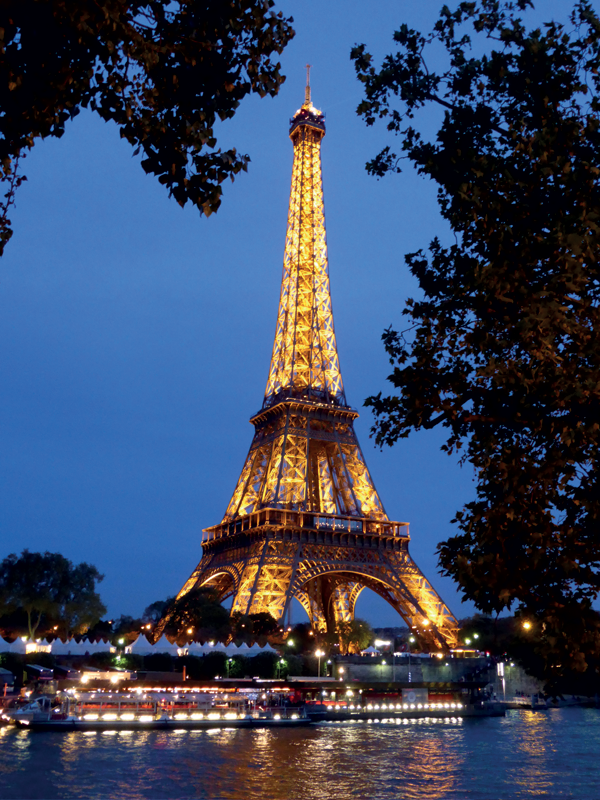 Les Amis de (friends of) Paris-Roubaix was formed in 1983 to help maintain remaining cobbled routes (their work is obvious and extensive when riding the route). Gradually the prestige of the race has grown such that the cobbled sections are unlikely to be compromised further.
Our little group rode the 2013 edition of the race. Approximately 280km including 28 cobbled sections totalling almost 53km. The cobbled sections are rated in difficulty, from one to five stars. The route varies slightly from year to year, however most editions include the three fabled five star sections, Trouee d'Arenberg (Forest of Arenberg), 2284m,Mons-en- Pevele, 2985m, and Carrefour de l'Arbre, 2084m. Having ridden all these cobbles I can guarantee you few more unpleasant cycling experiences on the planet than the Forest of Arenberg. I think it should be six or seven stars at least. It was unpleasant at walking pace and unbearable at 25kph. How the Pro riders manage 35-40kph is beyond comprehension.
What was pleasant however was a couple of fast laps around the velodrome at Roubaix, not least because it meant the end of those horrific cobbles. It was also quite neat to be with a Dutch cycling outfit the year a 29 year old Dutchman, Niki Terpstra rode away from Cancellara, Sir Wiggo and others to win the event by a convincing margin. Niki's name will now be carved into an oversized cobble and laid into the 260m length of cobbles outside the velodrome in Roubaix, alongside such legendary winners as Merckx, Coppi (both brothers), De Vlaeminck, Hinault, Kelly, Boonen, Cancellara and of course O'Grady.
Our arrival at the velodrome signalled the end of our exploration of the Spring Classics. After an overnight in Roubaix it was a pleasant 136km spin back to our starting point in Brussels which we had left 2100km and three weeks earlier.
That last day was a good chance to reflect. For races that were so close to each other in both time and space they offer remarkable variety. Constant changes in terrain, direction, gradient, road surface and viewscape together with weather that can turn on a sixpence meant that there was simply never a dull moment. Throw in some delicious Belgian beer and chocolates and a few good ride buddies and it was a sublime cycling experience. One thing is for sure; my already great admiration for the cyclists of the professional peloton just grew to reverence.
EDDY MERCKX
Eddy Merckx is a Belgian cyclist regarded by many as the best cyclist ever. He rode his first race in July 1961 and retired in March 1978. In those almost 17 years he compiled an extraordinary CV. He won the Tour of France five times, won all the Classics except Paris-Tours, won the Giro d'Italia and Vuelta a Espana. He won the World Championship as an amateur and a professional and broke the world hour record. He has a world record 525 victories as a professional cyclist and a world record 54 victories in one season. In his best year Merckx won almost every other race he entered. Merckx's record in the Monuments is breathtaking. There are 44 cyclists who have won more than two Monuments. Fifteen cyclists have won more than five. Just two cyclists have won more than ten. They are Belgian Roger De Vlaeminck with eleven and Eddy Merckx with 19. Only Merckx has won three Monuments in one year and he achieved that four times! Merckx is hailed as a hero and so he should be. But he has not escaped the cloud of doping. He has taken a lifelong vociferous anti-doping stance yet he tested positive to banned substances three times during his career. It was because of his doping record that organisers of the World Championship in Stuttgart in 2007 asked Merckx to stay away. In the 1990's Merckx became a good friend of Lance Armstrong who he supported through many years of accusations of drug cheating. It would be reasonable to assume that the nickname "Hell of the North" derived from the race being extremely testing and located in the north of France. In fact, the expression was coined in 1919 following the end of WW1. Organisers who were looking to re-establish the race had no idea how the roads had fared under the bombardments of the war. Travelling from Paris they at first found the roads in reasonable condition. But further north the carnage became clear; the air began to reek of broken drains, raw sewage and the stench of rotting cattle. Trees were blackened stumps and there was mud everywhere. A journalist described the scene in 'L'Auto' as "…not a square metre…has not been hurled upside down. There's one shell hole after another. The only things that stand out in this churned earth are the crosses with their ribbons in blue, white and red. It is hell!" The race was re-established in 1919. Speaking after his victory Henri Pelissier commented "This wasn't a race. It was a pilgrimage"
CLASSIC WEATHER
A classic spring day in this part of the world dawns fine and cool (7-9 degrees), then warms to maximums in the mid-teens. Nearperfect cycling weather when the script is followed. Of course, anything is possible. My first few days in Brussels were almost an Aussie summer with mid-twenties bringing out the shorts and T shirt. The next three weeks delivered dramatic thunderstorms, a few passing showers, dreary grey cold as well as plenty of milky warm sunshine.
The more than 400 editions of the Classics have been raced under every imaginable weather condition. Who could forget the footage of the muddied faces, bikes and kit of the Paris- Roubaix races of the 1980's, 1990's and 2001. The spring of 2013 threw epic cold conditions at the racers with a couple of the very early races cancelled due to snow and freezing conditions.
Snow fell throughout the 1980 edition of L-B-L which became known as Neige (snow)- Bastogne-Neige. Riders withdrew en-masse through the race. Bernard Hinault, the winner, was one of the few to finish the race. It took three weeks for proper function to return to his right hand.