It's the latest 'must ride' loop, 400km of pristine country gravel in the NSW Central West – we ride the 'CWC'.
If ever there was a classic example of the saying 'build it and they will come', it would have to be the Central West Cycle Trail in New South Wales.
What started out as the ambitious plans of a handful of enthusiastic locals keen to guide people to safe cycling opportunities and attract more visitors to their wider region, has developed into an increasingly popular cycling destination.
Yes, we are talking about the Central West Cycling Trail, a four-hundred-kilometre gravel loop that takes in the regional NSW towns of Dunnedoo, Mendooran, Ballimore, Dubbo, Geurie, Wellington, Goolma, Gulgong and Mudgee.
Known as the CWC (Central West Cycling), the trail is well-marked with hundreds of yellow CWC decals on signs, stores and even letter boxes of welcoming locals along the way. Well-supported by visionary locals – from residents to farmers, hoteliers, publicans, cafes, motels and other businesses along the way – the trail attracts thousands of eager cycling tourists each year and is fast becoming a 'must-do' destination ride.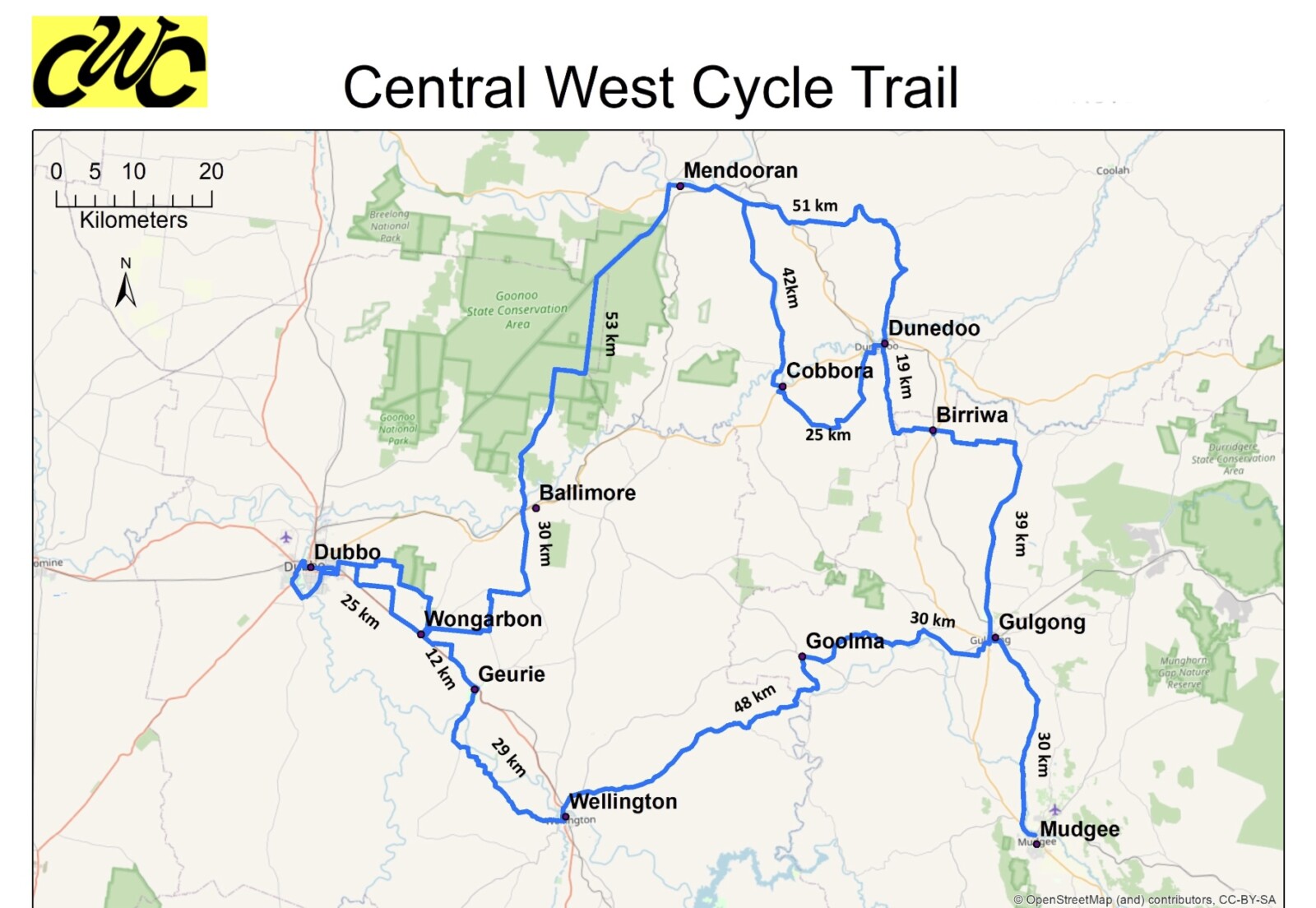 How It Started
It was mid-morning, we'd covered a reasonably taxing 40 or so kilometres, and we were sitting on the expansive front veranda of historic grazing property Cobbora Station. Sipping coffee, enjoying neatly-cut sandwiches, and eyeing off a plate of freshly-baked scones, it was fascinating to listen as station co-owner Sally Dent explained the history of the home, and how the region was adapting with the times.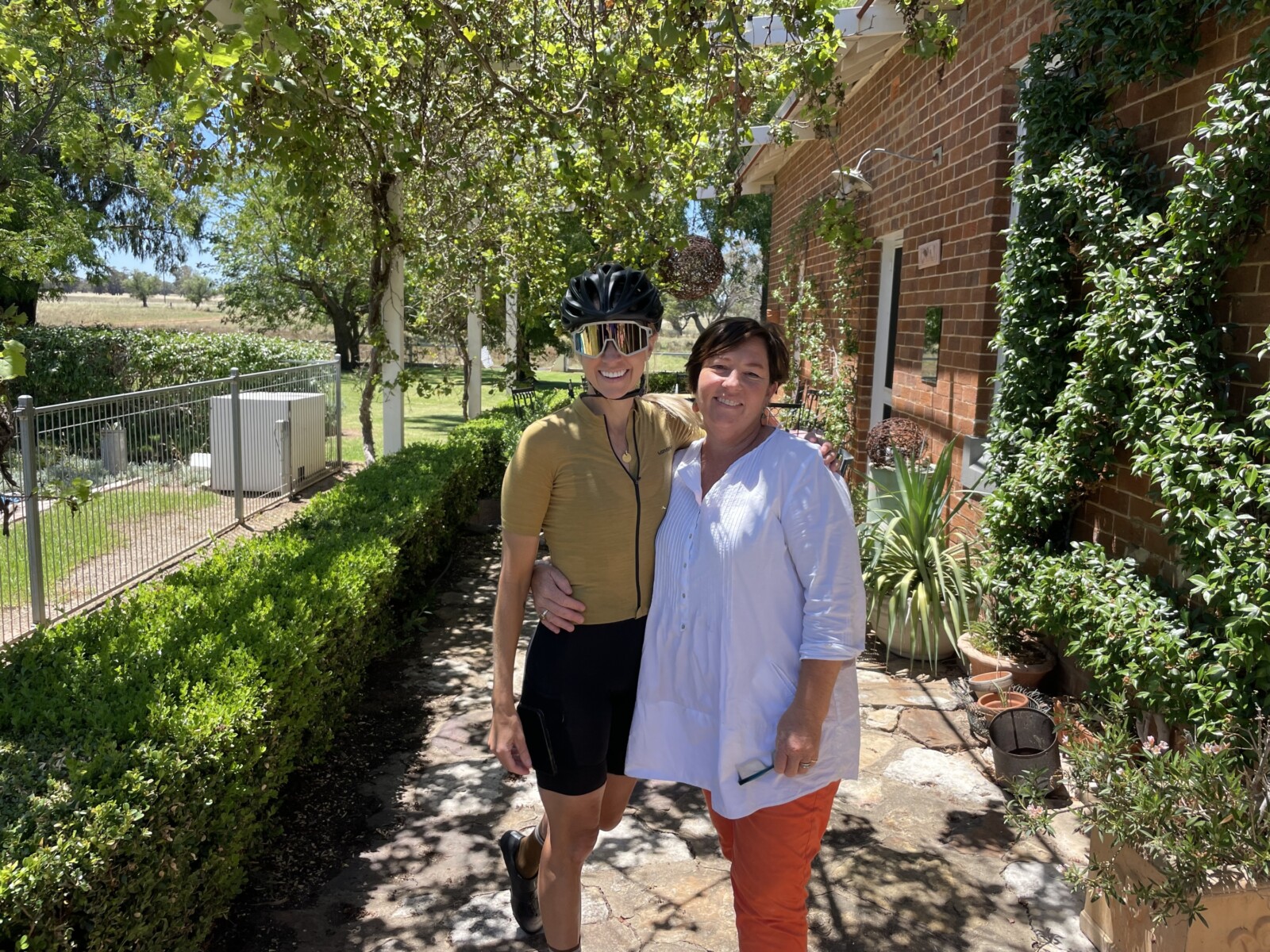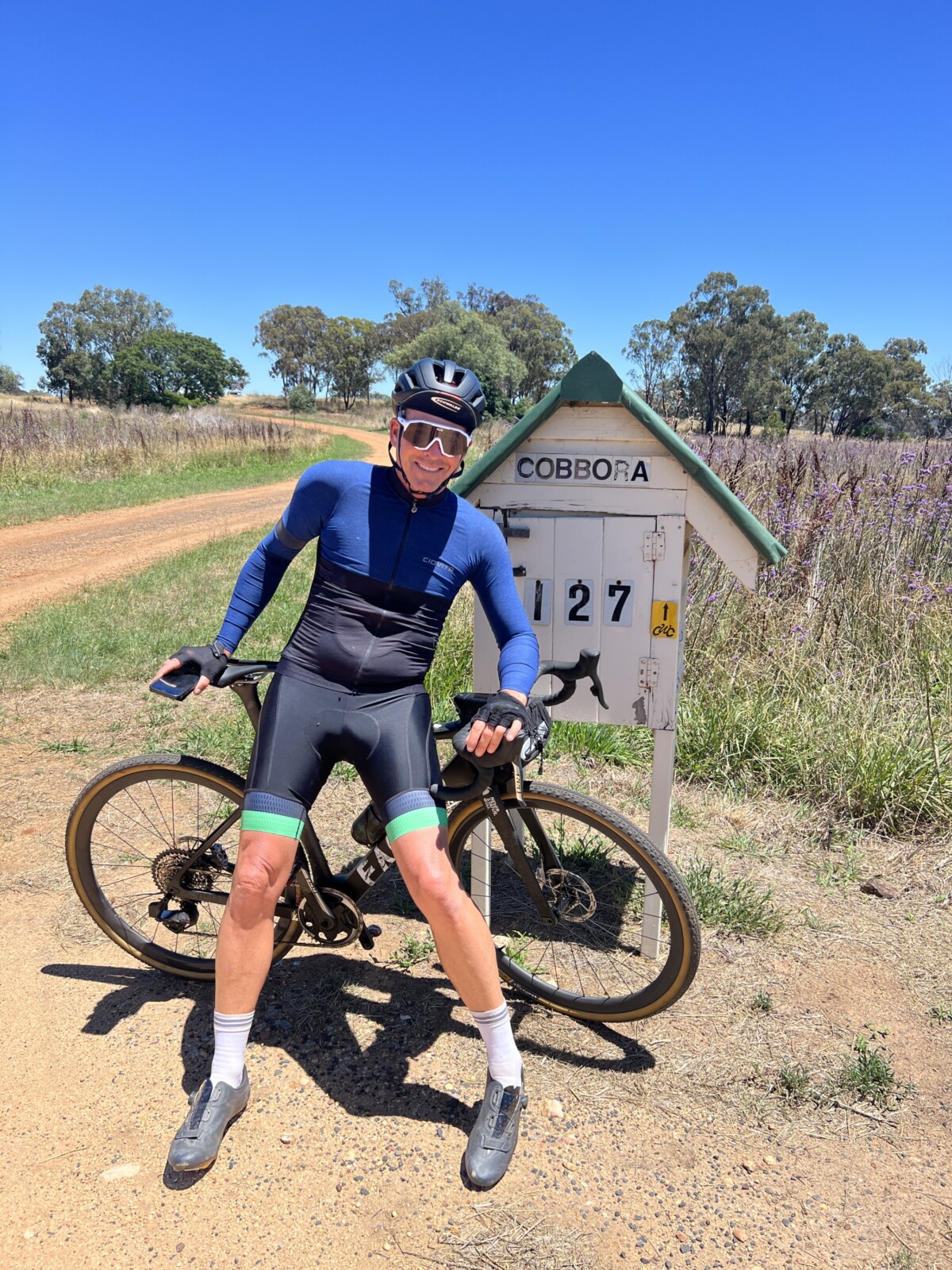 A local school teacher and keen advocate of cycling tourism, Sally told us how 150 years or so ago Cobbora Station, that sits just off the Golden Highway was a designated Cobb & Co stop.
Complete with rudimentary accommodation that included a locked 'strangers room' for travellers, these days the station has morphed from a Cobb & Co stop to a popular destination for touring cyclists. Sipping a second coffee and tucking into those famous scones, it was easy to imagine a slow-moving coach appearing up the long driveway before the weary travellers make their way to rudimentary rooms.
These days, some two centuries later, Cobbora Station does much the same by hosting weary cyclists in purpose-built accommodation that ranges from boutique cottages through to a re-purposed shearing shed.
'Hundreds of kilometresof quiet roads'
Yes, six magic words that would have to be music to any cyclist's ears, but where's the best place to start?
The CWC trail follows the quiet backroads in a circuit through Mudgee, Gulgong, Dunedoo, Mendooran, Ballimore, Dubbo, Geurie, Wellington and Goolma. Yes, that's a fair few country towns – places that have significantly changed. Typically, the smaller towns have lost businesses and become a lot quieter over recent decades – so the idea of attracting bicycle tourists to the region is a popular one.
In the planning stage, the passionate locals behind the CWC say they poured over maps, rode all possible routes, and worked out a potential circuit.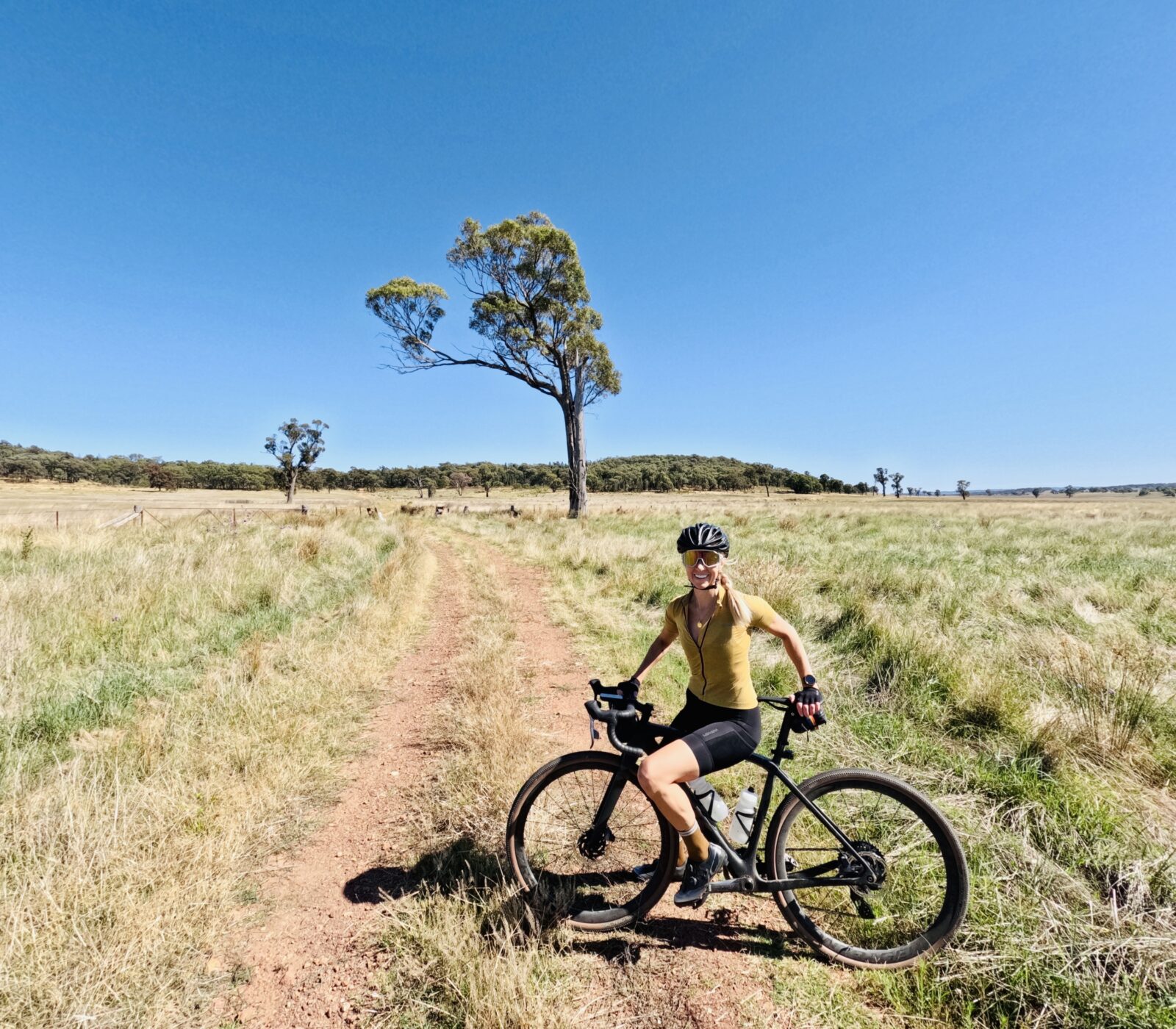 "We wanted, above all, to create safe cycling routes," they say. "And provide commercial opportunities to the villages, towns and farms along the way. We chose a circuit so that cyclists could begin and end at the same place and join the trail from any direction. We came up with a variety of options and the team set out to cycle and drive them all."
"As cyclist numbers grew the local businesses along the way saw opportunity; the clients were riding right past their doors."
"…Still in its relative infancy, the CWC has attracted tens of thousands of riders over the past few years…"
Businesses included accommodation, refreshments, farm stays and tours, local produce artisan demonstrations such as cheese making and distilleries, charities, tour support, bike hire and repairs. Some were expansions of existing businesses while others were completely new. These many businesses became our stakeholders.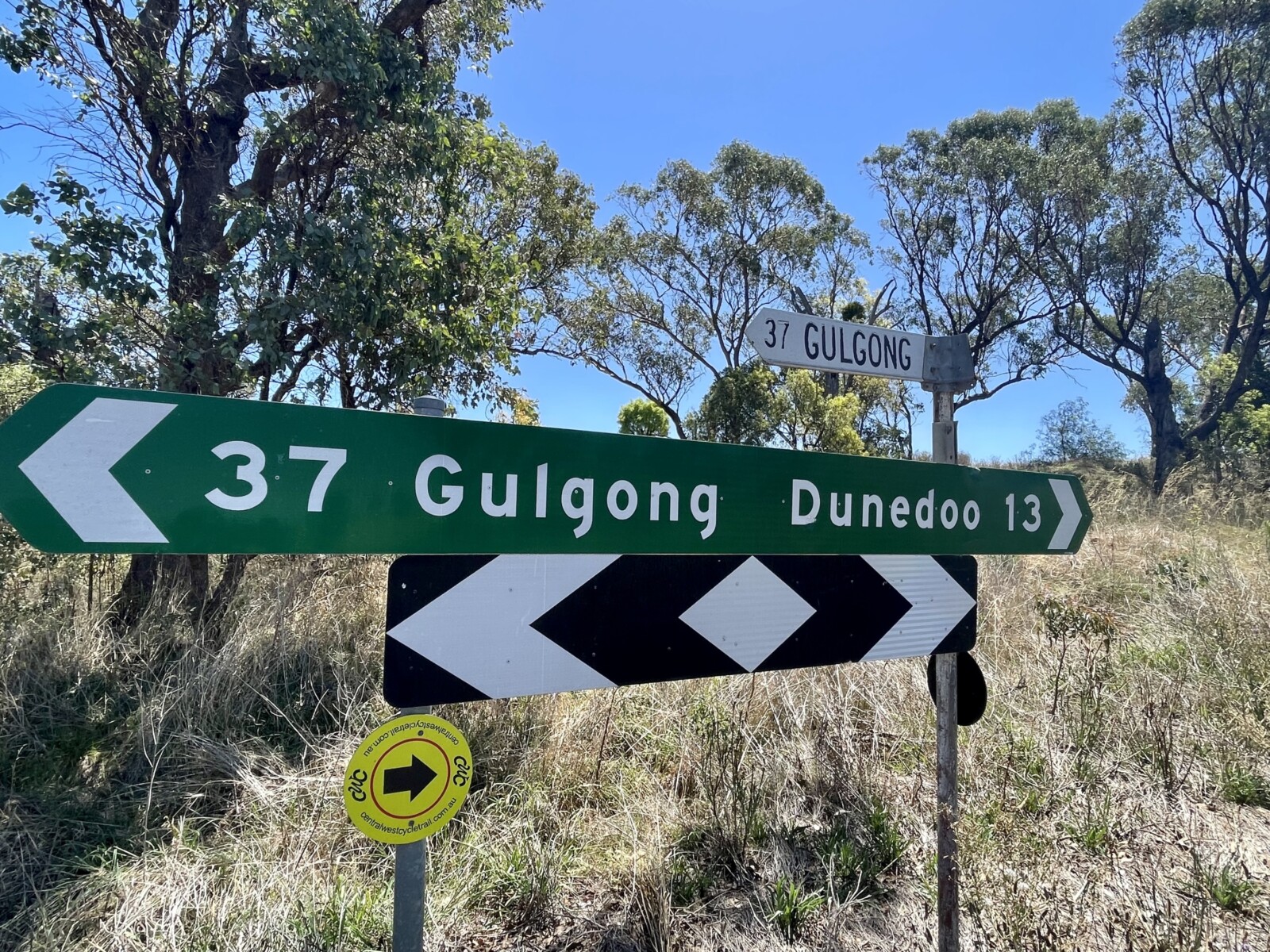 Along the route, there are a handful of busier sections of road, sectors that need to be ridden to get to the next quieter section, but in our time out there drivers seemed to respect riders and give a wide berth.
The majority of the circuit takes in predominantly well-kept gravel roads and is primarily made up of 10 sectors that can be down to the following:
Mudgee to Gulgong (30km)
Gulgong to Dunedoo (50km)
Dunedoo to Mendooran ( two routes – via Digilah (51km) or via Cobborah (63km)
Mendooran to Ballimore (60km)
Ballimore to Dubbo (55km)
Dubbo to Geurie (28km)
Geurie to Wellington (30km)
Wellington to Goolma (48km)
Goolma to Gulgong (30km)
Gulgong to Mudgee (30km)
Armed with that information, it's clear to see this is a ride for a wide range of cycling enthusiasts – from tourers content to cover 30 to 50km a day, those who are more comfortable with 80 to 100km rides, and even those keen on the ultimate CWC challenge of a fast loop (search for it on YouTube!).
Mudgee and historic Gulgong are popular starting points, as is the smaller town of Wellington and the regional centre of Dubbo. With those various entry points in mind, let's take a look at the highlights along the way.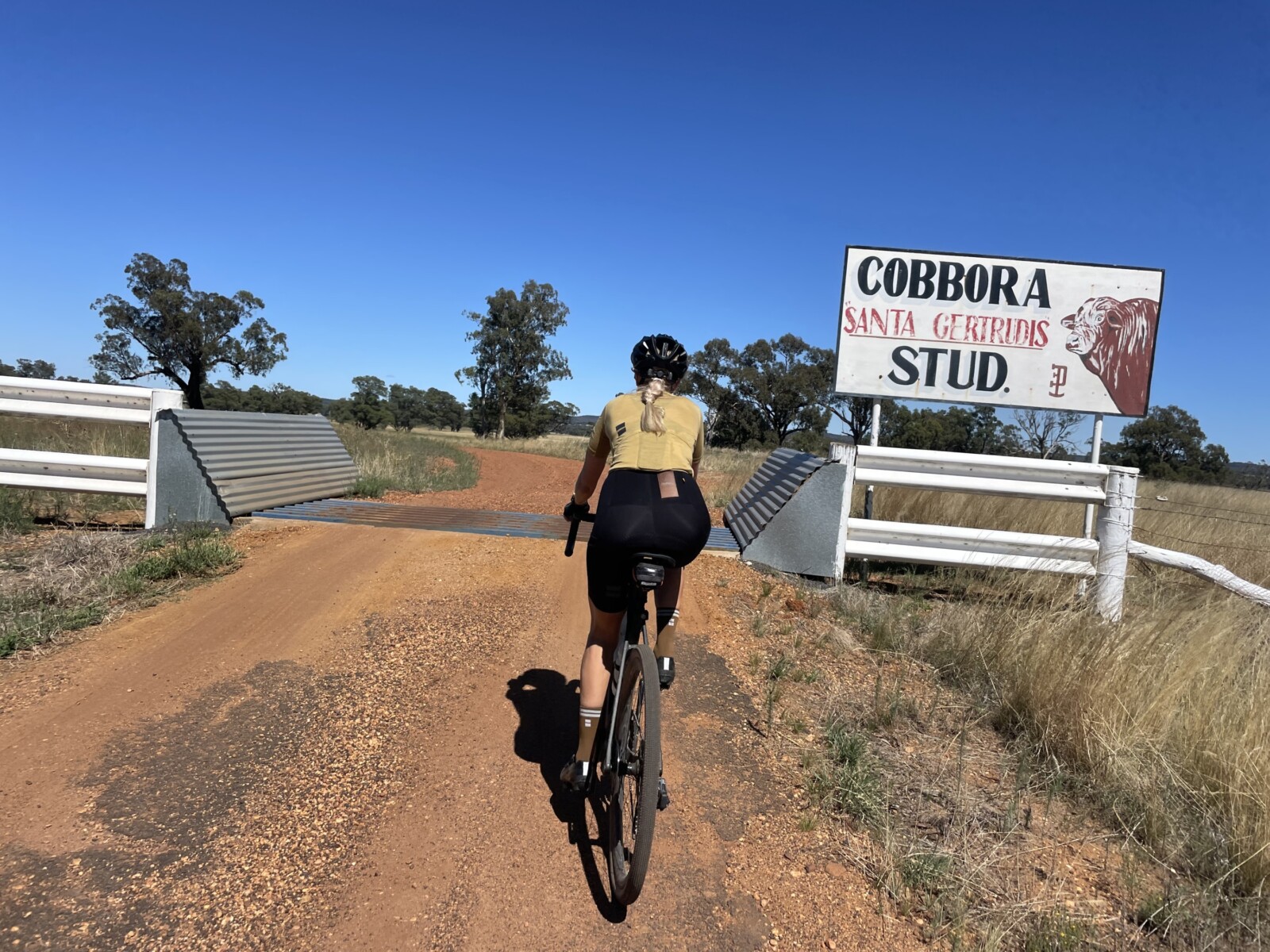 Where To Stop
Dunedoo
Dunedoo – it's such a classic name for an Australian town and it really is a memorable place to stop for food, fuel and rest. We found the 'Dunedooians' to be very welcoming of cyclists with coloured bikes hanging outside the pub and other small businesses proudly showing off the CWC logo.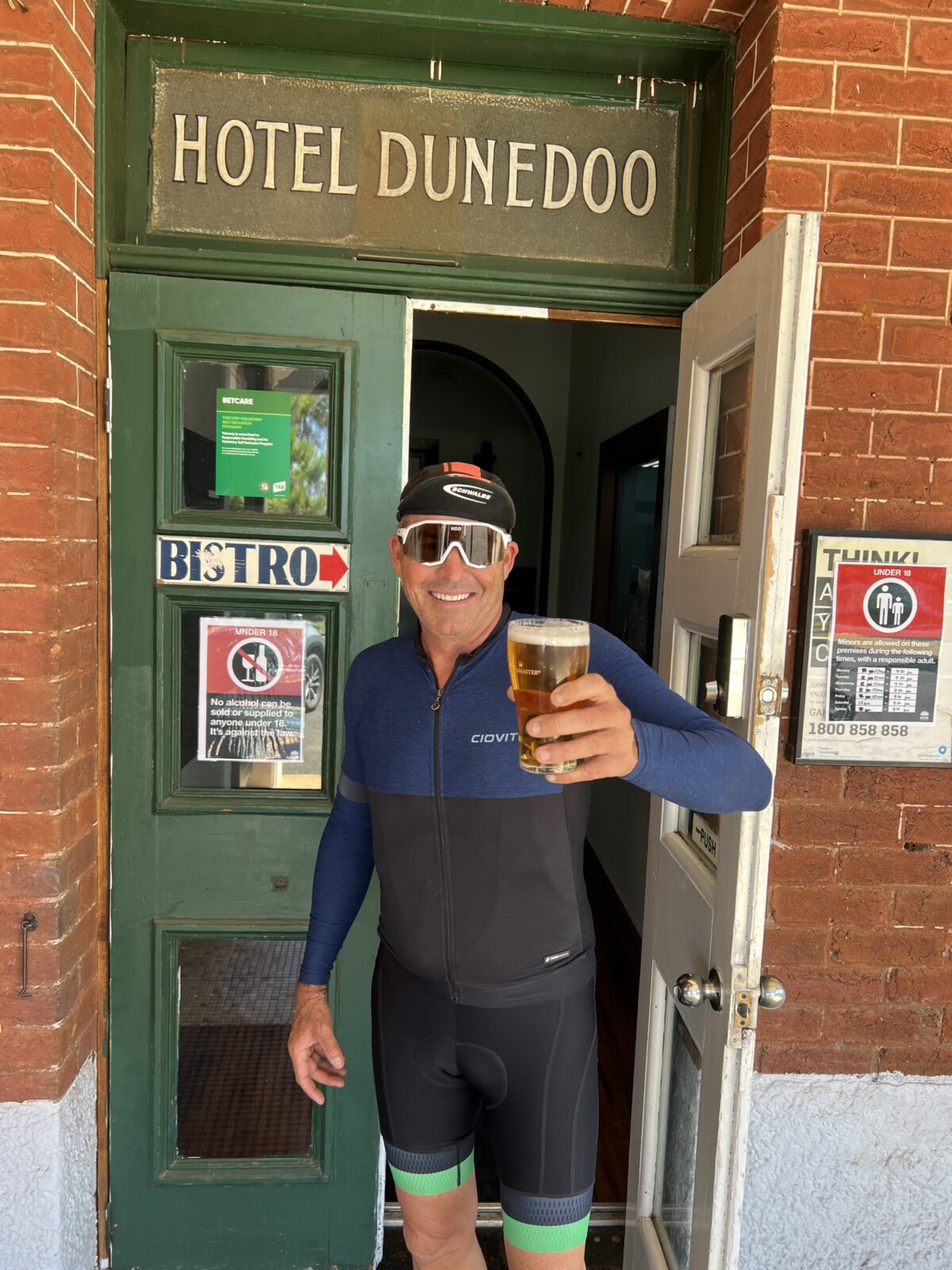 Dunedoo highlights include:
The Royal Hotel, accommodation and secure bike storage.
Accommodation at the Dunedoo Swan Motel.
Stay Dunedoo Caravan Park
A B&B cottage: 'the Caddy Shack'.
Sue Graham's Redbank Gums Bed & Breakfast (0428751218).
Sue Stoddart's flat and motor home accommodation (0458524445)
The White Rose Cafe that has breakfast, lunch and refreshments & located in the main street.
There are two bakeries in town.
Dinners at the Dunedoo Hotel, the Dunedoo Bowling Club (on weekends) and the Dunedoo Sports Club.
Farm Stay on the way into Dunedoo at 'Bolinda Vale' –'Dunedoo Shearer's Huts'.
The local Thrifty Link is starting to stock repair materials for cyclists and looking to sell bike tubes.
Cobbora
25km from Dunedoo by bicycle on backroads is Cobbora Station, offering cottage beds, camping and meal options. (0498542689)
Dubbo
Famous for Taronga Western Plains Zoo, you can ride your bike direct to the zoo. Once you sort out entry, you can even follow the pathway around the zoo! Featuring giraffes, lions, elephants, cheetahs, tigers and many other creatures great and small, the open plan zoo is well worth visiting.
Dubbo offers a myriad of accommodation both in hotels, motels, camping and Bed & Breakfasts, and special camping at the Zoo (02 6884 1700). Cyclists have told CWC organisers some of their favourite accommodation options including East End Apartments and camping at the Zoo!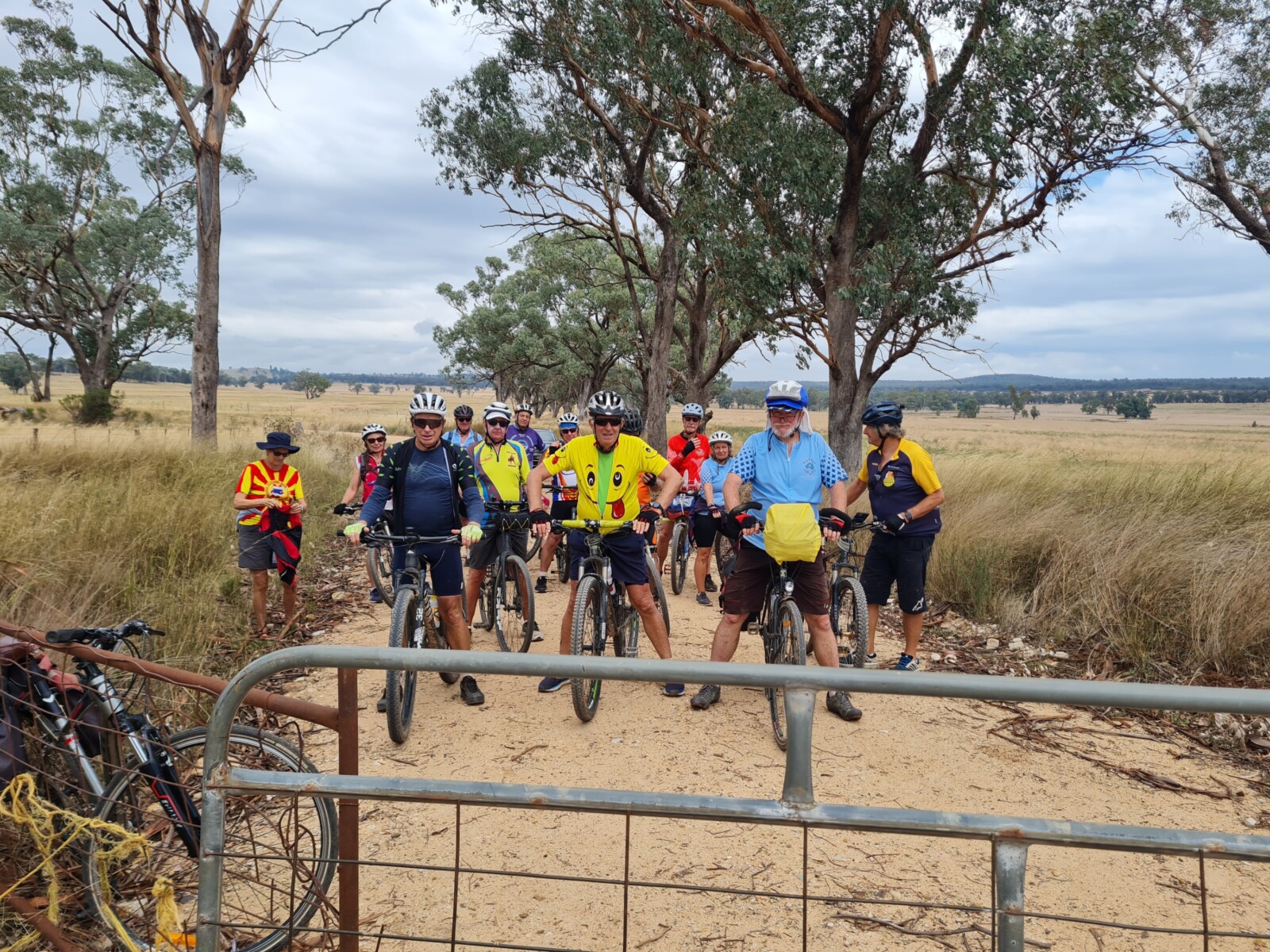 Mudgee
Enjoy great wine and sensational cycling? Cellar doors abound around Mudgee, and we all know how good the road and gravel riding is around the region. Market St is a great place for coffee and a big breakfast. Just across the road, you can find out about all the things to see and do at the Visitor Information Centre. There are plenty of good pubs in town with many also offering accommodation.
Gulgong
Historic Gulgong, what a town. The narrow roads meander around a small village that is much the same as it was during the gold rush boom period of the 1870s. The Holtermann Museum in Mayne St is a must-see and offers a fascinating insight into Australia's Gold Rush years. The afternoon we were in town we spent a full afternoon at the Gulgong Pioneer Museum in Herbert Street. Yes, it was raining outside, but the museum proved to be the perfect place to stay occupied.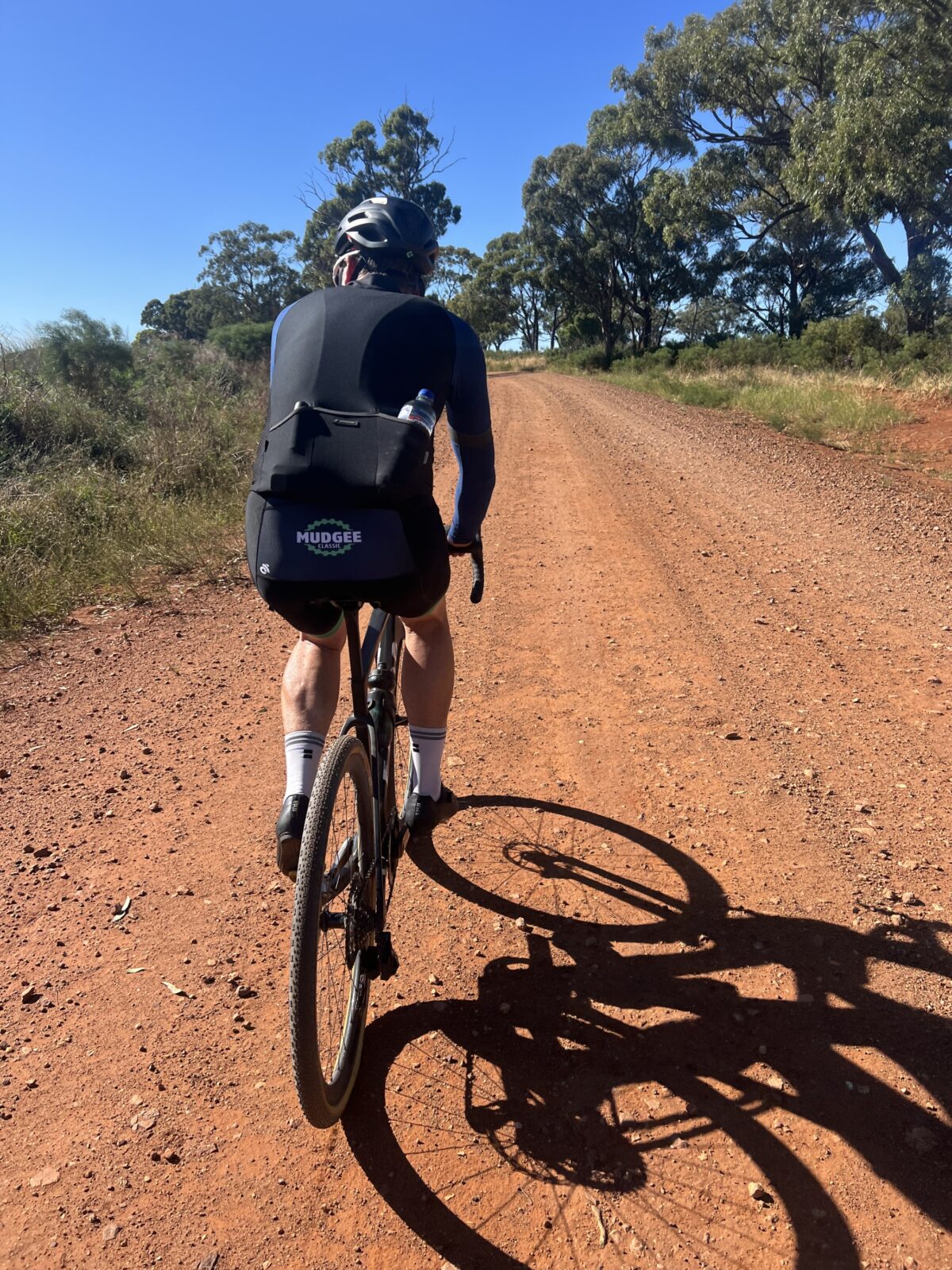 Gulgong is a very popular start and finish point for many riders. There are many great coffee shops such as The Butcher Shop Café and Gulgong bakery.
Accommodation options include the Prince of Wales hotel, The Showground camping area and the infamous Ten Dollar Town Motel.
Wellington
Wellington offers a wide variety of accommodation in hotels, motels, bed & breakfasts plus cafes and places for a great meal.
Options include:
The Riverside Caravan Park welcomes cyclists and has on-site cabins and a camp kitchen.
The Lion of Waterloo hotel at Montefiores
The Bridge Motel
Jespresso Coffee Co is very popular with cyclists.
Arthurs View café
Birriwa
A smaller and quieter town, but still some limited facilities for riders just outside town including:
Refreshments at Mayfield at 591 Bus Route South – but you need to book ahead.
A farm stay at Roxanna on Bus Route South with accommodation for up to 4 riders.
Mendooran
A smaller village with food and lodging options including:
The Royal Hotel (02688862043) accommodation, dinner and lunches.
Crackerz Bakery in Bandulla Street
Manusu House and Cabin, has been upgraded to accommodate cyclists.
The Mendooran Black Gate Distillery
The Sky Blue Cheese factory offers cheese-making demonstrations to cyclists
Mendooran B & B, in a former pub with a lovely dining room.
Wongarbon
Another small village that features:
Billy'O Bush Retreat on Barbigal Road – also an option to park a vehicle for the week as a start/finish point.
The Wongarbon Post Office does fantastic scones for morning tea if pre-warned!
''Peppercorn Cottage', behind the Post Office sleeps four.
Wongarbon Hotel open from 12-noon for lunch & dinner.
Geurie
A very small village that welcomes cyclists and has several outlets for coffee. The local pub, the Mitchell Inn, also has accommodation for cyclists.
Ballimore
Cold beer, great food and good country accommodation at the pub, The Hair of the Dog.
Goolma
Goolma is little more than a locality but the Goolma Hall, managed by the Goolma Amenities committee, is made available to passing cyclists. E-bikes can recharge there for a small fee. They have also provided fresh water to passing cyclists.
A local, Jean Ellis offers farm stay and is now well known on the trail for providing morning tea or lunch.
Nearby an old farmhouse has been fantastically renovated for a quiet country stay.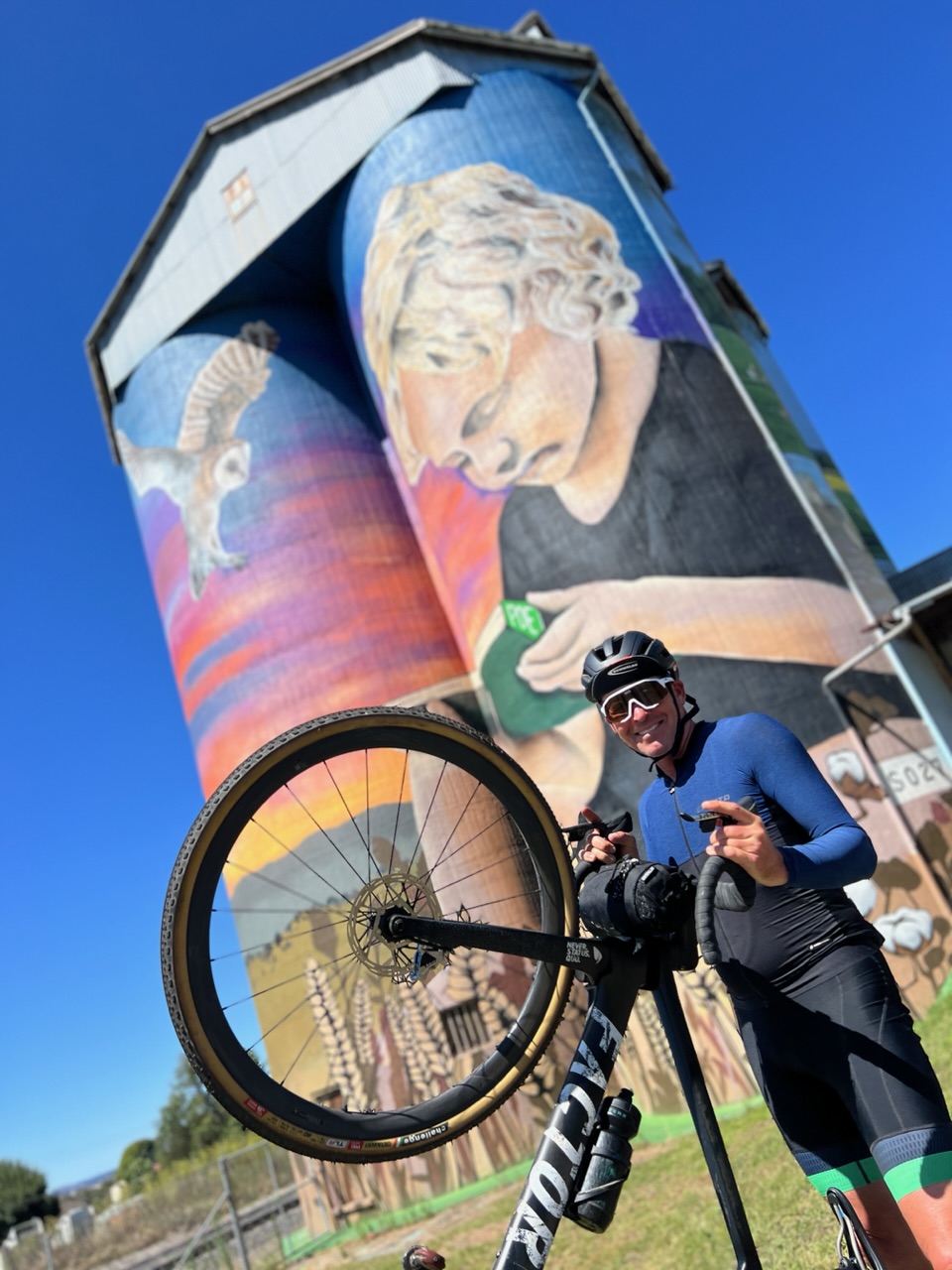 Getting To The Central West
Still in its relative infancy, the CWC has attracted thousands of riders over the past few years.
Driving to any of the start points is popular, but there's something very special about leaving the car at home and taking a train-based cycling trip.
But many supporters of the trail initiative say success could be vastly improved if Transport for NSW, the department that looks after Trainlink and the state's regional railways, relaxed rules over the carriage of bikes.
Under the present rules, bikes can be taken on a regional train however they must be dismantled and packed into a box. By comparison, trains on the urban Opal network allow riders to roll an unboxed bike straight on.
"To take bikes on Endeavour, XPT or Explorer trains, the bikes must be dismantled, boxed and they can't weigh over 20kg," Tim Coen from Rail Trails NSW recently told 7 News Riverina.
Riders have been petitioning rail authorities and citing examples of the popularity of train-based bike trips in Europe and many other countries.
Members of the CWC Committee have put a lot of work into the bikes on trains issue. To see a PDF of their elaborate notes on the topic visit www.centralwestcycletrail.com.au
They are also asking the public to have their say on the issue via the feedback section on the www.transportnsw.info/contactus page.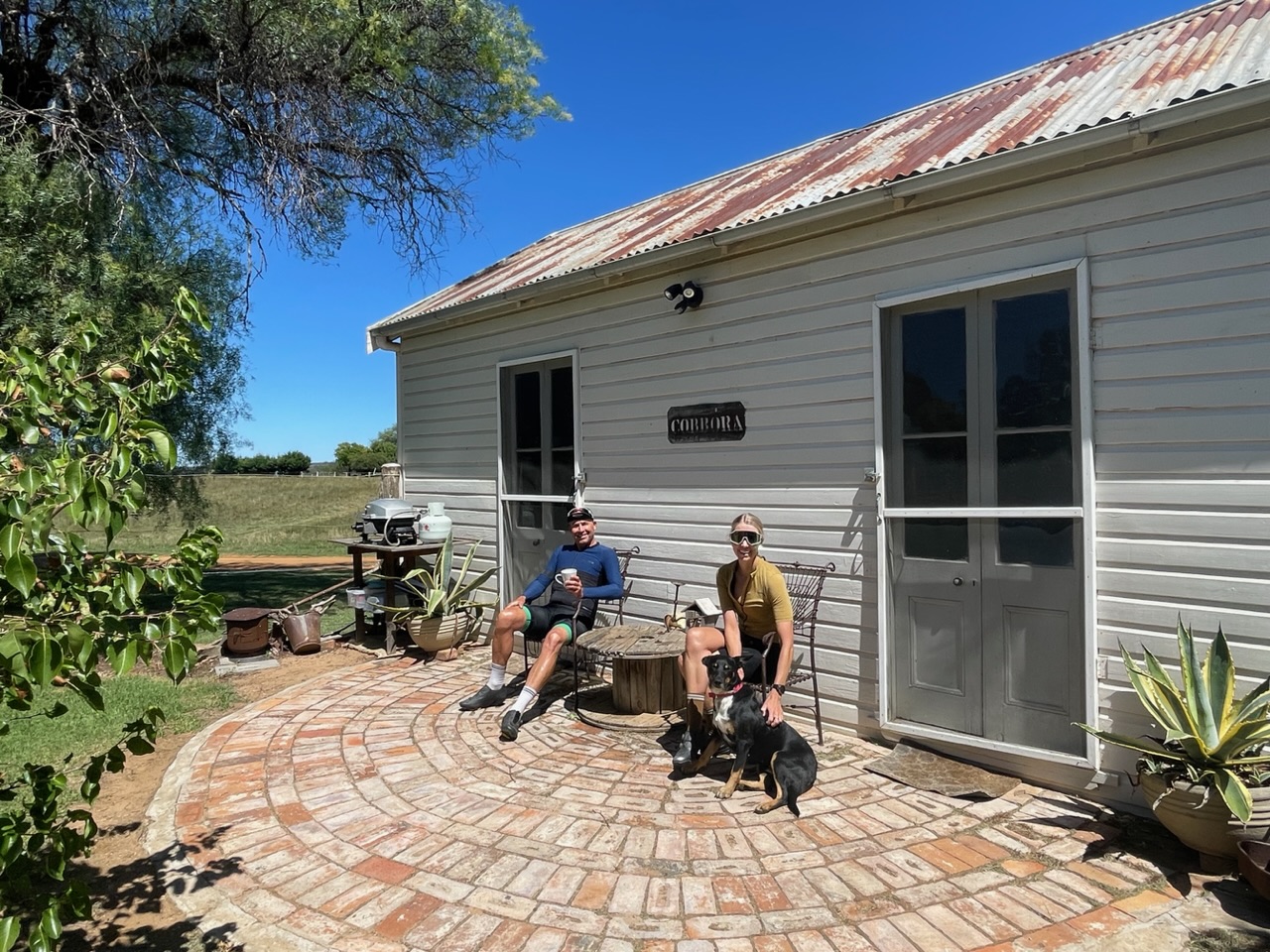 Summing It All Up
Writing this around 6-weeks after the last trip to the trail, we are absolutely itching to get back. It offers safe, mesmerising and iconically Australian cycling, and is a truly memorable cycling experience. With immense credit to the locals who dreamt up the CWC and established it in such a relatively short space of time, it has quickly become New South Wales' top 'must ride' cycling trail.
Our tip – whatever you do, ride the CWC. It's a truly memorable experience.
Keen To Ride It? For more on the CWC visit www.centralwestcycletrail.com.au. Organisers are currently compiling a guidebook and this is expected to be available soon. It's also well worth joining their popular Facebook group. Search the 'Central West Cycling Trail'.
Supporting Locals
A key premise of the trail is that small towns benefit enormously from the creation of cycling tourism and the far-reaching opportunities it delivers.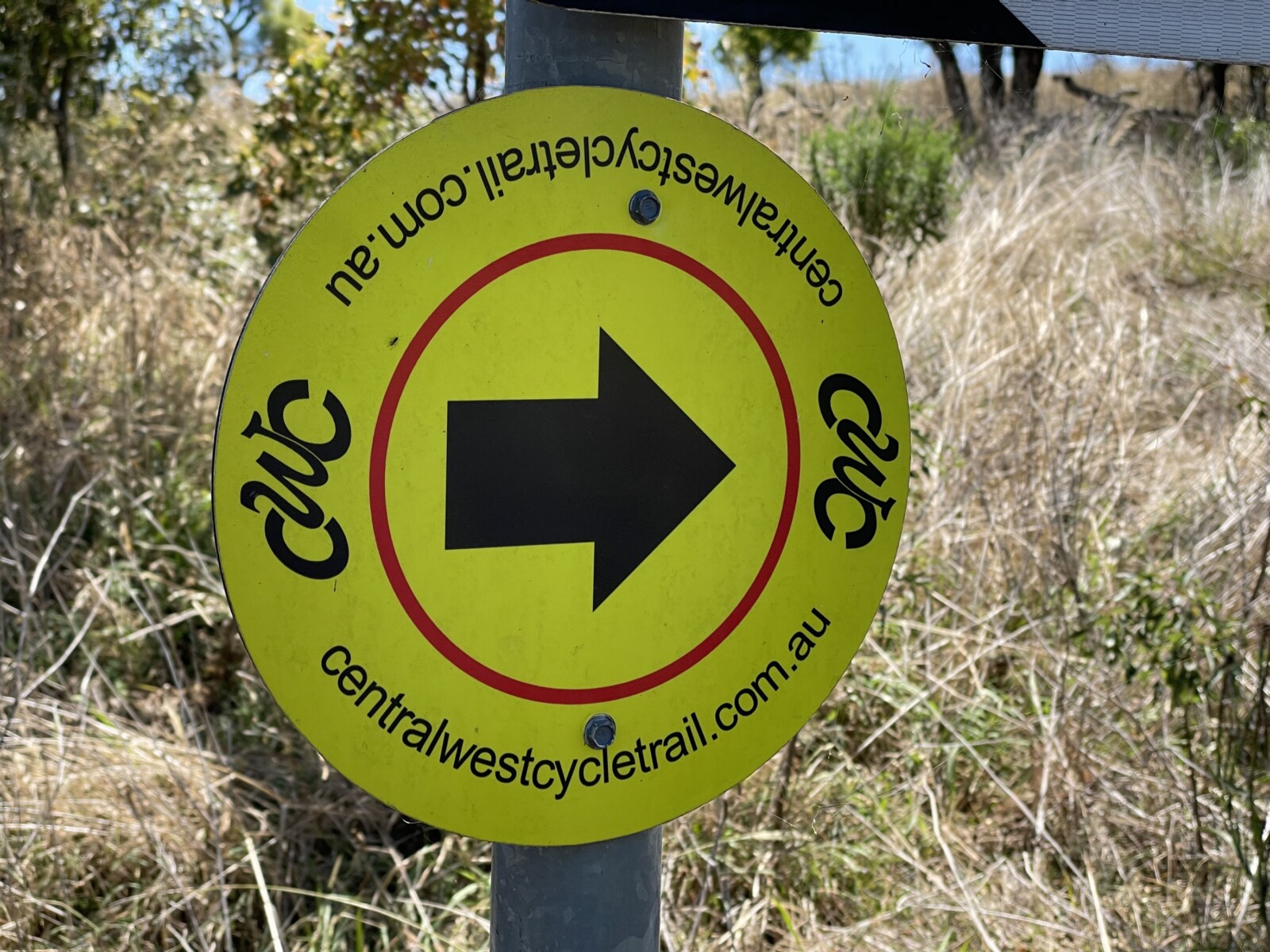 Mudgee's David Allworth, a member of the close-knit team behind the trail, said the grassroots initiative had wide and far-reaching potential for the greater region.
"Even a kid on the side of the road with a table of 10 fruit juices will sell something to passing cyclists," he told us.
"Cyclists seek to carry a minimum, and arriving at a town like Dunedoo will likely be looking for afternoon tea, accommodation, dinner, breakfast and supplies to cover the next 60km to Mendooran."
He explained how CWC riders are generally looking for a town every 30 to 60km.
"There's not the option of winding up the car windows, turning on the air conditioning and keeping the foot on the accelerator to get to a larger centre," he said.
"Cyclists love their food – it is as essential for cyclists as petrol is for a car. If the news gets out that someone is serving tasty scones along the way, the itinerary is changed and the venue booked."
"Word gets out quickly, and the talk in the peloton becomes focussed on highlights along the way such as 'how far to the famous scones?'"
The smell of scones from 50 km away will lure cyclists, he said.
Top Local Tips
And David's local tips for visiting riders?
"Take some time to soak up the character of the towns – even the tiny ones," he said.
"Mendooran is your classic small town which has been battered by the bank leaving and the now fast road to bigger centres.
"The mission style Mendooran Mechanics Institute was built just after the Great Depression of the early 1930s from funds raised from within the community. This shows what a vibrant town it was in days gone by.
"At its time of construction, a regional centre would have been very proud of it.
"That community 'can do' attitude and the people's faith in the town is shown by the recently-opened Blue Sky Cheese and Mendooran Cottages.
"Take time to talk to the locals," he suggested.
"Blue Cheese proprietor Deb Kiem has ridden hundreds of kilometres through outback Australia," he continued. "All done on a 3-speed bicycle and often she slept in culverts."
And another locals' tip for those really wanting to get off the beaten track?
"If you really want to get away from cars, the Goonoo State Conservation leg is for you," he said.
"Lying between Ballimore and Mendooran, this has become one of the highlights of the trail.
"These fire trails offer hours of quiet cycling, but make sure you have your mapping sorted out. Signage won't lead you through.
"Wider tyres are recommended and not too much pressure in them – yes, you really want to have a bike pump with you.
"Novice riders have handled it with aplomb, but you need to keep an eye on the changing surface. Know your skill level because a few short sandy sections will test you out, and never be afraid to get off and push your bike through.
"In the southern section of the trail, Wongarbon is a surprise package of wonderfully treed streets amongst the wheatlands.
"Nearby Dubbo is the hub of the Orana region which has a gross agricultural revenue of $2 billion, that is a lot of food. Having arrived to the railway line at Wongarbon towns are closer together, Dubbo 20 km to the west, and Geurie 12km, and Wellington a further 30 km.
"Speaking of Geurie, a number of cyclists have taken off the luggage panniers and set off on the MTB trails on Bald Hill immediately behind the town. But leave enough energy in the legs for the sharp climb up Mt Arthur to arrive in Wellington 30km away."
More at www.centralwestcycletrail.com.au