The September / October edition of Australia's favourite cycling publication is out now.
We have carefully selected the content for this issue to ensure there's something for all – articles to help educate and inform the many new riders to the sport plus of course the more experienced cyclist.
Inside you'll find feature articles including –
American Express: Rupert Guinness Takes On VRAAM
Veteran cycling journalist and ultra-endurance rider Rupert Guinness offers readers an insight into a recent epic adventure across America by bike … and he didn't even leave his home city of Sydney to do it.
Coming Back From Injury
Simon Bloomfield offers his first-hand experience on injury recovery and regaining strength, ability and confidence after enforced time off the bike. This is a must-read for anyone returning from injury and full of helpful tips and advice.
The Surge In Cycling
2020 has been a year many would rather forget, and a very difficult time for many of us. But there has been one area of positivity and good news and that is the surge in bikes sales and people out cycling. This special feature contains some fascinating information including city by city stats.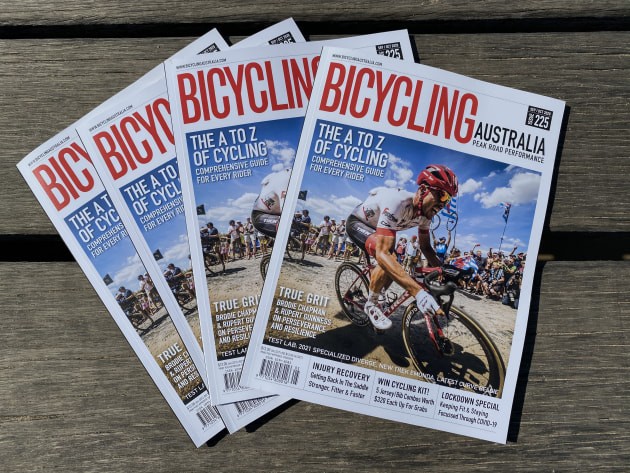 Brodie Mai Chapman Interview
'The unassuming pro' could aptly describe Brodie Mai Chapman, one of the strongest riders of the pro peloton but only a relatively new recruit to the top tier of the sport. In this wide-ranging interview we get to know this super-inspirational cyclist.
The A to Z of Cycling
It's the most comprehensive feature we've compiled and contains information, advice and anecdotes for every cyclist. From enthusiastic new recruits through to old hands at the sport, there's something for everyone here.
Plus We Review –
Scicon's Race Rain Bag
It is one of the most iconic and recognised kit bags in cycling – we review the legendary Race Rain Bag from Italian manufacturer Scicon.
Cinettica Kit
We test the latest jersey & knicks from Cinettica and tell you how to win one of five kit combos valued at $320 each.
Jet Black Volt
We road test the latest model smart trainer from Aussie company Jet Black. How does the volt stack up against its predecessor and other big brand trainers? Details inside!
Tested: Curve Belgie
In her first bike review for Bicycling Australia Melbourne-based Coco Louise Henry spends time with both the Curve Belgie and the team from Curve bikes.
Tested: Specialized Diverge
Tasmanian adventure cyclist Scott Mattern puts the 2021 Diverge from Specialized through its paces in this comprehensive review on local forestry roads.
Plus Our Regular Features

The Big Picture
Publisher's Note
Top Gear
Junior Correspondent
Bang BANG with Lee Turner
Spin Cycle with Anthony Tan