Most sports fans rarely get the opportunity to meet the legends of their sport. However with the growing stature of Australian cycling, it now seems quite plausible that we can expect to regularly see some of our sports international legends visiting these shores for promotional purposes. Their days of competition may be over, but the aura that resulted from their successful careers seemingly goes on forever. Especially in the eyes of their fans.
Six Day legend Patrick Sercu was here a few years ago for the world track championships. Eddy Merckx, the all time greatest came in 2006 for the Bicycling Australia Show, and earlier this year Merckx's fellow five time Tour de France winner Miguel Indurain, was in Adelaide for the Tour Downunder.
For Australian fans of cycling these visits have provided opportunities to, in some way, personalise their knowledge or opinion of a cyclist that they had only ever read about or seen on TV. Certainly not everyone gets to meet or even see these stars, but even just the fact that they've bothered to make the trip here, seems to make us appreciate them just that bit more.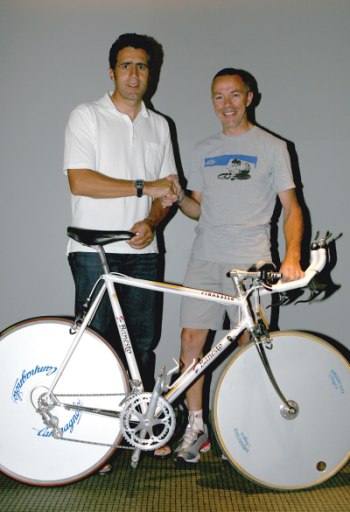 Indurain was in Adelaide for quite a while so any local fans would have had many opportunities to see the big man. The adventurous would have got an autograph without a problem and a polite request for a photo would have always been obliged. For those of us who were visitors to TDU, the time frame for such 'stalking' was much shorter. But Big Mig's smile was always close to the surface, ready for the next photo with a fan. As I was working on TDU, I was staying in the same hotel as Migueland his family. So my own quest for a photo and autograph was perhaps a little easier than some. Especially so, when I explained to Miguel via his wife Marisa (who speaks excellent English) just what it was I would like autographed. As part of my bike collection, I have a Banesto Pinarello Time Trial bike, just like Miguel used when he dominated time trials through the 1990's. A few years ago I was fortunate to find a practically brand new frame which I bought, and over a period of time sourced the parts to build as close a replica as possible. I used a photo from the early 1990's as my guide, keeping in mind that his bikes varied from race to race and evolved from year to year. The frame is made from Dolmen Cro-Mo tubing and is painted in the predominantly white Banesto team colours with chrome forks and right hand chain stay. The top, main and seat tubes are aero shaped as are the seat stays and it is built in the traditional lugged fashion.
A lot of manufacturers have sloping top tubes today, but in the 80's and 90's they sloped the other way (lower at the front) to maximise the aerodynamics of the rider. On Indurain's bike and many others of that era this effect was further enhanced by the use of a 26" (650c) front wheel. This practice is now banned as the UCI rules state that both wheels must be of the same diameter, but it was a style that made some beautiful looking TT bikes. During a few discussions we had had, Miguel had proved to be a friendly, thoughtful guy, but still I was nervous and it was with some trepidation that I showed Miguel my bike. What if I was way off the mark with my choice of components, or what if he had no real interest? However I was relieved to see a smile of recognition and endorsement on his face as he inspected it. The only non legitimate part is the front disc wheel, but I knew that already and I will rectify it when the opportunity arises. Unfortunately 26" Shamals or Campag discs are not so common these days. But apart from that, my bike is just like his. It's equipped with ITM adjustable aero bars, Campagnolo bar end gear levers, derailleurs, headset, seat post and rear disc wheel. It also has two of the most stylish components ever produced by Campagnolo, the sublime C Record cranks and the exquisite Delta brakes. Rounding out the component list are the Selle Italia turbo saddle and Time pedals.
Miguel rode Pinarellos for the bulk of his career and his loyalty to and love of the marque has apparently continued after his retirement as he has kept each of his Tour winning bikes and Tour time trial bikes. That is at least 10 Banesto Pinarellos hanging in a garage in Spain, and I wouldn't mind betting that a man with this much respect for his equipment probably also has an hour record bike, an Olympic bike and a World championship bike hanging around too. Miguel graciously agreed to autograph the bike and to pose for a few photos, which I was pleased about. Especially so when he not only neatly signed his name on the top tube, but also the disc wheel and noted the years of his Tour wins (a nice touch). Meeting him and learning that he is a genuinely nice guy will be a pleasant memory and I'm thankful that I have something tangible and a bit unique along with some photos to remind me of a special moment as a cycling fan.