Specific Spanners
There are any numbers of applications where specific tools can make working on your bike easier—pedal spanners, cone spanners, chain ring tools, bottom bracket tools and so on. Some bikes need a narrow 15mm spanner to remove the pedals while others require a long 8mm Allen key. External bearing bottom brackets use different tools to ISIS style units. Every bike tends to be different, so go over your bike and draw up a checklist of what you need.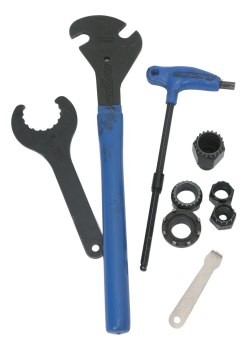 Quality Keys
Allen bolts are everywhere on modern bikes and they come in a broad range of sizes. While 3, 4, 5, 6 and 8mm sizes will get you out of trouble 90% of the time, some parts use half sizes (2.5mm seems to be a common one) and I have encountered sizes as small 1mm and as big as 14mm on certain components. As a result it pays to have an assortment of good quality chro-moly steel Allen keys. Skimping with soft or ill-fitting Allen keys results in rounded bolts and a lot of frustration.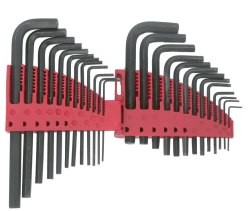 Chain Checking
Chain wear checkers are a handy addition to any tool kit. Riding with a worn chain is not just inefficient, it wears out your expensive rear cassette and chain rings. Replacing the chain before the wear becomes excessive will prolong the life of your drive chain and save you money in the long run. While it is possible to measure chain wear with a ruler, chain wear checkers make the task easier and relatively foolproof.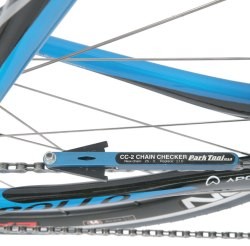 Miscellaneous Essentials
Any well equipped workshop needs a good supply of items such as cable ties, electrical tape, grease, chain lube (to suit different applications) and a tape measure. Cable ties will fix all manner of things, electrical tape can be used to secure your bar tape or mark your saddle height while the tape measure will allow you to keep tabs on your bike set-up. It is a good idea to write down measurements such as saddle height and setback on a notepad in your workshop—if you ever change to a different saddle you will be able to retain the position that you are familiar with.
Higher Learning
While a shed full of tools is a great thing, it's next to useless if you don't know how to use said tools. Luckily there's no shortage of informative books and DVD's on bike maintenance. The internet can also be a source of useful information. It won't happen overnight, but learning how to fix your own bike can be rewarding and it may also save you money.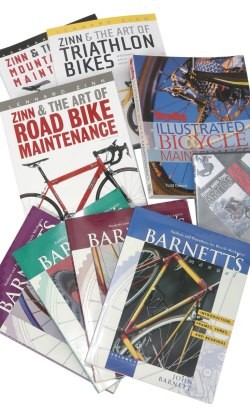 Tools To Go
A great home workshop won't help you if you break down mid-way through a ride. Be prepared and stock your saddle bag with the following:
• Always carry a spare tube and make sure that it is well protected from the other items in your saddle bag—constant road vibrations can cause tools to wear a hole in your spare tube. Check the tube periodically to ensure that it is okay.
• What happens if you puncture more than once? To avoid a long walk home, always carry a puncture repair kit.
• Mini pumps may be small enough to fit in your jersey pocket but mounting a pump to your bike guarantees that you won't forget it. Most compact pumps come with brackets that allow it to fit neatly beside your drink bottle cage where it can stay until you need it.
• There are plenty of compact multi-tools on the market. Choose one that offers a range of Allen keys that suit your bike and a chain tool is also handy to have—while it is relatively uncommon, chains can fail and leave you stranded. Keep your multi-tool in an old sock or a soft sunnies bag to prevent it from wearing holes in your inner tube.
• It is a good idea to carry a tool free joining link. Most high-end chains use riveted over pins which make rejoining a broken chain difficult. A chain tool will allow you to remove the remnants of the damaged link and a tool free joining link can be used to connect the chain.
Just make sure that you carry a joiner that matches your chain (i.e. nine or ten speed). Wippermann, SRAM and KMC are amongst the companies who produce these handy little parts.
• Keep a $5 note in your saddle bag. Not only will it help if you need a mid-ride sugar hit, the plastic money can also be used as a 'tyre boot'. It can be placed between the inner tube and the tyre casing if you get a large cut in the tyre.